03/08/2022 | 12:00 PM
International Women's Day
In celebration of International Women's Day 2022, this morning we operated a flight staffed by an all-female team.
Flight FI528 departed Keflavík airport (KEF) at 7:40am, landing at Berlin Brandenburg Airport (BER) at approximately 12:10pm, and included an all-female staff of cabin crew, pilot, co-pilot, and gate agents (team pictured below).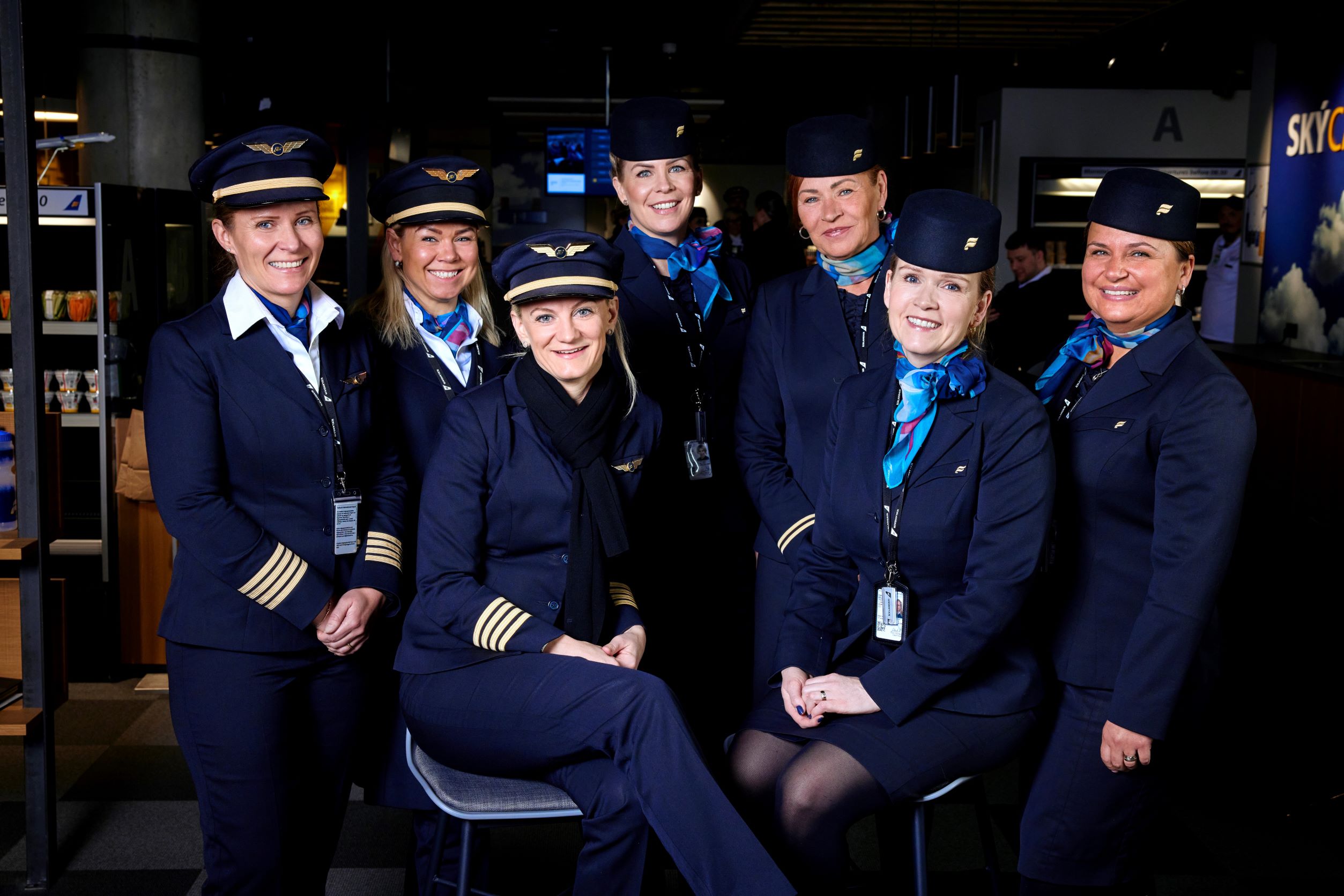 A nod to the past
On Women's Rights Day, June 19, 1999, an Icelandic airliner was flown by an all-female crew for the first time (pictured below). The captain was Geirþrúður Alfreðsdóttir, assisted by Linda Gunnarsdóttir. The flight attendants were led by the captain's sister, Katrín Alfreðsdóttir.

Today, Linda Gunnarsdóttir holds the position of Icelandair's Chief Pilot.

Two years after the all-female flight, another notable flight took off with female pilots and male flight attendants – an interesting reversal of the traditional roles of airline crews.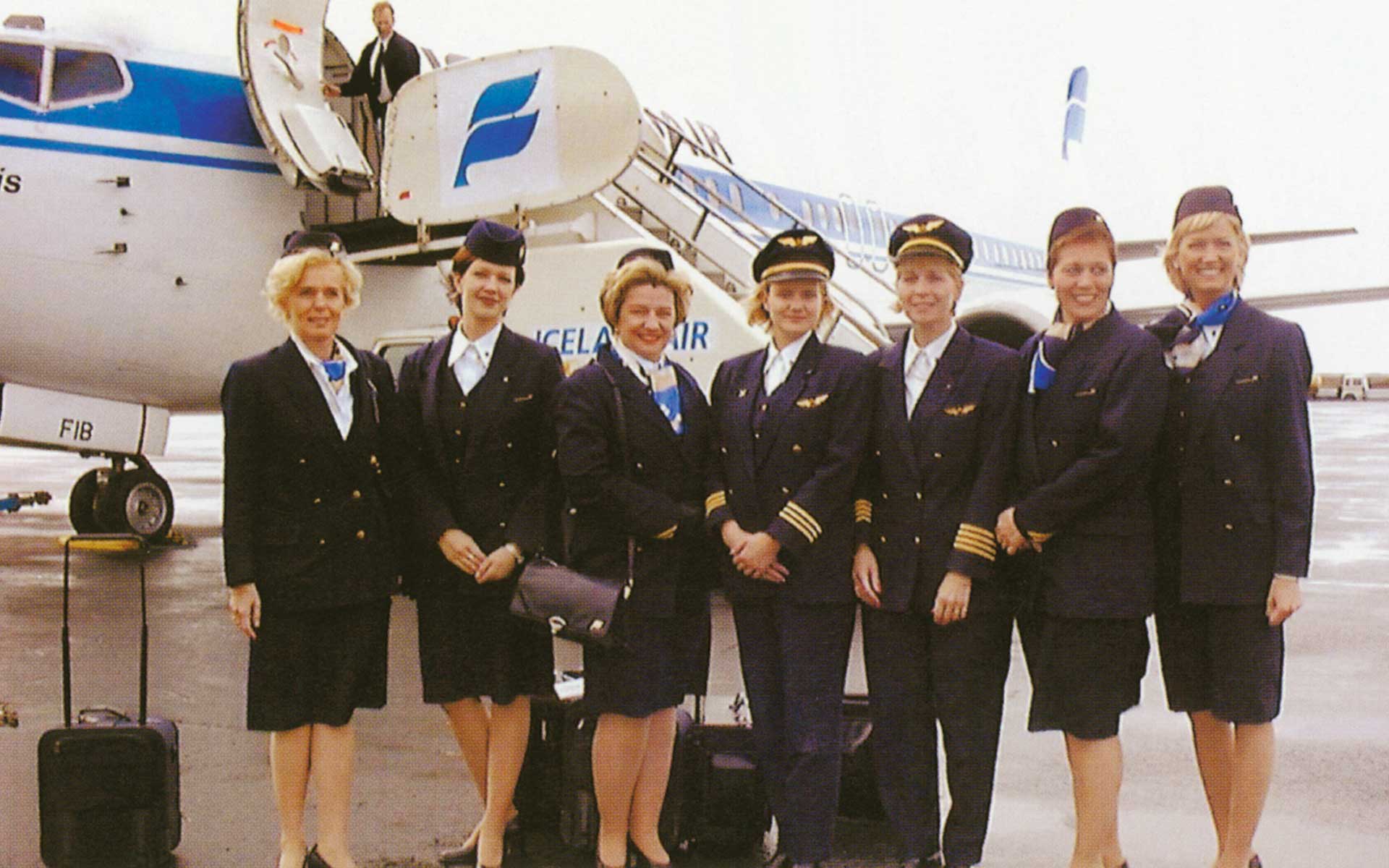 Iceland as a leader in equality
We celebrate Iceland's position as a pioneer of equality and women's empowerment. For the past 12 years, Iceland has topped the World Economic Forum's annual index measuring gender equality. In its key findings, the WEF writes: 'Iceland is the most gender-equal country in the world for the 12th time.'
As part of Icelandair's commitment to bring the spirit of Iceland to the world, we aim to be a global leader when it comes to improving gender equality in the world of aviation.
Ten years ago, there was only 1 woman of 5 Board Directors and the Executive Management team was exclusively men. Today, women represent 40% of the Board of Directors, 33% of the Executive Management team, 41% of other management positions, and 40% of overall management positions.

25by2025
In recent years, we have worked systematically towards progress on gender equality through our active gender equality program and equal pay policy.
As part of IATA's (International Air Transport Association) '25by2025' equality project, we have set the following goals:

To ensure an equal gender balance in the management positions – never less than 40% of either gender in management positions
To increase the number of female pilot positions by 25%
To increase the number of male cabin crew positions by 25%
To increase the number of female aircraft maintenance technicians by promoting the job and education to girls.
More on this topic
Iceland's First Lady, Canadian-born Eliza Reid, recently published a book titled Secrets of the Sprakkar, covering 'Iceland's extraordinary women and how they are changing the world'. It offers a great examination of the status of women in Iceland. You can read an excerpt from the book in our blog post, Eliza Reid: Secrets of the Sprakkar.
Iceland Travel has a great post about Icelandic Women: Myths, Role Models & History.
Icelandair Group's Annual and Sustainability Report for 2021 was recently published, with detailed information on our equal pay policy, equality objectives and opportunities, and relevant staff numbers.

The Icelandic Women's Rights Association has excellent resources on gender equality in Iceland.