09/13/2023 | 4:00 PM
Ólafur Darri Ólafsson: 'Iceland is a huge part of who I am'
Ólafur Darri Ólafsson's talents have taken him far beyond his homeland, but that doesn't mean he's ever going to leave Iceland. Iceland is a big part of who he is and it's where he wants to be – and telling stories that will keep the country's culture and language alive is immensely important to one of Iceland's biggest international stars.
Born in Connecticut in 1973 but raised in Iceland since the age of four, the actor has appeared in a long list of international projects such as 'Zoolander 2' (2016) and 'The Secret Life of Walter Mitty' (2013), in which he plays a karaoke-singing, beer-loving helicopter pilot – in both projects he plays alongside Ben Stiller. He appeared as the voice of Maidmasher in Steven Spielberg's adaptation of Roald Dahl's novel 'The BFG' (2016), and he played a serial-killer accomplice in the first series of HBO's 'True Detective' (2014) starring Matthew McConaughey and Woody Harrelson.
When we spoke to Ólafur Darri via Zoom from his home in Reykjavík, with his dog Waffle by his side, our focus was on his Icelandic Nordic Noir series 'Trapped' and 'Entrapped', his role in the 2023 Icelandic Oscar contender 'Beautiful Beings', compatriot Aníta Briem's new TV series 'As Long As We Live', and his strong connection to Iceland.
By Tina Jøhnk Christensen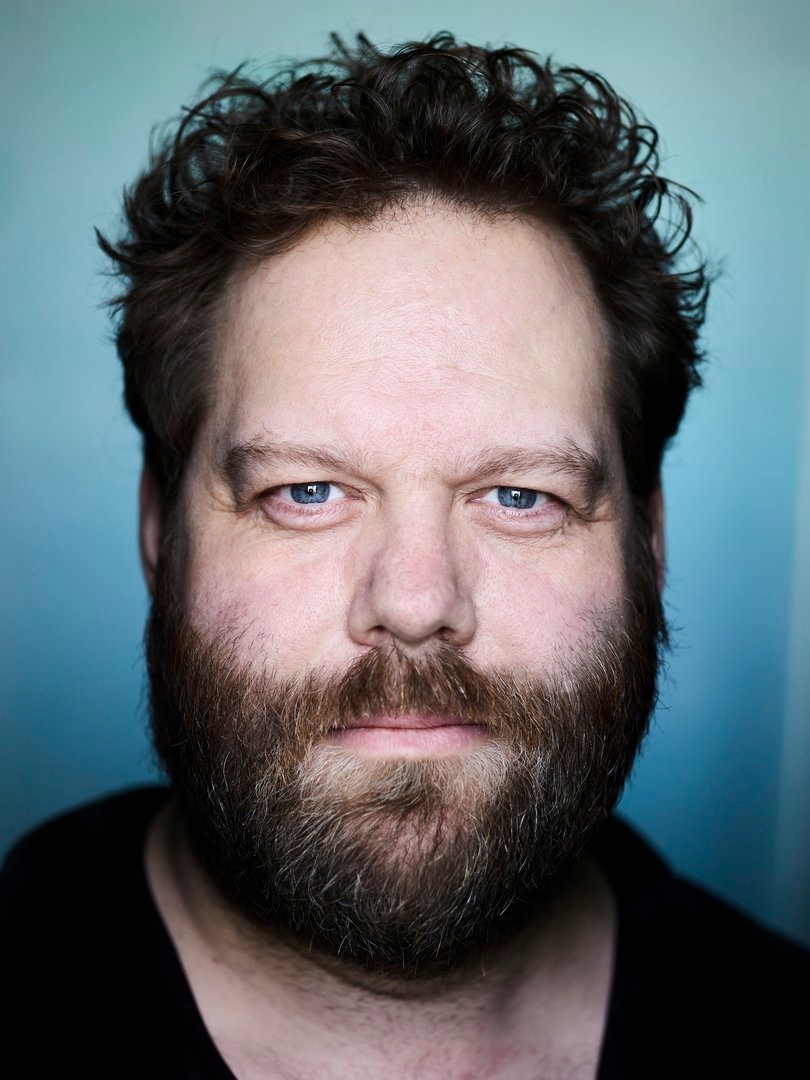 Question: You play the police chief Andri in the two first seasons of 'Trapped' and the third season, called 'Entrapped'. Andri seems unable to determine whether to be a good or bad cop, and he deals with a lot of pain of his own. How would you describe him?
Ólafur: He reminds me of older men in Iceland. Back in the day, men weren't allowed to show a lot of feelings and Andri comes from that, so he doesn't display the way he feels. In the first season, we see that he and his wife are divorcing and I had a feeling the reason for that is that he's not good at talking about what's going on with his life and himself. He feels closed off.
What attracted you to the character of Andri?
I have a lot of love for Andri. He's unlike most characters I've ever played. He gives me a sense of security that I like and I honestly think that he's trying to be a good husband, a good father and a good policeman, but as we see in the show there's no way of doing that without somehow being confronted with where he comes from and what has happened in his life and how it happened. Maybe that's quite common for middle-aged men. Maybe that's the case for all of us.
There is a need, however, for a change in masculinity in society and I personally welcome that. I think it's a good thing. We need to look at the power structures and the way things used to be, and we should change that in a major way. My feeling is that we should be much more open to that change. For me it is vital. I live in a household with four women and that's very much the energy I like. I think Andri is a great example of the old-school kind of men who didn't allow themselves to talk about their feelings. But I also love that in the series Andri also comes to the realization that it's something that he has to face. He has to start working on it.
'Trapped' (and 'Entrapped') is not like any other crime show in this regard, is it?
No, and that's what I love about the show. It's a crime series of course, but the hook in a good crime series is to get you in through the crime, but you stay because of the characters. You get invested in them and you want to see them succeed or fail, but they don't leave you without feeling anything. I think 'Trapped' does that quite well. People identify with Andri and what he's going through, and not only with Andri but also with [Andri's colleague] Hindrika and her husband. You get an insight into different families, small towns, where everyone knows and sees everyone.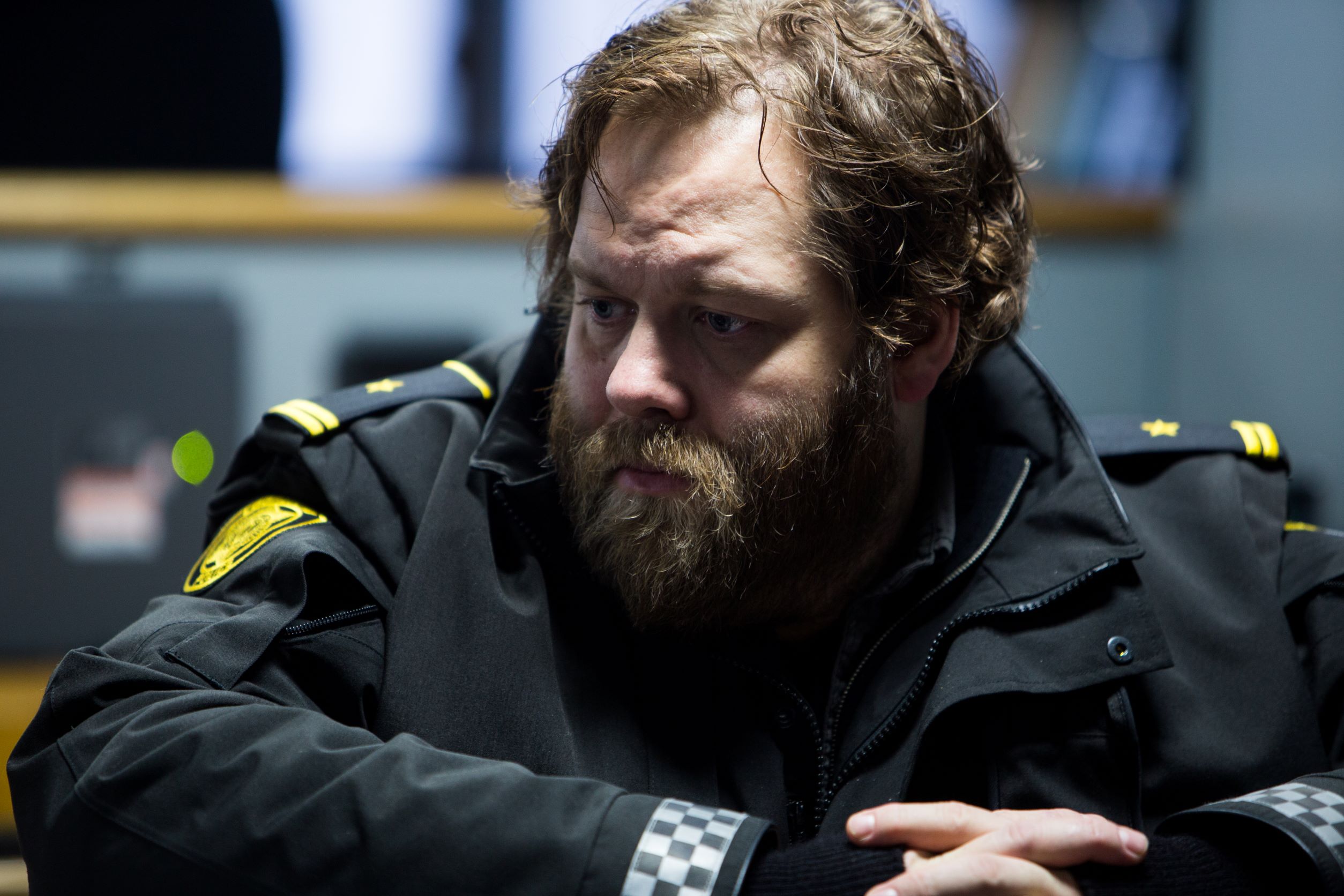 And you shot the show in the town of Siglufjörður, a small fishing village in North Iceland. What was that experience like?
Yes, and I had quite an experience there. I had just arrived in town and actually stayed in the apartment that my grandmother grew up in. My grandmother and grandfather lived there and my mother grew up there, and it's on a street that is basically a hill. It's winter and I come out and walk into the road on the way to my car, when I realize that it's completely icy and I'm going to fall on my ass. So I turn into a surfer and I try to balance myself, but I just start slipping and sliding down and in the end I just had to crawl to the curb in order to stand up. I remember thinking that this is a small town and there is absolutely no way that no-one saw this. Sure enough, someone later that day said, 'Oh, I heard you had trouble getting to your car.' I loved that so much.
It seems that the fear of being isolated and the vulnerability that comes with it is one of the driving forces in 'Trapped'. What does it do to the mentality of a people that they live on an island so far from everything?
Iceland used to be a rock in the middle of nowhere. I think it's fair to say that it didn't become an important place until the Second World War, because of the strategic importance of having a rock in the middle of the Atlantic Ocean. Before that, Iceland was quite a poor place. It was very much cut off from the rest of the world. I often talk about us as if we are teenagers in nation terms, because we're always looking for the next thing. If we borrow money, we borrow the biggest amount of money. If we crash, we have a massive crash.
But it also means that we're very quick to pick up technological things. There are a lot of very educated people who live in Iceland and there's a great artistic community, and because it's such a small place everyone kind of knows each other. It's very beneficial to be raised in an environment like that, so I think there are certain advantages of coming from a small place in the middle of nowhere, because it forces you to work together in many ways.
It can also be dangerous, because it's easy to think that you're the center of the universe when you can't cross state lines and we don't really have any accents. We all speak Icelandic in the same way. It's a small place.
What do you think the locations mean to the show? What do they add to the show in terms of tone and mood?
When we went to the locations for 'Trapped', it was in the middle of winter and we wanted really bad weather. The first night I was there, there was a quite terrible snowstorm and someone called me and asked if I was up for some driving in the snow. And I was like, 'sure!'. So we were shooting at least a couple of hours, just driving through the snow, and all of that is in the show and it looks really amazing.
We were trying to get as much of that environment and the sense of isolation, and I cannot tell you how many people have told me afterwards that they were worried about me because my coat is always open and it's ice-cold and you can see it. It was an intense shoot but it was fun. It was full-on but I have nothing but good feelings about it – and when you like the outcome of something, you can enjoy the result.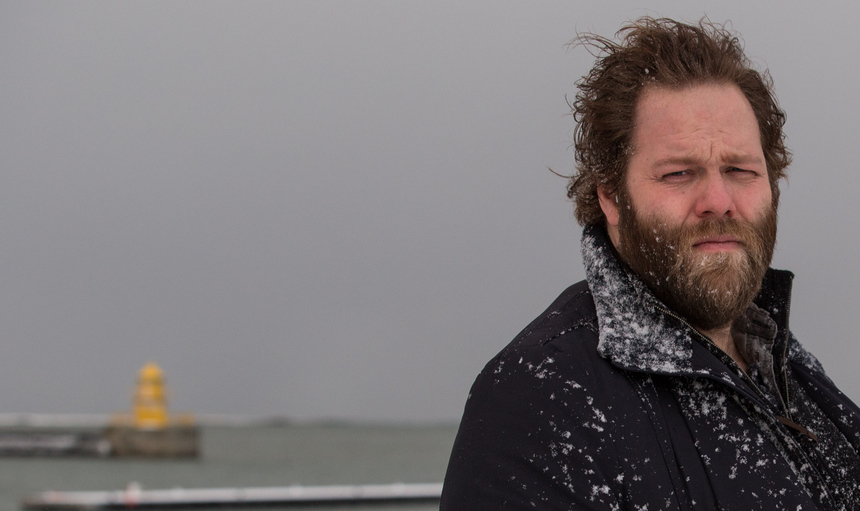 You shot 'Trapped' and 'Entrapped' on location in Iceland. The location is as important as the plot. Can you talk about what makes Iceland special? Where should tourists go if they want to revisit the landscapes and townships they saw in the show?
The strange thing about Iceland is that you arrive in this small-big city, Reykjavik, which likes to think that it's a massive cosmopolitan city, which it's not. But it does have a lot of great art and great food and you can walk everywhere, which I like. I also highly recommend that people go to a concert in Harpa in Reykjavik. Even if it's a small suburb compared to many cities, it has a very strong arts scene compared to many cities of the same size.
The great thing about Iceland is that when you drive just 15 minutes outside of Reykjavik, you're in the middle of nowhere and the landscape changes so quickly, and you can feel like you're on the moon just one hour's drive out of Reykjavik. If you're just there for one day, you can do the Golden Circle, which is kind of touristy, but you get to see great places in a three- to four-hour ride. That's pretty amazing.
If you have more time, you can travel further and you can go up north or east. One of my favorite places is Djúpalónssandur on Snæfellsnes peninsula, which is a beautiful black sand beach, which has these incredibly beautiful rocks. There's a good hotel close by called Hotel Búðir.
Because of the increase in tourism, you have nice hotels and these beautiful lagoons that spring up. We have a great new one close to Reykjavík called Sky Lagoon and of course there's the famous Blue Lagoon. I think it's a really great destination to stop for a day or two. You can see so much in a few days if you have a stopover. You get a lot for your money. Having said that, it is quite expensive.
If you were to follow in the footsteps of Andri, would you find nice hotels in those small towns where you filmed?
There is a new one called Sigló Hotel in Siglufjörður (pictured below). In fact, they built it while we were shooting the first season and then it features in the second season. We stayed there and it's really lovely. In Seyðisfjörður, which is further away in East Iceland, about eight hour's drive or an hour's flight from Reykjavik, there's a beautiful family-owned hotel called Hotel Aldan.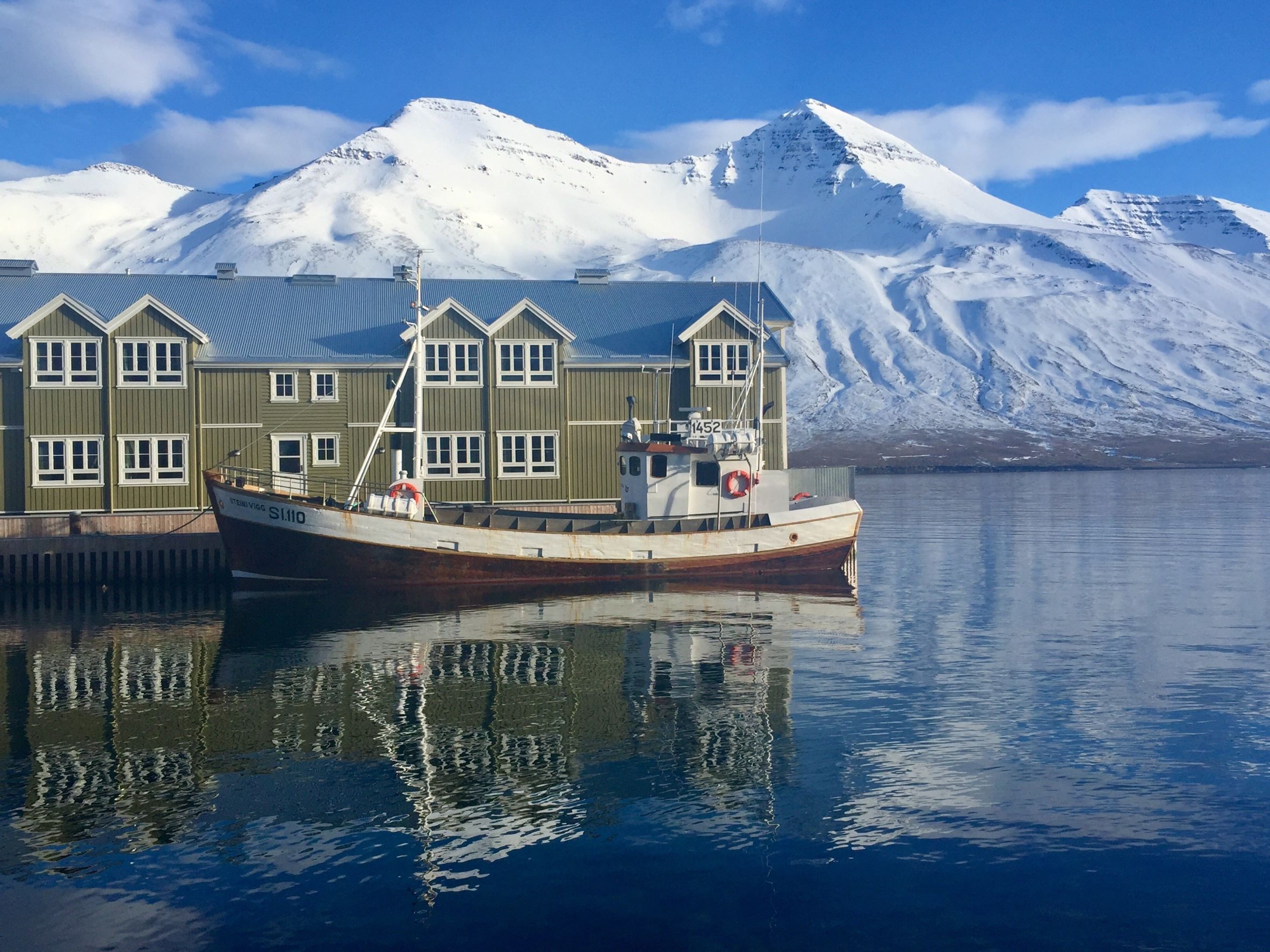 />
Trapped's show runner and producer Baltasar Kormákur has built a studio outside of Reykjavík. What do you think of this project and what's it like shooting there?
We have needed a studio in Iceland for a long time. The fact that Baltasar has bought and renovated this beautiful studio in Reykjavík is really amazing. When it's done, there will also be apartments, restaurants and stores there. I look forward to seeing it in a few years, because it will be a little community.
We have a lot of foreign productions that come to Iceland and film here, which means that Icelandic companies have been able to buy equipment. So we have the equipment needed for big productions in Iceland already, which we use in our own productions when the larger projects are not in town. At the moment, they've been shooting the fourth season of 'True Detective' here and it's taken them eight or nine months. It's a big boon for a small community to get big productions like that here.
You also have a role in Guðmundur Arnar Guðmundsson's 'Beautiful Beings' (in Icelandic, 'Berdreymi'), which was Iceland's Oscar contender in 2023 for best international feature film. This film tells a different story of Iceland – you play a violent stepdad in a film about neglected teenage boys. What attracted you to this film?
I absolutely love Guðmundur and he's one of quite a few interesting Icelandic directors. He has made great movies and as soon as he contacted me, I said I would do it. I play a pretty awful guy. But that can also be fun.
I was very impressed when I watched the movie. We have five teenagers playing the leading roles and the performances are mind-blowing. None of them are actors and after we premiered in Berlin, an audience member asked how they felt about having been in this rather violent film, and they all said that they wanted to be actors. That made me really happy. Because the director took really good care of them and gave them a great experience even though they were dealing with big, difficult subjects for young people.
I could certainly see a lot of this macho energy, which was very reminiscent of my old childhood. I have heard more men say that, they could relate to the dynamic between the friends. I have to say that there is more violence in these young men's lives than there was in mine, but I recognized the machismo. There is always a large amount of love between them, and the movie really captures that spirit and it is a very touching film. I really recommend it.
You have an international career. How significant is it for you to tell stories about and in Iceland?
I am very much a believer in: 'Be local, think global.' I think I'm a good example of that. I've been fortunate to have a career outside Iceland and be able to come back and do good parts like Andri in 'Trapped' or Benedikt in the Icelandic TV series 'The Minister'. So I've always been interested in going back and performing in my own language. There are just nuances that I love to be able to work with. I love working outside Iceland, but it's different when you work in a language that is not your own, your mother tongue.
I think that the quality of most projects coming out of Iceland is usually pretty high. We have a lot of Icelandic filmmakers who make great movies, but we have also been able to up our game when it comes to TV in recent years. 'Trapped' is a part of that. Maybe in some small way it's responsible – like the Danish shows 'Borgen' and 'The Killing', which in many ways inspired the rest of Scandinavia.
I certainly would never leave Iceland or Icelandic stories behind. Iceland is a huge part of who I am, and without Iceland I would not be anything.
What makes Iceland so special? And what makes Icelandic artists special? Because for such a small country, you have quite a lot of talented artists.
We are such a small nation of about 350,000 people, so there's a need to keep our language alive. It's very primal.
For me as an actor, I think the reason why I could work abroad is that you can garner a lot of experience in very little time here in Iceland. In 10 years, I did about 40 plays and 10 movies. I've often talked about this with friends in London or New York, that in Iceland, you have repertoire theaters where you might be doing several plays at one time, whereas in the bigger cities, you might be doing one play for the whole year. You get a taste of so many different things [in Iceland].
Also, it's a small place, so you don't have to go through a middleman to get in touch with people and there's huge value to that. Here in Iceland, everyone knows each other and you can approach each other directly.
You're a very busy actor - recently you were in the BBC series 'The Tourist'. What else is next for you?
I was in Poland shooting a film called 'A Winter's Journey', which is going to be an incredible movie based on Schubert's song cycle of the same name. It's really well known, especially in the German-speaking world.
I went to Slovenia and did a film there with director Miha Hočevar called 'Hidden People', which I really loved.
I am currently in Aníta Briem's TV series 'As Long As We Live', where I have a small part that I really enjoyed shooting. I play Haddi who is the business partner of Martin Wallström's character. I jumped at the chance to be part of the series and I knew that Aníta is a truly great actress but her writing is amazing as well. I cannot wait for people to see this and fall in love with it.
I am also in the second season of [Icelandic TV series] 'The Minister', where Aníta and I play against each other again. I'll also be in the second season of [Apple TV's] 'Severance', which I look forward to seeing soon.
---
Check your local streaming services to watch Ólafur Darri in Icelandic series such as 'Trapped' and 'Entrapped', and 'The Minister'.
About our interviewer: Tina Jøhnk Christensen is an award-winning journalist and author from Odense, Denmark. Since 2013, she has been a voter for the Golden Globe Awards. Tina is based in Los Angeles and is a regular visitor to Iceland, which she loves. She covers film-related subjects for Icelandair.