03/02/2023 | 10:00 AM
Sara Gunnarsdóttir: Oscar nominee
Sara Gunnarsdóttir is the first Icelandic female director to be nominated for an Oscar. Her animated short film 'My Year of Dicks' has been selected by the Academy members as one of the best five of 2022. The Academy Awards ceremony is held on March 12, 2023.
Watch 'My Year of Dicks' below!
Interview and photos by Tina Jøhnk Christensen
Sara Gunnarsdóttir just wants to go home. She is sitting in a sofa arrangement by the pool area at the Beverly Hilton Hotel, while the very handsome Colin Farrell and his fellow Irish colleague Brendan Gleeson are being interviewed on-camera about their Oscar nominations for 'The Banshees of Inisherin'. The legendary Jamie Lee Curtis is sitting in front of another camera a few meters away and looks very emotional about being recognized for her performance in 'Everything Everywhere All at Once'. Tom Cruise has already left the building, it seems.
Sara has just been to the prestigious Oscar Luncheon in Los Angeles, a function where all the nominees for the film awards participate. She has been on stage with all of them, having a group photo taken with this very exclusive crowd. It's an event most people can only dream of participating in. Yet, she seems rather unfazed as she talks about it.
"Should I be totally honest?" asks Sara, while looking at her high heels that make her feet hurt. "It's been really nice and it's such an honor to be invited to be a part of this. But I cannot wait to go home."
After a short minute of reflection, she does highlight the fact that she was seated next to the director of the movie 'Tár', whose score was created by Hildur Guðnadóttir, the first female composer to win an Oscar for her score of 'Joker' in 2020. Sara and Hildur actually attended the same elementary school, Öldutúnsskóli in Hafnarfjörður just outside the city of Reykjavík, and shared the same classroom for 10 years.
"I got to sit with Todd Field, which was interesting. I thought it was fantastic because he had an Icelandic composer [for 'Tár']. So I was very excited, because I actually had something to talk to him about."
Photo below, and in banner: Sara Gunnarsdóttir (left) and Pamela Ribon (right) at the 95th Oscar Nominees Luncheon, February 2023.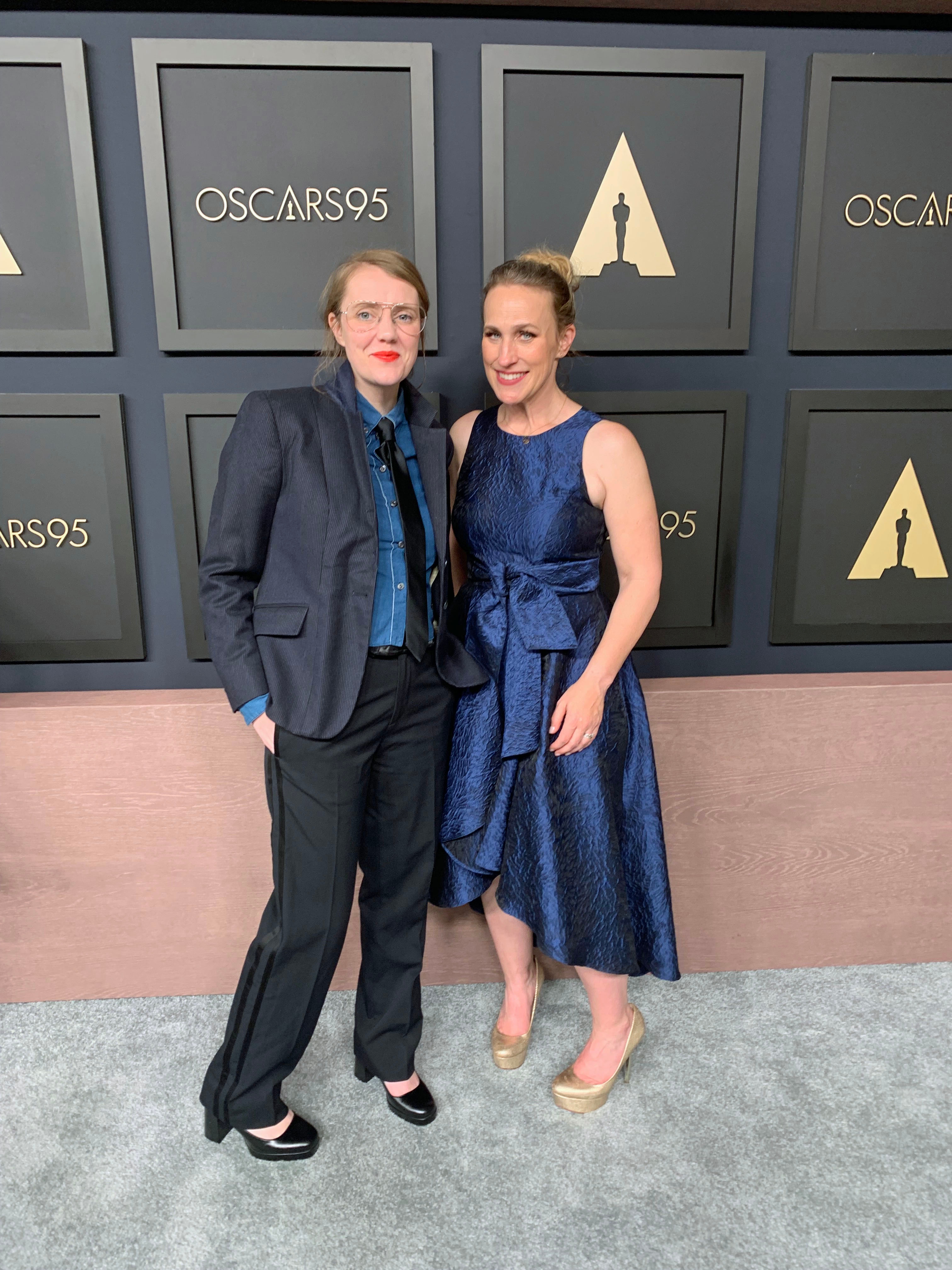 My Year of Dicks
Sara Gunnarsdóttir is here because of the American writer Pamela Ribon. Pamela had created an adaptation of her critically acclaimed comedic memoir 'Notes to Boys (and Other things I Shouldn't Share in Public)' from 2013, and the title was now the rather catchy 'My Year of Dicks'. The title might refer more to 'assholes' than 'penises', but one needs to watch the 26-minute animation film to understand this.
The short film began to take shape shortly after the memoirs were published in a meeting between the writer and the American FX Networks. Pamela needed to hire a director for the animation film and her producer Jeanette Jeanenne suggested bringing Sara on board. She referred to Sara's previous work as a director of animated sequences in 'The Diary of a Teenage Girl' (2015) and 'The Case Against Adnan Syed' (2019).
"I was such a fan," says Pamela Ribon, who hails from Disney Animation with credits on films including 'Moana' and 'Ralph Breaks the Internet'. "I just wanted to make sure she had what she needed, which was material, content and accessibility, and during covid it wasn't easy. We didn't have all the time in the world. It's not like [Sara] was hanging out in Houston in the early '90s, so I wanted to show her what it was really like. But we had so much in common growing up."
Sara, who grew up in Reykjavík (far from Houston, Texas), started researching what it looked like to be a teenage girl in the US in the early 1990s. She had to get the visuals and atmosphere right for her animation, and thus she spent a lot of time looking at photos of Pamela when she was young, and videos she had recorded from the streets of Houston. But for Sara, who studied at California Institute of the Arts, it wasn't difficult relating to the story.
"To be a teenager is an emotional journey we all go through no matter where you grow up. The milestones and the feelings are the same. I actually believe this is true for any stage in our lives. Behind different customs and cultural backgrounds, we're all the same kind of human beings."
Pamela's story
'My Year of Dicks' is inspired by Pamela's own coming-of-age story and takes place from August till November in 1991. The story centers on a 15-year-old girl who's eager to loose her virginity, and shares with the audience explicit experiences related to this desire.
"Pam surprised me with her trust and how ready she felt putting herself out there," says Sara. "Working with her was such a joy and not just because she gave me trust, but also because she's a very funny bubbly lovely person. I admire her way of unapologetically enjoying each moment and always making the most of it. Her confidence is infectious and for that I'm grateful."
Pamela's bubbly personality also shines through outside of the Beverly Hilton Hotel, where she still seems flabbergasted by the fact that she ran into Tom Cruise, who is nominated as the producer of 'Top Gun: Maverick' and that he was the one to apologize to her.
"I'm ready to go back to square one and do it all over again, as it was so much fun," says Pamela with a huge smile on her face. "Even the grumpiest person, when we had our picture taken, was like 'This is fantastic', and everyone was pulled into this magical moment of movie prom."
Icelandic movie history
Sara is aware that she has made movie history by being nominated for an Oscar as the first Icelandic female director to ever have had that honor.
"It fills me with so much pride," she says, and points out that at the awards ceremony she'll wear a beautiful silk dress made by her friend, Icelandic designer Ýr Þrastardóttir, who has the label Another Creation. She's also excited about going to this event because the special someone in her life will be there to share it with her. "What I really look forward to about going to this Oscar event is having my husband there," says Sara about Ethan Clarke, who also worked on the film.
*That* title
The Oscar nominations were announced on January 24, 2023, and both Sara and Pamela missed actor Riz Ahmed giggling when the attention-grabbing title was read, and the attendees in the pressroom laughing along. All they heard was "My" and then they started screaming with excitement in Reykjavík and Los Angeles, respectively.
And Sara, who had initially said 'I can't say 'My Year of Dicks' to people' about the title, was happy that Pamela hadn't listened to her. Now Jimmy Kimmel, the host of the Oscars ceremony on March 12, has even cracked jokes about it on his popular late-night TV show.
"I think the beauty about the title is that it puts you in that place of adolescence," says Sara. "What is so beautiful is that you think it's something really silly, but behind that title is a beautiful film with a really big heart."