Book your flight to Orlando with Icelandair from
Fly in the next three months: Flights to Orlando
Glasgow (GLA)to
Orlando (MCO)
04 02 2024 - 09 02 2024
Glasgow (GLA)to
Orlando (MCO)
22 01 2024 - 05 02 2024
Glasgow (GLA)to
Orlando (MCO)
01 02 2024 - 22 02 2024
Manchester (MAN)to
Orlando (MCO)
05 12 2023 - 19 12 2023
Manchester (MAN)to
Orlando (MCO)
05 01 2024 - 19 01 2024
London (LHR)to
Orlando (MCO)
08 12 2023 - 15 12 2023
*Fares displayed have been collected within the last 72hrs and may no longer be available at the time of booking
Plan ahead for your trip to Orlando with Icelandair
From

Glasgow (GLA)

To

Orlando (MCO)
Round trip

/

Economy
07 10 2024 - 22 10 2024

From

GBP 562*

From

Glasgow (GLA)

To

Orlando (MCO)
Round trip

/

Economy
29 09 2024 - 16 10 2024

From

GBP 566*

From

Glasgow (GLA)

To

Orlando (MCO)
Round trip

/

Economy
15 09 2024 - 30 09 2024

From

GBP 566*

From

Manchester (MAN)

To

Orlando (MCO)
Round trip

/

Economy
16 10 2024 - 31 10 2024

From

GBP 614*

From

Manchester (MAN)

To

Orlando (MCO)
Round trip

/

Economy
10 10 2024 - 24 10 2024

From

GBP 669*

From

Manchester (MAN)

To

Orlando (MCO)
Round trip

/

Economy
06 05 2024 - 27 05 2024

From

GBP 795*

From

London (LGW)

To

Orlando (MCO)
Round trip

/

Economy
05 09 2024 - 19 09 2024

From

GBP 753*
*Fares displayed have been collected within the last 72hrs and may no longer be available at the time of booking
What to see and do in Orlando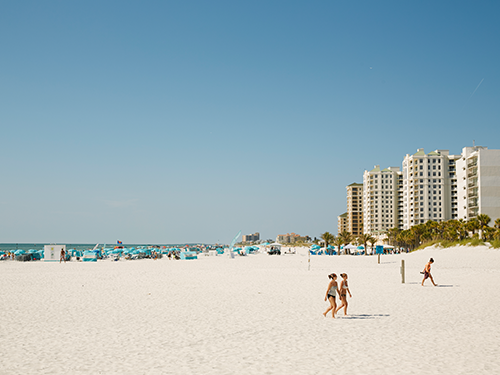 What to expect in Orlando
The epicentre of sun-kissed theme park resorts, Orlando is a magnet for families across the globe.
Two world-renowned names: Disney World and Universal Studio both set up homes here, and it promises to live up to its reputation.
Visit Orlando, Florida and make both your children and your own inner child wildly happy.
Contrary to popular belief, Orlando is even more than a cluster of theme parks. Sultry Miami nights, white-sand beaches, and gator tours await you in Florida.
In Orlando city center itself, you'll find glorious gardens, galleries, museums, and a diverse selection of restaurants, too.
Best time to fly to Orlando
The best time to fly to Orlando, Florida is Spring or Early Autumn. During the summer, the temperature in Orlando can reach as high as 30°C, and walking around the parks in that heat can is no mean feat. Not to mention that it's summer holidays during July and August – meaning the parks will be pretty packed, to say the least.
If you can, visit Orlando between October – May. The sky will still be blue, and the sun will still be shining but you'll avoid those really high temperatures. And though you can expect tourists all-year round at Orlando and Disney World, they'll be noticeably fewer crowds to contend with if you visit during off-peak season.
No matter what time of the year you book flights to Orlando, Florida from the UK, we'd recommend booking your flights in advance to secure the cheapest price. Use the flight finder tool above to browse the latest flight packages.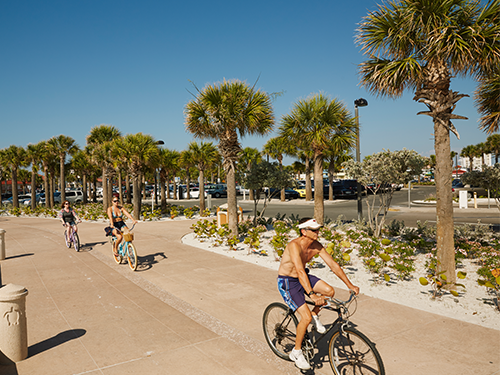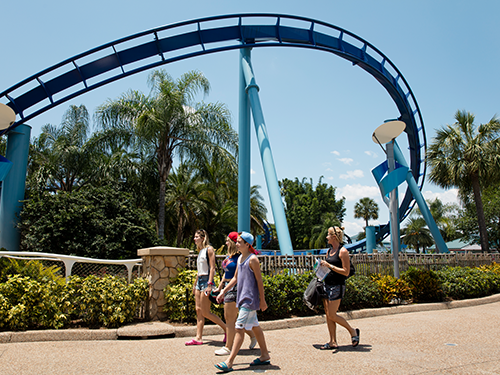 The best theme parks in Orlando
When we told you Orlando is the home of the theme park, we really weren't lying. So, where to begin? It has to be with Walt Disney World Resort, the park that started Orlando's reign as the king of family holidays.
Boasting four impressive parks: Magic Kingdom, Epcot, Animal Kingdom, and Hollywood Studios and two water parks: Blizzard Beach and Typhoon Lagoon – Disney World have certainly earnt its place at the top. And that's not to mention its dozens of hotels, restaurants, and endless entertainment.
As well as Mickey, Minni, Donald Duck and Goofy – you'll find a sea of smiles that confirm Disney really is the 'the happiest place on earth'.
Also found in Florida's orbit is Universal Orlando Resort, home to Universal Studios, the Wizarding World of Harry Potter, and the new Volcano Bay waterpark.
Even more theme parks to explore
If you still haven't got your fill of theme parks, or you've explored the big hitters and fancy visiting one that's a little different - the good news is that there's still so much more to explore.
Visit SeaWorld for an adventure of a lifetime. There are shows, exhibits, animal encounters and rides to keep you busy - almost too much to even fit into one day.
You won't want to miss the city's most majestic construction, the fortress Castillo de Santa Bárbara, which overlooks the city from its seat on top of Mount Benacantil.
If you didn't get a chance to see the Aligators at SeaWorld, or you simply want to see more, you can visit Gatorland. It's a 110-acre wildlife reserve and theme park where you can see gators of all sizes and colours.
Take a trip to LegoLand Park to see the biggest LegoLand in the world, and you can combine it with LegoLand Water Park on the LegoLand Florida One Day Water Park Combo Ticket.
For space fanatics, The Kennedy Space Center is one you wont want to miss!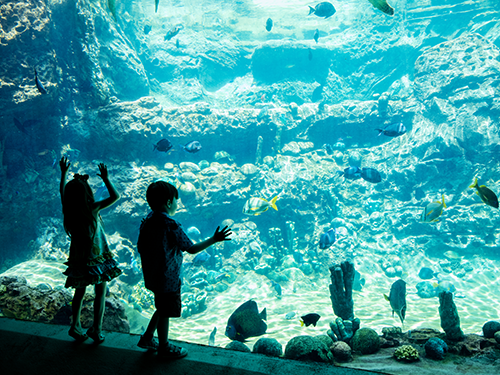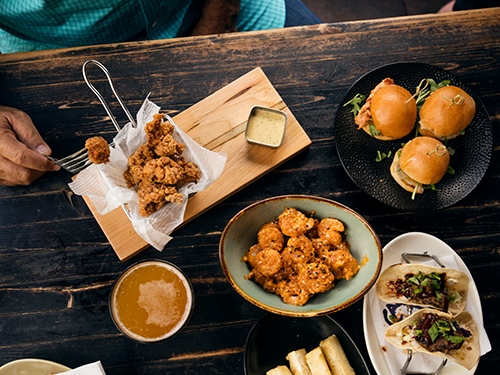 Dining in Orlando
Inside every park, you'll find scores of eating options catering for all ages and budgets.
For the foodies out there, your best place to start is 'restaurant row', a renowned stretch of Sand Lake Road near the Universal and Disney complexes. Home to some of the country's top names in hospitality, lots of restaurants are in-demand here, making reservations a wise move.
Another fertile patch that promises to deliver delight after delight is the lively historic neighbourhood known as Winter Park.
A few miles northeast of downtown Orlando, Park Avenue is dotted with charming shops and cafes.
Shopping malls in Orlando
It will come as no surprise to hear that, as with food outlets, the theme parks are home to countless retail opportunities. Disney and other movie-themed merchandise can be bought by the bucket load!
But Orlando is also primed for mall rats and outlet-store seekers. Coming out on top is the open-air Florida Mall. Not far from Orlando Airport, the shopping epicentre spans 39 acres, housing 250 stores and restaurants that see roughly 20 million visitors each year.
Looking for a little luxury? The Mall at Millenia is smaller than its open-air counterpart with (only) 150 stores! Expect Gucci, Channel, and Ted Baker, so prepare to shop 'til you drop.
If you're more of a bargain hunter – there are a handful of outlet malls for you to hit up. Here, brands will offload excess, off-season, and slightly defective stock at a reduced price – what's not to love?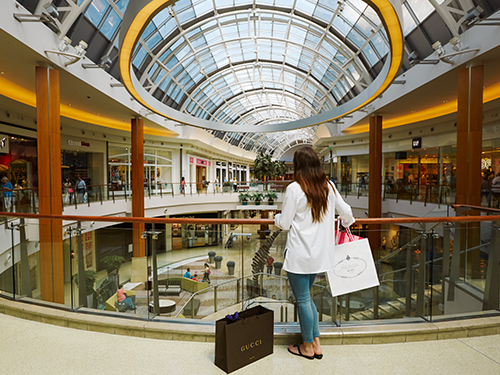 FAQs about travel to Orlando
Helpful information for travellers to Orlando
How best to get around Orlando?
Orlando is a large area that can't be covered on foot alone. To get from district to district or park to park you will need to travel by car, taxi, shuttle bus or take the metro.
If you haven't rented a car, a lot of the resorts put on regular shuttle services that will take you from your accommodation to the resorts, or between parks.
Does Icelandair offer flights from Heathrow to Orlando?
Icelandair flies from Heathrow to Orlando, as well as from Manchester and Glasgow. Use the booking tool above to view the latest flights to Orlando from your nearest airport.
Before you hit the parks, fancy a soak at the Blue Lagoon, Iceland's very own water park with a difference? When you book flights to Orlando, United States, with Icelandair you have the opportunity to add a stopover in Iceland at no additional airfare.
What time of year can you expect to find the cheapest Orlando flights?
You're most likely to find cheaper flights during the colder months (January and February), though Orlando flight deals can be found year-round.
As the home of Disney World, Orlando is a popular place to visit all year round so it's still advised that you book in advance to get the best deal on your Orlando trip flights and accommodation.
How long is the flight to Orlando International Airport?
The flight from Heathrow (LHR) to Orlando (MCO) is around 10 hours without a layover. When you book flights to Orlando with Icelandair you can add a stopover in Iceland at no extra cost.
How far is Orlando Airport from Disney World?
There are two major airports in Orlando: Orlando Intl Airport (MCO) and Orlando Sanford Intl Airport (SFB). Icelandair flies into Orlando International Airport (MCO).
Disney World is not far from Orlando International Airport. It is roughly 20 miles and only takes around 20 minutes by car or taxi. There is also a shuttle service that will take you from the airport to the resorts.
Make the most of your trip