Visiting Pittsburgh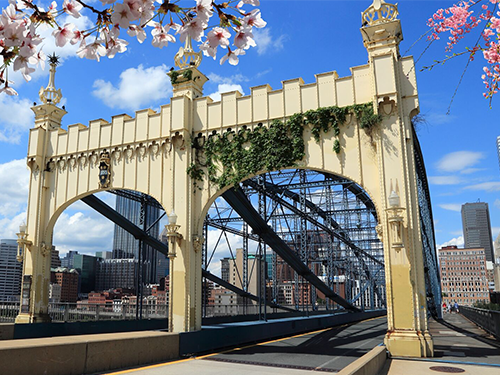 Introduction to Pittsburgh
Welcome to Pittsburgh: the City of Steel with a heart of gold. Pennsylvania's second city (population 300,000) is a patchwork of steel and leafy parks set along the banks of three rivers.
Steel City is an obvious nickname, referencing the industry that put Pittsburgh on the map, but it's also known as the City of Bridges – there are 446 of them (that's even more than Venice).
From 2024, we're offering regular flights to Pittsburgh from the UK. Book now for your chance to explore this thriving American city that's been flying under the radar.
And before you discover the bridges, the art, the sports, and the food that Steel City is renowned for, how about unearthing Reykjavík's city secrets? When you book flights from the UK to Pittsburgh with Icelandair, you can add a Stopover in Iceland at no additional airfare.
Exploring Pennsylvania
The state of Pennsylvania measures over 46,000 square miles (close to 120,000 square km) – so it's even bigger than Iceland! There are 310 miles (or 500km) between Pittsburgh and Philadelphia, with the state capital of Harrisburg half way between the two.
The area surrounding Pittsburgh is full of history, great food, and fun activities. North of the city is the Great Lakes area, northwest is the rocking city of Cleveland, Ohio (home to the Rock and Roll Hall of Fame), and southeast is the Laurel Highlands, a pretty, mountainous area that's full of outdoor opportunities and world-renowned architecture.
Pittsburgh is about 45 miles (72km) east of the Ohio border, and crossing over to Cleveland is a fun way to spend a day, especially to check out the renowned Rock and Roll Hall of Fame. The shores of Lake Erie, one of the Great Lakes, are popular for weekend getaways and have dozens of camping spots and picnic parks.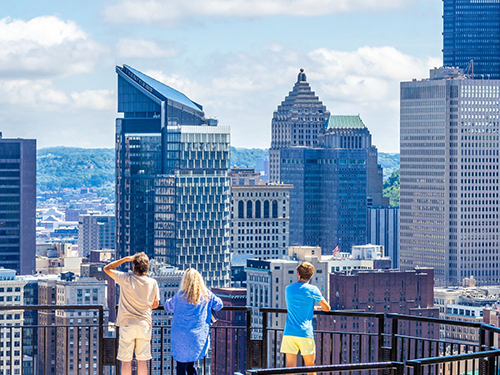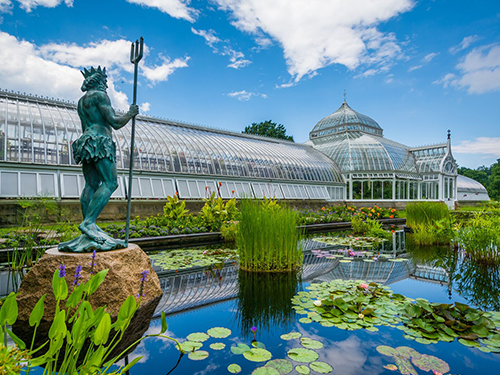 Pittsburgh activities
Prefer outdoor exploration? Take a stroll beneath the Pittsburgh skyline at Point State Park, where a large fountain marks the spot where the Allegheny and Monongahela rivers meet and form the Ohio River.
Alternatively, head to Phipps Conservatory and Botanical Gardens, where a mammoth Victorian-era glasshouse is the star of the show. And be sure to take a ride on the historic Duquesne Incline, a hillside funicular railway, for panoramic views of the city's skyline and rivers.
For sports fans, Pittsburgh is a treat. It has yet another nickname – the City of Champions. It's home to three major-league professional teams: the Steelers (American football), the Penguins (ice hockey), and the Pirates (baseball). See a game to soak up the best local atmosphere and cheer along with some very devoted fans!
Pittsburgh attractions
You might not associate Pittsburgh with world-class museums, so prepare for a surprise! From its industrial beginnings, the city has transformed into a sophisticated city with first-class cultural institutions.
The University of Pittsburgh is home to several interesting buildings, including the 42-story skyscraper Cathedral of Learning, and the stunning Heinz Memorial Chapel.
Although many people associate Andy Warhol with New York, the pop-art icon was born and raised in Pittsburgh. The Andy Warhol Museum is actually the largest museum in North America dedicated to a single artist, and it's home to the largest collection of Warhol art and archives in the world.
The Carnegie Museum of Natural History is a wondrous place of dinosaurs and diamonds. Come face-to-face with a T-Rex skeleton and assorted dino-fossils, plus dazzling minerals, gems and jewels. Meanwhile, the Carnegie Museum of Art houses works by big-name impressionist painters, including Van Gogh, Monet, and Matisse.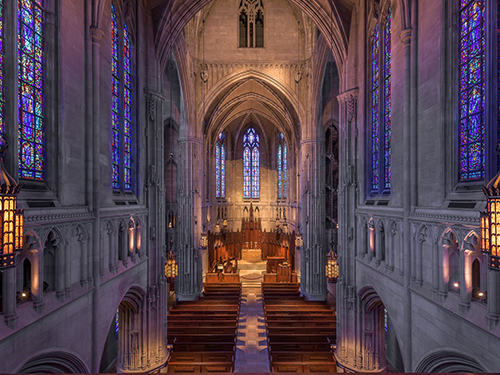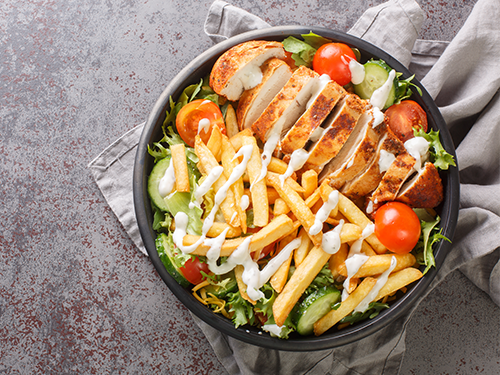 What to eat
There's a booming food scene and lots of new restaurants helmed by creative young chefs, but Pittsburgh's most iconic foods tend to be rustic and hearty.
Come hungry to try the revered 'Primanti Brothers sandwich', a grilled meat, melted cheese, and tomato sandwich with French fries and coleslaw served inside, rather than on the side.
Not to be outdone, the 'Pittsburgh salad' is a lettuce-based salad that is topped with French fries, grilled chicken or steak, and a generous share of mozzarella or cheddar cheese.
Pittsburgh's industry made it a magnet for immigrants, and in turn, they made a mark on local appetites. Pierogi dumplings, for example, are almost everywhere, as are all types of sausage.
At dessert time, try the city's sweet pride and joy: burnt almond torte (cake with custard filling, topped with frosting and toasted almonds).
Where to eat and drink
Visitors are spoiled for choice when it comes to dining in Pittsburgh. The City of Bridges has a remarkable 90 neighbourhoods, and each claims a distinct local identity.
A top pick for dining is the Lawrenceville neighbourhood, east of downtown, with a mix of cool stores, breweries, and good eats. Downtown offers the most big city feel, with a 14-block Cultural District - a hub of restaurants, shops, theatres, galleries, and outdoor parks - in the heart of it.
Just a few miles north of downtown is the Strip District, a flavour-filled neighbourhood known for great, affordable international eats. It's one of the city's most popular areas for shopping, dining and drinking venues.
Fun fact: Heinz (famous for ketchup and other condiments) was founded just outside Pittsburgh in 1869. Today you can stop in at the Heinz History Centre here, for the lowdown on the Heinz company as well as all the things that make Pittsburgh noteworthy.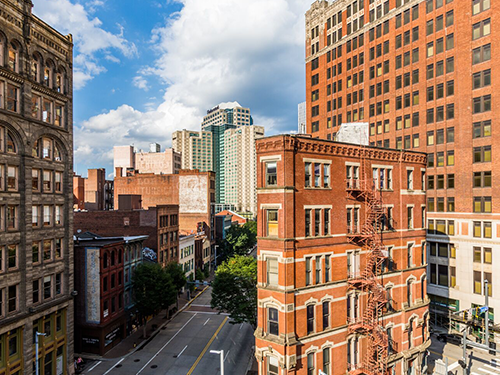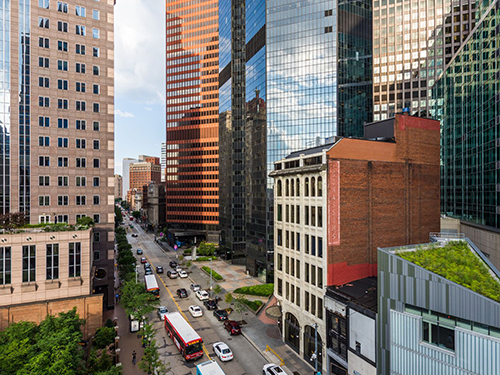 Getting around the city
Downtown Pittsburgh is very walkable and there's public transport (bus, light rail and inclines, also known as funicular railways) to the outlying neighbourhoods and suburbs. Pittsburgh's Inclines are perfect for travelling up the steep inclines towards great viewpoints – perfect for sightseeing!
Rideshare apps like Uber and Lyft are popular. In fine weather, we recommend hiring a bike and exploring Pittsburgh's riverside bike paths.
For UK travellers arriving via Pittsburgh International Airport, Pittsburgh Regional Transport operates a bus (the 28X Airport Flyer) from the airport to downtown.
There's an app for purchasing city transport tickets and passes, but exact change is required when paying with cash. Travel between the downtown area and North Shore is free on the light rail system.
Beyond Pittsburgh
A car is useful for exploration, and there are plenty of hidden gems waiting to be discovered within easy reach of Pittsburgh. South of Pittsburgh are the mountainous landscapes of the aforementioned Laurel Highlands. The area is home to eight state parks, all free to visit.
You can make a great loop of attractions. Begin by exploring the underground caves and rock formations of Laurel Caverns, then head to Ohiopyle State Park, a hub of activity with everything from white-water rafting to swimming, hiking and biking. Then close off the day by enjoying some incredible views at the Baughman Rock Vista overlook.
Head to Mount Davis, the highest summit in Pennsylvania (3213ft, or 979 metres), for more memorable panoramas.
Near Ohiopyle is Fallingwater, a must for fans of modern architecture. Fallingwater is a house designed by architect Frank Lloyd Wright in 1935, built amid a forest and incorporating a small waterfall. It's been labelled the best all-time work of American architecture, and is a UNESCO World Heritage Site.