Book today for quick, comfortable connections between Keflavík Airport and your Reykjavík accommodation, including free on-board Wi-Fi! Return journey per person is £58, and one-ways are £32. Children 6-12 years old pay 50% and children under 6 are free, traveling with an adult.
Arrival transfer
The Flybus transfer coach to Reykjavík awaits directly outside Keflavík Airport after all incoming flights, including those with late arrivals. Just collect your bags, exit through customs, and exchange your transfer confirmation for tickets at the Flybus counter in the arrivals hall. Then, when you board inform the driver which hotel you'll be going to and you'll arrive approximately 45 minutes later at the BSI city bus terminal. There, your connecting shuttle will bring you on the short ride to your accommodation or designated drop-off location.
Departure transfer
For your return to Keflavík International Airport, check with your hotel receptionist the night before your departure flight to reserve a seat on the transfer bus. Hotel pick-up is 30 minutes before departure so be sure to be outside your hotel or designated pick up point, so you don't miss it, or your flight!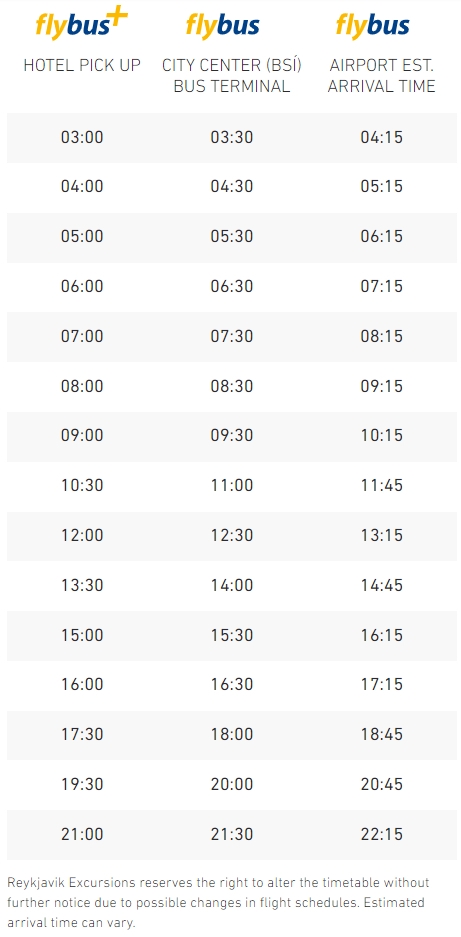 Conditions
The Flybus picks up and drops off passengers at designated stops authorized by the City of Reykjavík, as well as select hotels and guesthouses throughout the city. Please review the full list for current information. Drop-offs and pick-ups are not available from private homes or any accommodations outside Reykjavík
Pick-ups for transfers to Keflavík Airport begin 30 minutes before scheduled tour departure outside the main entrance of your hotel, or your designated stop. If your pick up has not arrived 20 minutes after the pick up starts, please call +354 580 5400.
No refund for unused travel services or land arrangements once a tour starts
Tour operated by Reykjavik Excursions
All general inquiries, including change or cancellation requests, must be submitted online
Terms and conditions, including changes and cancellations to your holiday, vary depending on your country of departure. Please refer to the applicable Icelandair Holidays terms and conditions.