UNIQUE ICELAND WESTFJORD
One of the more remote areas in Iceland, the Westfjords are a combination of striking nature and hard-working people. Formerly a region devoted almost exclusively to fisheries; now the resourceful inhabitants engage in various industries like tourism, fish farming, cultural events and more. In fact, the Westfjords are a prime example of a region where nature is the main force in shaping people's way of life. With formidable mountain landscapes, narrow mountain passes and beautiful fjords, you come to appreciate just how hard-working and resourceful the people here are when you visit the Westfjords.
---
Museum of Icelandic Sorcery and Witchcraft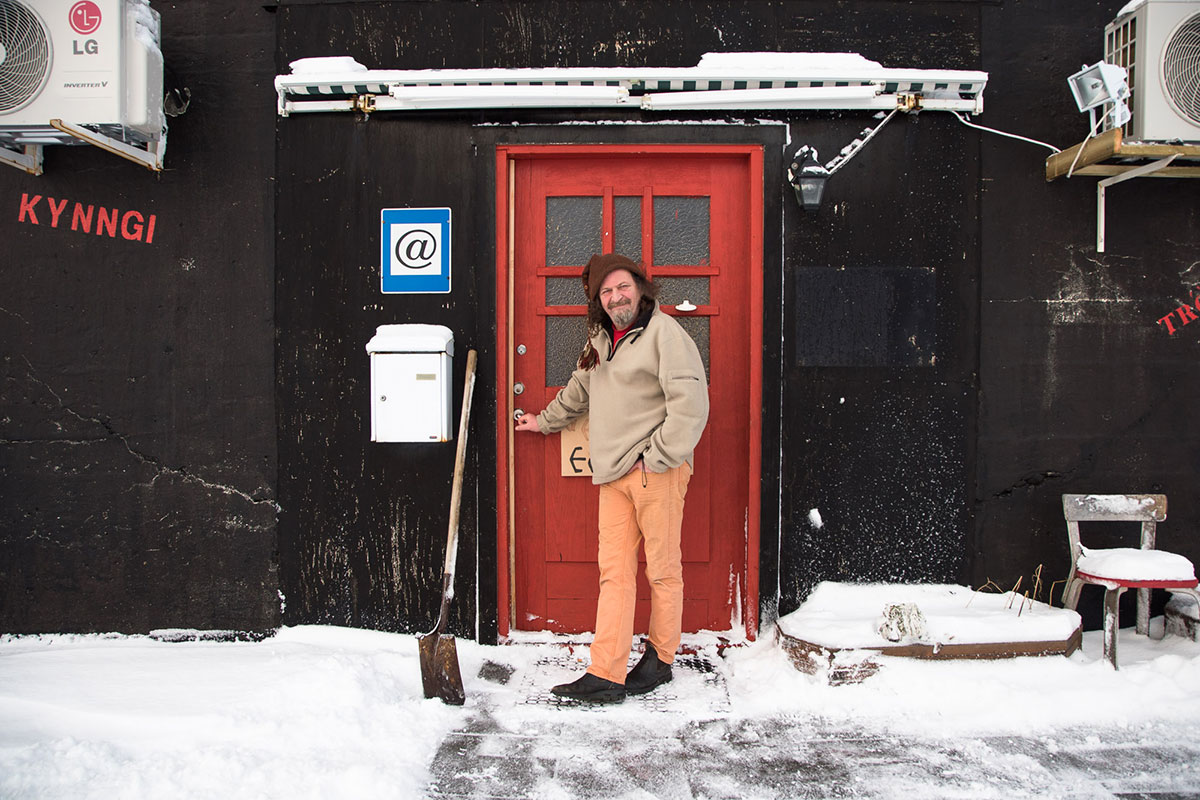 Hólmavík is the largest town in the Strandir region, which is an area with an exciting and tragic history of witchcraft, witch-hunting and sorcery.
The Museum of Icelandic Sorcery and Witchcraft takes visitors on a tour of the mystical world of the supernatural. The history of witch-hunting in 17th century Iceland is presented at the exhibition as well as various aspects of magic from more recent sources. A second part of the exhibition is in Bjarnarfjörður, 30 kilometres from Hólmavík.
---
Malarhorn guesthouse in Drangsnes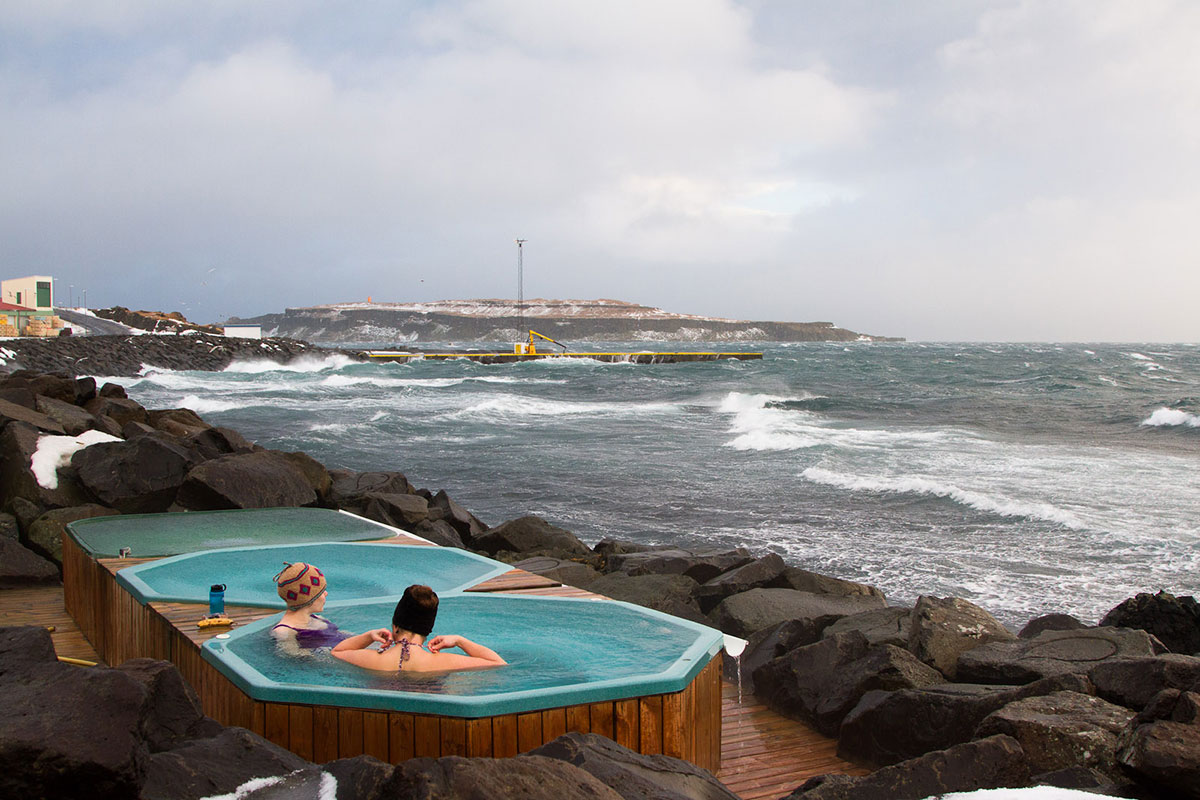 Drangsnes is a fishing village, pure and simple. Conveniently located near the fishing grounds, it thrives in its minimalistic ways. In fact, the entrepreneur who runs the local restaurant and one of the guesthouses is a fisherman.
You can book a wildlife cruise on Steingrímsfjörður to view the ocean wildlife (birds, seals, whales and puffins), or join a scheduled guided trip to Grímsey Island. These trips begin on the 15th of June and continue until the middle of August if weather permits.
---
Ísafjörður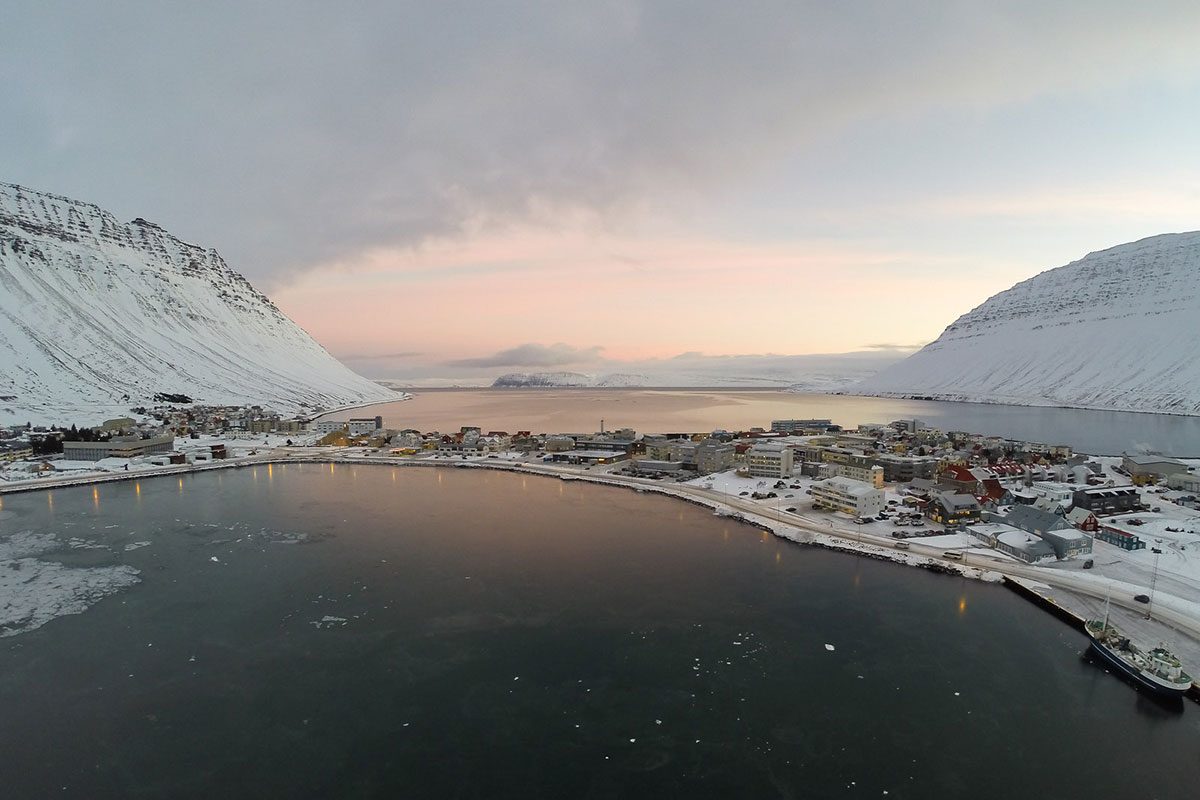 Ísafjörðuris the largest town in the Westfjords, with some 2,600 inhabitants.  It is an ancient church site and has been a trading post since at least the 16th century. However, a town did not start to form there until after the mid-19th century. The town's growth was triggered by salt fish production, and ever since then the fishing industry has been vital to the community.
The town has all necessary services, like a hospital, schools ranging from kindergartens to a small university, and branches from various government organisations. For the tourist, Ísafjörður has a range of accommodation options, restaurants and recreation that suit all budgets and tastes. A golf course, hiking and biking trails, horse riding, bird watching, skiing and kayaking are all within easy reach. Ferries to the Hornstrandir Nature Reserve depart daily from Ísafjörður during the summer months. Ísafjörður is also the home of the regional tourist information office.
---
Hotel Ísafjörður
Hotel Ísafjörður is a modern three-star hotel with 36 double rooms, where one is a deluxe room. All the rooms are decorated in a light and bright Scandinavian style.
Therestaurant Við Pollinn at Hotel Ísafjörður serves a wide selection of good food throughout the day, including light meals, homemade cakes and various drinks.
---
West Tours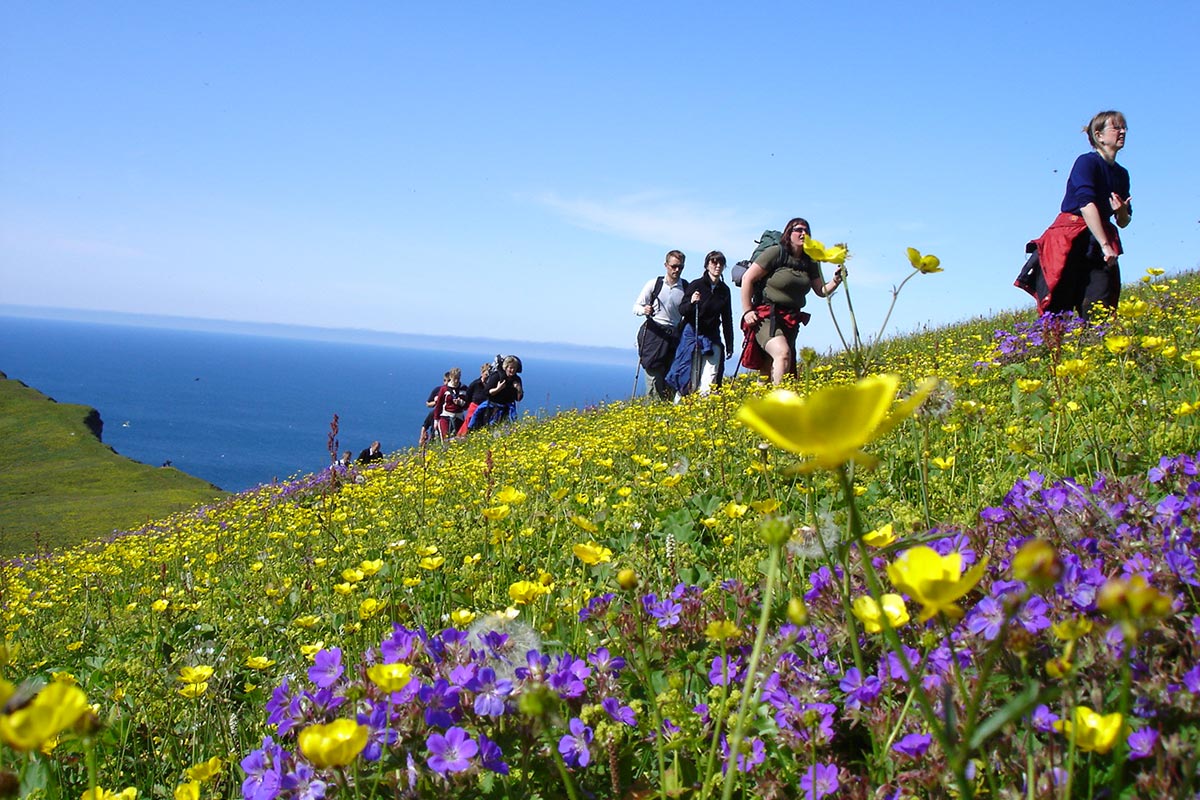 West Toursis a well-established creative tour operator and travel bureau in Ísafjöður, founded in 1993.
West Tours works with practically all tourist service suppliers in the region and is a good place to contact if you need any assistance with your travel plans.
If you're planning a hike, a daylong stop, a long weekend or a longer trip around the Westfjords peninsula, they can arrange all services needed: transportation, accommodation and recreation.
---
Litlibær in Skötufjörður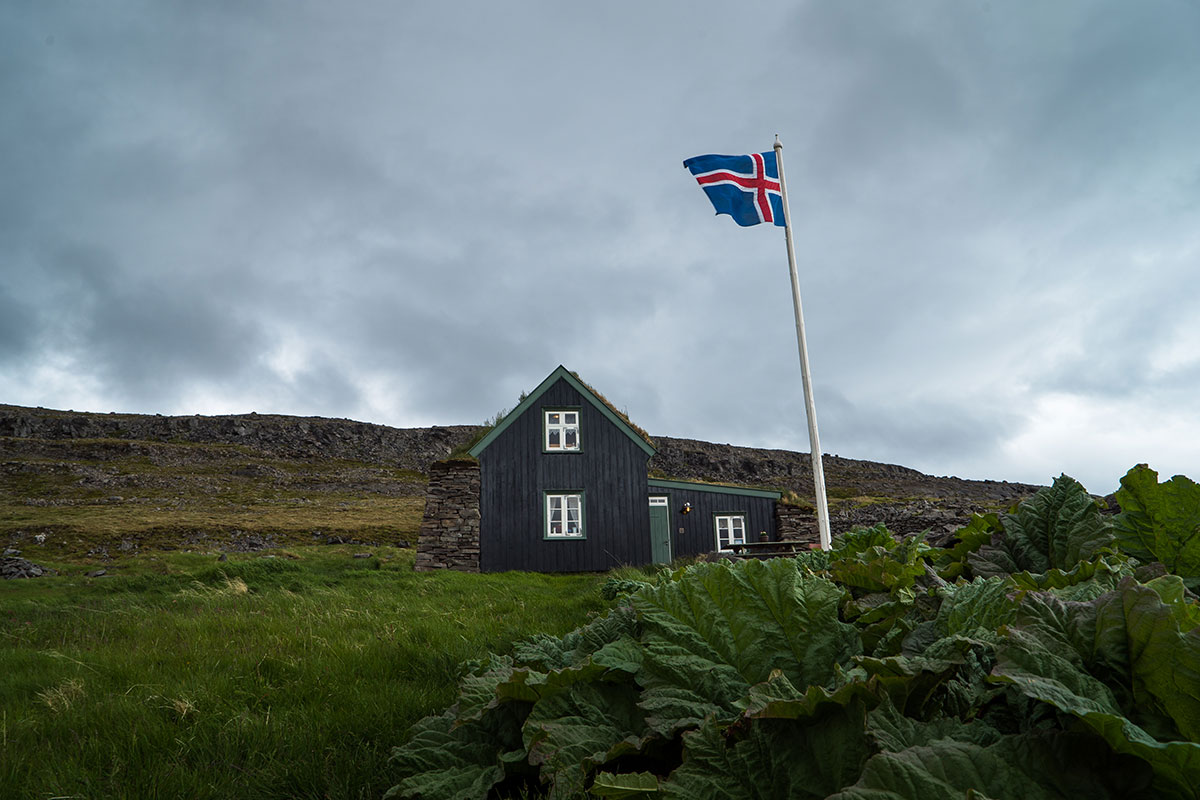 Litlibær is a little farmhouse that was originally built in 1894 and was occupied until 1969. There are many big and thick stone walls on the farm, one of which is built in a circle and was used as a shelter for sheep. That particular wall is much older than other stonewalls on the farm. The farmers lived from both farming and fishing, which was a common way of life for farmers that owned land close to the sea.
In 1999, the National Museum bought the farm and started restoring it and it's now home to a permanent exhibition about farm life in the region. And if you're lucky, you might see seals relaxing by the shore.
---
Stiklur – Steppin' Stones B&B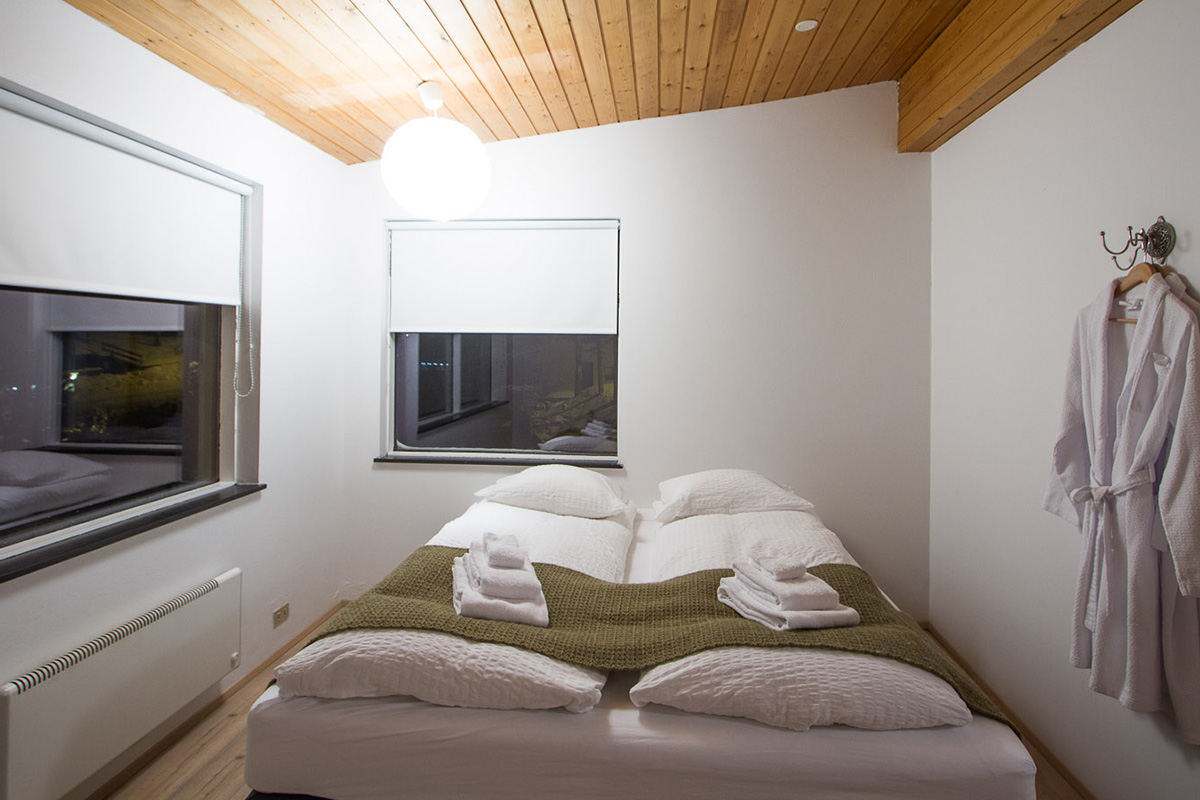 Stiklur is a family-owned B&B located in Bíldudalur village in the Westfjords region and has brightly decorated double/twin rooms with shared bathroom facilities. With free Wi-Fi access, mountain or fjord views and a common room with a TV, it's a lovely place to stay when visiting the town. Breakfast, bed linens, towels and bathrobes are also included and the guesthouse is open all year.
Furthermore, Bíldudalur is an ideal base when discovering the southern Westfjords. Its central location is convenient for various day trips to the most popular attractions in the area and you can even book locals to guide you. Stopover passengers who want to explore the wonders of the Westfjords can fly to Bíldudalur with Eagle Air, which only takes 35 minutes. In winter, it's a perfect place to regroup and recharge.
---
Vegamót restaurant, Bíldudalur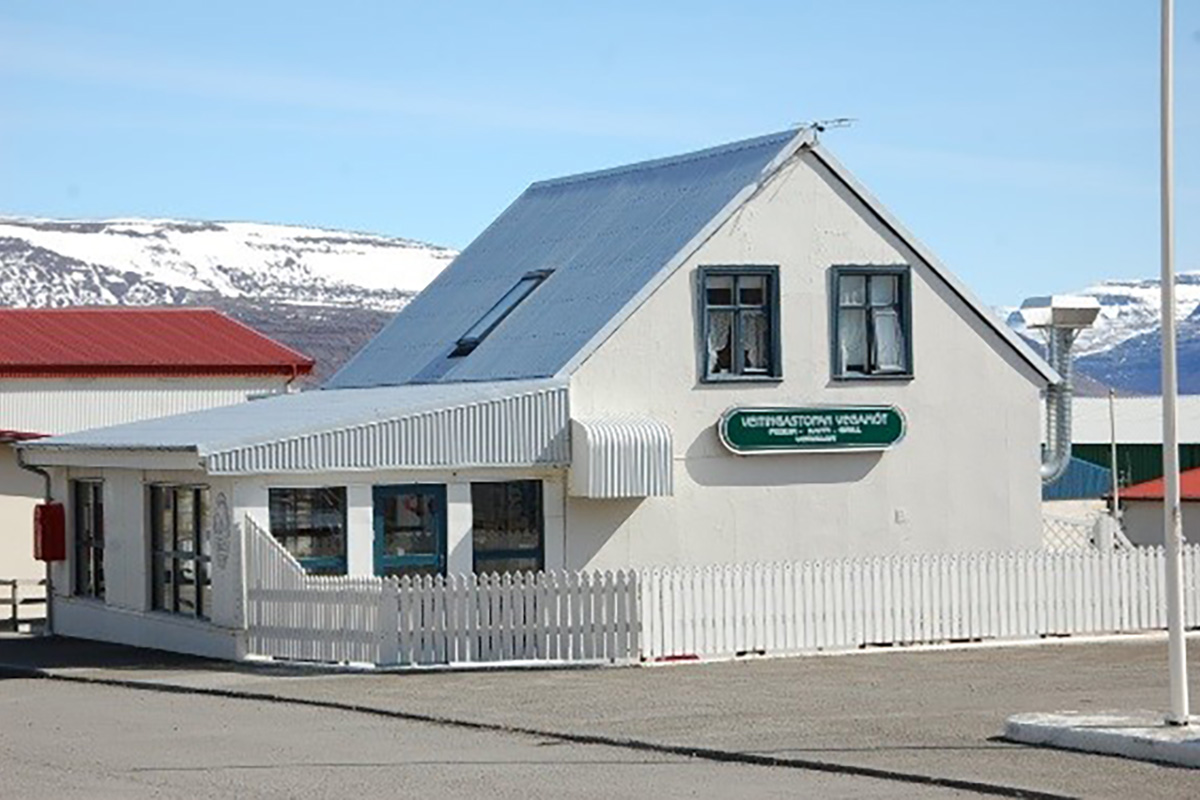 Vegamót, or "Cross Roads", is a small restaurant and coffee shop that also sells basic groceries and serves homemade cakes, ice cream, hot dogs, burgers and other selected dishes. Enjoy your food sitting in the downstairs restaurant or take a seat on the second floor in "Unustofa", where there's a more relaxed environment. On sunny days, most guests like to sit in the outside area to observe the lively day.  
---
Samúel Jónsson's Art Museum Selárdalur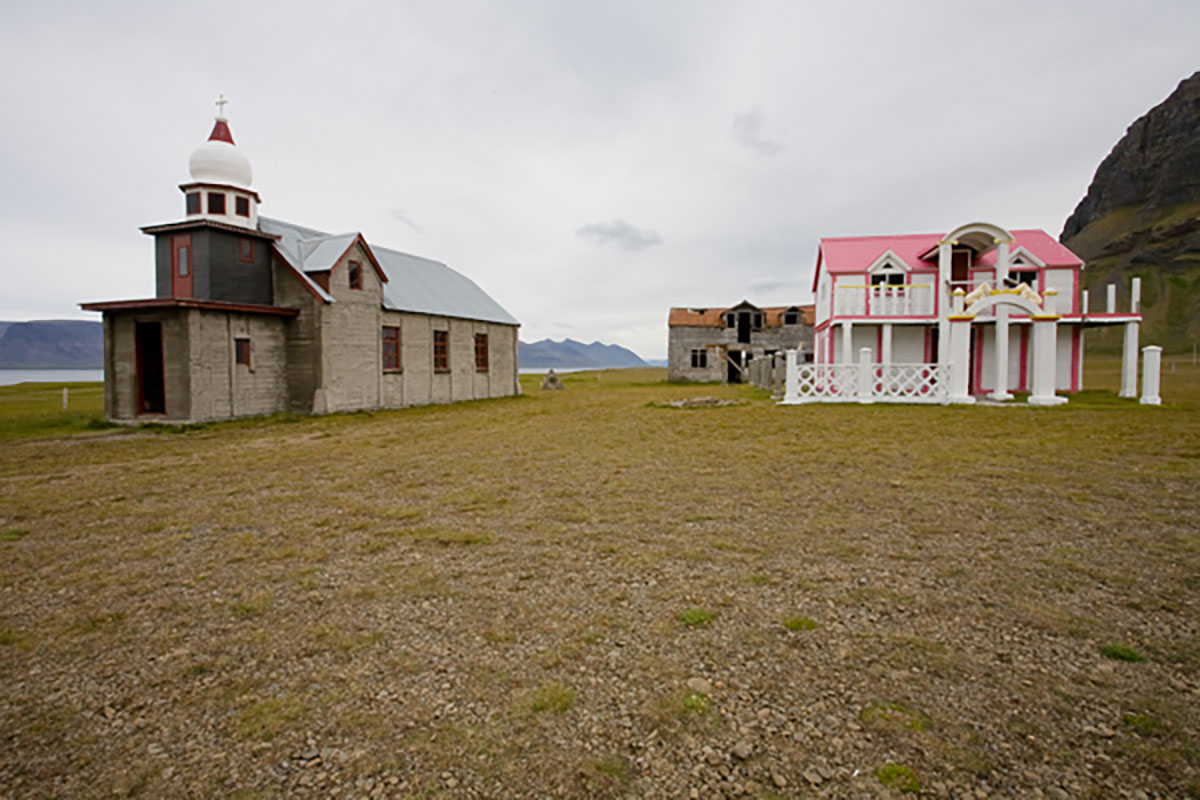 The Ketildalir valleys are on the southern shore of the fjord Arnarfjörður. The best-known valley is probably Selárdalur – a very popular destination because of sculptures and buildings by naïveté artist Samúel Jónsson. Samuel is referred to as "the artist with the infantile heart", because upon his retirement in 1958 at the age of 72, he pursued his dreams and became an artist. Mostly he created sculptures from concrete and carried the sand on his back from the shore to his farm Brautarholt. In his back garden, among other things, he replicated the Lions Court in the Alhambra.
Selárdalur also offers a beautiful panoramic view across Arnarfjörður over to the 1,000-m-high Kaldbakur Mountain, the highest mountain in the Westfjords.
---
The Icelandic Sea Monster Museum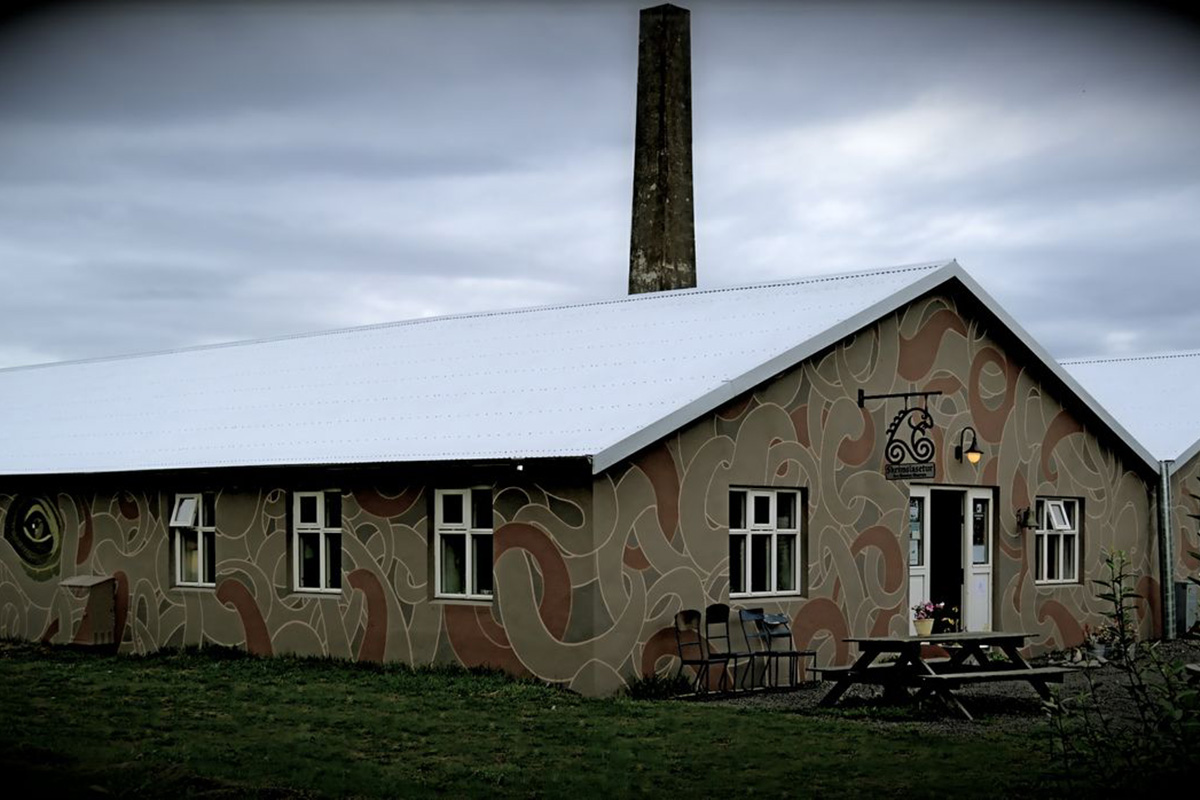 Tales of sea monsters have played a colourful role in Icelandic folklore for centuries and thousands of written accounts can be found from all around the country. Today, these elusive creatures that still appear in Arnarfjörður have been given a worthy home at the Icelandic Sea Monster Museum, located in village Bíldudalur. The Arnarfjörður fjord, by which the village stands, is proclaimed to be one of the most prolific centres of monster activity in Iceland.
When you visit the Sea Monster Museum, you can watch these remarkable creatures brought to life through a lively mix of words, images and videos – an action-packed multimedia display that culminates in a spectacular interactive plinth, the first of its kind in Iceland.
---
Fisherman Food Trail Suðureyri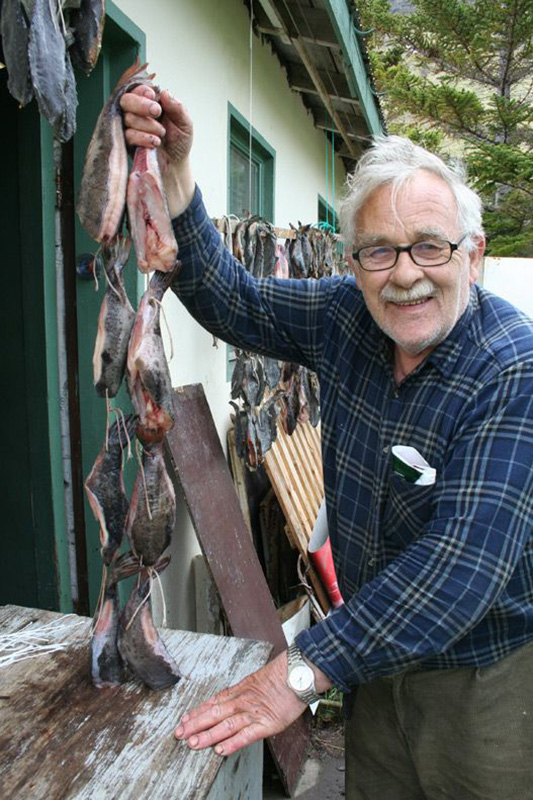 Suðureyri is a small and environmentally friendly village where everything is about fish. This is your chance to hear about living at the edge of the Arctic Circle. See for yourself how this thriving community processes Iceland's finest fish and get a fresh taste of it while listening to local stories. Learn why Iceland's first-class export product can be on your domestic dinner plate just 36 hours after leaving the ice-cold Atlantic Ocean, and how unbelievably sustainable their operations are.
The Food Trail tour takes about 1.5 hours and starts daily at 9 & 11 am and 1 & 3 pm at the Fisherman hotel.
---
Bolungarvík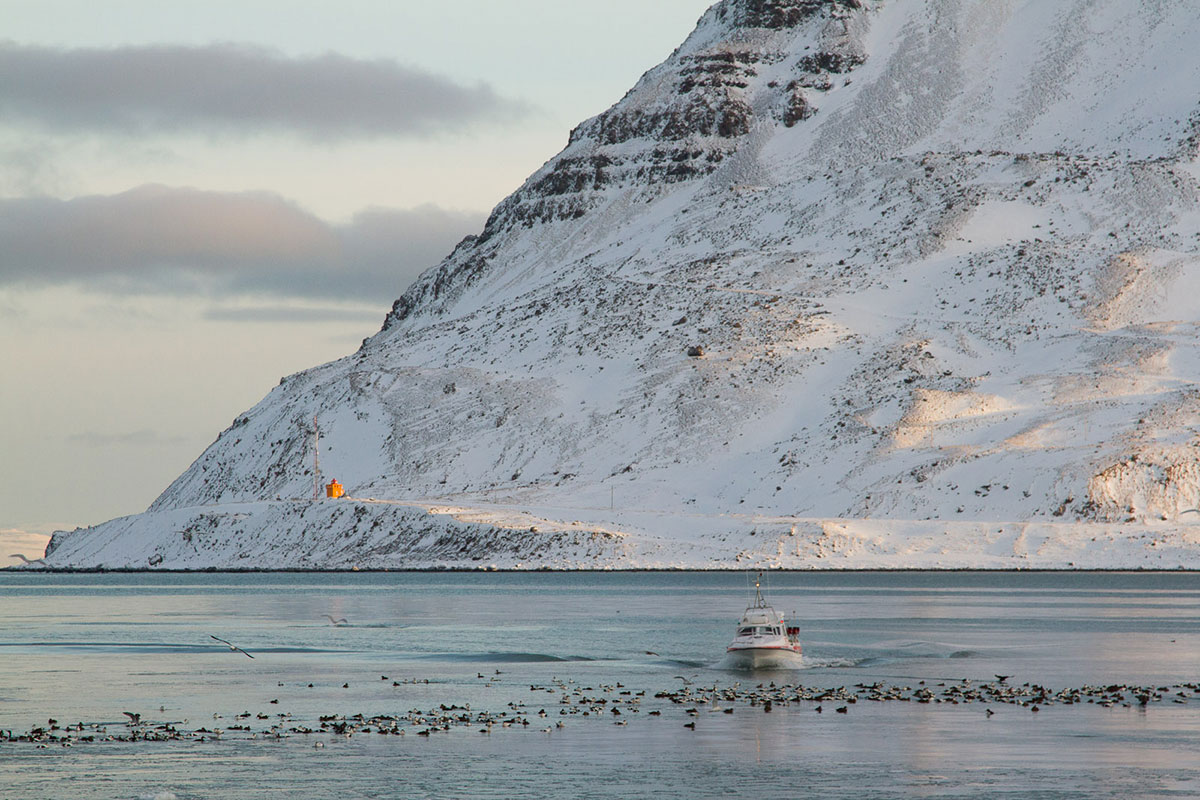 Bolungarvík is the northern-most village in the Westfjords, situated on an eponymous cove. The village has been a fishing port since settlement, so naturally the most popular tourist attraction in Bolungarvík is the Ósvör museum, a fascinating replica of an old fishing outpost. In addition, there is a natural history museum in town that hosts an extensive bird and mammal collection, including a polar bear. Another popular summer visit is the top of Bolafjall Mountain offering a staggering view. In winter, travellers have to admire the top from down below, but that's in no way less magnificent.
---
Ósvör Maritime Museum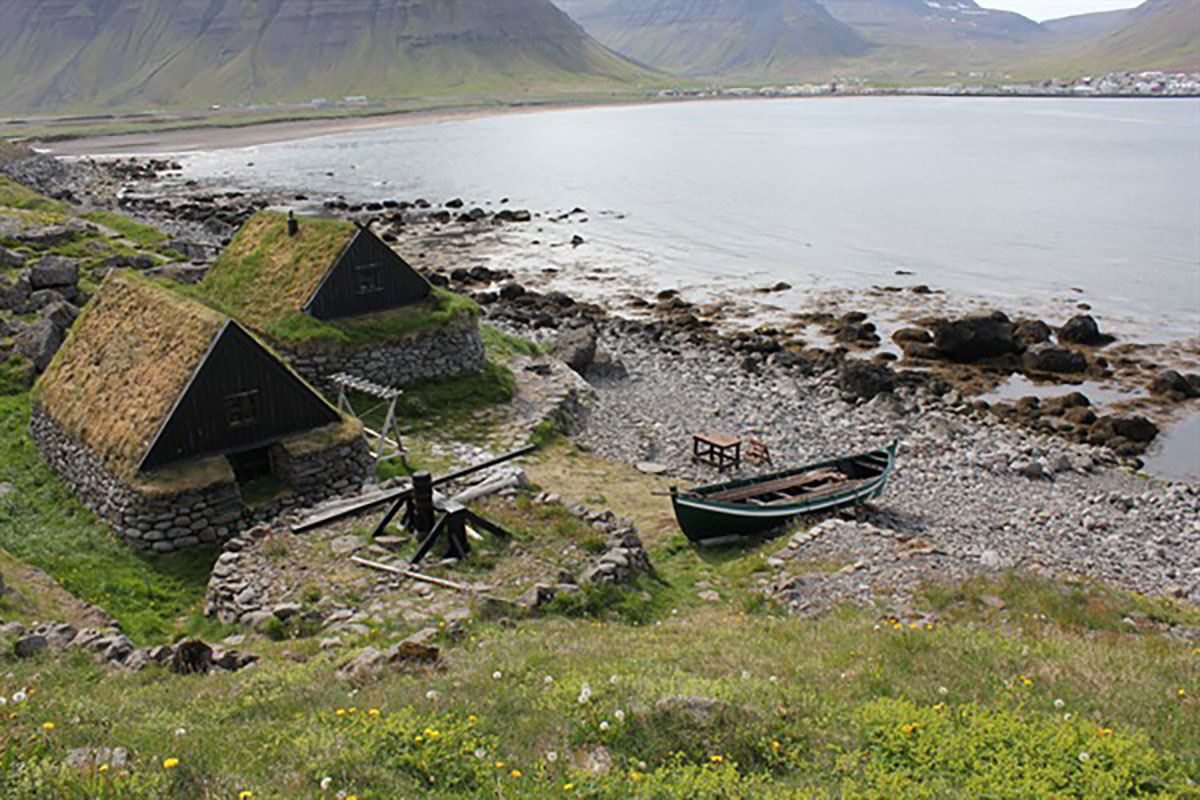 Ósvör is a replica of an old, Icelandic fishing station from the19th century. On display are a rowing boat, a crew hut with tools and equipment, a salt house, and a drying shed. The curator welcomes guests dressed in his traditional fisherman outfit.
---
Dynjandi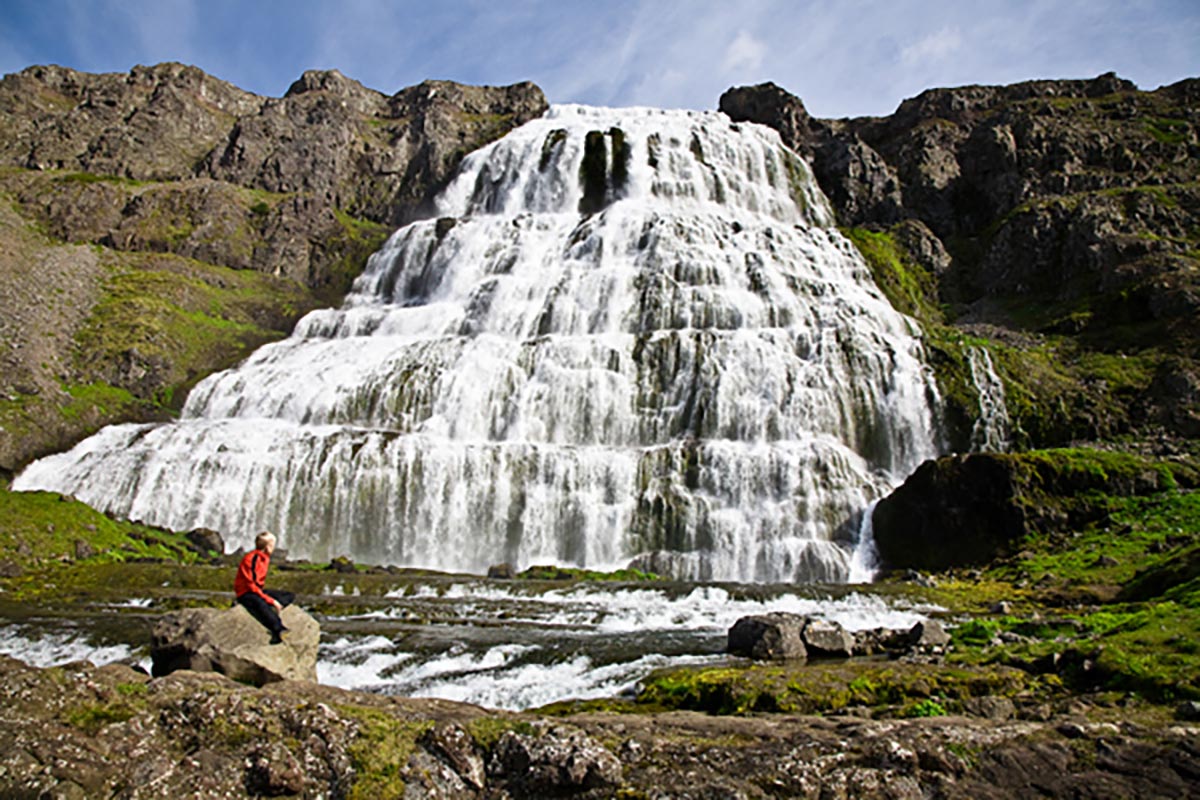 This waterfall is simply enthralling and has been the Westfjords' favourite front-page model for decades. Its biggest and widest part is the one that gets all the attention in photos, even though there are impressive, albeit smaller, waterfalls further down the river. In fact, one is formed in such a way that the brave can walk behind it and remain relatively dry. There is a camping site by the waterfall with essential services.
---
Natural pools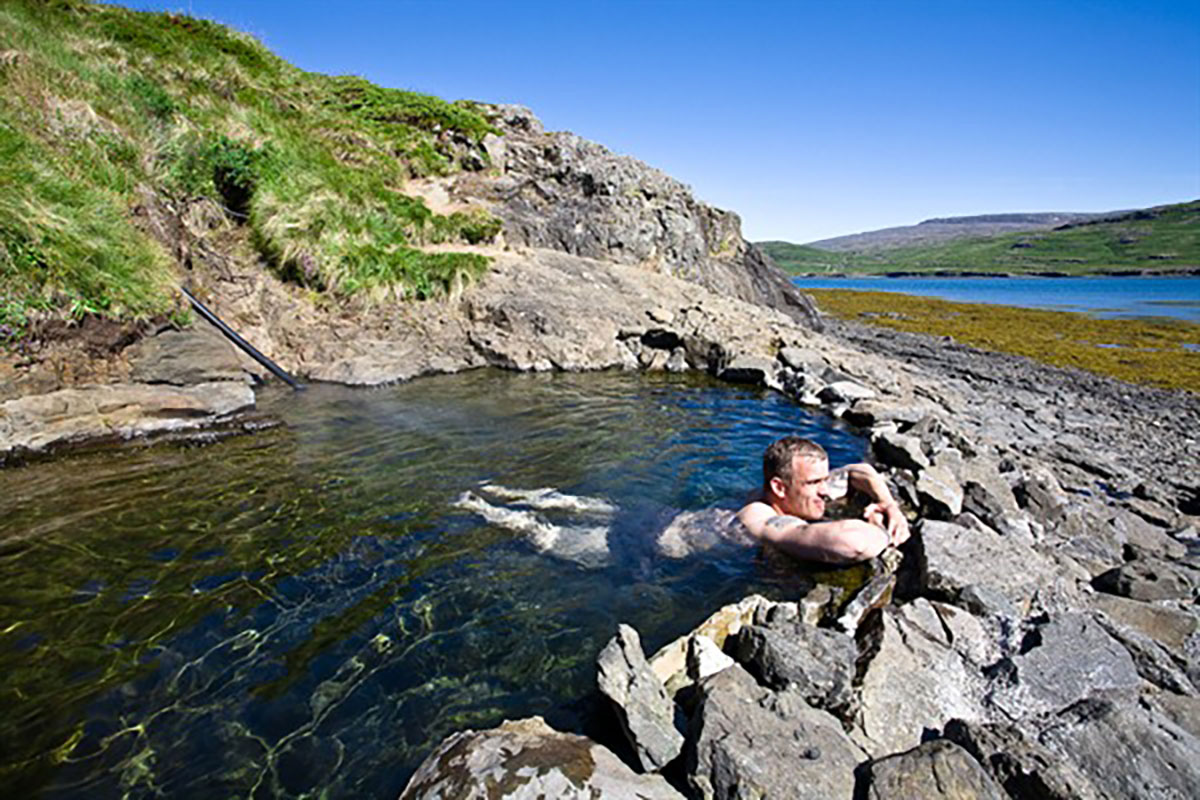 Natural hot pools are counted among the hidden gems of the Westfjords, and can be found even in the most remote places. This might sound like a cliché, but the pools are truly a well-kept secret – taken for granted, or even forgotten by locals. An explanation could be that the Westfjords are not generally considered a "hot spot" in Icelandic geology, so the geothermal activity is not as visible as it is in the north or the south of the country. Therefore, it is surprising to find that nowhere in Iceland are there more natural bathing pools than in the Westfjords, the reason being that the water is of perfect temperature straight from the ground. Some of the pools are situated right on the shoreline, with amazing views towards the sea, creating a unique experience to be enjoyed all year round.
---
Látrabjarg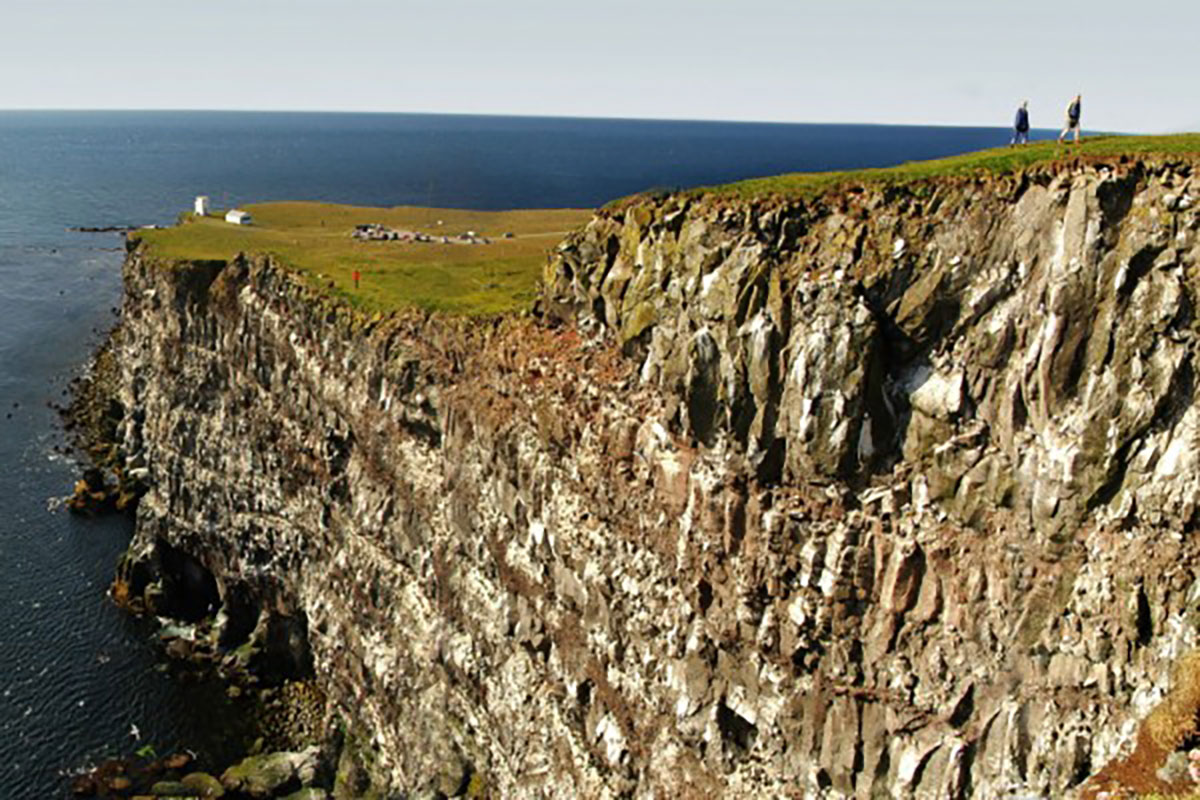 The cliff of all cliffs, Látrabjarg, is home to birds in unfathomable numbers. This westernmost point of Iceland (and Europe, if Greenland and the Azores are not counted) is really a line of several cliffs, 14 kilometres long and up to 441 metres high. It's as steep as it gets, and dizzyingly so. Safe from foxes, the birds are fearless and provide stunning photographic opportunities from close range.
The puffins are particularly tame and are the ones frequenting the grassy, upper part of the cliffs. But look out, the edges are fragile and loose and the fall is high.
Látrabjarg is deservedly the most visited tourist attraction in the Westfjords. The cliffs are easily accessible by car and when you're there, a walk along the cliffs awaits.
---
Villimey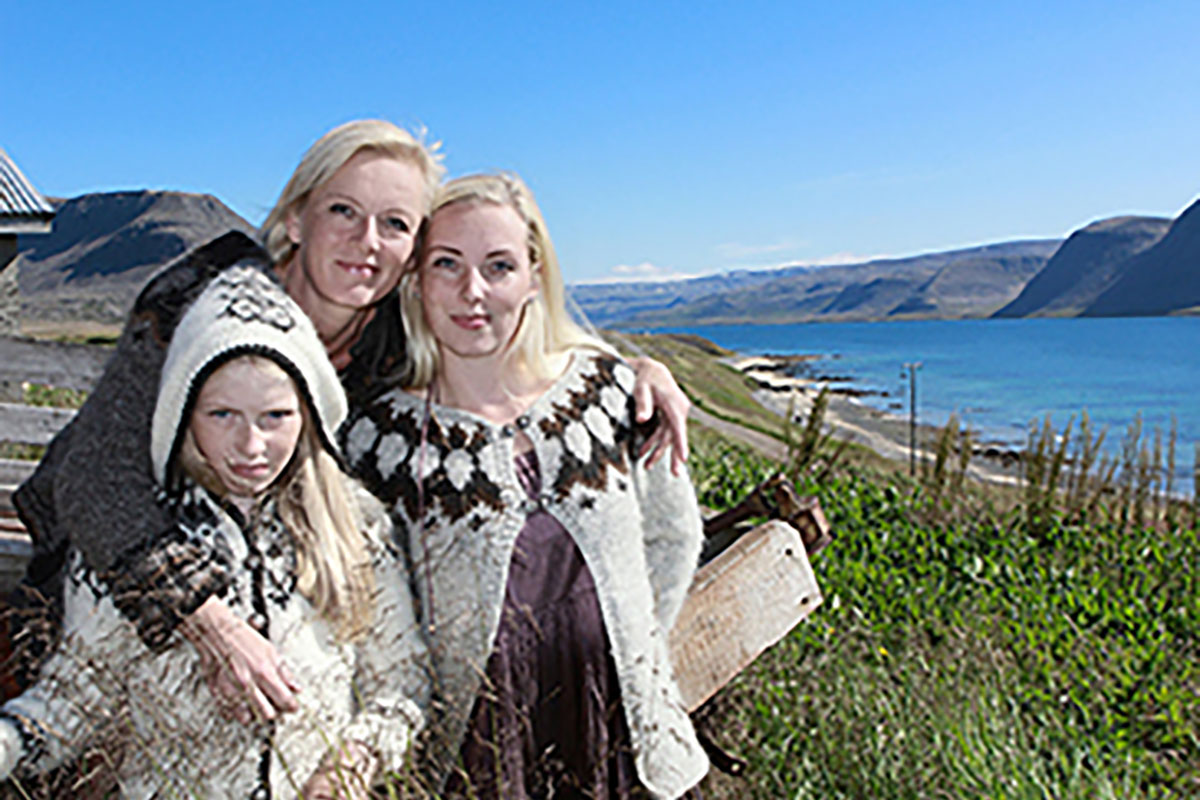 Villimey, which specialises in biological salves and ointments made with Icelandic herbs, is internationally certified and sustainably gathers the wild plants used in their products.From a young age Adalbjorg Thorsteinsdottir, or Alla as she is better known, was inspired by the mosaic of flowers and wild herbs that scatter the fields around Iceland's beautiful and remote West Fjords. Many plants and herbs have long been recognised for their healing effects. The specially selected Icelandic herbs in all Villimey products are hand-picked from the pure, untainted environment of the West Fjords.
---
Sæferðir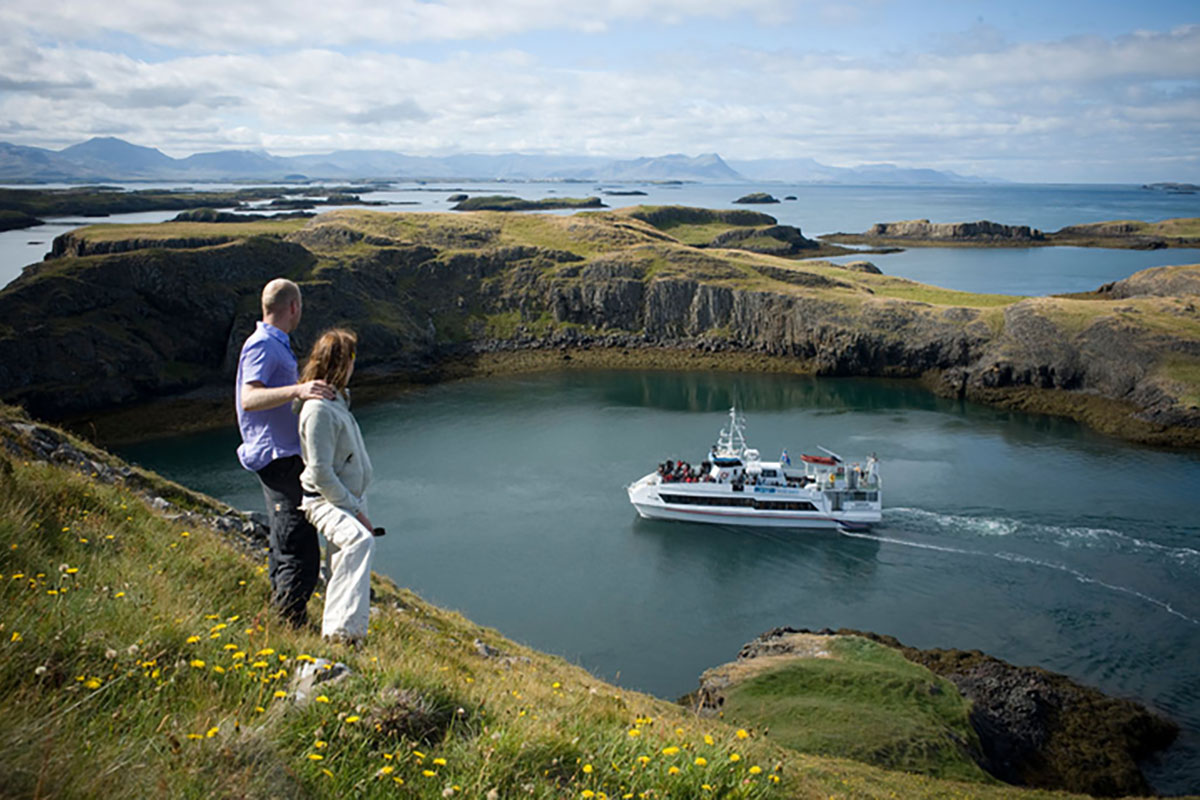 Ferry Baldur crosses Breiðafjörður Bay daily from Stykkishólmur town on the Snæfellsnes peninsula and docks at to Brjánslækur in the north. A ferry ride considerably shortens the route between the south and mid-west of the country and the Westfjords. You can also hop off at island Flatey en route between Stykkishólmur and Brjánslækur and enjoy the tranquil little island village before continuing on.
---
Westfjords adventures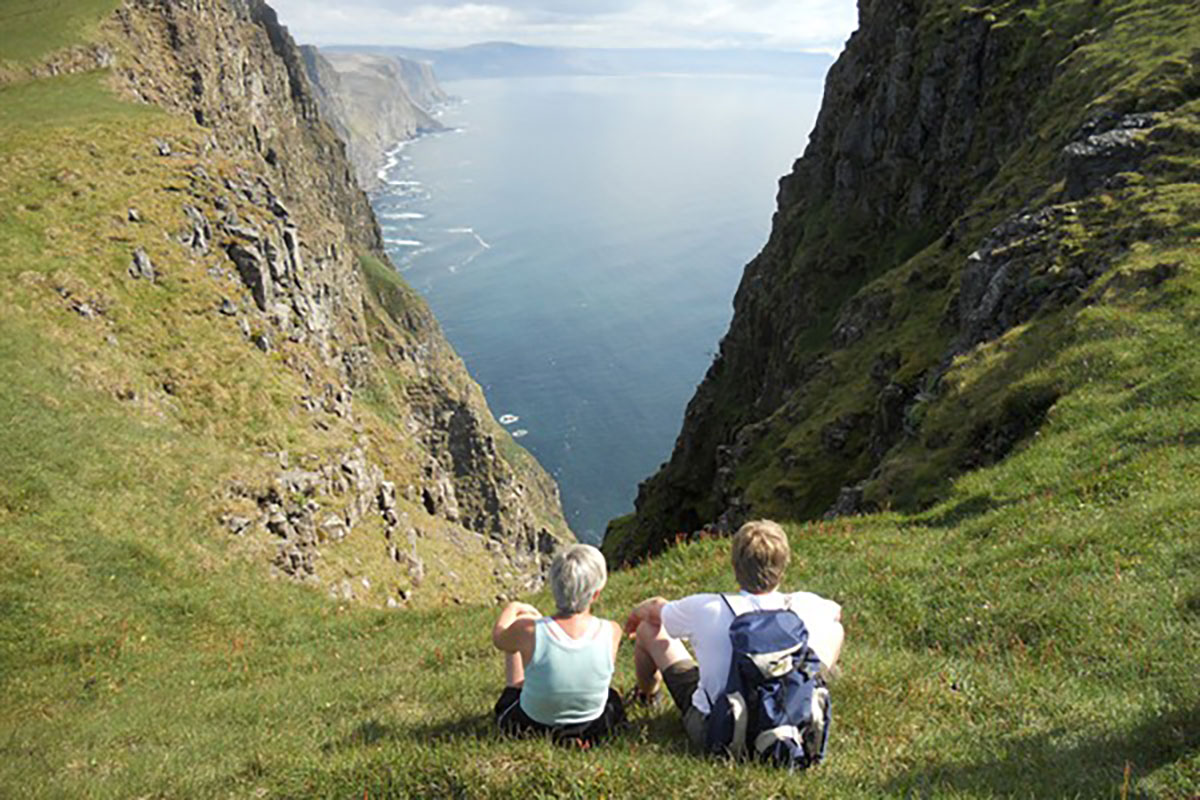 Westfjords Adventures, based in Patreksfjörður, offer various travel services and leisure activities in the Southern Westfjords. They organise guided tours to Látrabjarg cliff, Rauðasandur beach, Dynjandi waterfall and other scenic places in the area and offer guided bus tours, super jeep tours, hiking tours, bicycle tours, panoramic boat trips and sea angling tours, and operate a bike rental. So no matter whether you're a nature lover, photographer, birdwatcher, wildlife spectator, hiker, biker, adrenaline kicker, sea angler or someone who seeks the tranquillity of unspoiled nature, they can be of great help and would be happy to design various packages tailored to your requirements.
---