08/23/2022 | 10:00 AM
Islands hotteste naturlige vidunder
Last updated: August 23, 2022
In the last few days, our volcanic eruption seems to have wound down, and activity has paused. The eruption may resume, but no-one knows... Last year's eruption took a few pauses before reawakening. For now, it's possible to hike to the new lava field (do not walk on the lava). Keep an eye on the news sites for updates if the volcano wakes up!
----
It's back! At 1:30pm on August 3, 2022, a new volcanic eruption began from a fissure in Meradalir valley at Fagradalsfjall, the site of last year's eruption. An intense swarm of earthquakes had occurred on the Reykjanes peninsula giving warning of possible activity, and authorities were predicting a likely eruption. Iceland's summer just got hotter!
For anyone who is flying with us, please rest assured: official evaluations have been done and the eruption in its current state is causing no flight disruptions. In fact, if you get lucky on a flight, you might even see a live volcanic eruption out the window!

Eruption site, 2022 volcano. Photo by Chris Burkard.

Visiting the 2022 volcano eruption site
It's an extraordinary experience to witness an event such as this, but like any other volcanic eruption, it has to be done with caution. Safetravel.is is an excellent resource for up-to-date information on how to safely visit the eruption.

Over its 6-month lifespan, the 2021 volcano eruption attracted thousands of locals and tourists excited about a (possibly) once-in-a-lifetime show. We expect that the 2022 eruption will have a similar magnetic appeal.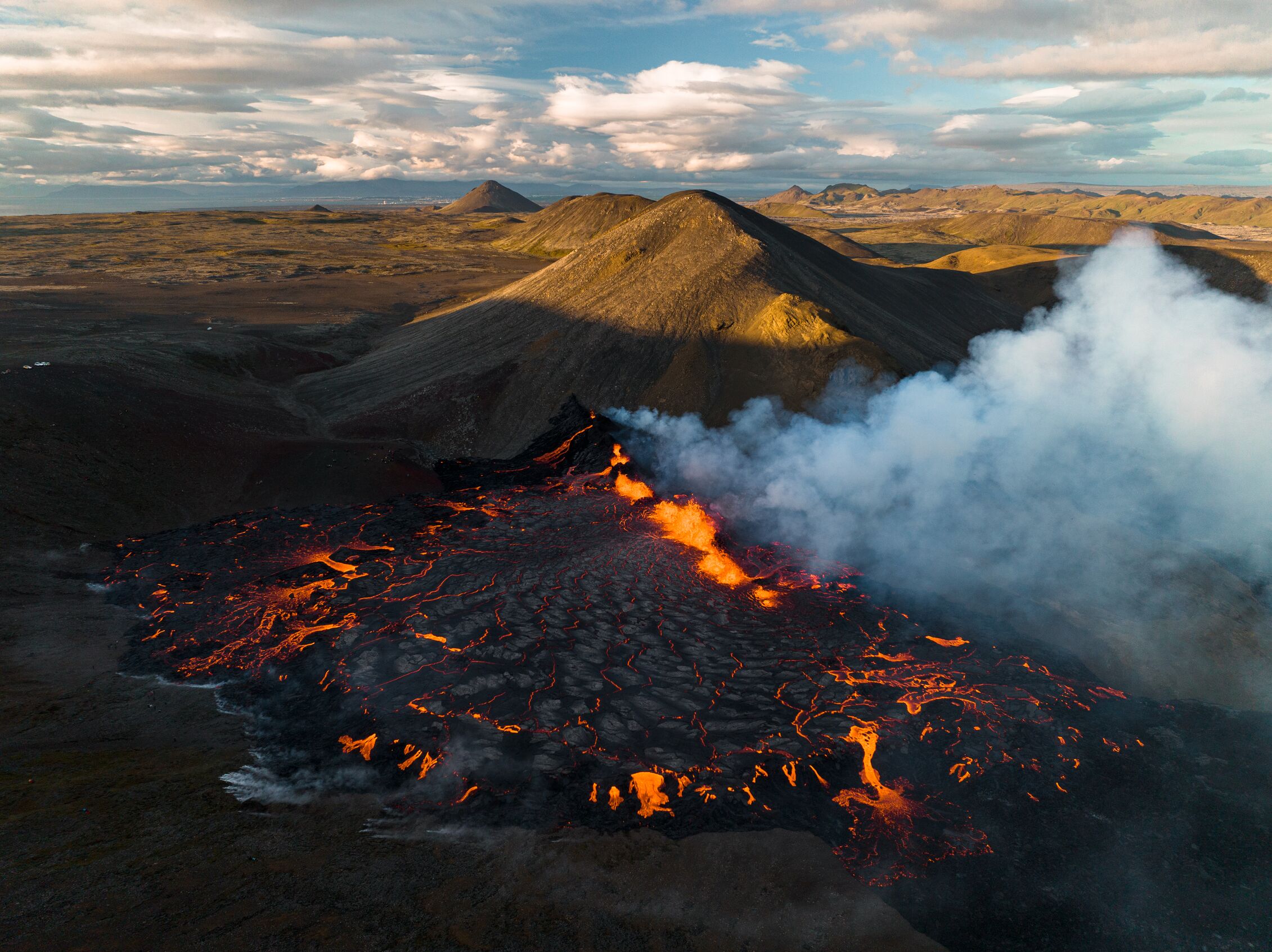 Eruption site, 2022 volcano. Photo by Chris Burkard.

Hot tips from the eruption site
Photographer and adventurer Chris Burkard has been busyvisiting the new eruption site and photographing it. Check out his images and reporting on Icelandair's Instagram account. He answered some of our questions to gear you up for a volcano visit.
How does this year's eruption compare with last year's?
Chris: This year's eruption is actually 5 to 10 times larger than last year's! It has more magma flow due to the size of the fissure being larger, which is awesome. Both eruptions have been absolutely beautiful and spectacular in their own ways. One big difference is the time of year in which they erupted. With this year's occurring in peak summer, the days are long and the weather is a lot more mild. Last year the days were short and the landscape was covered in snow which makes this year's a lot more enjoyable to spectate.
Is it safe to visit?
Chris: Yes, the volcano is safe to visit and I couldn't recommend it more! That said, you need to be cautious and up-to-date on the latest conditions and safety precautions. The Icelandic Search and Rescue team (ICE-SAR) is absolutely amazing and works 24/7 to keep people safe. They monitor the conditions of the weather, the volcano, and the air to make sure everyone is safe. It's important to listen to what they say and respect their decisions, and if you do this it is certainly safe to visit and enjoy.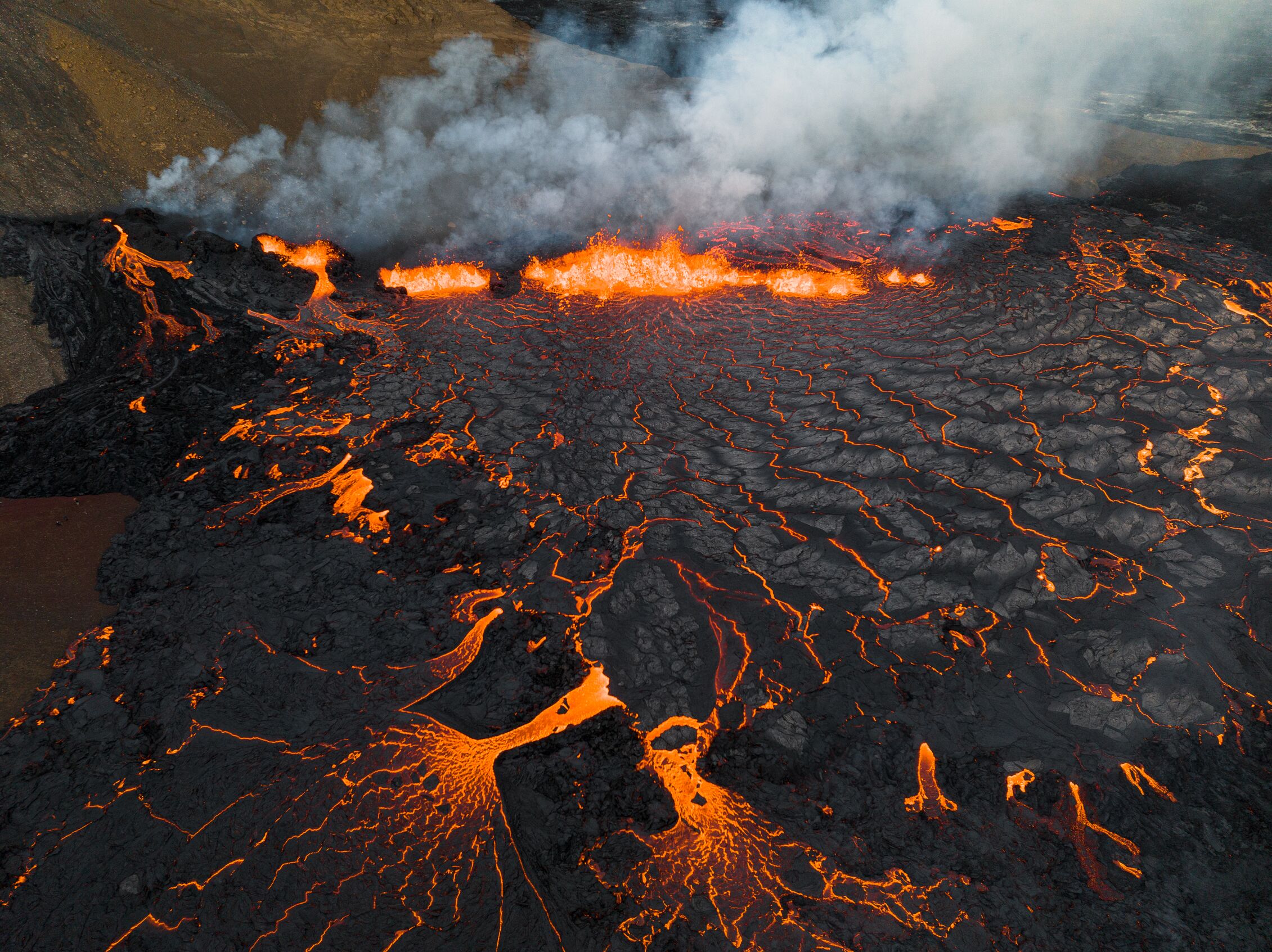 Eruption site, 2022 volcano. Photo by Chris Burkard.

How is the hike there? Is helicopter a good option too?
Chris: The hike there is not too bad. I think it's really cool anyone who wants to see this amazing phenomenon needs to put in a little work to see it – it makes the reward that much better. It's about 5km to 7km (3-4.5 miles) to get there depending on which trail you take and how the magma has moved. It's a mild hike but Icelandic weather is quite unpredictable so it is key to bring wind and rain layers as well as some water and snacks. Viewing it from the sky is amazing as well – either from a helicopter or small plane. It's quite incredible to see the volcano from above and to see it within the larger landscape.
What's been the reaction to your reporting from the volcano?
Chris: My reporting on the volcano has created more buzz than almost anything I've ever shot or posted on social media. People just cannot believe it, it seems so otherworldly and so rare. For people to see real lava and the changing of a landscape right in front of our eyes is crazy. The amount of people that have messaged me and told me that they booked last-minute flights to Iceland to see the volcano is absolutely insane and I love that people are so amped! It's pretty amazing you can fly into a major airport right next to this volcano and that flights haven't been affected due to smoke or ash. It really does feel once-in-a-lifetime and I would encourage everyone to try to see it.
Is it worth a special visit to see?
Chris: Is this even a question?! It is so so worth it, I cannot say it enough. I am lucky to have traveled the world and documented a lot of amazing things but few things compare to this. Seeing something so rare and finite while also being so large and powerful is amazing. It has honestly changed my perspective of our planet and the landscapes I spend time in. I can't recommend seeing it enough.
On a practical note: what should people bring on a volcano trip?
Chris: People should definitely bring good layers! Some warm layers (down jacket) and rain layers. Icelandic weather is really unpredictable and being prepared for any sort of weather is key. Good footwear is great for the rocky hike and so are poles if you want them. I'd recommend bringing some water and snacks as well, there are no stores or anything like that out there. Headlamps are great in case you stay late and it gets dark. Definitely bring your camera and drone if you have them! Right now you do not need a gas mask but it's good to check in with ICE-SAR to see the latest conditions before going.
Any photo tips from you specific to the volcano?
Chris: The volcano makes it easy to take good photos! My biggest recommendation is to just get out there and shoot. Per usual the best light and time to shoot is morning and evening, it's nice when it's a little bit darker as the lava sticks out more. Having a drone is pretty amazing as it gives a really cool perspective of the volcano and the landscape. Again, just go out there and shoot!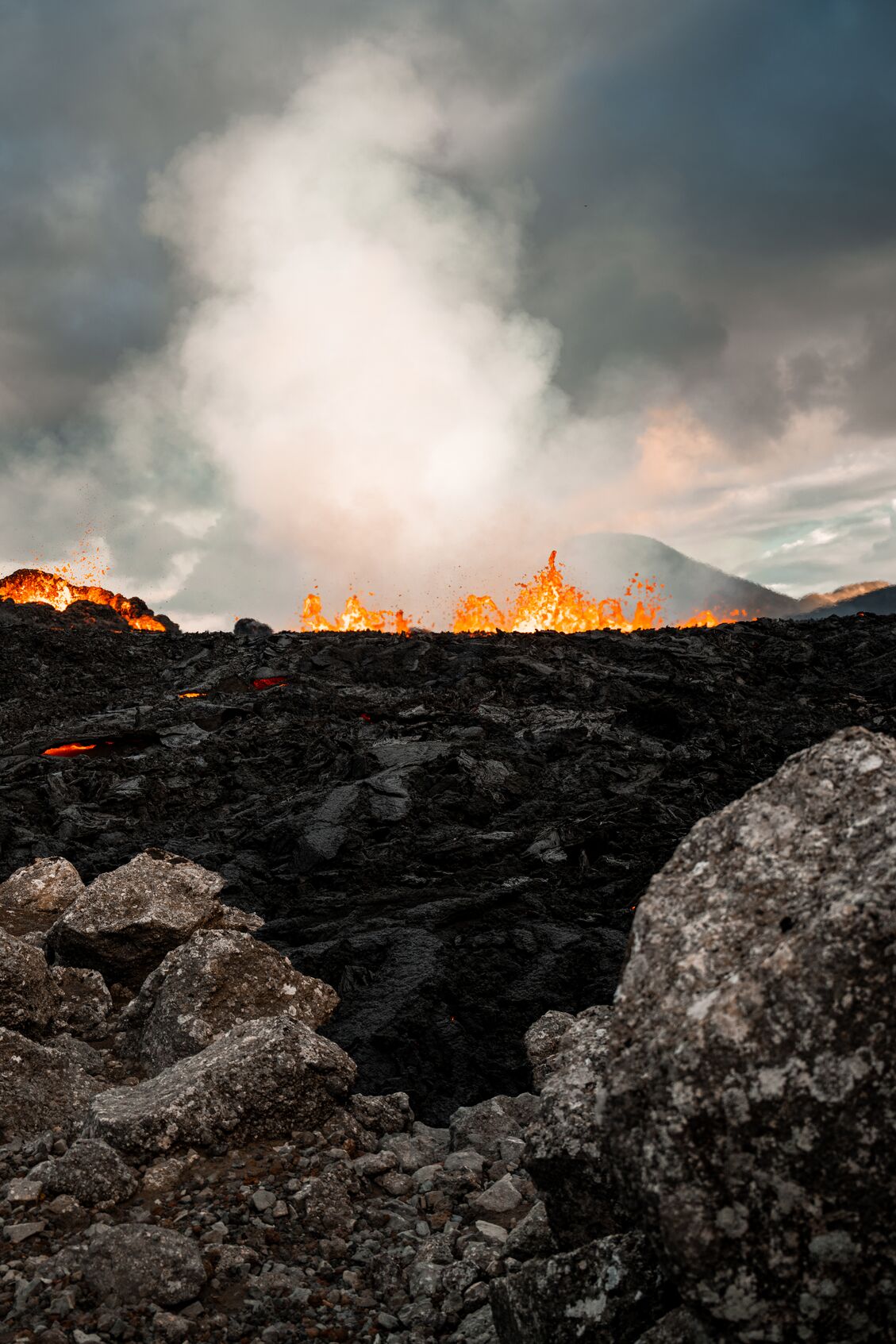 Eruption site, 2022 volcano. Photo by Chris Burkard.

---

A geologist's paradise, a photographer's dreamland, an oasis for an avid adventurer...or simply "the land of fire and ice"? This time it's fire for sure! With the latest volcanic eruption (following on from last year's spectacle), Iceland once again reminds us of its mighty nature powers and puts a steaming hot spot on the world map.
2021 volcano eruption in southwest Iceland
March 19 was seemingly an ordinary Friday before the news started spreading late in the evening that an eruption is starting on the Reykjanes peninsula. The fact was confirmed very soon by the local authorities as many locals rushed in their cars to gaze at the red glowing night sky.
Soon after it started, the eruption was categorized as small and not posing any immediate threat. The local geophysicists say that the eruption is in the best possible location – isolated in a distant valley surrounded by the mountainous Icelandic terrain.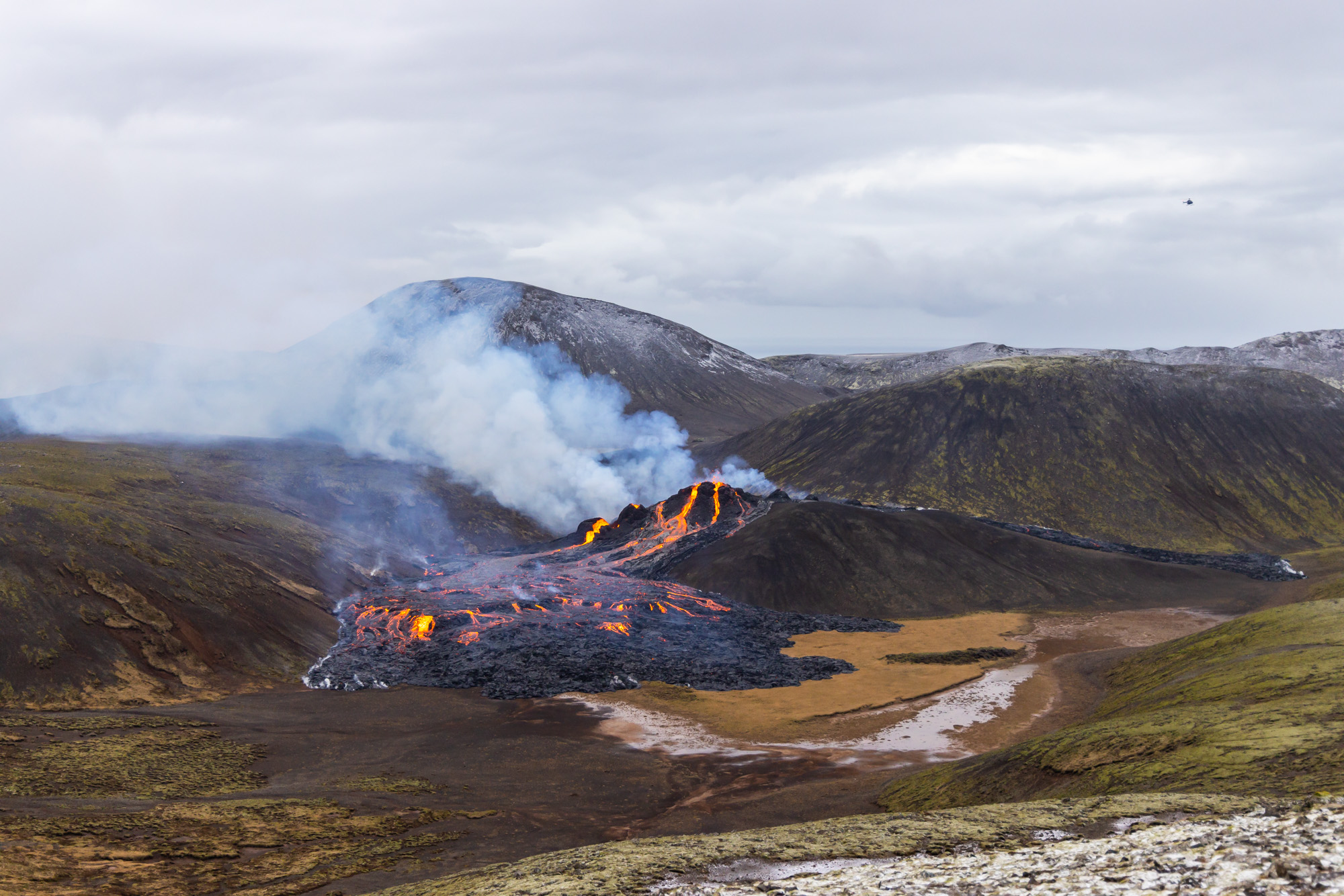 Eruption site of the first volcano on March 20, 2021, the day after the eruption began. Photo by Vilhelm Gunnarsson.

In a way, this eruption put many locals' minds at ease. Southwest Iceland had been experiencing many earthquakes in the preceding weeks, but the seismic activity steadily decreased after the eruption.
Watch the volcano eruption live
Thanks to RÚV, the Icelandic National Broadcasting Service, the so-far-away eruption is so close at the same time. You can watch the eruption site in real-time online from the comfort of your home. Enjoy the mesmerizing daytime views of the lava streams constantly changing the face of the landscapes or admire the night views of the glowing lava rivers creating a spectacular light show.
Local news agency mbl.is also has a number of livestream cameras in the area, offering great views.

Eruption site, 2022 volcano. Photo by Chris Burkard.

Some volcano facts
The 2021 eruption was the first volcanic eruption in Iceland in 6 years and the first one in the Reykjanes peninsula in the last 800 years.
The 2021 eruption was situated in the Geldingadalir valley next to the mountain named Fagradalsfjall. The location has been compared to a massive bathtub that lava can slowly pour into. The eruption lasted for 6 months before ceasing in September 2021.
On August 3, 2022, the volcano restarted, erupting from a fissure in the Meradalir valley, not far from the crater that erupted the longest during last year's event.
No one knows how long this second eruption will last. The eruption could end today, tomorrow, in a week's time, after a month or even later.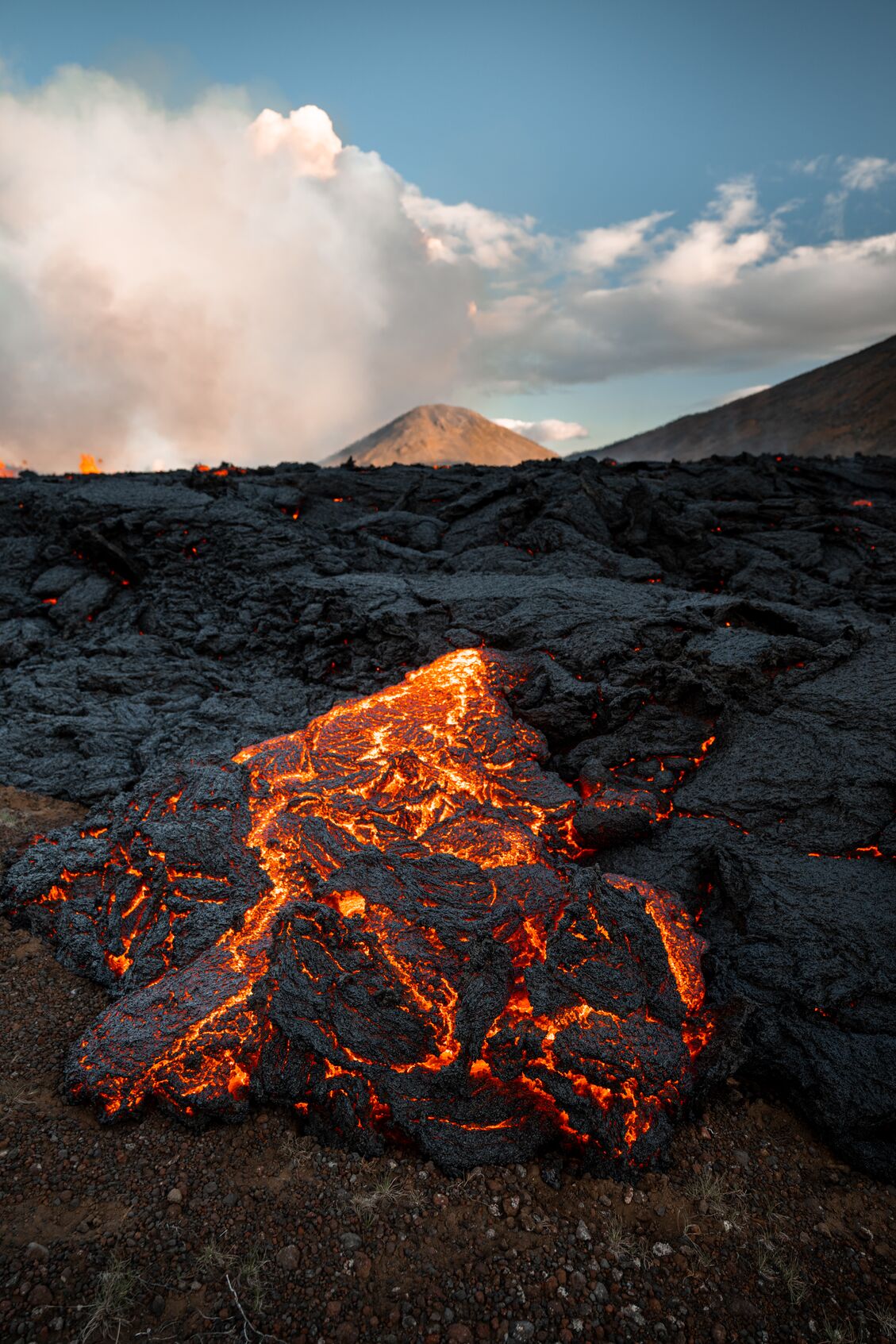 Eruption site, 2022 volcano. Photo by Chris Burkard.

Our response to the latest volcano eruption in Iceland
The eruption in 2021 was not an ash eruption and therefore did not affect our flight operations. The current 2022 eruption has begun in the same manner, and we hope that the situation will remain the same, in that our operations won't be affected. We follow the situation closely and are in contact with the local authorities and experts monitoring the area.
Again, there is no indication that the eruption poses a risk to people, property, or air traffic.
For now, our passengers on certain routes might get lucky and enjoy the eruption site's unique views when arriving and departing from Keflavík international airport.
Watch nature's force at play (2021 volcano eruption):
---
Banner photo by Vilhelm Gunnarsson from the 2021 eruption.