06/18/2020 | 12:00 PM
How to enjoy Iceland's midnight sun
In Iceland in June, the sun extends a sincere (belated) apology for its winter disappearing act. The summertime reward is near-endless bright skies.
The summer solstice, when the sun peaks and produces the longest day of the year, occurs this year on June 20. On this date, Reykjavík's sunrise is at 2:55 am; sunset occurs 21 hours later at 00:03 am. For 3 hours of twilight, the sun sits just below the horizon and delivers lingering natural light.
(Fun fact, for contrast: December's winter solstice offers a mere 4 hours and 7 minutes of daylight in the Icelandic capital.)
The further north you travel in Iceland, of course, the more prolonged the summer light. Akureyri boasts 23.5 hours of light on June 21; Ísafjörður has 24-hour brightness, and Grímsey (the only part of Iceland within the Arctic Circle) also has perpetual light.
The sun's apology is not so humble that it comes with genuine warmth—in the tropical sense—but as the daytime temperatures hopefully nudge the mid-teens (or mid-'60s Fahrenheit), and the late-evening skies take on a pinky-peach glow, winter's gloom is generally forgiven.
The summer solstice was traditionally a time of bounty in the lives of the Nordic nations and a cause for celebration. Be ready to enjoy a burst of energy and a crazy sense that time is immaterial.
Stay up late
For six weeks either side of the June 21 solstice, you'll experience bright nights: The sun lingers long and low on the horizon like a welcome dinner guest. Even after its sunset departure a rosy afterglow remains.
Make your own fun hiking, golfing, fishing or camping, or book an evening tour to whale-watch, bird-watch or horse-ride into the night. And for the simplest solstice pleasure, take a midnight stroll to see the sun dip just below the horizon—and if you walk for long enough—bounce back up before you return. Hot tubs and springs offer delicious warmth and may help to edge insomniacs closer to sleep.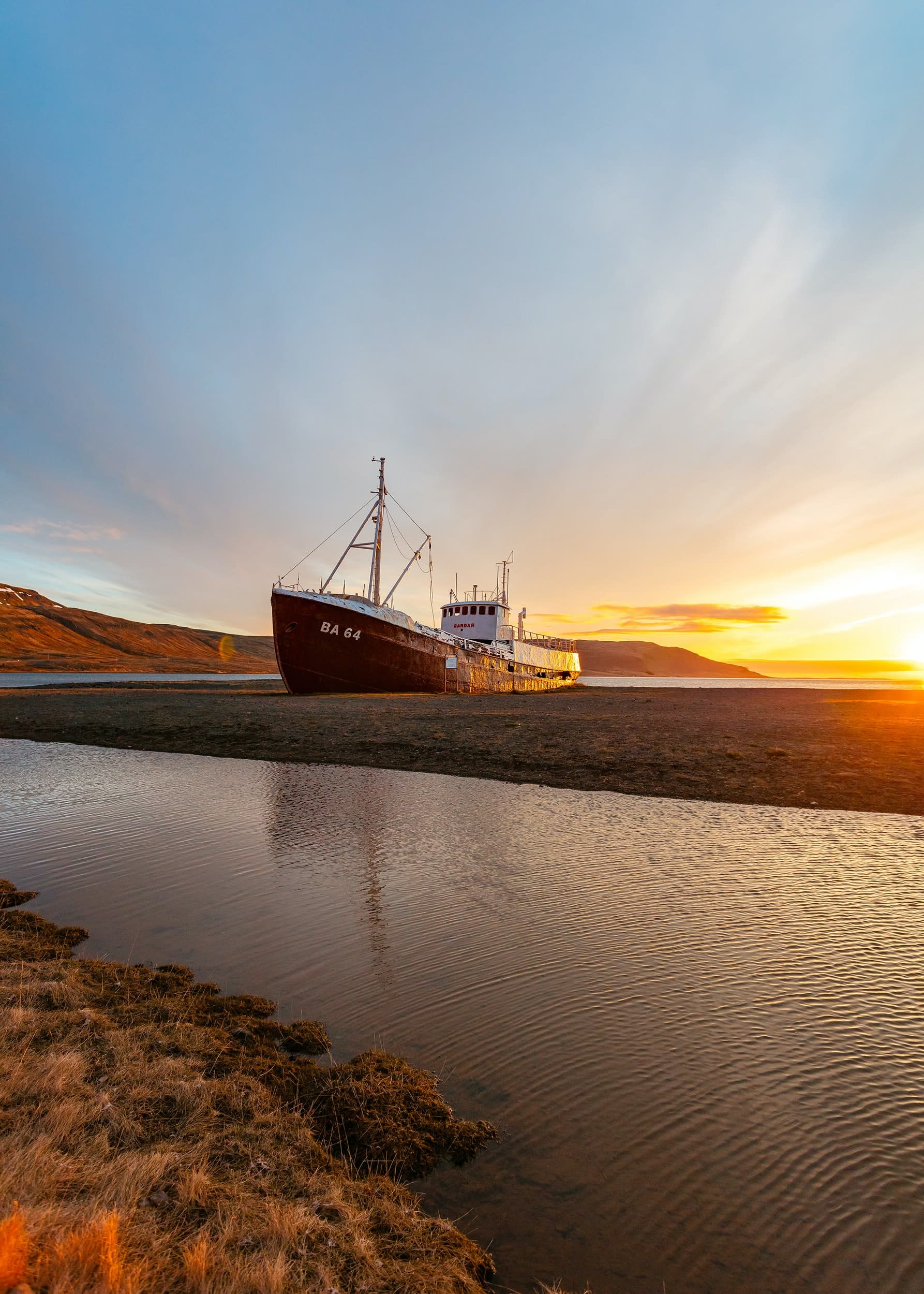 Late sun in Örlygshafnarvegur. Photo by Mahkeo / Unsplash.