Book your flight to Glasgow with Icelandair from
Fly in the next three months: Flights to Glasgow
Toronto (YYZ)to
Glasgow (GLA)
09 02 2024 - 18 02 2024
Toronto (YYZ)to
Glasgow (GLA)
08 12 2023 - 15 12 2023
Toronto (YYZ)to
Glasgow (GLA)
21 12 2023 - 02 01 2024
Vancouver (YVR)to
Glasgow (GLA)
15 02 2024 - 25 02 2024
Vancouver (YVR)to
Glasgow (GLA)
29 02 2024 - 22 03 2024
Vancouver (YVR)to
Glasgow (GLA)
06 12 2023 - 15 12 2023
*Fares displayed have been collected within the last 72hrs and may no longer be available at the time of booking
Plan ahead for your trip to Glasgow with Icelandair
From

Toronto (YYZ)

To

Glasgow (GLA)
Round trip

/

Economy
11 03 2024 - 24 03 2024

From

CAD 785*

From

Toronto (YYZ)

To

Glasgow (GLA)
Round trip

/

Economy
06 04 2024 - 13 04 2024

From

CAD 886*

From

Toronto (YYZ)

To

Glasgow (GLA)
Round trip

/

Economy
15 03 2024 - 22 03 2024

From

CAD 941*

From

Vancouver (YVR)

To

Glasgow (GLA)
Round trip

/

Economy
07 03 2024 - 17 03 2024

From

CAD 901*

From

Vancouver (YVR)

To

Glasgow (GLA)
Round trip

/

Economy
29 02 2024 - 22 03 2024

From

CAD 1,076*

From

Vancouver (YVR)

To

Glasgow (GLA)
Round trip

/

Economy
08 04 2024 - 19 04 2024

From

CAD 1,203*

From

Montreal (YUL)

To

Glasgow (GLA)
Round trip

/

Economy
01 10 2024 - 21 10 2024

From

CAD 1,614*

From

Montreal (YUL)

To

Glasgow (GLA)
Round trip

/

Economy
18 08 2024 - 01 09 2024

From

CAD 1,758*

From

Montreal (YUL)

To

Glasgow (GLA)
Round trip

/

Economy
12 08 2024 - 18 08 2024

From

CAD 1,758*
*Fares displayed have been collected within the last 72hrs and may no longer be available at the time of booking
What to see and do in Glasgow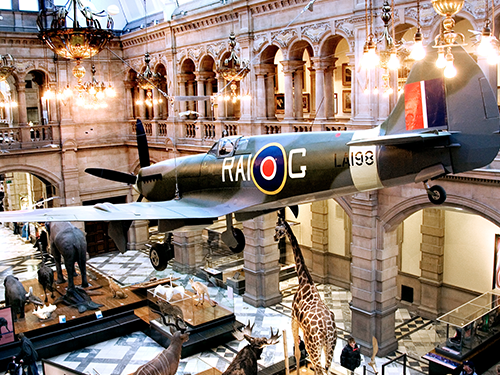 What to do in Glasgow
It's true that Glasgow could be a stepping stone into a wide world of Scottish wilderness - think lochs and highlands, windswept coastline, and moody castles.
But as alluring as the countryside is, don't be in a rush to leave the city. Its pubs, museums, and thick-accented humor are definitely worth hanging around for.
Looking to immerse yourself in Glasgow's cultural side? There's seemingly no end to the art galleries and museums in the city.
For one, Kelvingrove Art Gallery and Museum is an acclaimed temple of art and history (and it's free!). There you'll find some of Charles Rennie Mackintosh's work - a designer and architect who left his brilliant art nouveau stamp on his home city. Discover even more of his fine forms at the Glasgow School of Art.
Exploring Scotland a little further
Once you've finished exploring the wonders of Glasgow city center, you might want to venture further afield. You could choose to hop to Edinburgh by bus or train, or travel elsewhere and see the incredible nature that Scotland has to offer.
It's possible to visit the Loch Lomond area on a day trip from Glasgow, if you wish to keep the city as your base. This stunning lake will have to picking up your jaw from the floor, and it's possible to boat and kayak upon it.
From there, you could choose to venture further north. Fortwilliam is an incredible place for outdoor adventure (think kayaking, hiking, snowboarding and more).
And then there are the classic tourist spots of Loch Ness and Glencoe, and adventurous travelers may even choose to visit one of Scotland's many beautiful islands.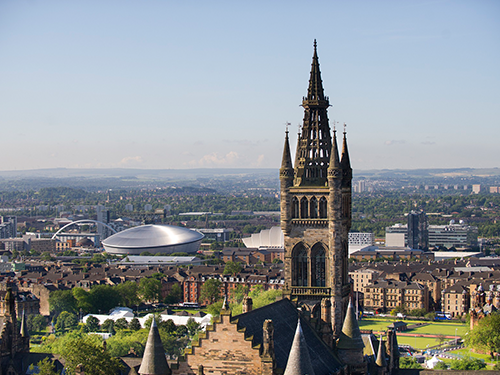 Shopping in Glasgow
Alongside the arts, Glasgow has a surprisingly big reputation for shopping. As well as the typical tourist trinkets (anything with tartan or bagpipes, basically). Great gift ideas include whisky, fine woolen items, and traditional foods like shortbread.
Glasgow-specific souvenirs are heavy on Charles Rennie Mackintosh motifs and Scots language slogans, with museum gift shops being a great place to find envy-worthy souvenirs.
Vintage stores are also big in Glasgow and you'll find some good ones in and around Byres Road in the West End, along with cool little cafes, gourmet stores, and creative boutiques.
Be sure to browse the Ruthven and Dowanside Lanes to experience the best of this district.
Eating and drinking in Glasgow
While you can challenge yourself with some traditional Scottish fare (hello haggis!) and investigate some mysterious and lyrically-named dishes (such as cullen skink, clootie dumpling, and cranachan), you may also like to explore some of Glasgow's other culinary offerings.
Many stylish places offer a farm-to-table experience with prime local ingredients including fresh seafood and Scotch Angus beef. The West End is home to plenty of popular restaurants and local eateries.
Be sure to dedicate some of your time to investigating Glasgow's brilliant pub culture, which can be easily found across the city.
Many places serve food (covering everything from classic pub fare to high-end cuisine) alongside real ales, microbrewery beers, and whiskies. Expect timeless decor, friendly locals with tall tales to tell, and sometimes live music too.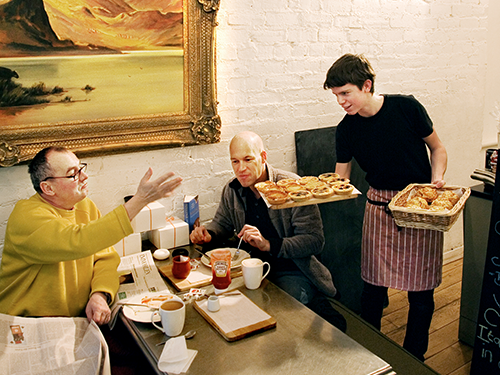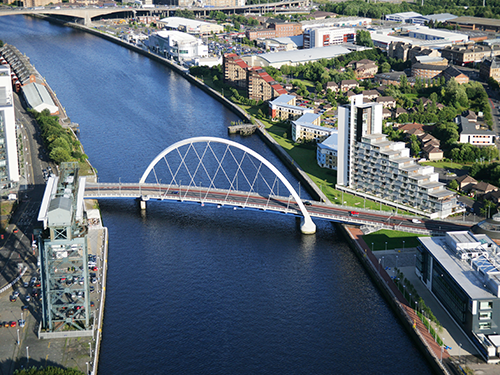 Best time to fly to Glasgow
The best time to visit Glasgow is between March and August, when temperatures reach their peak and daylight hours are long. But while the climate is warmer, the weather is unpredictable and showers can come and go easily.
Winters in the city are characterized by bitter cold and short days, with January being the cheapest month to book tickets to Glasgow. However, the festive season in the build-up to Christmas and Hogmanay (New Year's Eve) is an exciting time to experience.
If you find yourself in Scotland in late January, you'll want to find a local Burns Night celebration to fully immerse yourself in Scottish culture.
Getting around Glasgow
One of the best ways to explore Glasgow is on foot. Most of the streets are structured in a similar fashion to the grid-like cities of the US, so if you're equipped with a map then it's difficult to get lost.
There are also buses and taxis, but we think that exploring one of the oldest subway systems in the world is an opportunity not to be missed!
Car hire is also an option - maybe better for those who plan to explore the nature in Scotland. But parking can be tricky in the major cities in Scotland, and navigating the one-way road systems boggles the minds of even the local drivers.
Fancy a day trip to Edinburgh? The train takes only around 1 hour from Glasgow Queen Street to Edinburgh Waverley station, making it easy to explore both cities on a single trip to Scotland.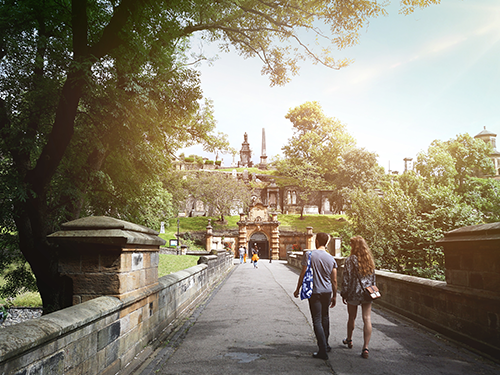 FAQs about travel to Glasgow
Helpful information for travelers to Glasgow
How long does it take to fly to Glasgow, Scotland?
The average duration of direct flights to Scotland from Canada is between 8 and 10 hours. The flight time is shorter when traveling from Toronto and longer if traveling from Vancouver.
The longer flight time means that choosing a layover instead of a direct flight to Glasgow, Scotland, is favorable for long-haul travelers. With Icelandair, a stopover in Iceland of up to 7 days carries no additional airfare cost, so travelers can easily enjoy two destinations in one trip.
How far is Glasgow airport from the city?
Glasgow city center is just 8 miles away from Glasgow Airport (GLA). Thanks to its great public transport links and direct motorway access, getting to the heart of the city from the airport is easy.
Is a visa required to fly to Scotland?
How many days do you need in Glasgow?
When booking your trip to Glasgow, we'd recommend planning to stay in the city for at least 2 days before you head onwards to explore the rest of what Scotland has to offer.
The contrast between urban and rural life in Scotland is something that all travelers should experience on their trip, and Glasgow being the biggest city in Scotland means it's an ideal place to experience urban Scottish culture at its finest.
Are the Scottish pound and English pound different currencies?
The short answer is no, they are the same currency. The Pound Sterling is the currency used throughout Great Britain. While English and Scottish banknotes and coins might look different, they are the same currency and can be used interchangeably.
That being said, if you're traveling to England after your trip to Scotland, it is recommended that you ask a local bank to exchange your Bank of Scotland banknotes for Bank of England bank notes, as some shops in England can be reluctant to accept Scottish banknotes. The coins used are the same in both countries.
Make the most of your trip