What to see and do in Gran Canaria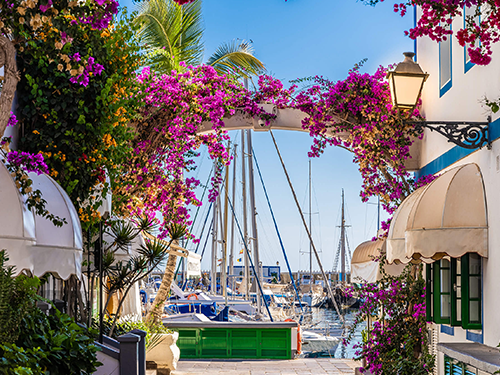 The best time to visit Gran Canaria
The third biggest of the Canary Islands, Gran Canaria has all the ingredients for the perfect vacation. Expect endless sunshine, diverse landscapes, exciting ocean adventures and relaxing beach escapes. Whatever time of year you visit, Gran Canaria is sure to capture your heart.
With soaring temperatures and lively crowds, there's no denying that Gran Canaria in the summer promises a vacation to remember. Though the island is almost perpetually warm, but the peak summer season runs from June to September.
Those looking to beat the summer crowds and higher temperatures will find that fall is the perfect time to visit the island. Meanwhile spring offers hikers the ideal opportunity to traverse those rocky landscapes.
A visit during winter is not to be overlooked either. During this time, you'll be welcomed with a peaceful atmosphere, festive events and of course, that famous Canary Island sunshine.
Getting around Gran Canaria
Getting around the Gran Canaria is super easy and convenient as a result of the island's excellent infrastructure.
Gran Canaria hosts an extensive network of buses that connect all the major towns and tourist hotspots.
Public transport offers holidaymakers a cheap way of getting around and it helps that they come with air-con too!
Alternatively, hailing a cab or renting a scooter gives you the freedom to explore the island on your own terms and go off the beaten track.
You can also find a growing selection of inviting cycling and hiking trails at your disposal.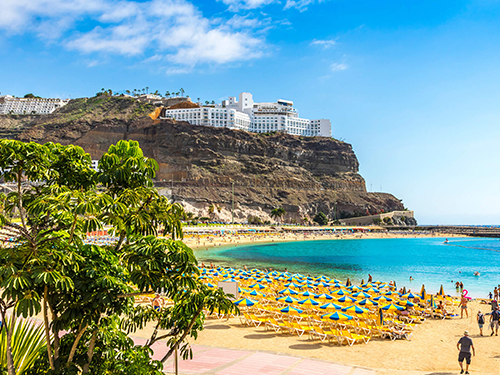 Things to do in Gran Canaria
Gran Canaria, with its variety of landscapes and multitude of resorts and activities, has something for everyone.
The coast boasts luxurious beaches neighbored by cute villages that are a wonder to wander through. Nature lovers and adventure seekers alike will love the range of natural parks, and there's fun for all the family at the island's many water parks and golf clubs.
The south of the island is home to the popular resort town of Maspalomas, boasting excellent restaurants and a great nightlife. In the north, you'll find an endless array of sand dunes, vibrant beaches and a laid-back way of life. To the east, you'll find flat lands and agriculture, and this is where the main airport, Las Palmas International Airport, is located.
On the west side, the Mirador de Balcón viewpoint is a must-see destination that offers breathtaking views as the terrain gets craggier. In the middle of the island lies its highest peak, Pico de las Nieves, where you can enjoy picture-perfect panoramic views from all directions.
Dining in Gran Canaria
There's no chance you'll go hungry in Gran Canaria. Due to its popularity as a tourist magnet, you can find world cuisine at every corner of the island to satisfy whatever you're craving.
Canarian cuisine also consists of delicious fare – fresh meats and fish being a staple, often served 'a la plancha' or on the grill.
Try them with papas arrugadas con mojo, the most famous Canary Islands treat (with an evocative name that translates as 'wrinkled potatoes').
It's simple yet delicious: potatoes boiled in heavily salted water until it's all evaporated, then served with red or green mojo sauce. The green is made with coriander and green chili, the red with paprika and red chili.
¡Buen provecho!