Book your flight to Salzburg with Icelandair
Fly in the next three months: Flights to Salzburg
Please use the search function at the top of the page to find our best flight deals
*Fares displayed have been collected within the last 72hrs and may no longer be available at the time of booking
Plan ahead for your trip to Salzburg with Icelandair
Please use the search function at the top of the page to find our best flight deals
*Fares displayed have been collected within the last 72hrs and may no longer be available at the time of booking
What to see and do in Salzburg
Introduction to Salzburg
Rich in musical heritage – and now a popular base for world-class skiing – Salzburg is the perfect destination for both adventure lovers and culture vultures. Nestled on Austria's border with Germany, this historic city sits right in the heart of Europe.
Icelandair offers regular flights to Salzburg from the United States. Enjoy picturesque Alpine surroundings accompanied by famous music from Mozart, who of course, was born in Salzburg, and from the cult movie 'The Sound of Music', which was filmed here.
But before you reenact movie scenes in Salzburg's show stopping locales, how about a stopover in Iceland for a dose of Iceland's very own renowned music scene? When you book flights to Salzburg with Icelandair, you can add a stopover in Iceland for up to 7 days at no additional cost.
Eating out in Salzburg
Taking influence from the cuisines of neighboring countries, Austrian food has gained a reputation for experimenting with locally sourced ingredients and cooking techniques which create delicious dishes.
You may be familiar with the unique Austrian schnitzel – not to be confused with German schnitzel – and classic apple strudel but the Salzburger nockerl is an underrated sweet souffle delicacy that you absolutely must try on your trip to Salzburg.
Honor the Mozart legacy by savoring one (or more) of the ubiquitous Mozartkugeln, balls of marzipan covered in chocolate.
If you're visiting Salzburg's winter markets, enjoy sipping on a mug of Glühwein – a warm, sweet, mulled wine that's a staple of the markets. Pick up some Käsekrainer – traditional Austrian sausage with small chunks of cheese – or Pofesen – French toast with an Austrian plum jam twist – to eat as you browse the wares.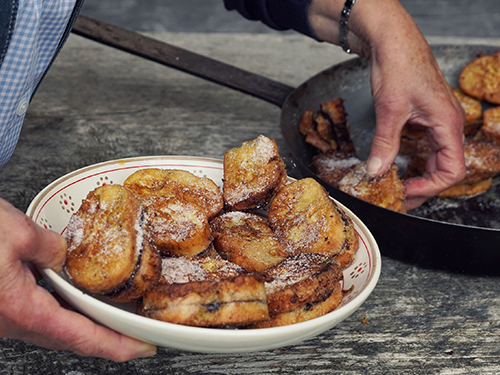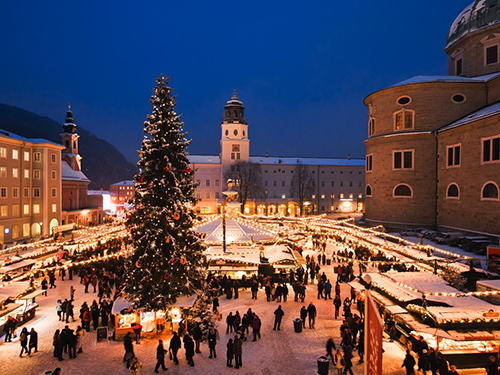 Things to do in Salzburg
From the grandiose baroque DomQuartier, which combines treasure-filled museums with castle-like interiors, to Mozart's birthplace at Getridegasse number 9, Salzburg is a hub for Austrian history and culture.
Explore the beautiful and historic Old Town. Venture into the numerous art galleries, boutique stores and cafes, and marvel at the old merchant homes which date right back to the 15th century.
If visiting in the winter months, the festive markets are a must see. Salzburg has a rich religious history which is celebrated over Easter with bustling markets and events across the city.
Or why not soak in the city's sights from aboard a Fiaker, an old-fashioned horse-drawn carriage, for a truly Austrian experience?
Skiing in Salzburg
Salzburg sits in the heart of the Austrian ski country, in the region known as SalzburgerLand. Come winter, there's a crystal-clear focus on snow-themed Alpine adventures.
There are literally thousands of miles of perfect pistes. You'll find big-name ski and snowboarding areas in the vicinity of Salzburg, such as Kitzbühel, Saalbach-Hinterglemm (the fun-sounding 'SkiCircus'), Zillertal, and Obertauern.
Across the region, top-quality infrastructure caters for all skill levels. New to skiing? There are 110 ski schools. Looking for black runs? Sure, there are over 200 miles of them. Floodlit slopes? Yes. Family-focused areas? Of course. Want to go glacier skiing or snowshoeing, or ice-skating on a frozen lake? That's all possible in Salzburg.
Plus, there are plenty of rustic Alpine huts to refuel hungry skiers, and you just know there'll be an après-ski scene to suit, too. One thing is for sure, ski enthusiasts will feel right at home on the slopes of Salzburg.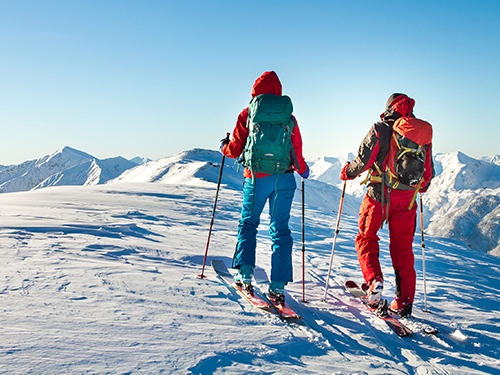 FAQs about travel to Salzburg
Helpful information for travelers to Salzburg
Does Icelandair fly from JFK to Salzburg?
In short, yes. Icelandair offers flights to Salzburg from several Canadian airports, including Toronto and Vancouver. You can use the flight finder tool above to find your nearest airports and book your flights to Salzburg.
How can I get cheap flights to Salzburg from Canada?
Generally speaking, the cheapest time to fly to Salzburg is either May to early June or August through to mid-October. However, that's not to say you can't get a good deal on your flights all year round.
We simply recommend checking our deals regularly and booking in advance to secure cheap flights to Salzburg.
How long is the flight to Salzburg from Canada?
You can fly from Toronto to Salzburg in 9 hours and 30 minutes. However, your exact flight time will largely depend on which Canadian airport you are departing from and how long your stopover is.
How far is Salzburg Airport (SZG) from the city center?
Salzburg Airport (SZG) is only 4 km (2.5 miles) from the city center.
A bus service running from the Salzburg Airport to the center takes roughly 20 minutes. Alternatively, the trip takes around 15 minutes by car or taxi.
Make the most of your trip