We've taken a deep dive into the current reality of some of the world's least eco-friendly cities and their plans for the future, to shine a light on their environmental commitments and how they plan to create happier, healthier and greener places for their citizens to live.
Green Cities
1. New York City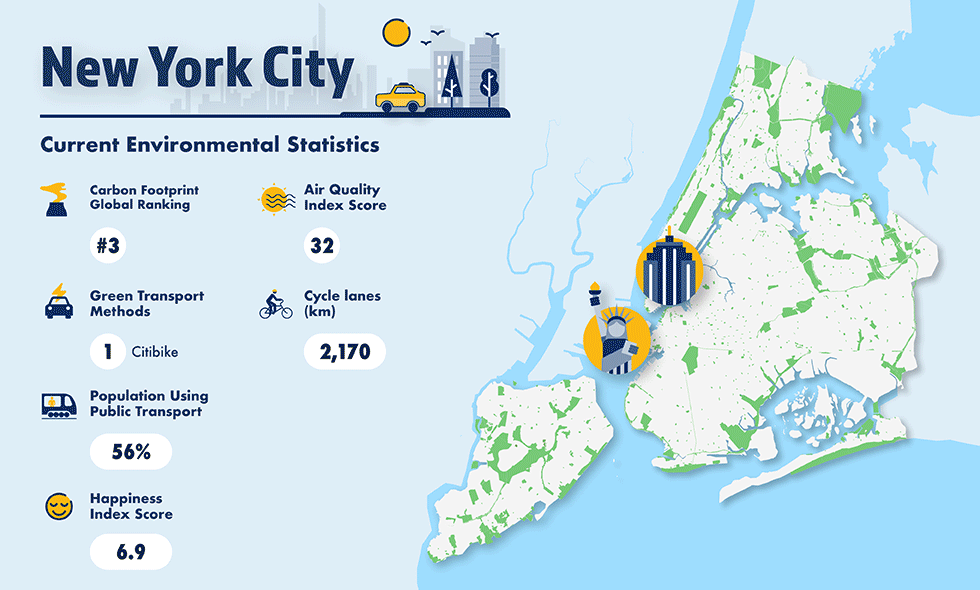 Despite being one of the smallest cities by area on our list, New York City packs quite the environmental punch. Of the cities we've looked at, it scores second lowest for air quality and is responsible for the largest amount of carbon emissions. Although it offers a green space area of 13.2 sq meters per resident, the majority of that can be found in just one park. This aims to be changed by 2030, with plans to acquire and upgrade more than 4700 acres of parkland and public space and plant 1 million trees in the next 10 years. New York comes out on top for cycling infrastructure, with 2170km of cycle lanes currently in use and plans to increase the coverage of their bike-sharing service – Citibike – by 90.65 sq km.
2. London

With its abundance of parks and commons, London has the most available green space per resident of all the cities on our list. This is set to increase, with aims for London to be the first National Park City with more than 50% of its total area dedicated to green space. In order to cater for the 46% of its population that uses public transport but still wants to reduce its carbon footprint, the city is aiming to have a zero-emission bus fleet, which will be powered entirely by either electricity or hydrogen, in use by 2037.
3. Seoul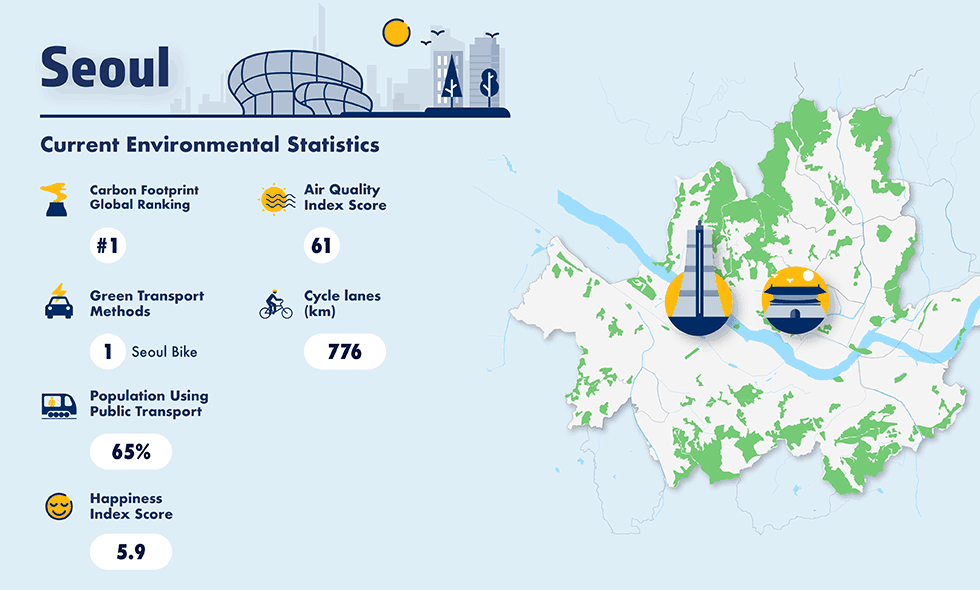 At South Korea's industrial epicentre, the capital of Seoul has the highest carbon emissions score of all locations on our list. The city wants to decrease this by a significant 37% by aiming for all public transport vehicles to be zero-emission by 2030. Although 40% of Seoul's land is composed of open green space, 70% of it is located on the outskirts of the city, only granting each inner-city resident a measly 4.38 sq meters. Initiatives such as the 'Roof Gardening Project' and the 'Seoul, A Blooming Flower' project have aimed to increase this by converting disused city space to green space that the community can get involved with.
4. Riyadh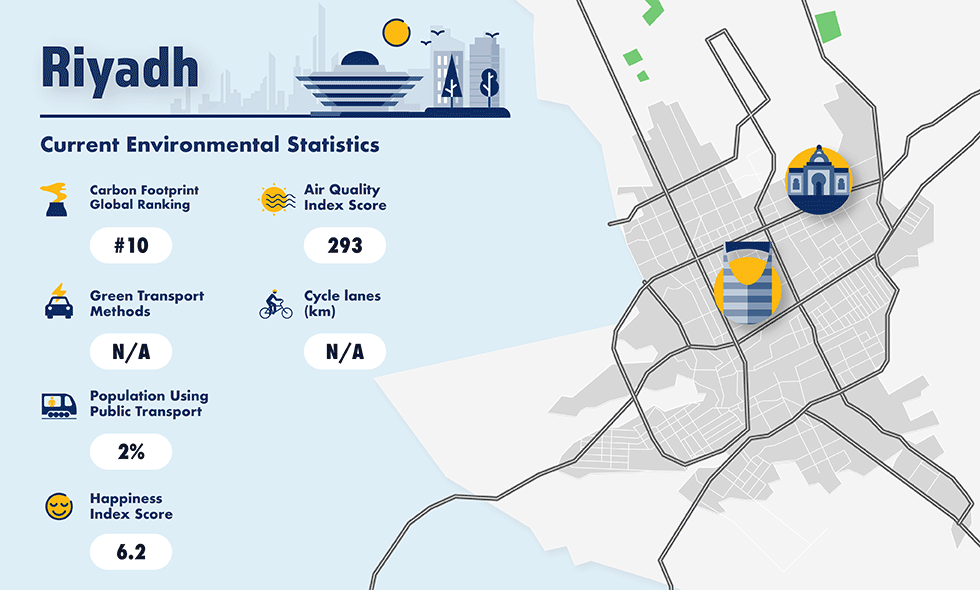 Riyadh is aiming for big change. 98% of its residents currently use cars to get around, which is having a noticeably negative impact on its carbon emission levels. There are currently no cycleways and no green transport methods available to residents, and the area of green space per resident is only 0.86 sq meters. Hoping to turn the tide of their environmental impact, Riyadh plans to open a brand new metro system imminently, with 6 lines spanning a total of 176km. City officials hope that this will increase the percentage of the population using public transport from 2% to 69% by 2030. In addition, the 'Riyadh Green' project will see the planting of 7.5 million trees by 2030 using recycled water and increasing the city's total green space to 9%.
5. Paris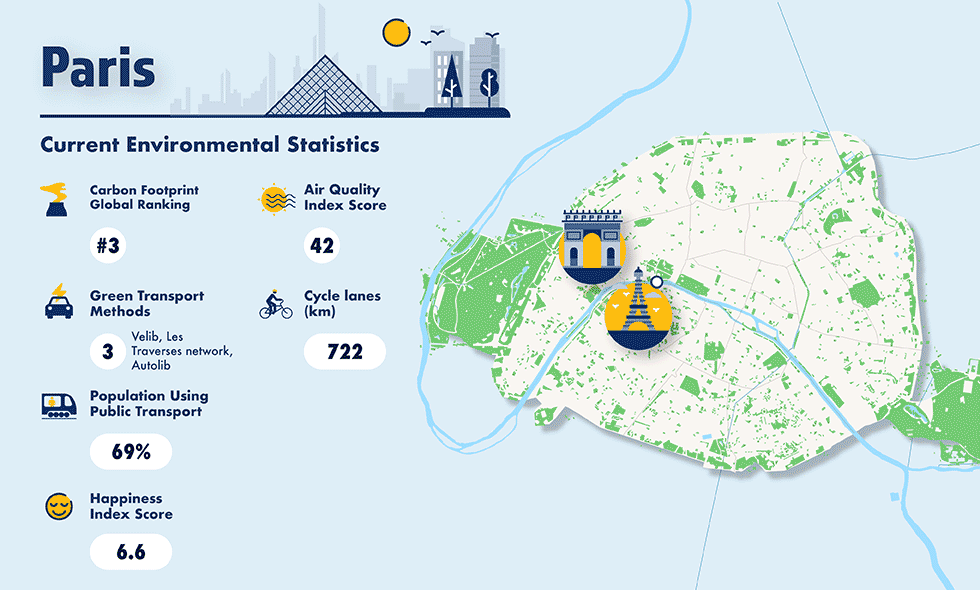 Paris has always been infamous for its congestion, so it may come as no surprise that it has one of the lowest Air Quality Index scores on our list at just 42. This is all soon to change, however, as the city is aiming to be carbon neutral and 100% powered by renewable energy by 2050. Despite only currently having 14.5 sq meters of green space per resident, Paris officials plan to use new urban space to create pockets of green, with a new regulation stating that vegetation must be planted on all new buildings in the city.
6. Los Angeles

Los Angeles is officially the smoggiest city in the US, with more than 141 million Americans at risk from high levels of air pollutants and only 2% of its residents using public transport. By 2030, however, LA has big plans to make car travel a thing of the past. The city is aiming to electrify 100% of metro trains and buses, which will not only have a huge impact on the city's carbon emissions but will create 11500 jobs per subsequent year. It also aims to add 30 parks by 2025 and establish 25 joint-use parks in under-served communities, with the view to have 100% of LA residents living within half a mile (800 meters) of a park or open space by 2050.
Health and Wellbeing
Everyone knows that a walk in the park can have a drastically positive impact on both your mental and physical health, and with people worldwide being forced to spend more time indoors than usual over the past 12 months, the effects of having limited access to outdoor space will undoubtedly be felt for years to come. A recent study conducted by the Office for National Statistics uncovered: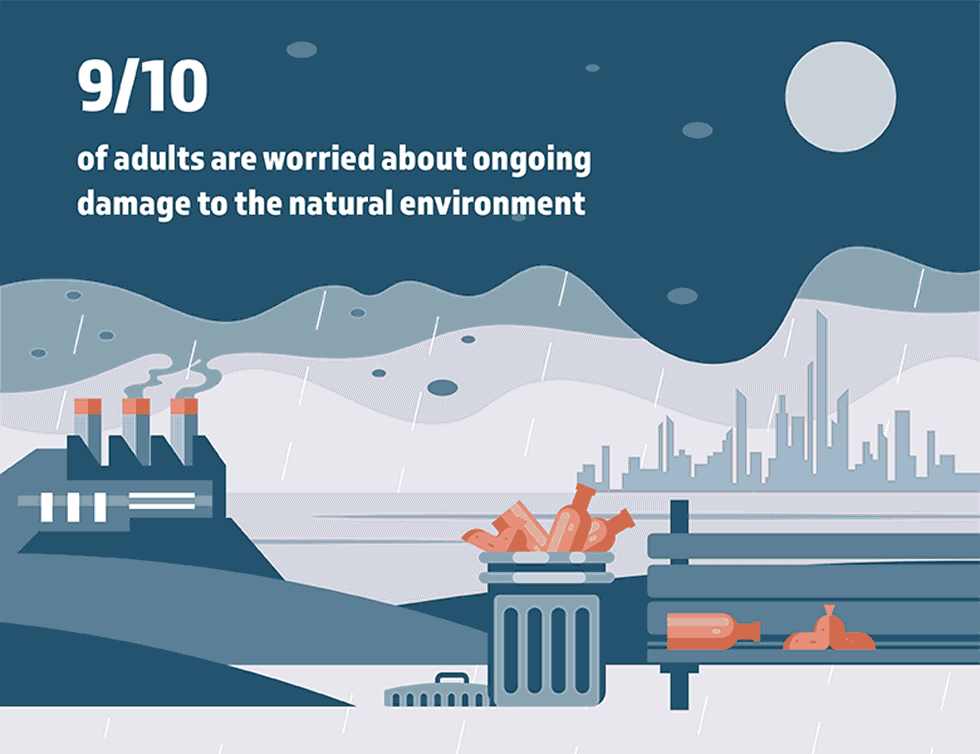 It's clear green spaces in cities are in higher demand than ever, but just how much of an effect does access to green space have?
New research shows that spending over 120 minutes a week in nature is associated with increases in health and wellbeing. This is consistent across multiple demographics, socio-economic groups and physical abilities.
What about the air we breathe in while enjoying time outside? According to research conducted by the European Society of Cardiology, air pollution causes more excess deaths per year than smoking tobacco. Worldwide, that's 120 deaths per year per 100,000 of the population. Not only is polluted air damaging our planet, it's damaging our bodies too. It's therefore crucial for cities to move towards either significantly reducing their carbon output or total carbon neutrality in order to protect both our planet and our health.
Work Out Your Life Expectancy
To work out just how much these factors could really be affecting you, we've put together these life expectancy charts to help you figure it out. These have taken into consideration average life expectancy based on factors such as city or region, exposure to air pollution, gender, and access to green space.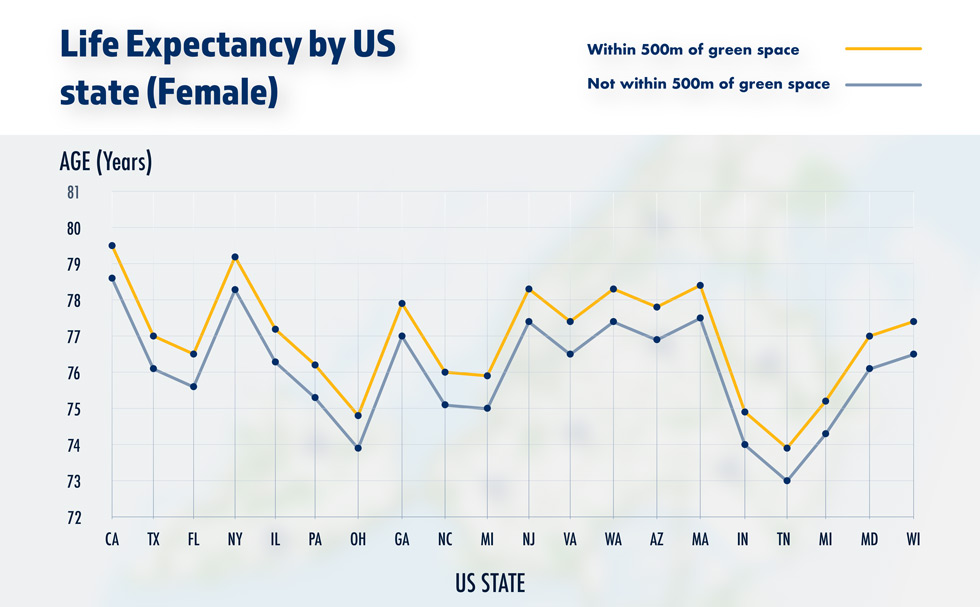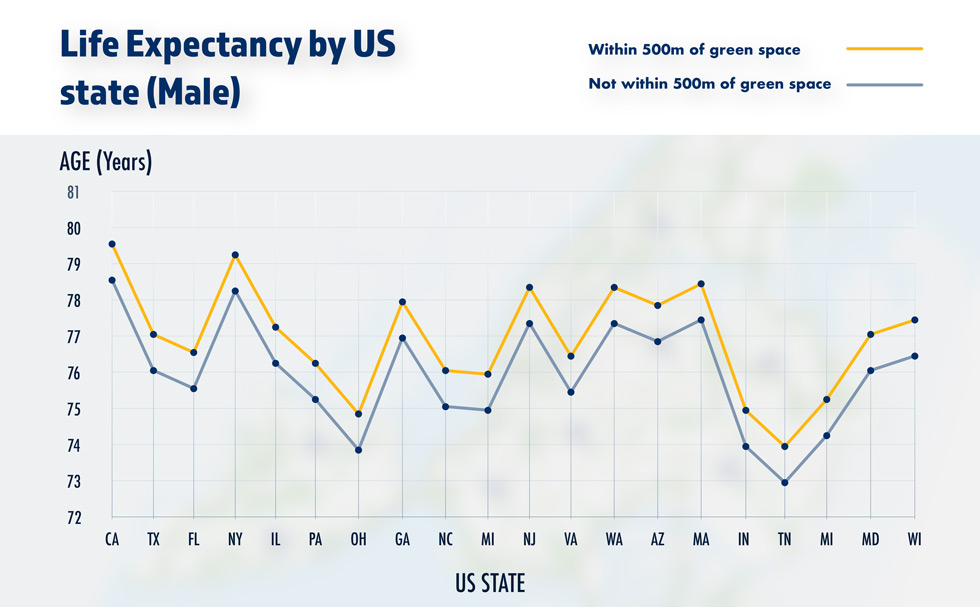 Iceland's capital Reykjavik is known as a world leader in environmental policy and green living. Find out more about how Reykjavik's green commitments are setting an example for the rest of the world.
So, whether you live in a city and want to know how you can maximise on your green space, or you're looking to make a move to a (soon to be less) concrete jungle, you can rest assured that moving towards an environmentally friendly future is of paramount importance for the cities of our planet.
Sources