Book Icelandair flights to Canada from
Where in Canada do you want to explore?
Deals on flights in next three months
Glasgow (GLA)to
Vancouver (YVR)
15 02 2024 - 28 02 2024
Glasgow (GLA)to
Vancouver (YVR)
28 01 2024 - 05 02 2024
Manchester (MAN)to
Vancouver (YVR)
16 02 2024 - 24 02 2024
Manchester (MAN)to
Vancouver (YVR)
09 02 2024 - 09 03 2024
London (LHR)to
Toronto (YYZ)
28 02 2024 - 14 03 2024
London (LHR)to
Toronto (YYZ)
26 12 2023 - 04 01 2024
Glasgow (GLA)to
Toronto (YYZ)
13 02 2024 - 16 02 2024
London (LHR)to
Vancouver (YVR)
12 12 2023 - 23 01 2024
London (LHR)to
Vancouver (YVR)
12 12 2023 - 30 01 2024
London (LGW)to
Vancouver (YVR)
06 12 2023 - 01 01 2024
Manchester (MAN)to
Toronto (YYZ)
22 01 2024 - 26 01 2024
Manchester (MAN)to
Toronto (YYZ)
29 01 2024 - 02 02 2024
*Fares displayed have been collected within the last 72hrs and may no longer be available at the time of booking
Plan ahead for your trip to Canada with Icelandair
From

Glasgow (GLA)

To

Vancouver (YVR)
Round trip

/

Economy
17 03 2024 - 25 03 2024

From

GBP 551*

From

Glasgow (GLA)

To

Vancouver (YVR)
Round trip

/

Economy
03 03 2024 - 11 03 2024

From

GBP 551*

From

Glasgow (GLA)

To

Vancouver (YVR)
Round trip

/

Economy
11 04 2024 - 29 04 2024

From

GBP 596*

From

Manchester (MAN)

To

Vancouver (YVR)
Round trip

/

Economy
25 03 2024 - 07 04 2024

From

GBP 653*

From

Manchester (MAN)

To

Vancouver (YVR)
Round trip

/

Economy
03 09 2024 - 18 09 2024

From

GBP 783*

From

Manchester (MAN)

To

Vancouver (YVR)
Round trip

/

Economy
27 08 2024 - 11 09 2024

From

GBP 798*

From

London (LHR)

To

Toronto (YYZ)
Round trip

/

Economy
08 04 2024 - 14 04 2024

From

GBP 398*

From

London (LHR)

To

Toronto (YYZ)
Round trip

/

Economy
06 11 2024 - 21 11 2024

From

GBP 428*

From

London (LHR)

To

Toronto (YYZ)
Round trip

/

Economy
28 02 2024 - 14 03 2024

From

GBP 459*
*Fares displayed have been collected within the last 72hrs and may no longer be available at the time of booking
Visiting Canada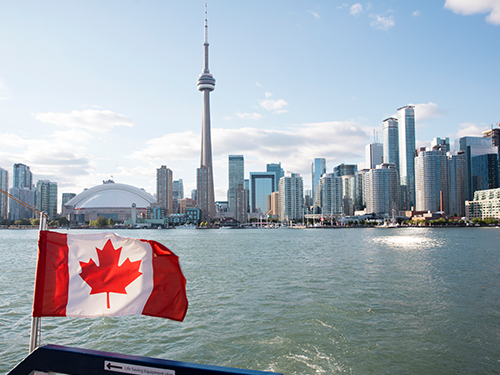 Visit Canada in summer or spring
Canada is a popular tourist destination 365 days a year. There's really no bad time to visit this exquisite country. That being said, some hotspots lend themselves better to certain seasons. So the best time to go to Canada depends on what you want to do when you get there.
One of the most popular times to fly to Canada is during the summer (June – August). With warm temperatures and long days, summer brings ample camping, hiking, rock-climbing and water sports opportunities. It's also the prime time for hitting up Banff National Park and the Rocky Mountains.
If you're a clear sky chaser but want to avoid those summer crowds, then a trip to Canada during the spring may be just the answer.
The weather is still mild but there are fewer crowds to contend with. Spring offers the perfect conditions for some city strolling - museum and gallery hop until your heart's content.
Winter and autumn travel in Canada
Thrill-seekers will adore Canada in the winter. Those looking to ski, snowboard or ice skate their way around the country will have no trouble getting their fix.
Home to world-renowned winter hotspots such as Whistler, Lake Louise and Banff – Canada in the winter lives up to its fame. January is also one of the cheapest times to book tickets to Canada.
Last but certainly not least is autumn, or fall as they call it in Canada. Not only can you find a plethora of local festivals and cultural events during this season, but you'll find the city basking in golden glory as the leaves turn striking shades of red, orange and auburn.
From mighty falls to wild mountainous landscapes, to glistening city skyscrapers, Canada is a country that has it all – and then some. It's a real bucket-list destination that's as vast as it is beautiful.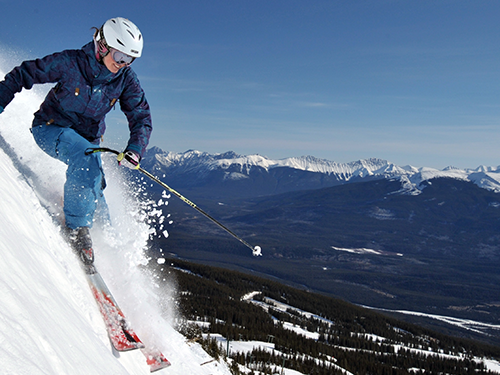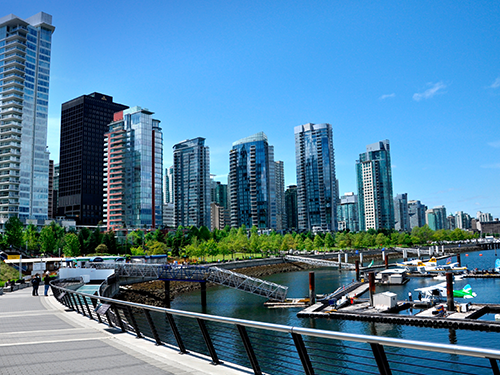 Exploring the West of Canada
Canada is a large and diverse country, offering a wealth of stunning sights, bustling towns and popular attractions. This means the list of places to visit is almost infinite! Here are just some of the most popular spots:
Whistler: This picturesque winter wonderland brings adventure and excitement by the bucketload. Ski or snowboard until your heart's content or explore the stunning scenery on foot. And at the end of it all, unwind in its charming alpine village that looks like it's been plucked straight from the brochure.
Vancouver: Another world-class contender, Vancouver seamlessly blends urban life with the thrill of outdoor adventure. Unearth the city's bustling downtown district strictly on foot, indulge in local eateries or hit up Granville Island.
Hit the slopes in the nearby Whistler, traverse fierce forestry as you take on Capilano Suspension Bridge or take a whale-watching tour and witness first-hand the magnificent beauty lurking below the Pacific Ocean.
Travel the Eastern Canada region
Toronto: Toronto is a city that has it all. Take a stroll through its charming neighbourhoods, catch a game at the iconic Rogers Centre, or fawn over the striking views from the CN Tower. Expect lively locals, endless possibilities and an infectious energy.
Banff National Park: found in the heart of the Canadian Rockies, Banff National Park is a paradise for outdoor enthusiasts and nature lovers alike.The natural wonder comprises glacier-fed lakes, soaring peaks and rugged hiking trails. And that's not to mention its long-list of wildlife. From winter skiing to summer treks, Banff is a must-see destination all year round.
Montreal: Discover the cute, cobblestoned streets of Old Montreal and immerse yourself in its history. Iconic landmarks include the Notre-Dame Basilica, Jacques Cartier Bridge and Saint Joseph's Oratory of Mount Royal. With its thriving arts and culture scene, world-class eateries and unique charm, Montreal is a city that effortlessly blends the old with the new.
Niagara Falls: The esteemed mighty falls are synonymous with Canada, and they don't disappoint. Witness first-hand the awe-inspiring power of the cascading waterfalls as you tour the quintessential site. Niagara Falls promises a truly mesmerising day out.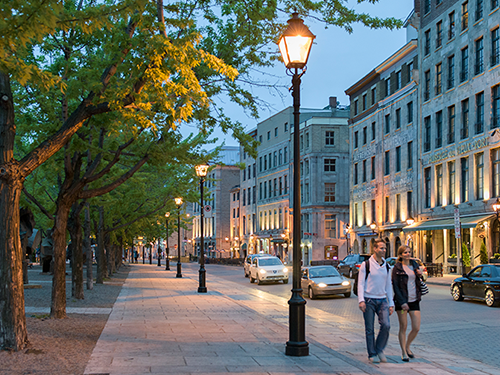 Sport in Canada
It's no secret that sports make up an essential part of Canadian culture and identity.
Ice hockey is the national sport and is largely considered Canada's domain. Games are a staple pastime in Canada, and with many of the country's top players adored both locally and nationally, it's clear that the sport has captured the hearts of the nation.
The Canadian Football League (CFL) is another beloved pastime in Canada, with fans flocking to games and team rivalries running deep. The country is also home to some of the world's most challenging golf courses and for this reason, it attracts major players from across the globe.
Whether you're a die-hard sports fan or just want to soak up the sports scene's infectious atmosphere – you'll be sure to find your fix in Canada.
Wildlife in Canada
From its tree tops to its shores, Canada is home to an abundance of incredible creatures.
In the rocky mountains and forests, you'll be sure to find the nation's national sweetheart, the beaver, alongside moose, caribou, elk and the Canadian lynx. And of course, the renowned grizzly bear and black bear set up home here, too.
Beneath and extruding Canadian waters lie majestic orcas, humpback and beluga whales. The magnificent creatures share the scene with smaller but no less intriguing marine life, such as sea lions, seals and sea otters.
Further north, the Arctic is home to some of the most iconic creatures on the planet, including the mighty polar bear, the elusive arctic fox and mystical reindeer. Meanwhile, birdwatchers will delight in the presence of bald eagles, ospreys and the Atlantic puffin.
Whether you're a nature enthusiast, wildlife photographer or simply looking to experience the majesty of Canada's impressive wildlife, then this is an ideal destination for you!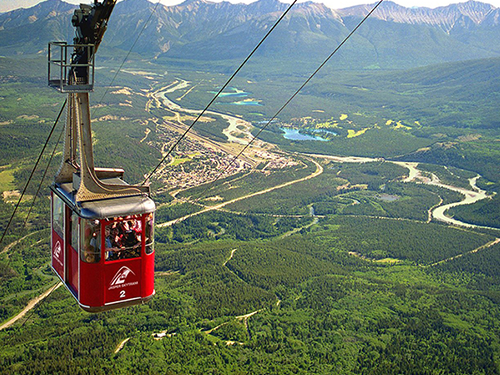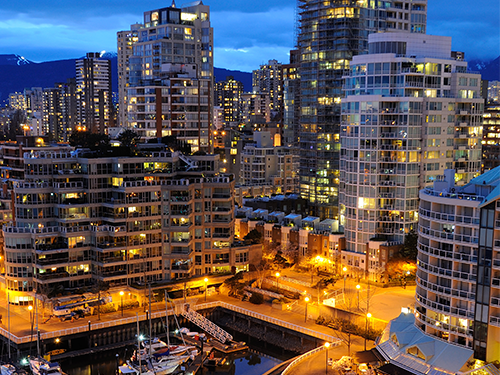 Inner-city travel in Canada
When it comes to inner-city travel, public transport is often the easiest and most cost-effective way to get around. Major cities boast accessible public transport services, made up of buses, trains, trams and subways.
Taxi and ride-sharing services, such as Uber, are also rife in urban areas, though they can be more expensive.
Canada's big players, such as Toronto and Vancouver are best explored on foot or by bicycle.
With pedestrian-friendly streets, accessible cycling routes and plenty of attractions within a short distance of one another, this is a safe, convenient and eco-friendly way of getting around. Plus, what better way to immerse yourself in all the cities have to offer?
Travelling within Canada
Canada may be vast but getting around is actually pretty easy.
Many travellers opt to rent a car if they want to explore some of the suburban and natural areas in the country.
The country is armed with an extensive network of public transport systems and accessible highways, as well as domestic airports.
For those looking to travel between major cities, the train is a popular option, offering comfortable, quick and of course, scenic routes across the country.
Alternatively, long-distance bus services present a more affordable route.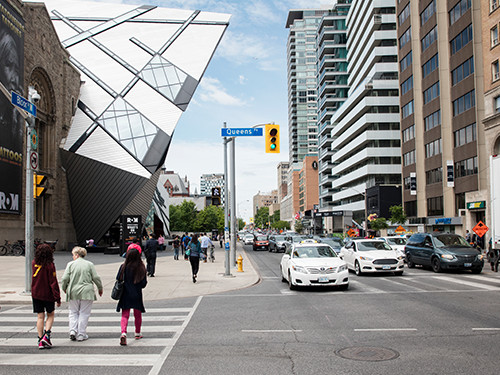 FAQs about travel to Canada
Helpful information for travellers visiting Canada
What language is spoken in Canada?
English and French are the two official languages spoken in Canada. Around three-quarters of the country speak English as their first language, and around a quarter speak French as theirs.
French is especially prevalent in the province of Quebec, where it's the primary language. However, a lot of Canadians are bilingual, so you'll hear a mixture of both English and French spoken across the country.
What is tipping like in Canada?
Just like their American neighbours, the Canadians are avid tippers and it's a defining feature of their culture. Tips make up a large portion of hospitality and industry workers' income.
The standard rate for tipping in Canada is anything between 10-25% of the total bill. This can vary depending on which province you're visiting, the standard of service, as well the establishment itself.
It's customary to tip servers in restaurants, bartenders, hotel employees, taxi drivers and hairdressers, amongst others. Though tipping in Canada is not mandatory, it is a social norm and failure to tip can be seen as a sign of rudeness.
Is it easy to drive around Canada?
Renting a car is a popular option for many travellers to Canada, so it's good to be prepared for the journey.
The Trans-Canada Highway connects all ten provinces in Canada and the roads come well maintained with plenty of signage. At times, the roads can be challenging but this does pay off, as driving presents the perfect chance to absorb the country's natural beauty.
Snowy and icy conditions can make the roads treacherous, especially during the height of winter. However, Canada has a well-developed infrastructure that sees snow ploughs and salt trucks regularly attend to the roads. Winter tyres are also mandatory in many regions.
We recommend familiarising yourself with the Canadian Highway Safety Code before driving around Canada.
Do I need any visa documentation to visit Canada?
UK citizens travelling to Canada as a tourist will need a valid Electronic Travel Authorisation (eTA). This can easily be obtained through the Canadian Government's website and will allow you to stay in the country for up to 6 months.
If you're visiting Canada to work or study, then you will most likely require another type of visa or permit.
When can I book cheap flights to Canada?
The cheapest time to book tickets to Canada is during its off-season (November – March). Icelandair offers regular flights to Canada all year round! We recommend booking in advance and checking our flight deals regularly to secure the best deal.
Before you traverse the rocky mountains Canada is so famous for, how about exploring some iconically Icelandic terrain first? When you book flights to Canada from the UK with Icelandair, you can add a stopover in Iceland at no extra airfare.
Make the most of your trip