Book your flight to Vancouver with Icelandair from
Fly in the next three months: Flights to Vancouver
Glasgow (GLA)to
Vancouver (YVR)
15 02 2024 - 28 02 2024
Glasgow (GLA)to
Vancouver (YVR)
28 01 2024 - 05 02 2024
Glasgow (GLA)to
Vancouver (YVR)
28 01 2024 - 28 03 2024
Manchester (MAN)to
Vancouver (YVR)
16 02 2024 - 24 02 2024
Manchester (MAN)to
Vancouver (YVR)
09 02 2024 - 09 03 2024
Manchester (MAN)to
Vancouver (YVR)
11 02 2024 - 17 02 2024
London (LHR)to
Vancouver (YVR)
12 12 2023 - 23 01 2024
London (LHR)to
Vancouver (YVR)
12 12 2023 - 30 01 2024
London (LHR)to
Vancouver (YVR)
12 12 2023 - 26 12 2023
London (LGW)to
Vancouver (YVR)
06 12 2023 - 01 01 2024
*Fares displayed have been collected within the last 72hrs and may no longer be available at the time of booking
Plan ahead for your trip to Vancouver with Icelandair
From

Glasgow (GLA)

To

Vancouver (YVR)
Round trip

/

Economy
17 03 2024 - 25 03 2024

From

GBP 551*

From

Glasgow (GLA)

To

Vancouver (YVR)
Round trip

/

Economy
03 03 2024 - 11 03 2024

From

GBP 551*

From

Glasgow (GLA)

To

Vancouver (YVR)
Round trip

/

Economy
11 04 2024 - 29 04 2024

From

GBP 596*

From

Manchester (MAN)

To

Vancouver (YVR)
Round trip

/

Economy
25 03 2024 - 07 04 2024

From

GBP 653*

From

Manchester (MAN)

To

Vancouver (YVR)
Round trip

/

Economy
03 09 2024 - 18 09 2024

From

GBP 783*

From

Manchester (MAN)

To

Vancouver (YVR)
Round trip

/

Economy
27 08 2024 - 11 09 2024

From

GBP 798*

From

London (LGW)

To

Vancouver (YVR)
Round trip

/

Economy
22 03 2024 - 31 03 2024

From

GBP 595*

From

London (LGW)

To

Vancouver (YVR)
Round trip

/

Economy
13 10 2024 - 16 10 2024

From

GBP 663*
*Fares displayed have been collected within the last 72hrs and may no longer be available at the time of booking
What to see and do in Vancouver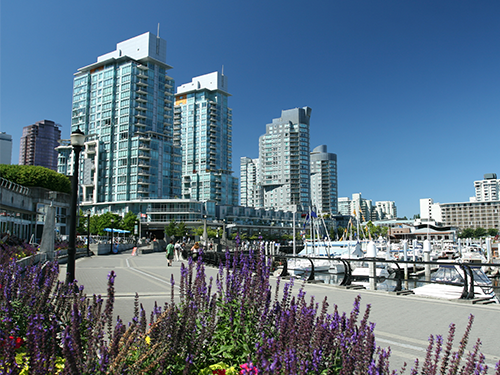 Best time to fly to Vancouver
The friendly city of Vancouver is a great place to visit all year round, with each season bringing a new and different experience for tourists.
Peak season in Vancouver is the summer, which sees the city come alive with festivals, warm weather, and exciting outdoor activities. English Bay is a popular destination for water sports like kayaking, swimming, and sailing – or simply relaxing on the beach!
In the colder months of December to March, skiers and snowboarders flock to Vancouver due to its proximity to Whistler, one of Canada's most popular ski resorts. If you're a winter sports fan, then it's a great time to touch down in Vancouver, but if you're there to sightsee then the colder temperatures maybe aren't the most ideal.
If you want to explore the city with milder temperatures yet fewer crowds, then we'd recommend flying to Vancouver between either March and May or September and November. You can expect to find the cheapest plane tickets to Vancouver around this time.
Getting around Vancouver - and beyond
Vancouver has an excellent public transit system (Translink), consisting of trains, buses, and boats. The Canada Line and the SkyTrain Rapid Transit are the most frequently used modes of public transport.
Taxis are plentiful and you can also hire a car to get around, with most major car rental companies operating in the city.
With all this said, Vancouver is actually a very walkable city due to being mostly flat with a compact downtown centre. Cycling is also very popular in Vancouver, with its integrated system of bike routes and a city bike share program.
If you fancy exploring further afield, you can take the ferry to Vancouver Island and explore picturesque Victoria, the capital of the province – a renowned hotspot for whale watching.
Meanwhile, the Sea to Sky Highway (Highway 99) runs between Vancouver and Whistler and you couldn't ask for a more breath-taking drive.
Or, if you're after culinary pursuits, travel from Vancouver to nearby Richmond for authentic night markets courtesy of the area's bustling Asian communities.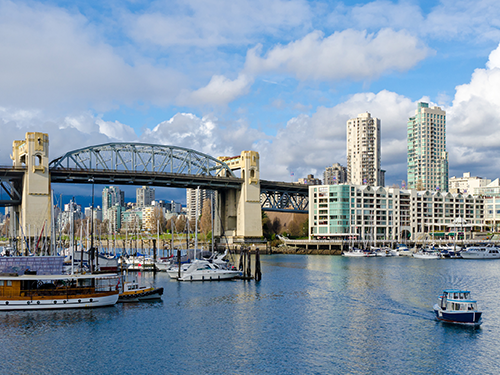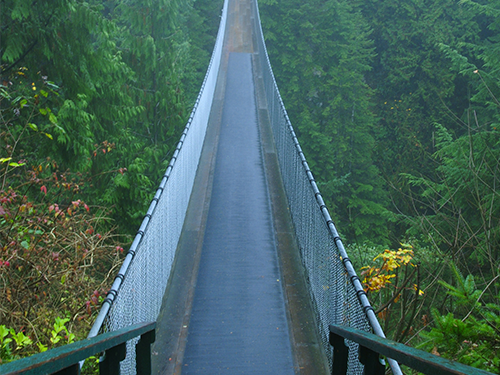 Things to do in Vancouver
Regularly named one of the world's most liveable cities, Vancouver is a place where you may find yourself nursing a deep case of envy. Just to the north of downtown is the city's treasure: Stanley Park. This thousand-acre playground is a recreational haven, offering seawall paths, forest trails, viewpoints, beaches, lakes and children's play areas.
Want more outdoorsy goodness? Head for the Capilano Suspension Bridge Park on the North Shore for verdant views and some high-elevation thrills. Or scale Grouse Mountain for year-round fun. It's also hard to resist the lure of the renowned ski resort of Whistler, 75 miles north of Vancouver. The village is pretty as a picture blanketed in snow in winter, but it's equally beloved in summer for super-scenic hiking and mountain biking trails.
There's so much to be explored in nature, but the city's indoor diversions are just as impressive. The Vancouver Art Gallery and the stylish bars and boutiques of the historic Gastown neighbourhood reflect the real culture of the city. And for fun for all the family, head to Vancouver Aquarium.
Global eats and Asian treats
The multicultural city of Vancouver boasts one of the best Asian dining scenes in North America. It's a big assertion, backed by some brilliant restaurants offering all the delicious flavours from the Asian continent.
A wander around Chinatown is a great way to work up an appetit, but let it be said that fresh global flavours can be found all over town. All the global foodie movements are present and accounted for in Vancouver.
Travelers can find food from all over the world at food trucks, food festivals, farm-to-table dining, food tours, fresh and sustainable seafood, craft beer and distilleries across the city.
A visit to the sensational Granville Island Public Market is a must for relaxed dining. You can grab a sit-down snack or prepare a first-class picnic while enjoying the waterfront views.
Whatever you choose to eat, you really can't go wrong. The food scene is of exceptionally high quality in Vancouver.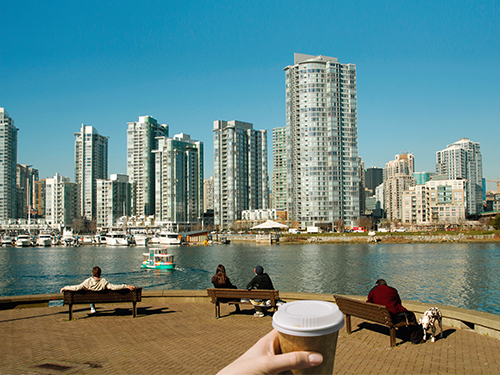 FAQs about travel to Vancouver
Helpful information for travellers to Vancouver
What's the best time to fly to Vancouver?
How long does it take to fly to Vancouver?
How do I get from Vancouver airport to the city centre?
Can British citizens travel to the US from Vancouver?
Make the most of your trip
Other people also looked at