02/07/2019 | 12:00 AM
Geothermal Travels Around Iceland: A Soaker's Circuit
"Iceland's sunshine doesn't come from the sky," a poetic Icelander once told me. "It comes from the water." Those words have warmed my heart (if not my extremities) on a number of occasions, especially as I wage a love-hate battle with the dark Icelandic winters, having relocated to Reykjavík from a famously sunny homeland (Australia).

For centuries, the mineral-rich geothermal water found in abundance on this volcanic island has done much to make winters not just bearable, but pleasurable. Water suitable for long, warming soaks can be found in fantastically varied places, from small natural hot springs in remote fields to well-maintained swimming pools in virtually every town.
Taking cues from the attention-grabbing Blue Lagoon (easily among Iceland's most visited attractions) are a growing number of bathing complexes, springing up in geothermal hotspots around the country and creating an incidental itinerary for road-trippers looking to end each day with a scenic soak.
New complexes continue to be added to the soakers' circuit. East Iceland has scored its own designer geothermal spot with the opening of Vök Baths, just outside Egilsstaðir on the shores of lake Urriðavatn. The highlight is two floating pools set in the lake's waters. Coming in 2021: Sky Lagoon, on the waterfront south of Reykjavík's city center.
Krauma, Reykholt
Opened in late 2017 at the site of the high-volume Deildartunguhver thermal spring, Krauma is a stylish spot about 62 mi (100 km) from Reykjavík, in West Iceland. A sleek black building sits unobtrusively in the landscape and houses a restaurant and well-equipped changing rooms. Outside, black tiles surround a handful of warm-water pools— and for the brave there's a small plunge pool (water at a hellishly refreshing 43°F / 6°C). The water is a mix of cold water originating from Ok glacier (quite possibly my favorite place name in Iceland) and hot water from Deildartunguhver.
There are two steam baths and a bathers' relaxation room, with a cozy central fireplace. The evocative scent of wood burning fills the complex on the sunny autumnal day when I visit. Like most visitors I am drawn to the complex's front pool, where an infinity edge combines with ace mountain views to rapidly induce relaxation, and the long sunset views are sublime. This is a small complex that feels nicely off the well-worn tourist route. Combined with lunch at nearby Hotel Húsafell and a walk around the waterfalls of Hraunfossar and Barnafoss, Krauma makes a fabulous day out from Reykjavík.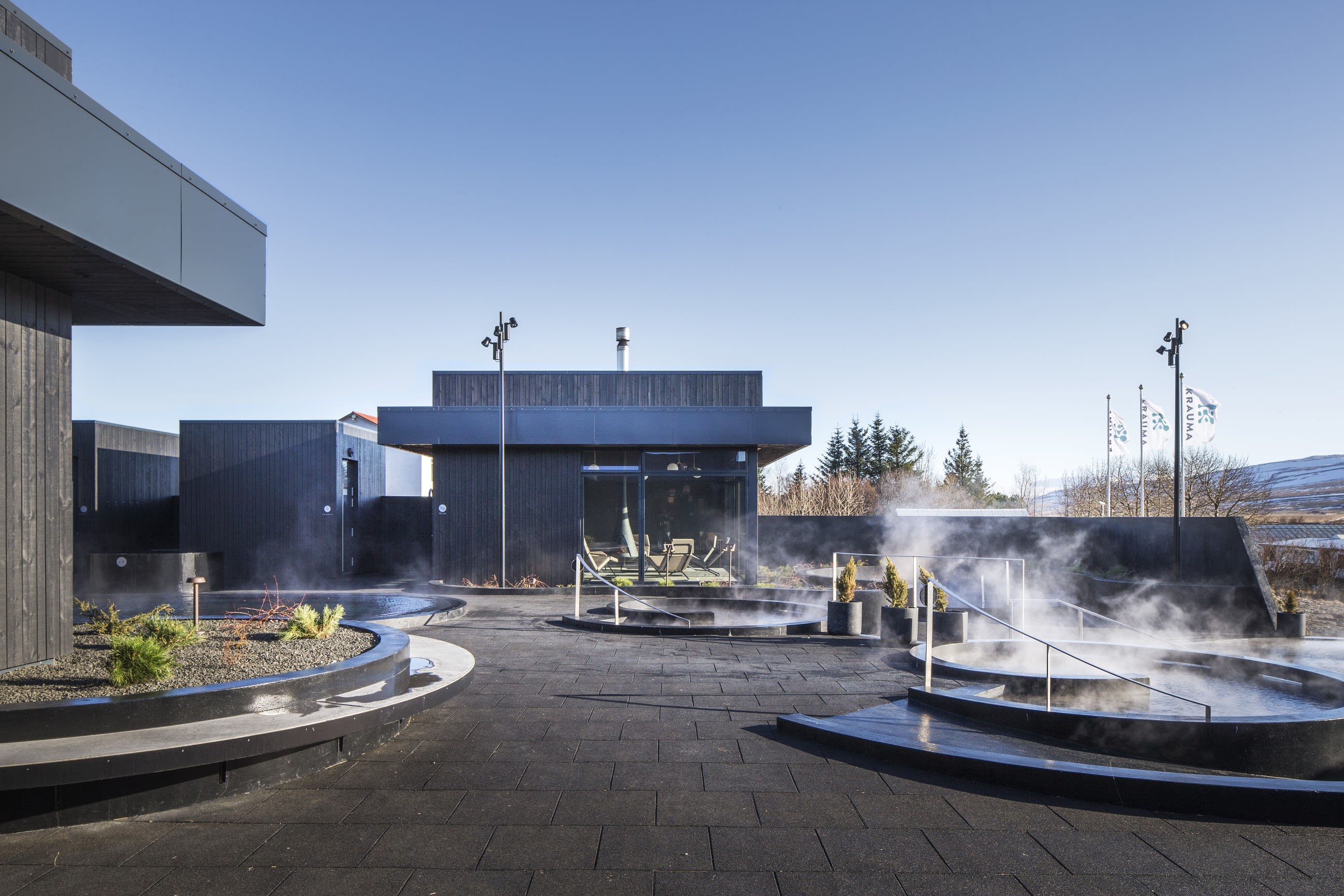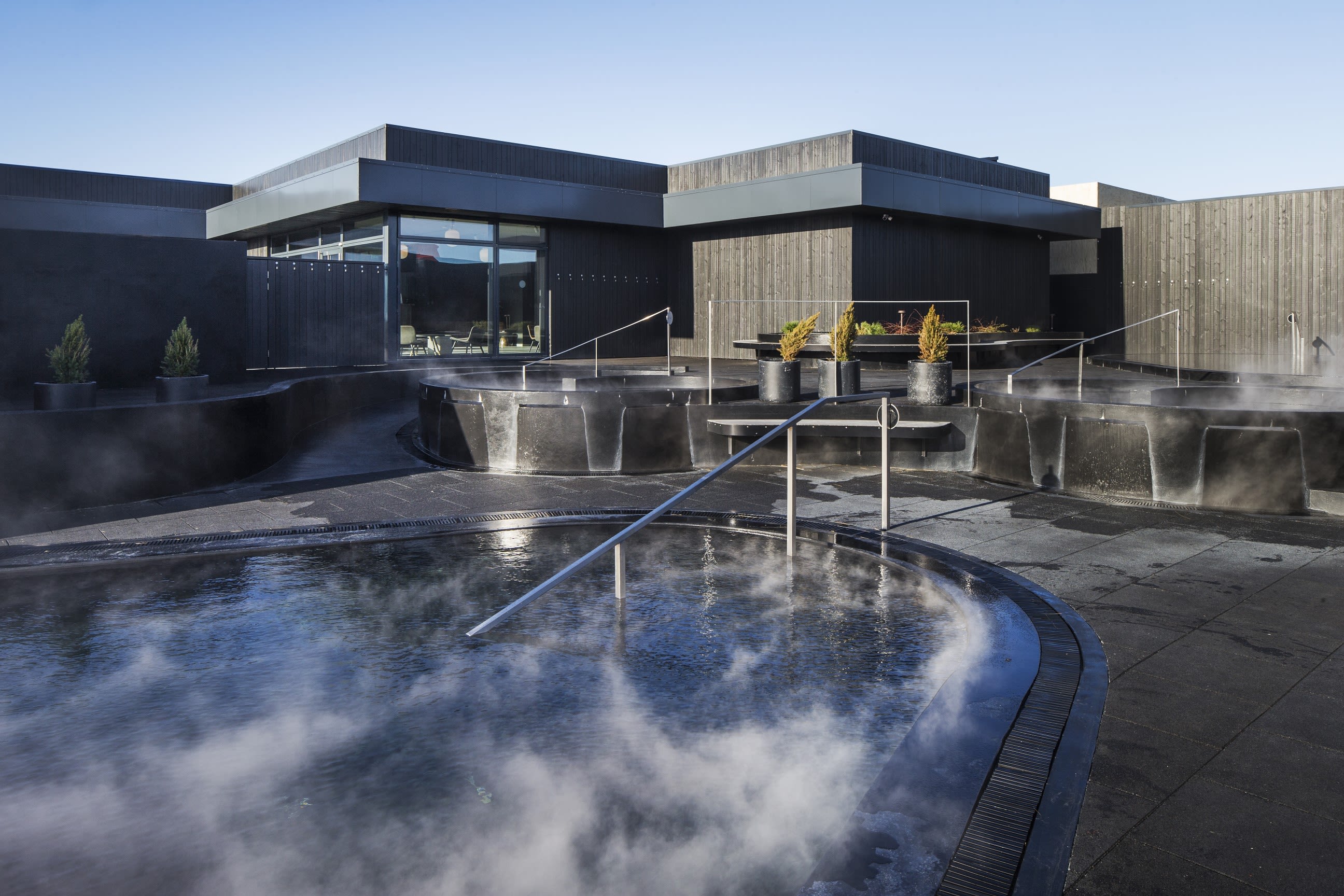 GeoSea, Húsavík
One of the new kids on the bathing block is GeoSea, which opened in August 2018 in the northerly town of Húsavík. I visited in late October, but there was no denying that winter had arrived: The northern mountains were wearing their white coats and the roads from Akureyri were icy. The effort involved in reaching GeoSea pays big dividends; for me, this is the loveliest view of any bathing complex in Iceland. On a hillside outside town, the baths overlook Skjálfandi Bay (renowned for its whale inhabitants) and the Kinnarfjöll mountain range to the west. The complex's neighbor, a squat yellow lighthouse, adds a pop of color to the breathtaking setting.
GeoSea's design is striking, from its understated entranceway to the neutral slate-gray palette intended to complement the surrounding nature. In November 2018, Basalt Architecture won the Icelandic Design Prize for their work on the complex, as well as for their contribution to Icelandic bathing culture via some of their stunning projects (including the Blue Lagoon and the marvelous fjord-side swimming pool in Hofsós).
At GeoSea, interconnected pools are strung along a ridge, and locals find a regular spot in the top pool where bathers can order a drink through a window. If the wind is not too harsh, infinity edges draw bathers to contemplate the panorama; if the wind whips up (like it did on my visit) the sheltered spots become gathering points and the steam room is popular, not least for its floor-to-ceiling windows. The water is unique for these complexes, a silky combination of saltwater and geothermal. The overall effect is a treat, and I'm reminded of just how uniquely beautiful the Icelandic winters can be when there is a welcoming buffer from the cold.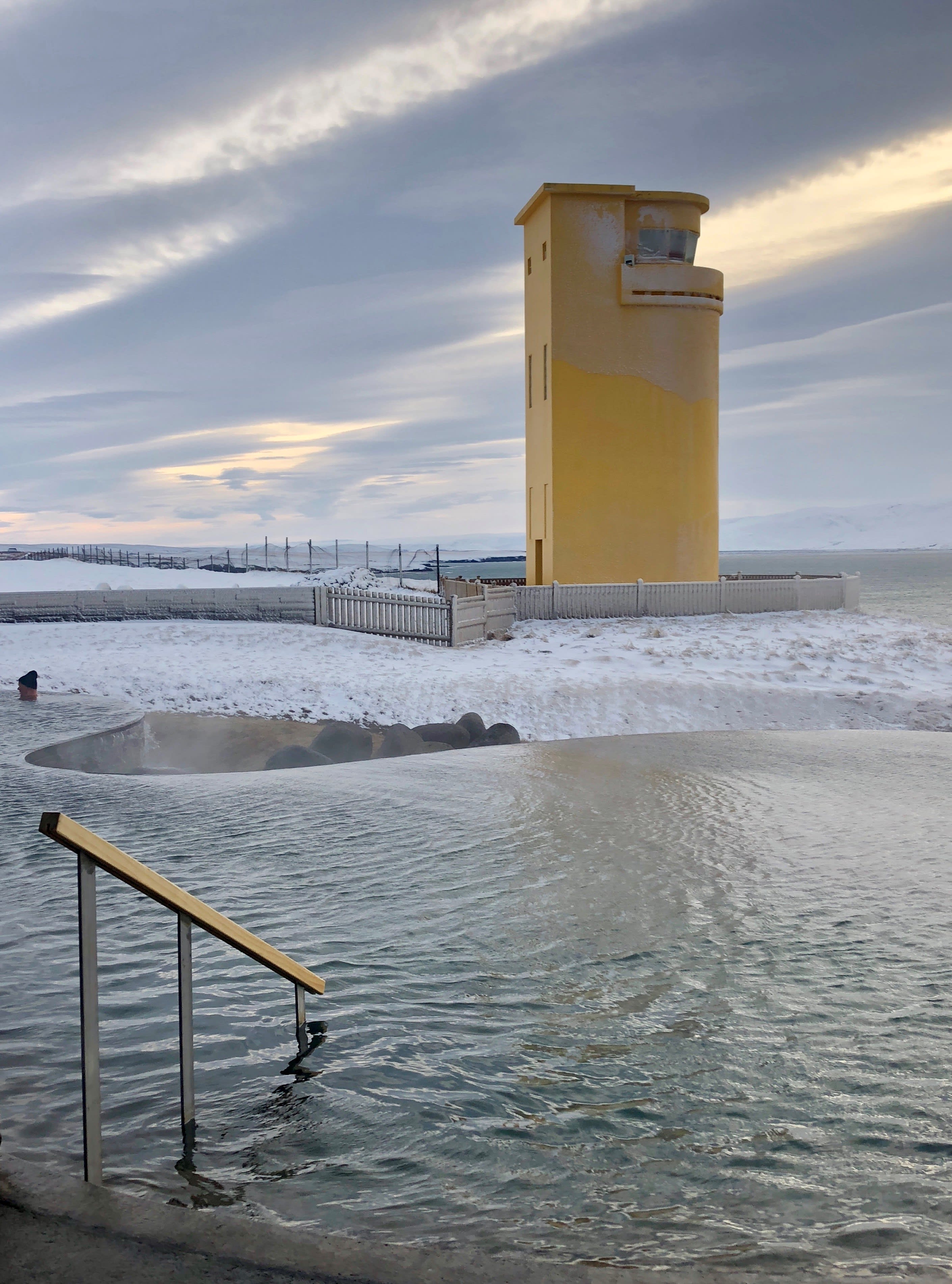 A Soaker's Circuit
If you like getting into hot water, consider adding these pools to your itinerary.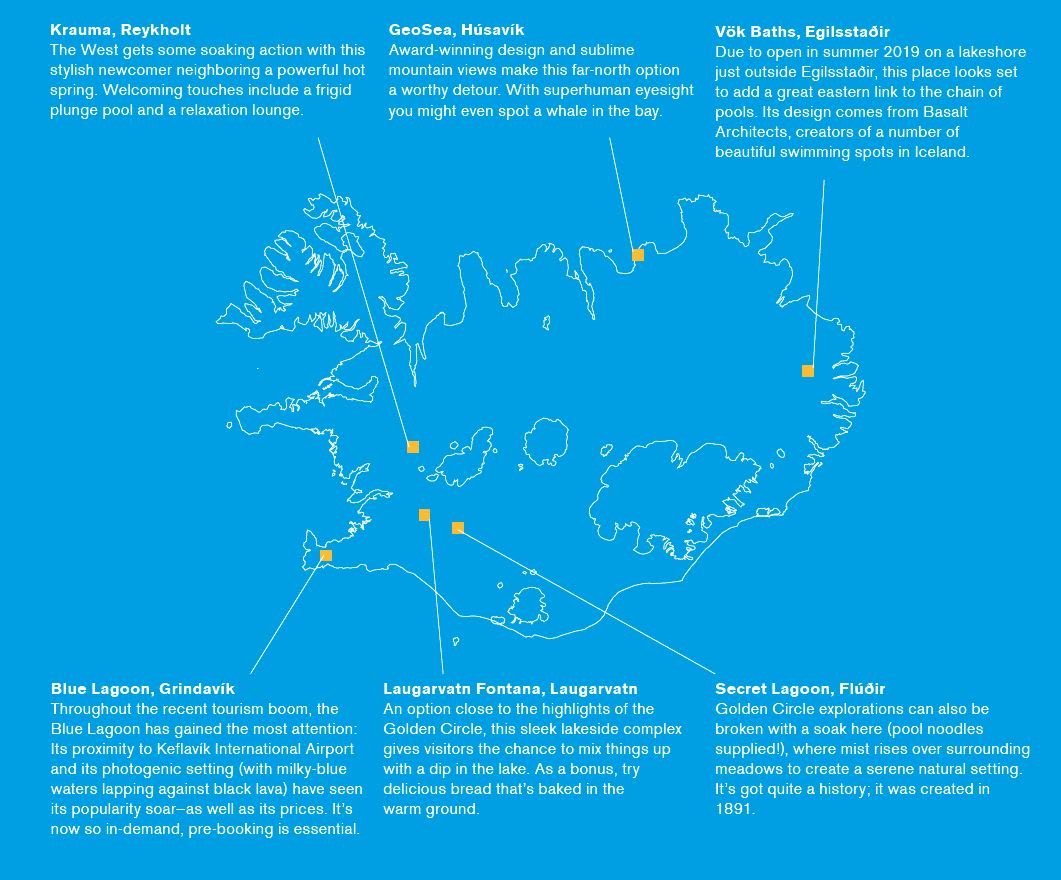 Blue Lagoon, Grindavík
Krauma, Reykholt
GeoSea, Húsavík
Mývatn Nature Baths, Mývatn
Vök Baths, Egilsstaðir
Secret Lagoon, Fluðir
Laugarvatn Fontana, Laugarvatn
Sky Lagoon, Reykjavík (opening 2021)
Trip notes
Icelandair's home base is Reykjavík, and we offer connections to gateways in Europe and North America. Traveling across the Atlantic, you have the opportunity to add a stopover in Iceland at no additional airfare.
Text and GeoSea photos by Carolyn Bain

Krauma photo supplied by Krauma
This article first appeared in the Icelandair Stopover magazine, winter 2019, and was updated November 2020.

#iceland
#destinations
#activities