11/12/2021 | 1:00 PM
Damon Albarn: How to adopt an island
Damon Albarn is an English singer, songwriter, composer and producer, and founding member of Blur, Gorillaz and The Good, The Bad & The Queen. His new studio album, The Nearer the Fountain, More Pure the Stream Flows (release date November 12, 2021), was written and composed entirely in Iceland. The title is taken from a John Clare poem entitled "Love and Memory."
Damon has been pulled back to Iceland for nearly 30 years. His new piece is like the anthology of the inspiration he's found – and sometimes lost again – on our North Atlantic rock. Edda Kentish sat down with Damon and discussed Iceland, the psychology of weather, and how living on an island can be isolating and liberating at the same time.
Photos by Matt Cronin.
We're deep into low-pressure weather system number nine this year when I walk up to an unassuming residence in Reykjavík one January morning. Remarkably, the wind and rain let up for a brief moment and invite a little sunshine through, but this is still unmistakably Iceland in mid-winter. Being outside goes against all instinct. I hurry to the front door and knock. The notion that I'm about to meet a musician who supplied the soundtrack to my youth is swiftly pushed back – all I care about right now is getting inside and out of the blizzard. Decorum be damned.
I'm greeted with a handshake, fresh coffee and a spectacular view. I go through the formality of introducing myself and apologizing for the intrusion, in the quintessential Icelandic way, before we sit down and dive into one of those talks that render time and space superfluous.

"I feel very at home here," says the man opposite me, with Mt. Esja sitting quietly across the bay. "I feel kinship with Icelanders."

Damon Albarn has been coming to Iceland for nearly 30 years. What started as a quest to find the country he once saw in a dream has morphed into an extended affair. He has seen what has changed (the Blue Lagoon) and what hasn't (smjör – Icelandic butter, and Morgunblaðið – a local broadsheet). And he has a very different take on winter than I do – according to him, seeing snow is refreshing – it brings a sense of hope, he says. That makes me wonder if weather affects island people more than others.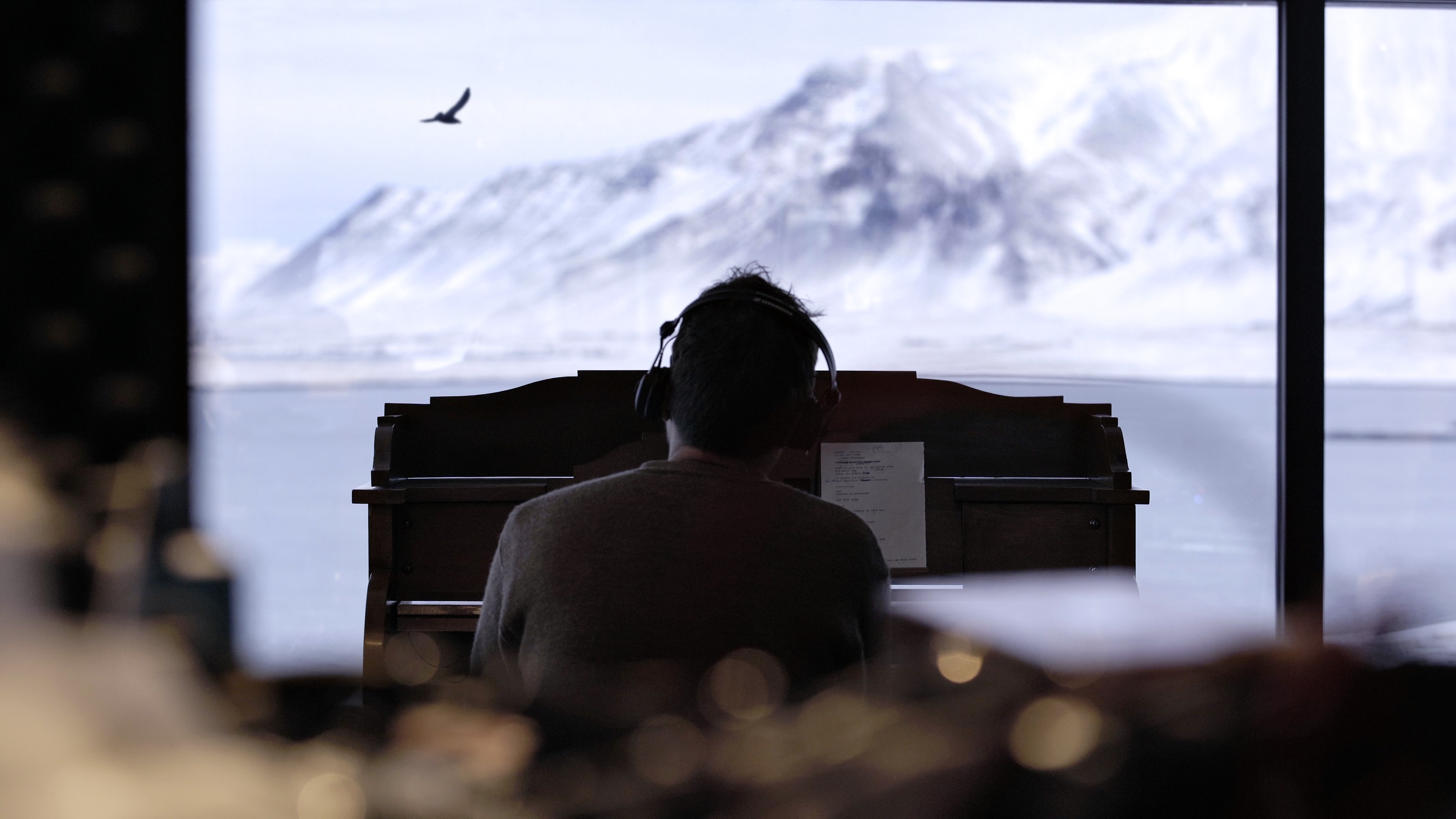 "You just have to kind of embrace it, sometimes. All the time, really. In a city like London, you don't get that elemental perspective so much. That's what's interesting about having a house in this kind of vicinity in Reykjavík. You can be both things, really. You can be very elemental and so completely suburban. But we [Icelanders and Britons] share this obsession with weather and its multiple effects upon our personalities. There is a subtle gradation into depression and then out of it. You know, in correlation to literally the highs and lows of the weather. I think you feel that most on islands. But then again you look out a lot on islands, I think. There's a sense that you're kind of trapped by the sea – very deep down in the subconscious, because obviously we can all move about now. But that's the sort of deep foreboding of the sea, you know. I suppose, originally, it must have been a very exhilarating sense, because even though it was dangerous, there was so much in it and there was no sense of depletion. It must have felt like it was just endless. That's changing."
It's fitting that our conversation takes the direction of weather. Talking about it is a national sport both In Iceland and the UK, after all – nations that depended on it and were isolated by it; changed by it. The weather also feeds into this nuanced difference between isolation and loneliness, both in a hyperconnected world, and as part of life on an island. But how has all this affected his work?

"That's one of the themes, I suppose. I'm trying to find some sort of answer through the whole process of making this – don't know what to call it, really – this – is that you do get lost in those [isolation and loneliness]. There is a sense of isolation when you look out the window, but, it's cleansing. And it's about something that doesn't move much. And simplicity."
He looks out the window and over to Mt. Esja again. I can't blame him. Its permanence is comforting. Then the pensive, calm, thoughtful conversation starts up again.
"It [Mt. Esja] is such an ever-changing immutable object: You can read everything into it. You can write any story in there. It changes: the shapes and the figures, depending on how much snow it's got. It's just a fascinating thing to stare at for a long time."

And so we do. After a while, I ask him if he's ever been up there. He says he hasn't but always wanted to go. It's that thing of being too close to something to ever make it happen. But then I have to wonder, is he too close to Iceland or can he still look at it from an outside perspective? He says he probably understands quite a bit of the nation's psyche without being completely in it, but rather orbiting it. There's a thought: the star who orbits Iceland. He came here to chase a very different dream than one of fame or glory – instead, he was looking for black-sand beaches and tranquility. He tells me the story – how he saw, on TV, a vista he'd only seen in his subconscious, of a black-sand beach and crashing waves. And knew it was where he belonged.
"I've always found it [this feeling of belonging somewhere] interesting. We don't have a word for it in English but they have one in Portuguese: saudade. And in German I think it's Sehnsucht, which means a feeling for something that you haven't actually experienced, but you know is part of you."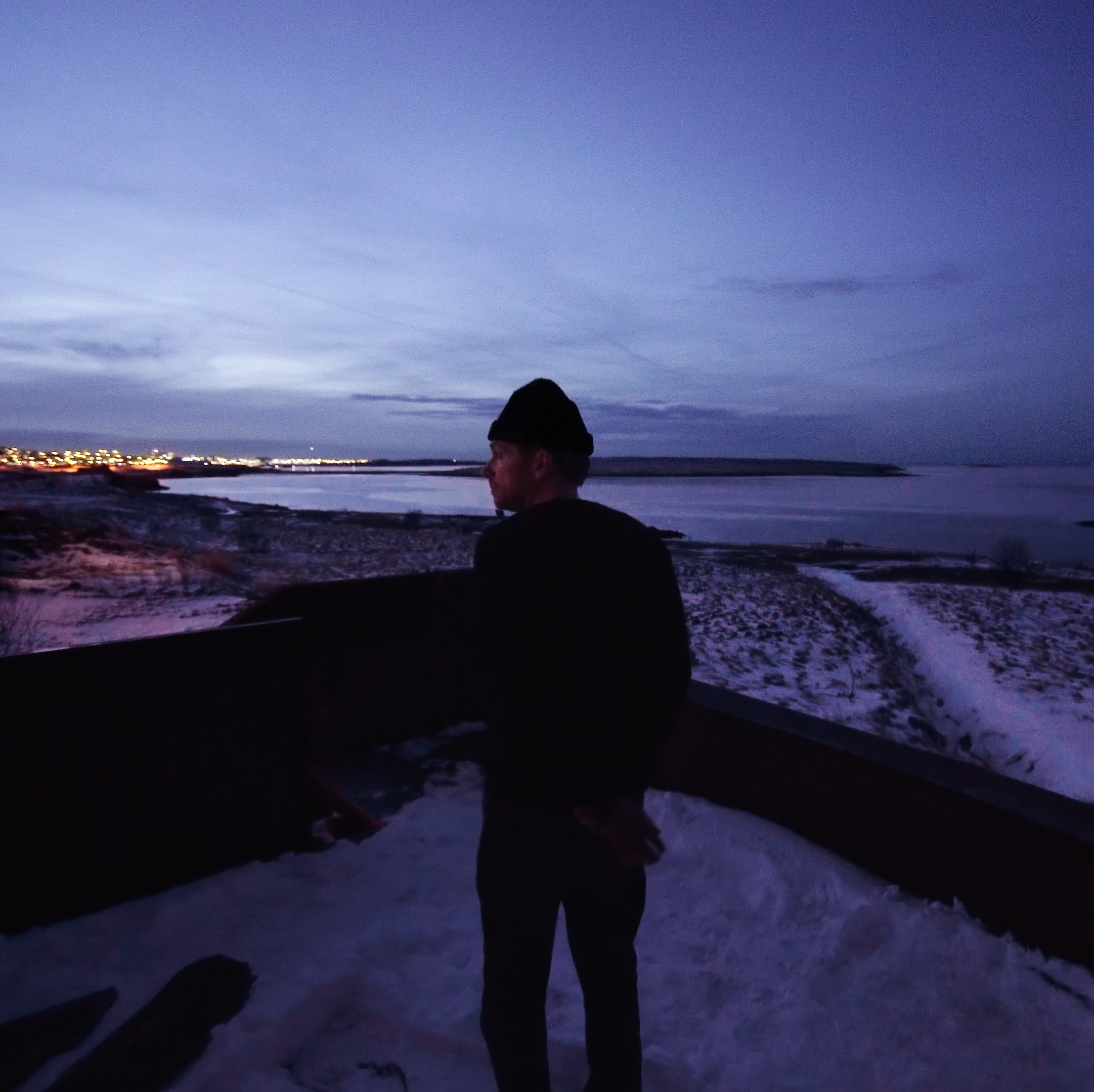 If Iceland is a part of Damon Albarn, his interpretation of it must be as deep and thoughtful as he is himself. Eager to get more out of our numbered minutes together, I ask him how he thinks a homogeneous nation is affected by the ever-changing landscape that surrounds it.

"Well, it makes you all very individual, because you're not individual. Everyone's got a really strong sense of themselves. And kind of knows everyone, as well. […] And even in almost living memory, Iceland was a really backwards place, in a sense. But with that "backwards" there was also a lot of space which was filled with contemplation and language, and so that's why it's such an interesting society."

I take that as permission to say hello if I run into him at Kaffibarinn [a downtown bar] one of these days. You never know. But for now, it's time to say goodbye. I leave my coffee on the table – too absorbed in the conversation to drink much of it – and am sent off with a warm hug.
That's what it takes to adopt an island: You find what you can work with, learn what you can learn, and then let it filter through your character like glacial water filters through lava fields. And then you can create something entirely new. Something like The Nearer the Fountain, More Pure the Stream Flows.
Damon Albarn's website has more details about the artist. See online information for UK and European tour dates for February-March 2022. Damon will be performing live at Harpa, Reykjavík, on March 11, 2022.
Visit Damon Albarn's Spotify page to hear his music, including The Nearer the Fountain, More Pure the Stream Flows.