12/19/2018 | 12:00 AM
Santas are coming to town
As the arctic days get shorter and the first Christmas lights are up on the neighborhood houses, you know that the seasonal holidays are just around the corner. Filled with the warmth of candlelight, gingerbread and cinnamon aromas, December is a reminder of various traditions and the joys of the Icelandic winter. The December mood has also to do a lot with Santa Claus. Or, in fact, 13 of them.
The Icelandic Santa Clauses are not typical Santa Clauses per se. They have a long history in Icelandic folklore and are called Yule Lads, or jólasveinarnir in Icelandic. These lads pull pranks on people and bring gifts to children. The misbehaving ones get a potato instead.

Each Yule Lad is a distinctive character and their names illustrate that. It's easy to notice these Icelandic Santas during the winter months; you'll find them on milk packaging, or can see their projections on walls while strolling along the streets of downtown Reykjavík.
The fun part is that jólasveinarnir are not entirely fictional and you can meet them in person. This is where the adventures begin.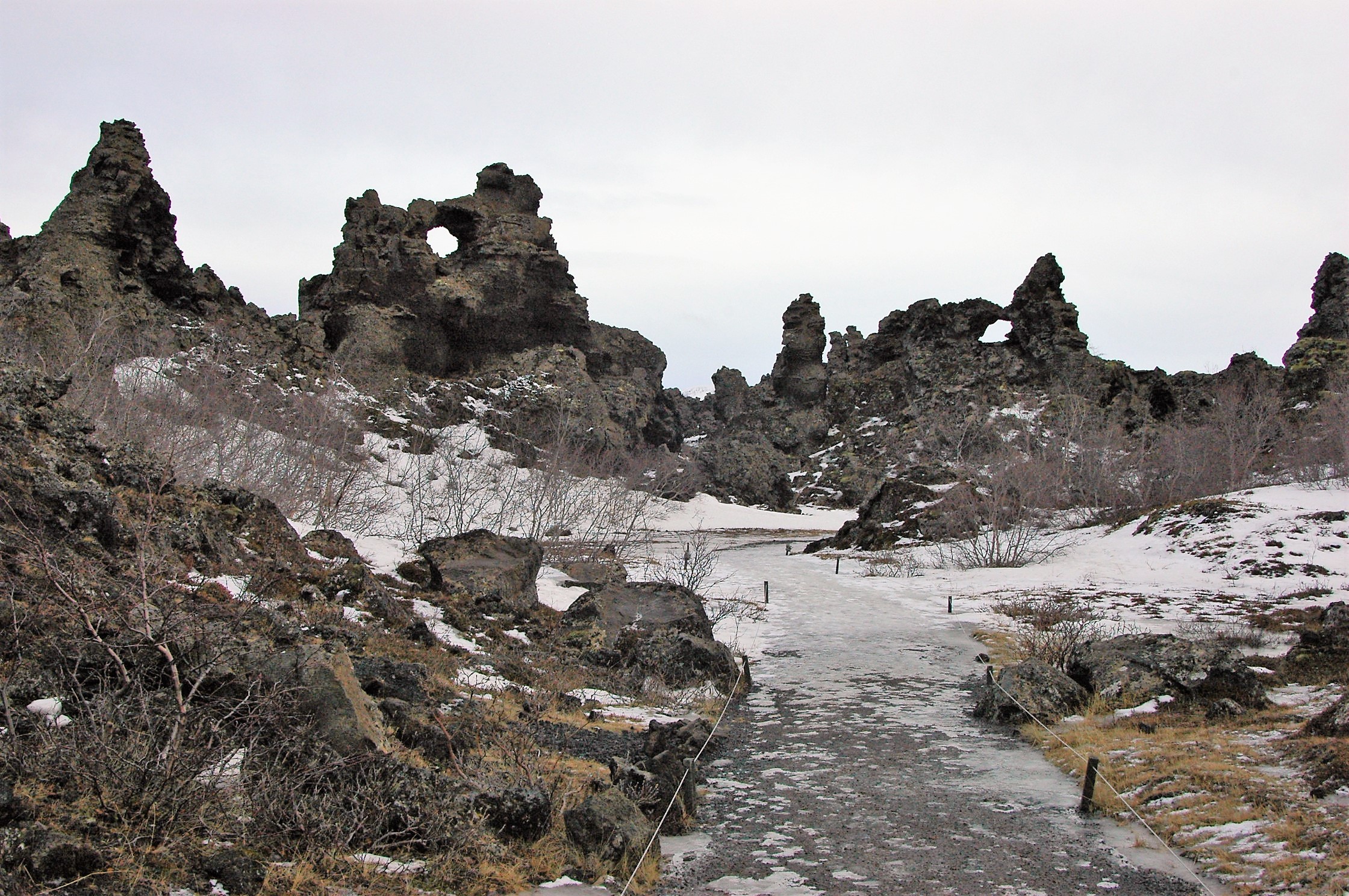 Dimmuborgir. Photo by Edvardas Paskevicius
Banner image: Dimmuborgir. Photo by Marcin Kozaczek
It was our third day up in the northern capital of Iceland – Akureyri. Having spent two days skiing on the slopes of Hlíðarfjall we decided to go on a spontaneous road trip and explore the natural wonders in the northern region. Without having decided the specifics of our route we left the town with a few sightseeing spots in our minds.
After seeing the magnificent Goðafoss waterfall, Grjótagjá cave and other breathtaking sights in the Mývatn area, our final stop of the day happened to be Dimmuborgir – a unique area full of dramatic lava formations. Not only is it famous for rock formations, volcanic caves and pillars, or the fact that some of Game of Thrones season 3 scenes were shot here but, being all that, it is also a home for jólasveinarnir. Without knowing that, we strolled into Dimmuborgir – the fascinating lava labyrinth – trying to make use of the golden hour and capture some pictures before dusk.
Crisp, fresh snowflakes, my jolly friend in her red and green outdoor gear, us sipping the last cups of coffee from our thermos. The atmosphere was idyllic and seemed that nothing was missing. Or at least we thought so.
"Is that a caveman?" suddenly I hear the astonishment in my friend's voice.
"This must be one of the Yule Lads" dawned upon me after I saw him.
It was indeed. A funny looking person was slowly making his way towards us.
Taken aback by the fact that we'd just met an Icelandic Yule Lad, we were short on words. This encounter was unexpected and felt very authentic, to say the least. "The caveman" was glad to pose for a picture but stayed true to his character: a little unearthly. He seemed preoccupied with his yule-errands and didn't stick around for long. Stumbling along his path in between those bizarre rocks he soon disappeared into the vastness of Dimmuborgir.
I'm guessing that we met Stúfur. He is the third of the 13 Yule Lads and the one who "comes to town" on December 14. Stúfur, or Stubby in English, steals pans and eats food leftovers burned on them.
And just like that our day was complete. On our way back, we were talking about the other jólasveinarnir and where we might meet the next one. Or perhaps all of them?
Trip notes
You can plan a visit to Dimmuborgir and be sure that you meet the Icelandic Yule Lads. Dimmuborgir is a little over an hour's drive east of Akureyri, the northern capital of Iceland. Icelandair flies between Reykjavik and Akureyri several times a day.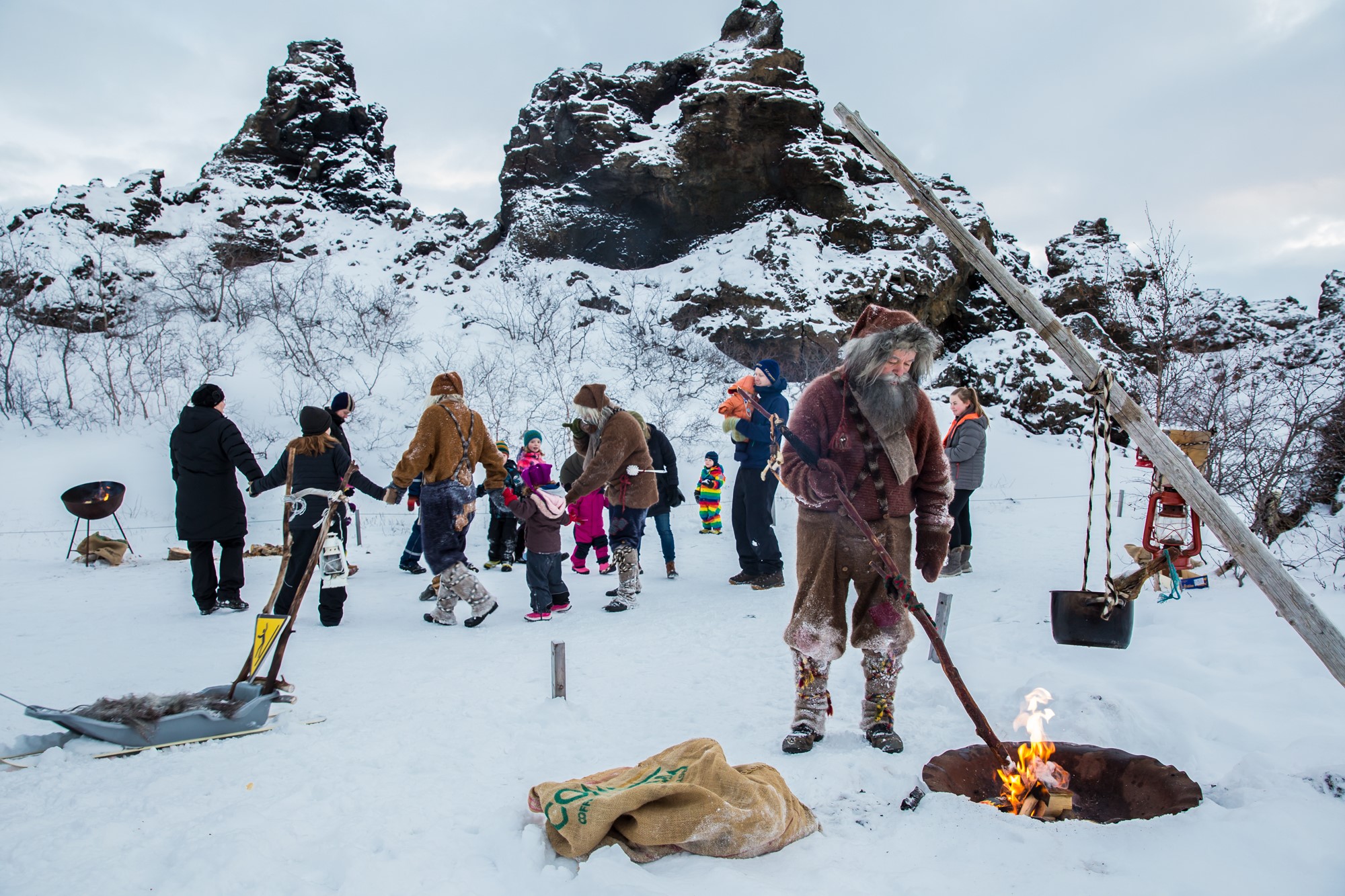 Dimmuborgir. Photo by Marcin Kozaczek
Text by Edvardas Paskevicius
Yule lads photos courtesy of Visit Mývatn, The Northern Lights Capital of Iceland
#christmas
#dimmuborgir
#yulelads
#north