02/16/2022 | 12:00 PM
Eliza Reid: Secrets of the Sprakkar
Newly published in the US and Canada, Secrets of the Sprakkar is the first book from Eliza Reid, the First Lady of Iceland (and former editor of our own in-flight magazine, Icelandair Stopover).
Eliza's book is a self-described 'love letter to Iceland', diving deep into the rich topic of Iceland's extraordinary women and how they are changing the world. Below you can read an excerpt from the book, together with some quotes from Eliza's inspiring interview subjects.
And the 'sprakkar' of the book's title? It's an ancient Icelandic word meaning extraordinary or outstanding women. It's worth noting that Iceland has topped the World Economic Forum's annual index that measures gender equality for the past 12 years, thanks in no small part to the efforts of these remarkable sprakkar.
The subject of chart-topping gender equality in Iceland often finds its way into global media, and reaction to Eliza's book has been very favorable. Read more in the following articles: What Makes Iceland So Great? Ask Its First Lady in The New York Times, and What can we learn from Iceland? A lot, says a new book about that country's women in The Washington Post.
About Eliza Reid

Eliza is a journalist, editor, and cofounder of the annual Iceland Writers Retreat. She grew up near Ottawa, Canada, and moved to Iceland in 2003, five years after winning a student raffle for a date with the man who became her husband, Guðni Jóhannesson.
When Guðni took office as president of Iceland on August 1, 2016, Eliza became the country's First Lady. In that capacity, she has been active in promoting gender equality, entrepreneurship and innovation, tourism and sustainability, and the country's writers and rich literary heritage.
Eliza was previously editor for Icelandair's own in-flight Stopover magazine. She has also been a staff writer at Iceland Review, and has been published in the New York Times, The Globe and Mail, Monocle, and several other newspapers and magazines.
Secrets of the Sprakkar shares many details of Eliza's education and background, her life in Iceland, and the inspiration behind the book. You can read more of Eliza's story (and reviews of Secrets of the Sprakkar, plus how to buy a copy) on Eliza's website and through her social media platforms.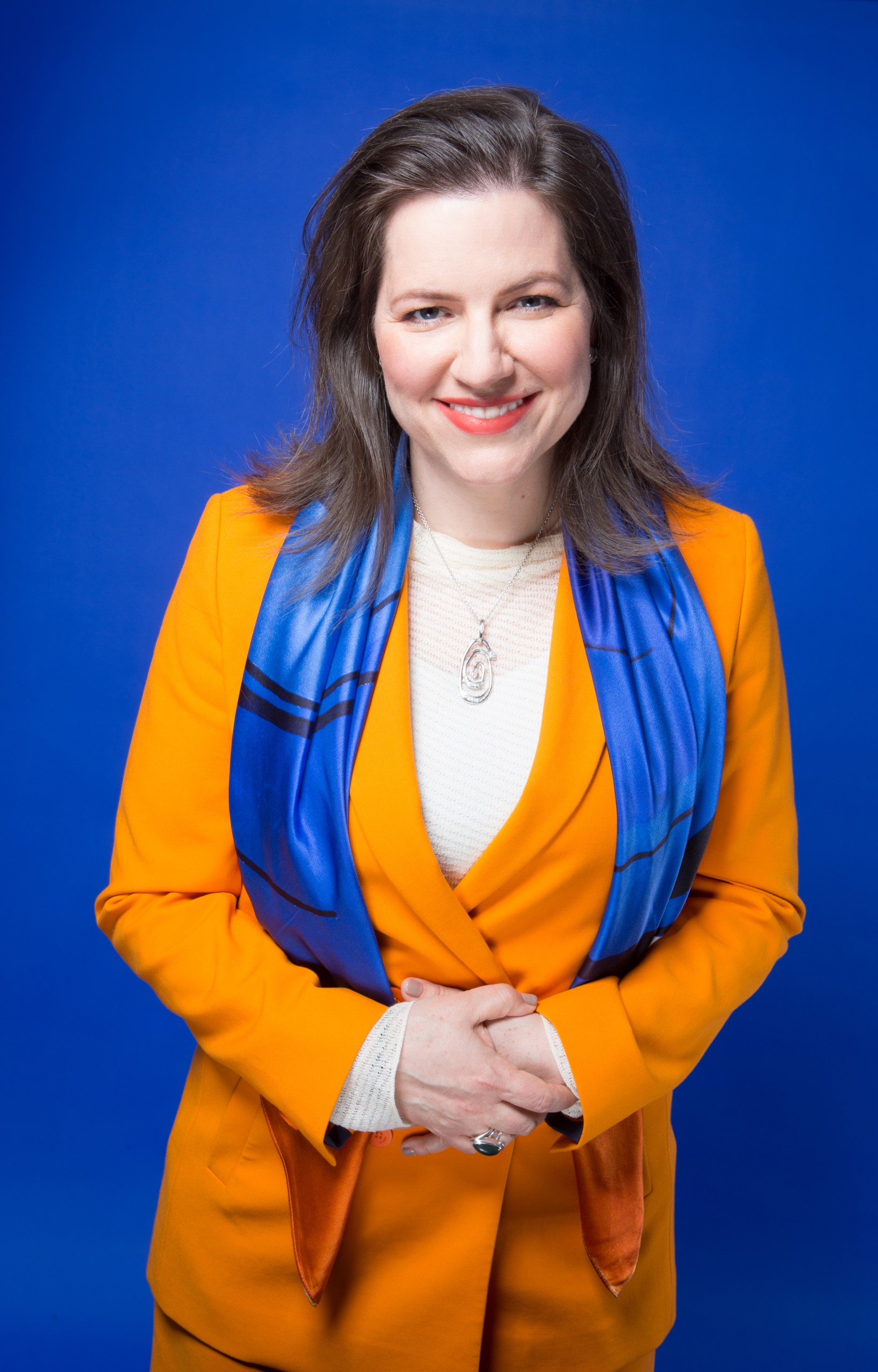 Eliza Reid, journalist, editor, First Lady. Photographer credit: Kristin Bogadóttir
Banner photo: Members of the Jellyfish outdoor adventure group. Photographer credit: Kristin Bogadóttir
Secrets of the Sprakkar
Iceland's Extraordinary Women and How They Are Changing the World – an excerpt
Really, in many ways, this book is my love letter to Iceland—an appealingly imperfect country, a society that is constantly working to improve, where debate thrives but solidarity and empathy envelop us when crises occur. A nation where women persist in seeking equality and where most of us feel supported in that ambition most of the time. A country I am proud to call my home, where I have succeeded as an entrepreneur and learned to use my voice when fate handed me a platform, and one where I believe our achievements today will lead to even more equal futures for the generations to come as well as serve as inspiration to people around the world.

But my story alone does not paint a complete picture of the joys and challenges of female existence on this North Atlantic island. I wanted to explore what it is about Icelandic society that makes it so conducive to improving life for girls and women—and therefore men, boys, and nonbinary people too. Because surely these lessons can be applied elsewhere, to inspire people in Vancouver and Vermont, in Dundee and Dallas.
Do the ingredients for success stretch back to the time of the epic family feuds that were chronicled in the centuries-old tales collectively known as the sagas, which featured numerous tenacious women, or more recently to the 1980 election of Vigdís Finnbogadóttir, the world's first democratically elected female head of state? Is it a matter of crediting government-imposed policies, such as heavily subsidized child care and government paid parental leave for both parents, or should we look more to why this society pushes for new laws to be created, like the recent legal amendments to codify the rights of trans and nonbinary individuals? How about the liberal attitude toward single parenthood and sexuality in general, or a broader definition of masculinity? How much can we attribute to the small, cohesive, family-centric society where everyone needs to wear a lot of professional hats in order to have a thriving country? And what can we learn from the recent influx of immigrants, who bring new experiences and backgrounds to Iceland but who face their own unique challenges once here?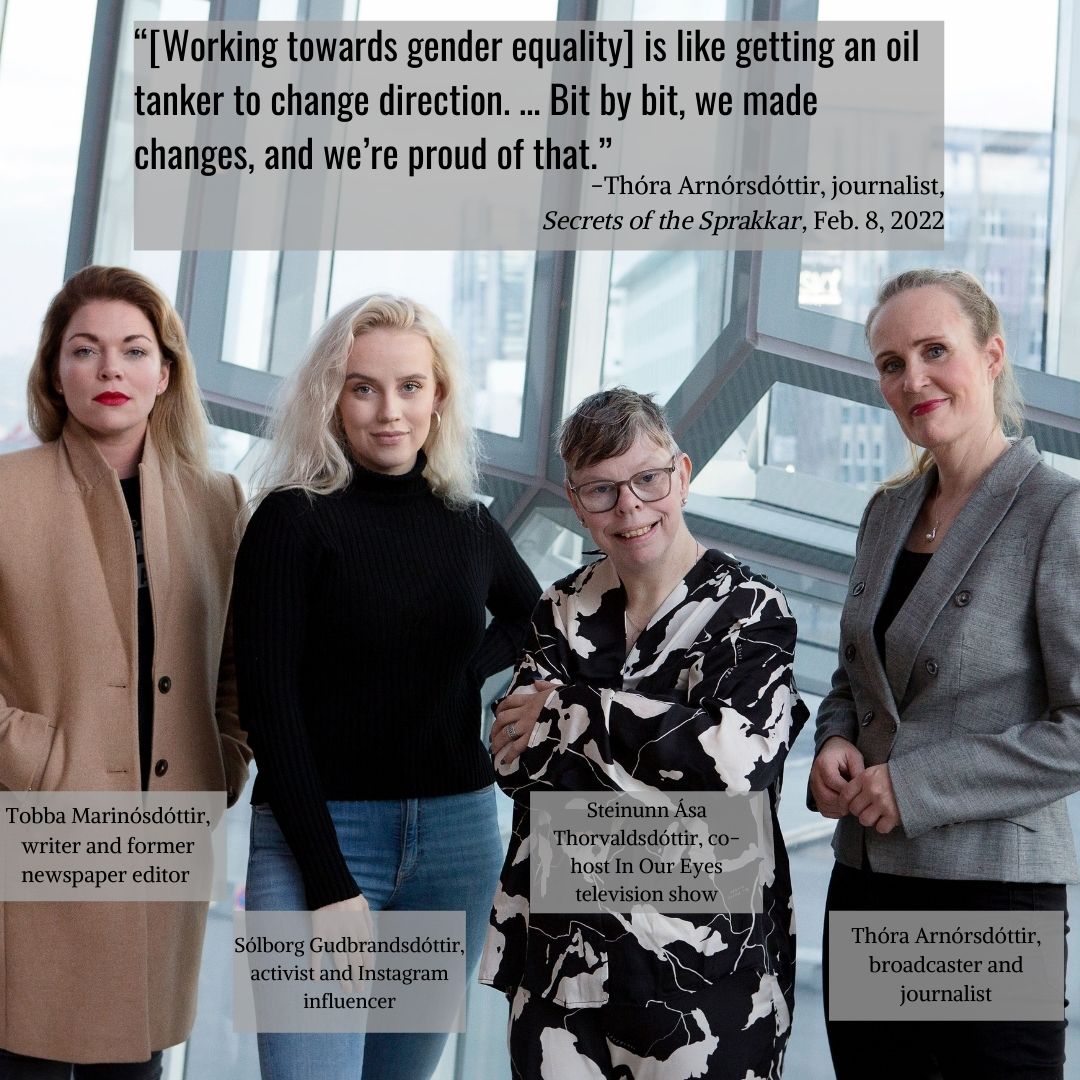 Certainly, the independent, stalwart, determined women who have left their marks on this society over the centuries have inspired their descendants today, not least through a confidence and belief that we can each play a role in improving our communities. Iceland is a storytelling nation, and many living Icelanders have been raised on a diet of the heroics of women in the sagas, the gumption of those who avenged wrongs, and the grit of those who fought against the odds for their principles.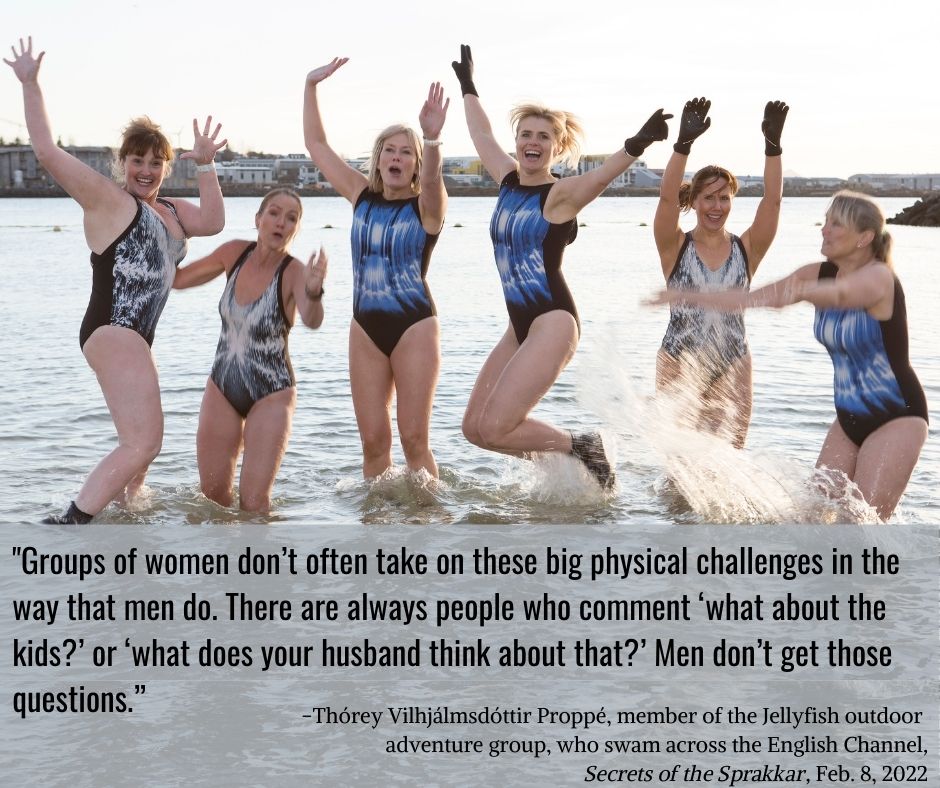 For this book, I spoke to dozens of extraordinary women in Iceland. These sprakkar, to use an ancient Icelandic term, come from all ages and walks of life and regions of the country. Many of them fly under the radar, but their lived experiences nevertheless help portray a society that values the ambition of gender equality and is endeavoring to elevate it. They are women like you and me and the women we know. Together, they form a portrait of life in a country where gender equality is within reach—tantalizingly close to an unfixed finish line—yet also where frequently demoralizing and damaging challenges persist. Whether First Lady, sheep farmer, immigrant, soccer star, comedian, mayor, or sex advisor, we are all Icelanders sharing our stories and in-sights about what makes this land so equal for so many. And we are revealing the secrets about how we can nurture, support, and elevate the sprakkar who live within us and in our communities so we can all do our part to achieve gender equality, no matter where we live.
Excerpted from Secrets of the Sprakkar by Eliza Reid. © 2022 by Eliza Reid. Used with permission of the publisher, Sourcebooks, Inc. All rights reserved.