02/14/2022 | 1:00 PM
Our commitment to the environment
At Icelandair, we recognize the negative impact that air travel has on the environment, particularly through carbon emissions.
We are committed to achieving improved environmental performance, and we have set clear goals in this area throughout the years, taking measures to reduce carbon emissions from operations through fleet renewal, operational efficiencies, and carbon offsetting. Read more about Icelandair Group's Environmental policy.
Our commitment to net zero emissions by 2050
We have set ambitious new goals to reduce our carbon emissions:
In line with the airline industry's goals, we have made a commitment to reach net zero emissions by 2050.
In addition, we have set a medium-term target to reduce our carbon emissions by 50% per operational ton kilometer (OTK) by 2030 compared to 2019 levels. This is a measurement of carbon emissions relative to carried passengers and cargo loads.
Reaching these goals will require a combination of measures, such as new aircraft technologies, continued operational improvements, the introduction of sustainable aviation fuels, as well as carbon offsetting. The implementation of the Boeing 737 MAX aircraft into the fleet is an important contributor to reducing our carbon emissions.
We have started the work on developing a strategy and a roadmap to reach our goals in this area.
Our collaboration with Landsvirkjun
We recently signed an agreement with Landsvirkjun, Iceland's national power company, to join forces to develop solutions for the energy transition of aviation in Iceland. Together we will assess the current status and define projects that will accelerate such a transition, which may involve the effective use of sustainable fuel, green hydrogen, or electricity as an energy carrier for Icelandic aviation.

Bogi Nils Bogason, Icelandair's CEO, says that "Iceland is in a unique position to be at the forefront when it comes to energy transition in aviation, starting within Iceland. This is because of short domestic flight routes and ample access to green energy."
You can read more about this exciting collaboration on the Icelandair Group website.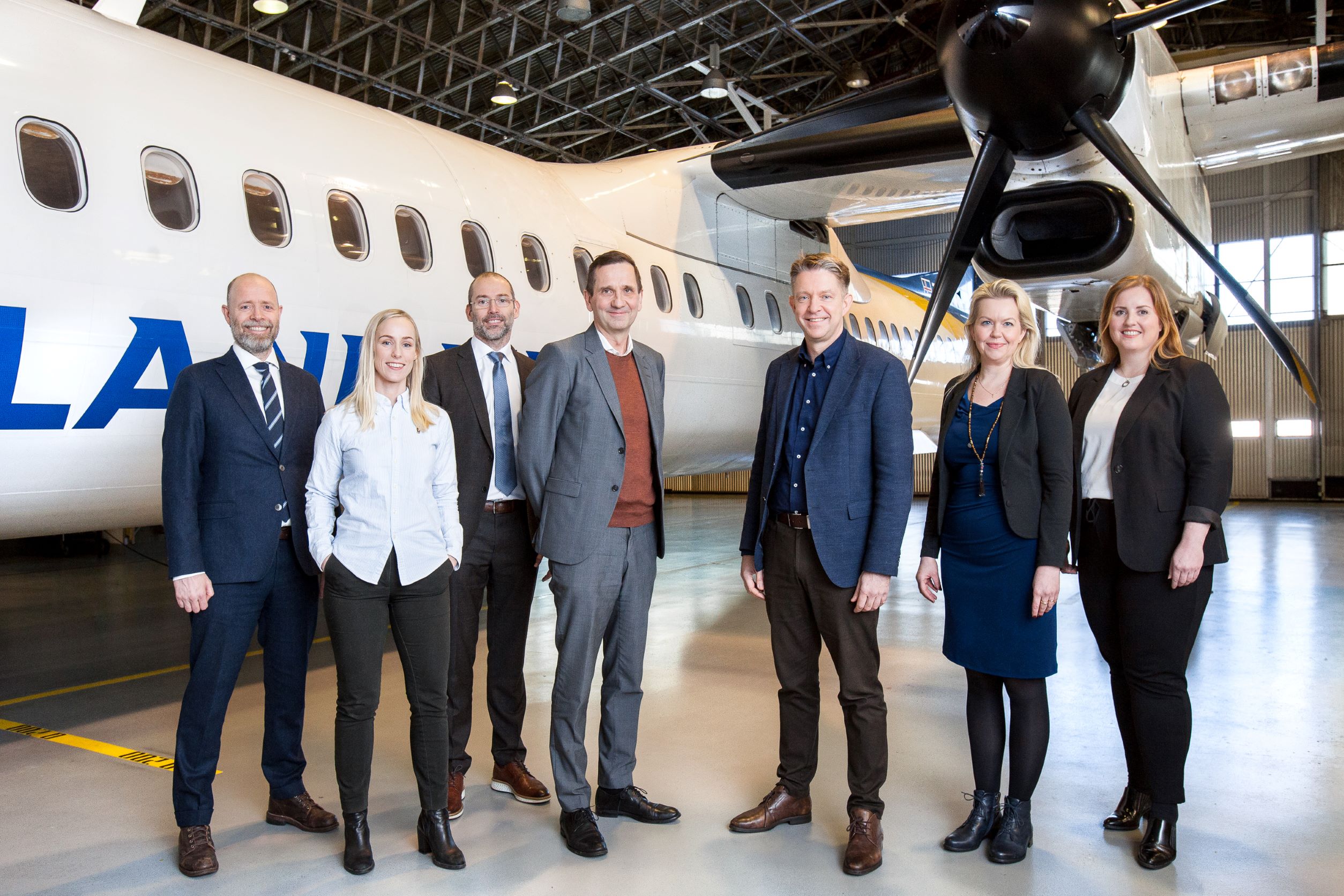 From left: Haraldur Hallgrímsson, Director Business Development, Landsvirkjun, Laufey Lilja Ágústsdóttir, Business Development Manager, Landsvirkjun, Ríkarður Ríkarðsson, EVP Business Development and Innovation, Landsvirkjun, Hörður Arnarson, CEO, Landsvirkjun, Bogi Nils Bogason CEO, Icelandair, Ásdís Ýr Pétursdóttir, Director Communications and Sustainability, Icelandair, and Heiða Njóla Guðbrandsdóttir, Deputy COO, Icelandair.

Other partnerships
We also engage in international partnerships to work towards more sustainable aviation, such as participation in the Nordic Initiative for Sustainable Aviation (NISA) and the Nordic Network for Electric Aviation (NEA).