04/01/2022 | 12:00 PM
Seafood in Iceland: There's plenty more fish in the sea
All that coastline, all those fishing boats! It's a given that you're going to eat some fine fresh fish on your travels around Iceland. You may have heard of farm-to-plate dining? Iceland does this style of locavore cuisine as second nature—and trust us when we say it's equally enthusiastic about fishing-boat-to-plate (or bowl, in the form of sensational soups). The time between catching, cooking and eating is sometimes just a matter of hours.
Look out for favorites such as cod (in Icelandic, þorskur), delicious Arctic char (bleikja; it's similar to trout) and haddock (ýsa). For some of great spots for fresh, delicious fish and assorted sea critters, here's a handy guide.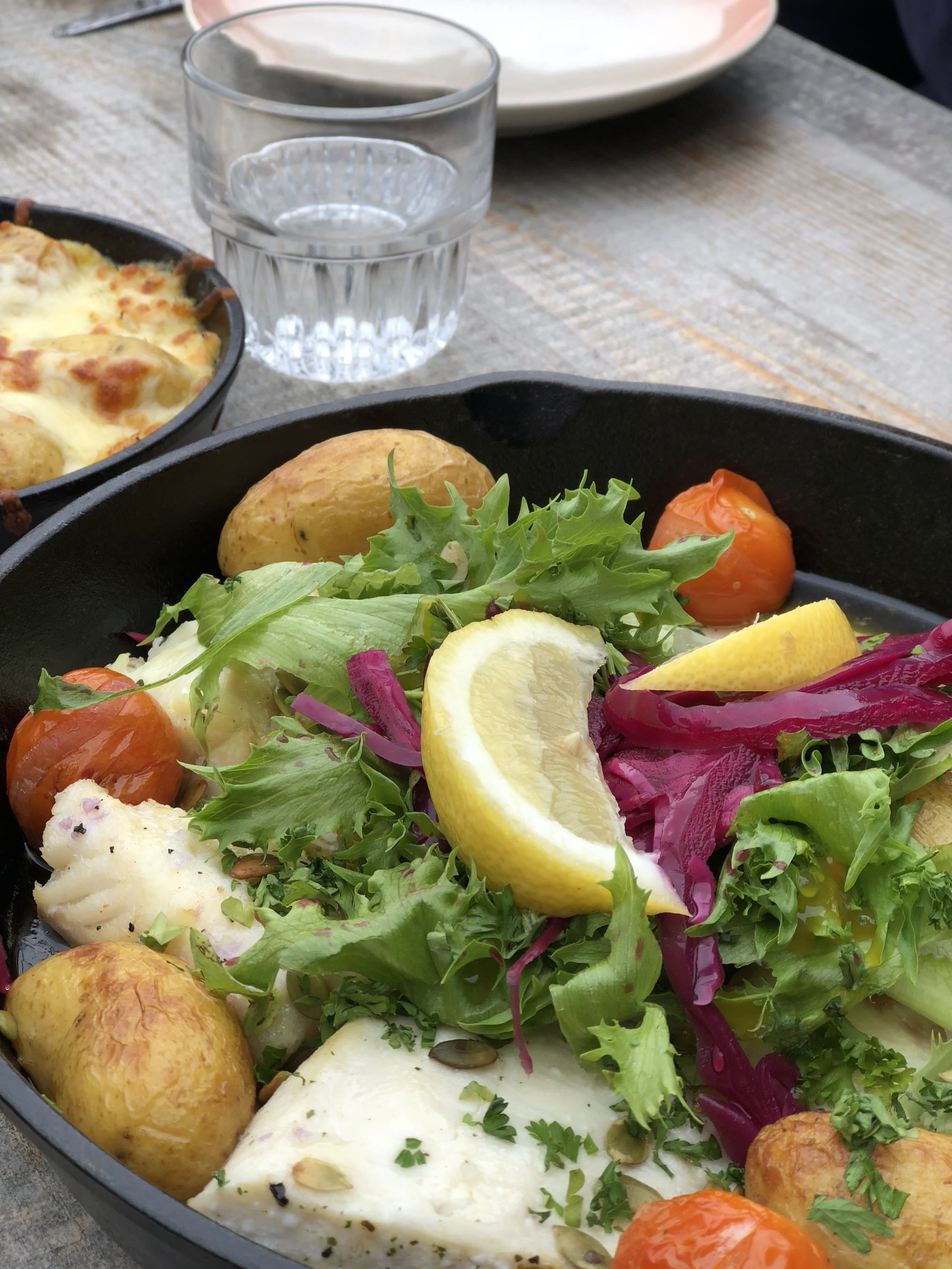 Fish pan from The Bait Shack. Photo by Hákon Guðröðarson
Langoustine
You may see lobster soup and other "Icelandic lobster" (humar) dishes on menus around the country. This is actually langoustine, the smaller cousin of the lobster, fished in local waters. Höfn in the southeast of Iceland is the unofficial langoustine capital, and the town celebrates the crustacean with an annual festival each summer. Every menu in town features langoustine in some form or another, from pizza topping to sandwich filling, but the classic dish of langoustine tails with butter and garlic can't be beat. Try it in elegant restaurants like Pakkhús and Otto, or in sandwich form at the fun local diner, Hafnarbúðin.
Other great langoustine haunts include Fjöruborðið, a cozy, unpretentious waterside restaurant in south-coast Stokkseyri (about a one-hour drive from downtown Reykjavík), where the langoustine soup comes with extra magic and a great menu description. In Reykjavík, Sægreifinn (also known as the Sea Baron) by the harbor is justifiably renowned for its rich, creamy soup.
Fish pans
Many restaurants have cottoned on to the fact that fresh fish cooked simply and well, without too many bells and whistles, makes diners happy. To that end, they simply pan-fry fish in cast-iron pans that are then brought to the table, together with potatoes and a salad to enjoy. Cod may be simply grilled in butter, or Arctic char with perfect flavoring such as honey, almonds and cherry tomatoes. Fish served in this manner is found in quality restaurants around the country, including the rustic Messinn in Reykjavík. A newer place to discover is the Bait Shack (or Beituskúrinn), which brings a touch of New England to Neskaupstaður in East Iceland. In the Westfjords, the ultimate fishy destination is Tjöruhúsið in Ísafjörður, where a cozy wooden building from 1782 houses a family-run restaurant that lays on a buffet of fish pans—all the better for tasting a variety of creations, from a signature wolffish dish with cream cheese, capers, mushrooms, and grapes, to delicious cod cheeks in butter and garlic.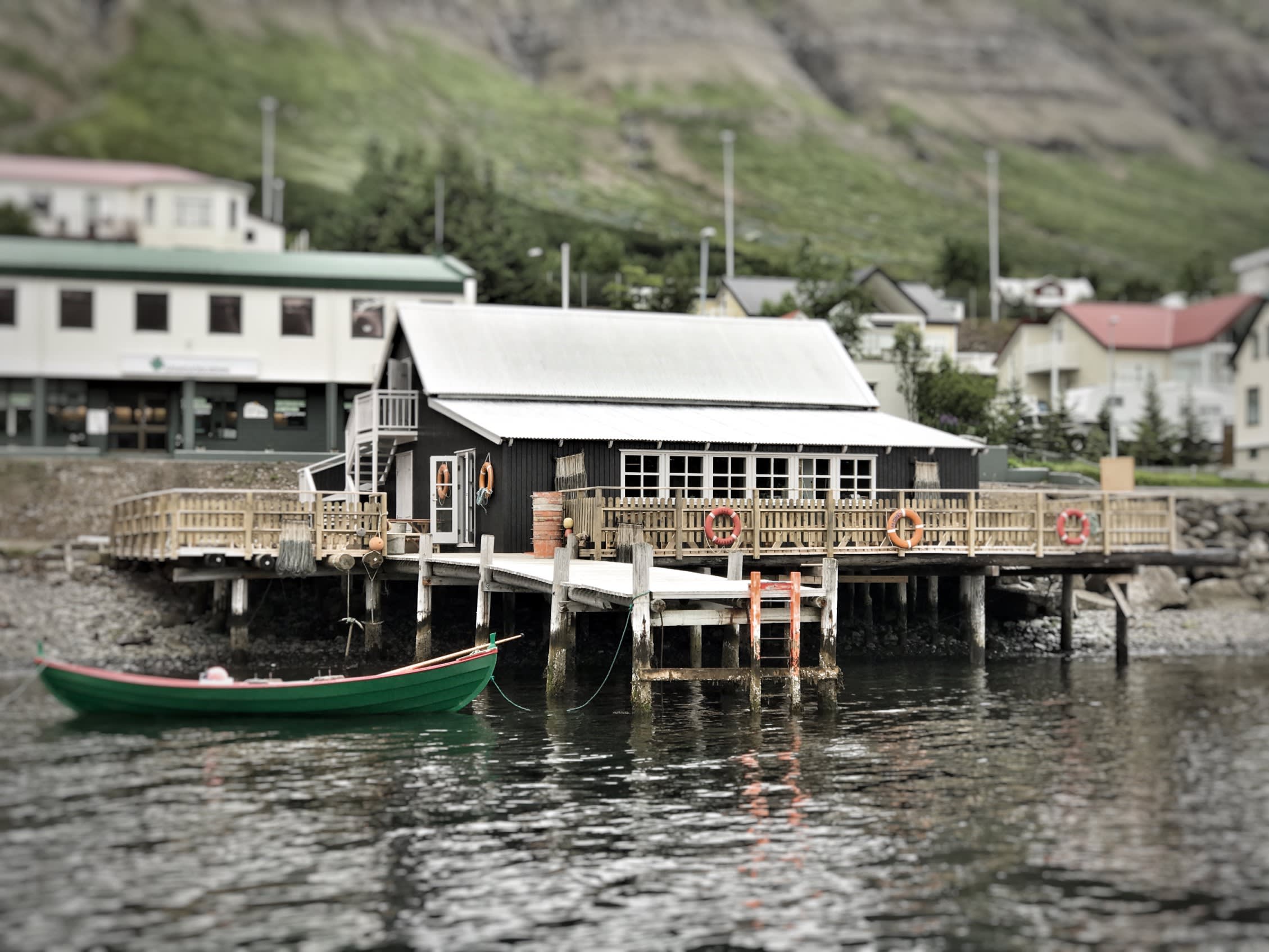 Nautical vibes at The Bait Shack. Photo by Hrafnhildur Þórarinsdóttir
Sushi
Access to all that fresh fish makes for some fine sushi (fun fact: Iceland grows fresh wasabi), and one of the best places in the country to sample local seafood with a modern Japanese twist is in the East, in the charming town of Seyðisfjörður. At Norð Austur, open in summer, the fish lands straight off the boat and into the hands of an internationally trained sushi chef. The aesthetics (of both the dishes and the restaurant) are first-class, and the sake, botanical cocktails and Japanese beers belie the far-flung locale.
In the capital, a few high-class places fight for your attention with super sushi, including Fiskmarkaðurinn (also known as the Fish Market) and Fiskfélagið (Fish Company), where tasting menus take the pain out of choosing and options run beyond sushi to cover impeccable local fish, meat and other flavors. Sushi Social is also a fun option, a fusion of Japan meets South America (sounds odd, but it works!).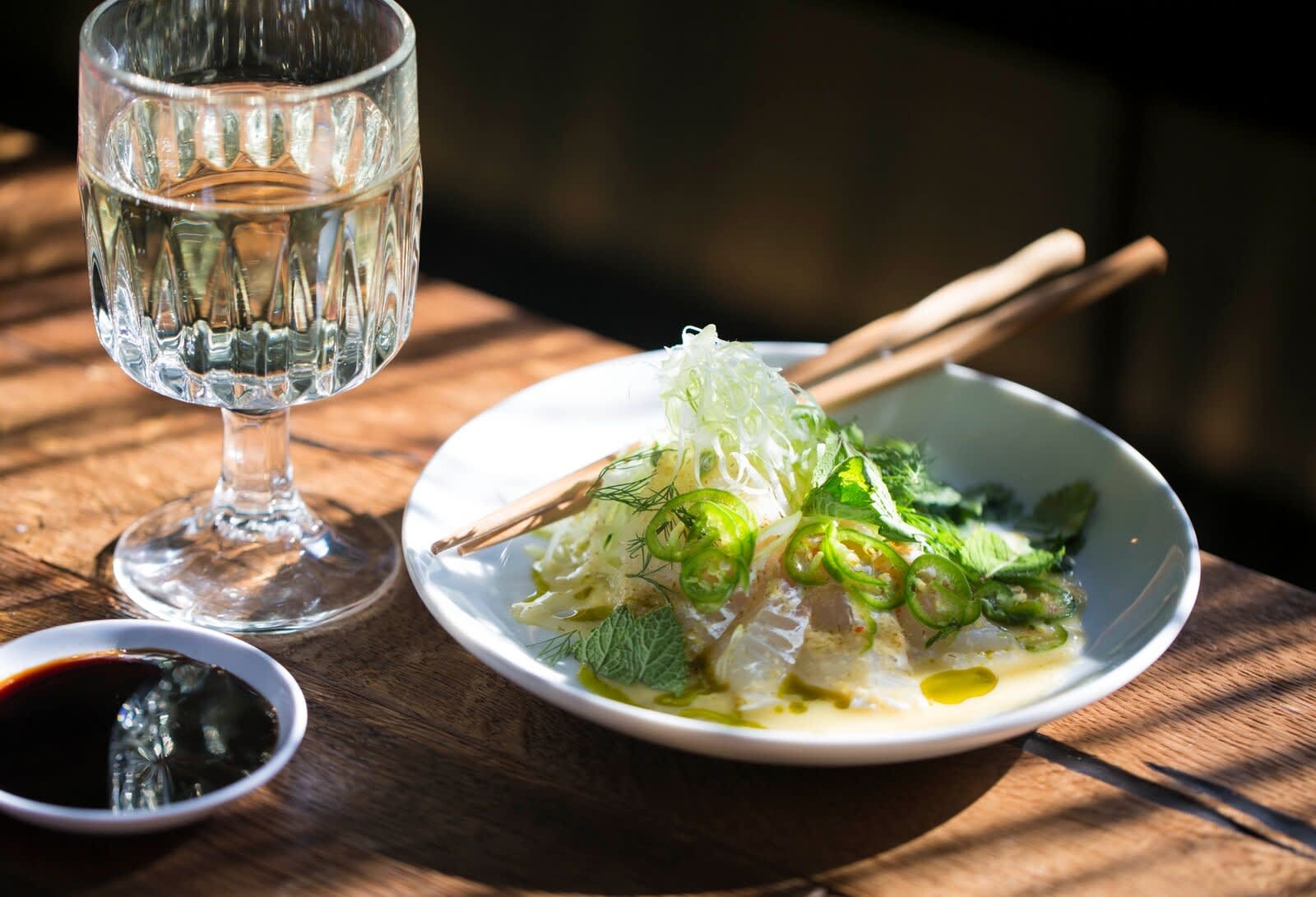 Local catch with Japanese flair at Norð Austur. Photo courtesy of Norð Austur
Mussels and scallops
Locally harvested blue-shell mussels and scallops draw diners to charming Stykkishólmur, on the Snæfellsnes peninsula in West Iceland. Narfeyrarstofa and the more casual Sjávarpakkhúsið both take the provenance of their food seriously, with menus bursting with local specialties and fresh-from-the-bay goodness.
Fishy tours and history
Sure, a restaurant meal of fresh fish is a delight, but nothing beats fishing for your own dinner. Sea-angling trips are available in a few towns around Iceland, including Reykjavík, where a handful of tour companies will take you out to sea with the required gear and will barbecue your catch on board. In Hauganes in North Iceland, you can combine whale-watching with a little sea-fishing. From Stykkishólmur, "Viking Sushi" summer boat tours go out exploring islands, birdlife and scenery, and a net drags up shellfish to sample raw (including scallops and sea urchins).
Landlubbers and fans of slow travel might prefer the "Seafood Trail," a guided gourmet walking tour around Suðureyri, a remote and beautifully sited fishing village in the Westfjords. The company running the tours is simply called Fisherman—they have a hotel and restaurant in Suðureyri, and a store in Reykjavík too.
Maritime museums are dotted around Iceland, showcasing the country's strong ties to the sea. In East Iceland, stop by Randulffssjóhús in Eskifjörður to see amazing preserved artifacts in a 'sea house' from 1890 that now functions as a restaurant.
Catch of the day across the country
Reykjavík Trawl the capital for piscatorial riches.

Stykkishólmur Mussels, scallops and other treats from (and on) Breiðafjörður.
Suðureyri Explore fishing-village life in this scenic outpost.
Ísafjörður Sample a bountiful fish buffet.
Hauganes Scenery aplenty, plus whale-watching and sea-fishing.
Akureyri Fresh fishy business in the town's restaurants.
Húsavík Spend the day on the water, whale watching, then tuck into fresh seafood.
Seyðisfjörður Quite the surprise: one of the country's best sushi options.
Neskaupstaður As far east as you can get, with rustic flavor on a view-filled deck.
Eskifjörður Step into yesteryear in an old 'sea house' that's now a restaurant.
Höfn All the langoustine your heart desires.
Stokkseyri Magical soup and classic crustacean fare.


Trip notes

Traveling between North America and Europe with Icelandair, you have the opportunity to add a stopover in Iceland at no additional airfare.
Text by Carolyn Bain

Banner photo: The fresh haul on board the Viking Sushi boat tour. Photo courtesy of Seatours Eimskip