10/16/2018 | 12:00 AM
Washington DC: Local haunts
If you're imagining Washington DC as a conservative city, please recalibrate. Its neighborhoods are crammed with quirky bars, cool eateries and unusual things to do.
Washington DC is like a secretive great aunt whose conservative character is a mere front. Beyond the White House and the Smithsonian Institution's museums and galleries (and I'm not saying they're not fabulous), intriguing inner-city neighborhoods hide the city's true side.
Head to the neighboring inner-city 'hoods of Adams Morgan, Mount Pleasant and Columbia Heights for heaps of funky and community-focused fun: Ice cream shops, cheap eats, bars and uber-cool "retro" activities. Here are a few current hotspots (some of which have recently opened):
Adams Morgan
The hotel on everyone's lips in this formerly grungy 'hood is the Line DC, located within a refurbished neoclassical church. The lobby even features a chandelier made from the church's organ pipes. Of the complex's three eateries, one of the best is A Rake's Progress. Chef Spike Gjerde uses ingredients from the local Chesapeake region and crafts dishes at an open hearth. Splurge on the bone-in ribeye with blue cheese soufflé (for two; USD 150). Or make friends at Spoken English, a Tokyo-style tachinomiya; it's a standing-only restaurant for 10.
For a nightcap, roll into the neighboring casual bar, The Green Zone and sip on a Middle Eastern inspired cocktail from its rotating menu.
Meat lovers: Don't miss the quintessential American barbecue experience. Grab a picnic bench seat at the small, ultra-casual Federalist Pig; this crew smoke their own beef, pork and chicken. There's a daily dish for vegetarians, too.
For fun? You can cut your own record at Songbyrd Record Café (why not?), a café-cum-record store and performance space with a public recording station and a vintage Voice-O-Graph machine. If you're so inclined, you can express your political views through an item from The Outrage, a shop selling banners, T-shirt, buttons, stickers dedicated to the political left and #resistance. (It was established originally as a pop-up shop for the Women's March of 2017 and remained.)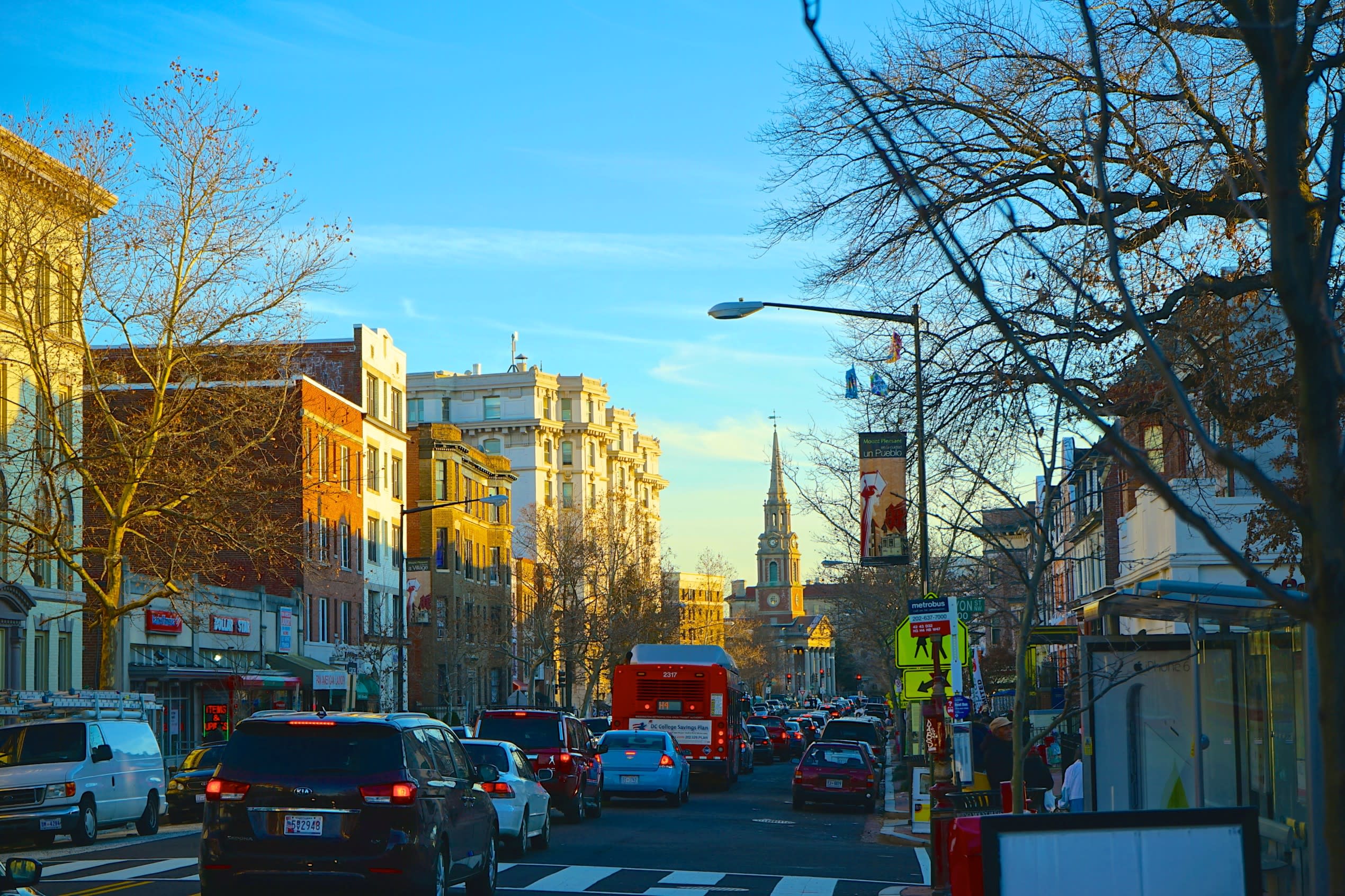 Mount Pleasant image by Ted Eytan
Mount Pleasant
Join the line at the recently opened Mount Desert Island Ice Cream for unique American ice cream flavors such as "reverse root beer float" and "Girl Scouts."
Then head across the road to The Raven Grill, an all-out American dive bar that's been around for so long (since 1935), it's cool again. Think cheap beer, shots of bourbon, a killer jukebox and bathroom graffiti guaranteed to make you blush. Afterwards, grab one of only 30 chairs at the charming privately owned Suns Cinema, a film lover's paradise. It screens nightly movies according to a monthly theme (don't miss the Scalamandre zebra wallpaper). The owner even sells fresh popcorn, TV dinners, craft cocktails and USD 3 beers.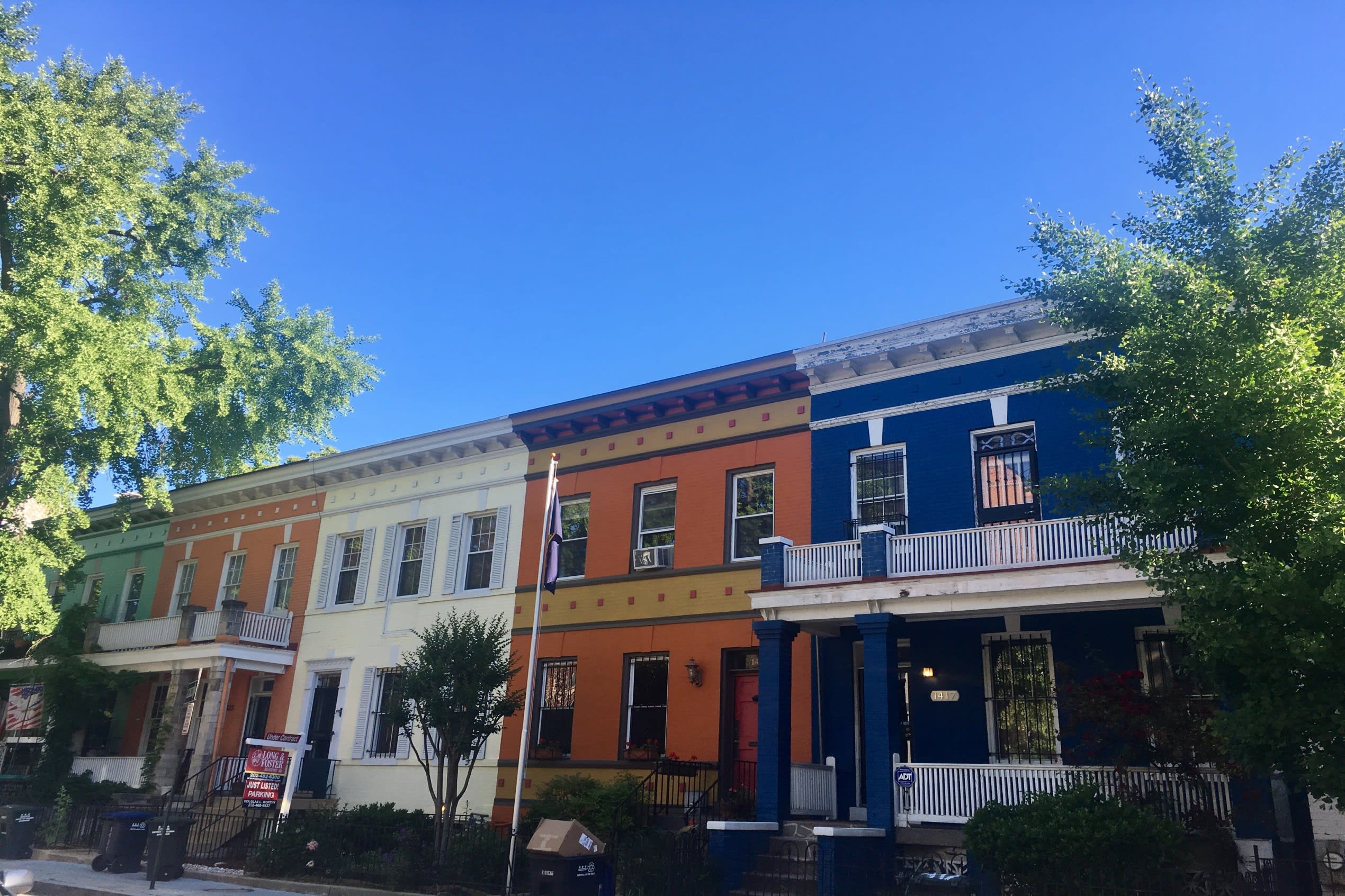 Columbia Heights.
Banner image Columbia Heights.
Columbia Heights
For fans of Mexican flavors, the no-frills Mezcalero Cocina Mexicana is the place for tequila and mezcal, with over 60 kinds of mezcal on the menu. Soak it up over a taco or three; there are 18 varieties on the menu.
Next door, the Lyman's Tavern has the largest assortment of pinball machines in the District. Save those quarters (25 cent coins) and test your skills at the classic American game.
So, you've got the local picture? There's plenty more. Don't miss the city's distilleries, emerging bean scene and fabulous multicultural haunts…

Travel notes
Icelandair flies to Washington DC daily, year-round. Traveling from Europe, you have the opportunity to add a Stopover in Iceland at no additional airfare.

Text by Kate Armstrong

Photos courtesy of Washington.org
This article first appeared in the Icelandair Stopover magazine, Fall 2018
#destinations
#usa
#northamerica
#washingtondc
#blog