What to see and do in Barcelona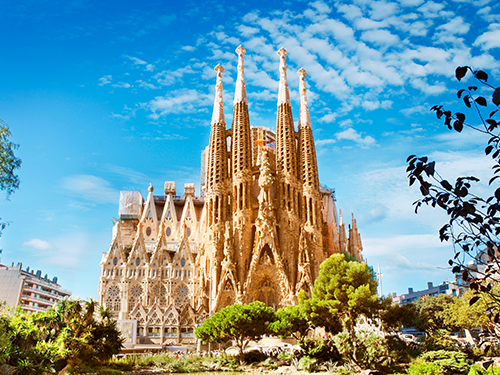 What to expect in Barcelona
They say everybody falls in love with Barcelona, and it's easy to see why: blue skies, delicious paella, late-night bars, whimsical art, and architecture that makes you smile.
And it would be remiss of us not to mention one of the main attractions for European and American travelers to Barcelona: the beaches. Barceloneta beach is the best known in the city, but both Llevant and Sant Sebastià beaches are also famous for a good reason.
The perfect city-break destination? It may just be. Icelandair offers flight deals to Barcelona for tapas grazing and Gaudí gazing.
Contrary to popular belief, Orlando is even more than a cluster of theme parks. Sultry Miami nights, white-sand beaches, and gator tours await you in Florida.
Learn more about what this fantastic Spanish city has to offer.
Getting around Barcelona
Barcelona and its metropolitan area are well connected by its extensive network of public transport options, including the metro, buses, trams, and public rail service (FGC).
The metro is probably the easiest way to get around the city. It stops near the majority of popular sights and attractions, and there's even a line that goes to BCN, Barcelona El Prat Airport.
The city is home to over 120 miles of cycle lanes and offers a public bike sharing scheme. You can also get easily around most of Barcelona city's individual neighborhoods on foot.
There are numerous taxi operators with a choice of traditional, hybrid, and electric-powered cabs. While you can grab a taxi fairly effortlessly, we would recommend thinking twice if you're planning on hiring a car to get around Barcelona as traffic congestion and packing can be tricky.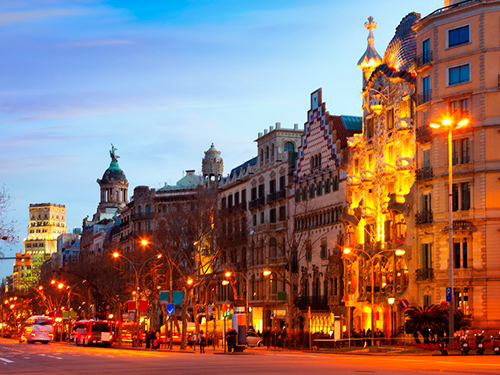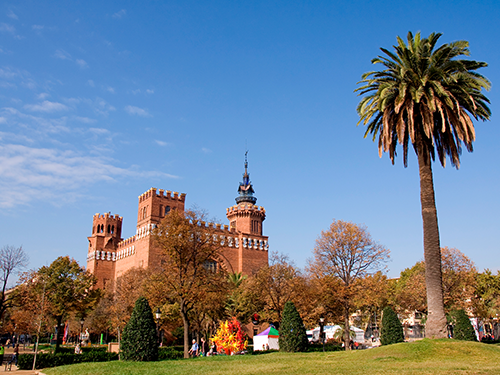 Things to do in Barcelona
Barcelona is synonymous with art and architecture, and the eccentric genius of Antoni Gaudí put a unique stamp on the city.
His treasures are numerous, ranging from the fantastical Casa Batlló to the joyously whimsical Park Güell, a riot of curves and colorful tile work. His greatest legacy is La Sagrada Familia, the inspired yet unfinished cathedral.
But Gaudí is not the only brilliant artist with deep connections to Barcelona. How about names like Pablo Picasso, Joan Miró, or Salvador Dalí? You'll find heaps of their head-turning surrealist artworks in Barcelona.
The city highlights its incredible history and the Barri Gòtic (Gothic Quarter) is packed with ancient treasures to be discovered anew. For modern-day pilgrimages, you can't beat Camp Nou, home to the legendary Barcelona Football Club.
Best time to fly to Barcelona
Barcelona is the most visited city in Spain, and the high season of July to August sees thousands of tourists flock to the city to enjoy the hot weather and various events. During this time, most locals choose to get out of town to vacation in cooler, less humid spots.
In the fall, things cool off a bit and tourist crowds scatter. But October brings the promise of increased rainfall, so don't forget your waterproofs if you plan to travel to Barcelona around this time. Christmas and New Year are celebrated enthusiastically in the city. Although crowds are fewer than during the high season, the rates of hotels in Barcelona can remain elevated to account for Spanish and European vacationers.
The ideal time to book flights to Barcelona, Spain, is probably in the short spring season of May to June. It's still warm but not too hot or humid, and there are fewer tourists than in summer, manifesting the perfect conditions for sightseeing.
Alternatively, if you don't mind nippier temperatures, then sometime between January and April is the best time to visit for touring the city on a budget. You can typically find cheap flights to Barcelona during these winter months because it's the quietest time of year.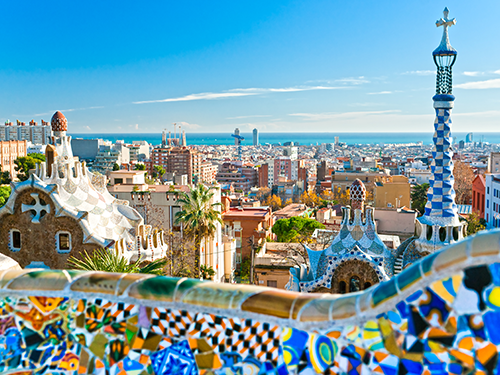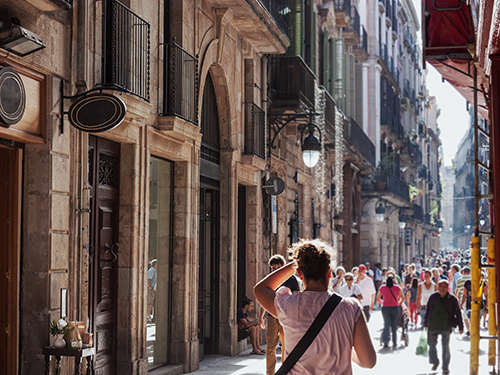 Shopping in Barcelona
Spanish high-street fashion brands (like Zara, Mango, and Massimo Dutti) are well-known around the world, but there's more to uncover in the small streets of Barcelona that are quite worthy of both your budget and baggage allowance.
Shoppers will be thrilled to discover boutiques of emerging designers, shiny waterfront malls, and local street markets selling gourmet delicacies.
Hit the prime retail district of Passeig de Gracia and the streets to its south west, browse the workshops and small boutiques of El Born, and wander the laneways of Barri Gòtic to unearth the city's best treasures.
If you're after under-one-roof ease, Las Arenas is a unique city feature. A former bullring which has been turned into a mall where visitors won't want to miss the promenade on its roof showcasing the brilliant city panoramas.
Dining in Barcelona
There's no denying: Barcelona is one of the world's best food destinations.
You may find it hard to resist the call of the tapas (bite-sized snacks), the fresh seafood, the jamón (ham), and the sangria, and we could hardly blame you.
And that's not even to mention the long list of Michelin-starred eateries. Start at Mercat de la Boqueria, Barcelona's most central produce market, located on the landmark Las Ramblas (or La Rambla) boulevard. It's a sensory riot of local color and flavor, and the tapas bars here make excellent refueling stops.
There's great food to be enjoyed all over the city but the waterfront is an excellent choice for seafood and paella. Elegant L'Eixample is home to upmarket gems and Gràcia has a hip, youthful vibe with good eating and drinking spots sprinkling its squares.