What to see and do in Prague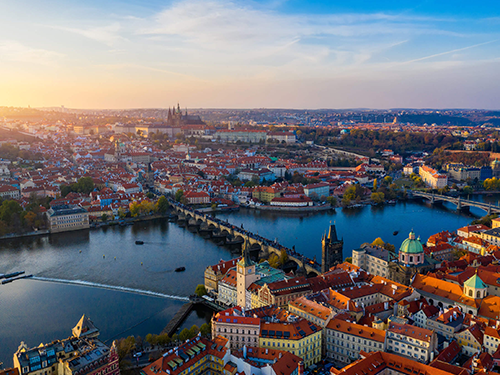 Introduction to Prague
Are you ready to fall in love with the cobblestoned streets and church spires of this charming Central European city?
Embrace the atmospheric coffeehouses and beer bars and revel in the historic squares and castles that characterize the city center of Prague.
Icelandair offers regular flights to Prague from North America and Iceland. Travelers can enjoy a city break and cultural encounters in a fairy-tale setting in the heart of Europe.
Before you stroll the medieval masterpiece that is Prague's Old Town, how about exploring a compact but cool Nordic capital? When you book flights to Prague with Icelandair you can add a stopover in Iceland at no additional airfare.
Things to do in Prague
Prague is known as the 'City of a Hundred Spires' and once you see its skyline you'll understand why.
This is a city reaching for the sky. You can admire the rooftops from elevated viewpoints including the City Hall Tower, Letná Park, Petrin tower, and the Old Town Bridge Tower, guarding one end of Charles Bridge.
Speaking of Charles Bridge: this is one of the most enduring icons of Prague and among its most-visited. Its stone arches were built in the 14th century, and it's an open-air gallery of baroque statues and decorative lamps. Dawn and nighttime are the best times to enjoy this romantic wonder without the crowds.
More landmarks are found in the 600-year-old Town Square. Discover everything from the masterpiece Astronomical Clock to the Church of Our Lady before Týn. Still not enough spires for you? Check out the Gothic St Vitus Cathedral, dominating Prague's hilltop castle from the 9th century.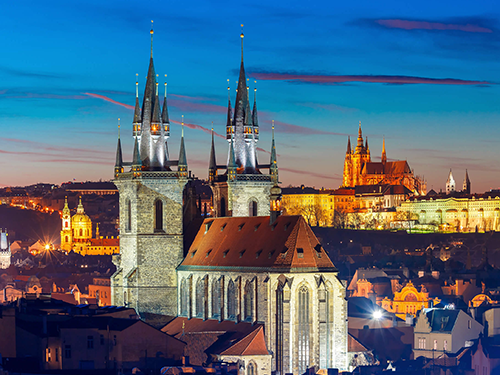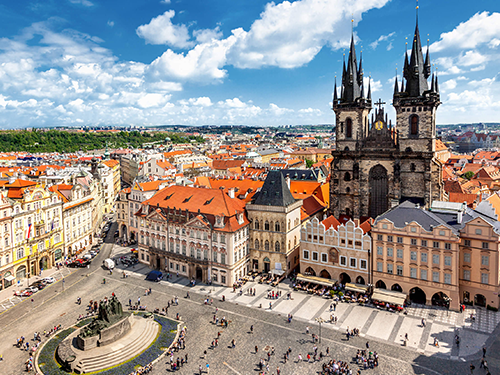 Shopping in Prague
From fancy malls to flea markets, shopping in Prague offers endless opportunities for unearthing treasures.
Favorite traveler souvenirs include Bohemia crystal, the semi-precious stone known as garnet, and handmade wooden toys and puppets. And of course, there are classic beer and absinthe drinks - popular trip mementos that travelers take home with them.
For high-end shopping, head to central Parízská street, a boulevard running north of the Old Town Square that's home to a wide range of luxury boutiques. Na Příkopě boulevard is peppered with stores and traditional shopping passages. It's at the northern end of Wenceslas Square (Václavské náměstí).
If market rummaging is more your style, you'll love the weekend U Elektry flea market - one of the largest in Europe. It's just out of the center but easily reached by metro or tram.
Eating out in Prague
Traditional coffeehouses and beer bars are among the highlights of the local dining and drinking scene.
Café culture is going strong here. There are glorious restored coffeehouses that were once a hub for artists and intellectuals. Stop by the likes of Café Imperial, Café Louvre, or Café Savoy for a taste of the olden days.
In terms of local food, standout dishes are often meat-heavy, perfect for washing down with a Czech beer.
Look for traditional dishes like svíčková (braised beef with bread dumplings, topped with a creamy gravy), vepřo knedlo zelo (roast pork with sauerkraut and bread dumplings), and smažený sýr (fried cheese). Or taste European dishes which are commonly found in Czech Republic but have been adopted from their neighbors, like goulash and schnitzel.
When the sun is shining, or for sunset drinks, join the locals on the Náplavka riverbank area. It's lined with barges selling snacks, from sausages to beers and cocktails.
There's a great farmers market in the riverbank area each Saturday which will give you insight into what's fresh and local.