Book your flight to Rome with Icelandair from
Fly in the next three months: Flights to Rome
Toronto (YYZ)to
Rome (FCO)
02 03 2024 - 11 03 2024
Toronto (YYZ)to
Rome (FCO)
09 01 2024 - 15 01 2024
Toronto (YYZ)to
Rome (FCO)
22 02 2024 - 02 03 2024
Vancouver (YVR)to
Rome (FCO)
09 01 2024 - 15 01 2024
Vancouver (YVR)to
Rome (FCO)
24 02 2024 - 11 03 2024
Vancouver (YVR)to
Rome (FCO)
22 12 2023 - 30 12 2023
*Fares displayed have been collected within the last 72hrs and may no longer be available at the time of booking
Plan ahead for your trip to Rome with Icelandair
From

Toronto (YYZ)

To

Rome (FCO)
Round trip

/

Economy
02 03 2024 - 11 03 2024

From

CAD 664*

From

Toronto (YYZ)

To

Rome (FCO)
Round trip

/

Economy
08 05 2024 - 15 05 2024

From

CAD 876*

From

Toronto (YYZ)

To

Rome (FCO)
Round trip

/

Economy
30 03 2024 - 07 04 2024

From

CAD 911*

From

Vancouver (YVR)

To

Rome (FCO)
Round trip

/

Economy
19 09 2024 - 06 10 2024

From

CAD 1,175*

From

Vancouver (YVR)

To

Rome (FCO)
Round trip

/

Economy
11 05 2024 - 22 05 2024

From

CAD 1,231*

From

Vancouver (YVR)

To

Rome (FCO)
Round trip

/

Economy
05 05 2024 - 22 05 2024

From

CAD 1,272*

From

Montreal (YUL)

To

Rome (FCO)
Round trip

/

Economy
04 07 2024 - 30 07 2024

From

CAD 1,626*
*Fares displayed have been collected within the last 72hrs and may no longer be available at the time of booking
What to see and do in Rome, Italy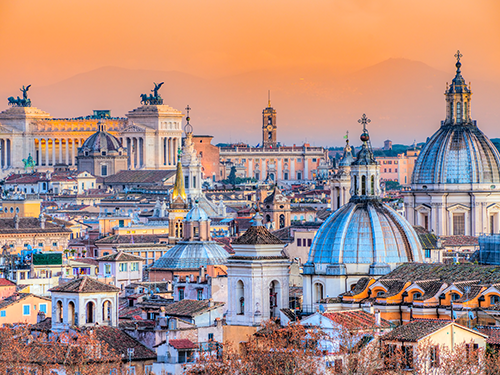 Introduction to Rome
Known as the Eternal City for its millennia-long history, but also for the indelible mark it leaves on visitors, Rome carries the weight of history well, and pairs it with a passion for la dolce vita (the sweet life).
Icelandair offers regular flights to Rome, Italy from North America. So, if you're looking for history and culture in abundance, combined with first-class food, fashion, famous fountains and frescoes – Rome has it by the bucket load. Whatever your reason for flying to Rome - it's a destination guaranteed to excite.
But before you explore the piazzas and palaces of the Italian capital, how about exploring the tiny but cool Nordic capital? When you book flights to Rome with Icelandair you can add a stopover in Iceland at no additional airfare.
Things to do in Rome
Modern Rome has tons of appeal, but it's the reminders of the city's ancient past that really set this place apart. Rome is, in many ways, an open-air museum, showcasing almost 3000 years of Western civilization.
From the perfect dome topping the Pantheon and the crumbling might of the Colosseum to the Roman Forum ruins and the Trevi Fountain – Rome certainly won't let you down on the historical and cultural front.
As well as bringing history lessons to life, Roman landmarks bring religion and art to the forefront, especially in the Vatican, with landmarks such as St Peter's Basilica and the Sistine Chapel.
Throughout Rome, cobblestone alleys link pretty piazzas and local marketplaces, while gardens and treasure-filled galleries demand your attention.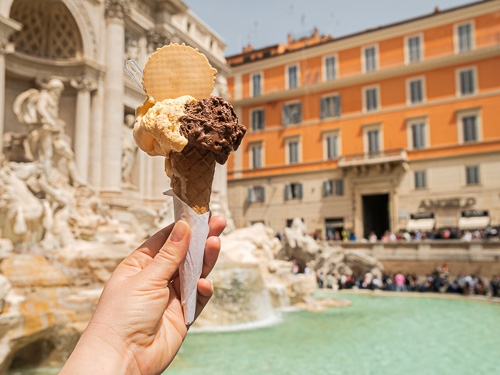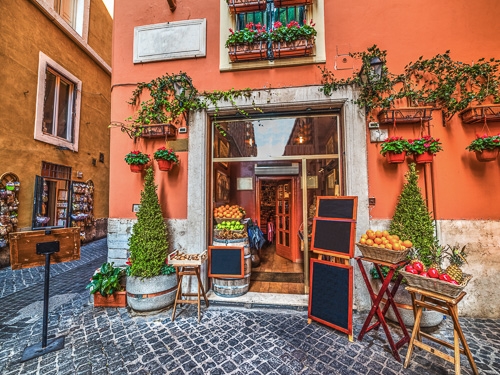 Eating out in Rome
It's no secret that Rome is a city that knows how to eat well. After all, it's the capital of Italy, a county whose cuisine has been exported across the whole world (and with good reason).
For a true taste of Rome, be sure to put these flavor-filled favorites on your wishlist: pizza al taglio (by the slice), fried artichoke, maritozzi (cream-filled breakfast pastries), porchetta (slow-roasted pork), supplí (rice croquettes), and pasta in the form of cacio e pepe (cheese and black pepper) or carbonara. But whatever you do, leave room for gelato!
When in Rome, we recommend you do as the Romans do: relax over an aperitivo (a drink and some light snacks) around 7pm before going to dinner around 8 or 9pm.
Look out for traditional, good-value eateries (commonly known as trattoria or osteria). Great neighborhoods for these include Testaccio, Monti and Trastevere.
Shopping in Rome
People-watching the stylish locals is just one of many pastimes in Rome.
Following their lead could take you to the prime street for luxury labels: Via Condotti, which begins at the Spanish Steps and is home to many fashion heavy hitters from Italy and abroad: Gucci, Dolce & Gabbana, and Armani, to name a few.
Via del Corso is nearby and is the main shopping strip for high-street labels. Head into cool neighborhoods like Monti for unique, independent finds.
If you like your shopping under one roof then La Rinascente, located close to the Trevi Fountain, is a luxury department store with seven floors of designer wares, plus excellent food options – and there's even a rooftop bar. While you're here, we recommend checking out the ancient aqueduct in the building's basement.
For sublime souvenirs, Eataly is a temple to food and has a huge market space dedicated to local products: cheese, pasta, hams, wine, oils and much more.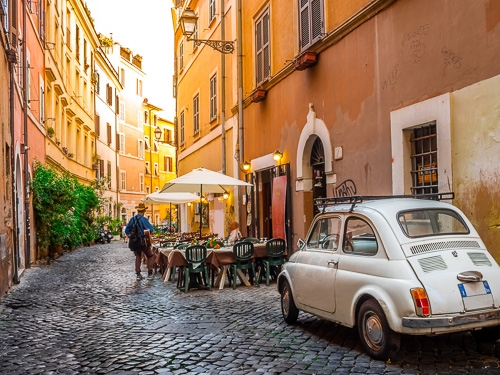 FAQs about travel to Rome
Helpful information for travelers to Rome
Does Icelandair offer flights to Rome, Italy from the US?
How long is the flight to Rome from Canada?
The flight time will largely depend on where in Canada you are departing from. The length of your layover will also affect your travel time. As a guide, the average flight time from Toronto to Rome is 11 hours.
Does Icelandair offer direct flights to Rome from Canada?
Icelandair does not currently offer direct flights to Rome, Italy. However, when you book flights to Rome you can add a stopover in Iceland for up to 7 days at no additional airfare.
When can I get cheap flights to Rome, Italy?
The cheapest time to fly to Rome is during its low season (November – March). However, that's not to say you can't find a good deal on your flight to Rome, Italy, during the summer months too.
We simply advise regularly checking our flight deals and booking your trip in advance for the best prices on your plane tickets to Rome.
Make the most of your trip