03/28/2023 | 1:00 PM
Spring birdwatching in Iceland
Budding leaves and blooming bulbs may be springtime markers in other parts of the world, but in Iceland spring is heralded by the golden plover (the lóa in Icelandic, pictured below), a bird with pretty mottled feathers and an unmistakable call.
Lóan er komin! (the lóa has arrived!) is both a well-known folk song and the headline of newspaper articles reporting the first sighting of the season. This welcome migrating guest normally arrives in the latter half of March.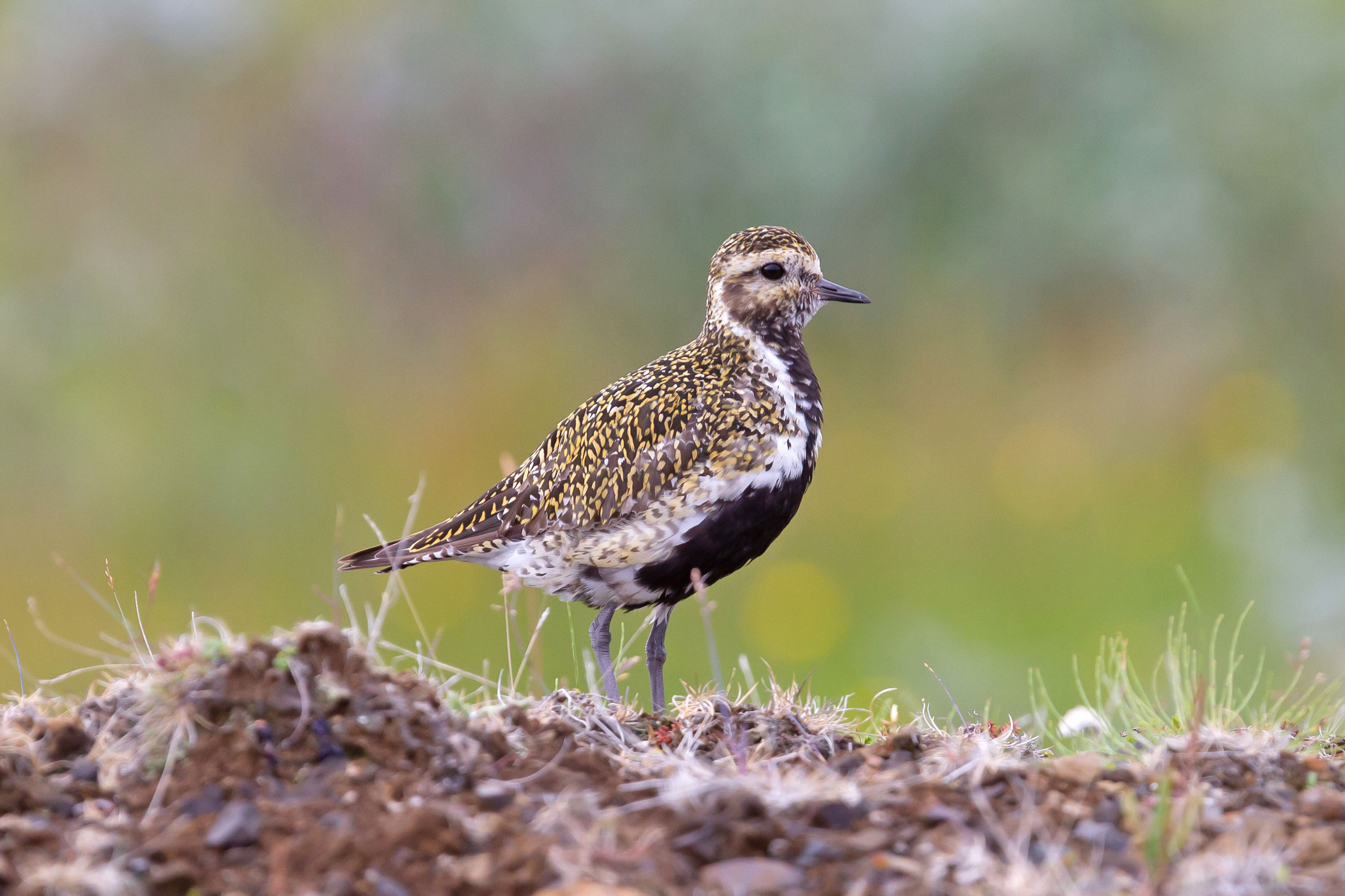 Iceland's birds
Iceland is a summertime breeding destination for thousands of birds, and the locals pay heed to the arrival of these visitors: It signals that spring is finally arriving and long daylight and milder weather await.
But it's not just the locals who roll out the welcome mat for these stopover guests: tourists flock (sorry!) to anywhere that offers the promise of puffins. They're everyone's favorite bright-beaked clowns, but supporting these headliner acts is a magnificent cast of feathered co-stars, spread across the country. See our map below for some birding hotspots, and read on for some of the best and most surprising bird-loving locales.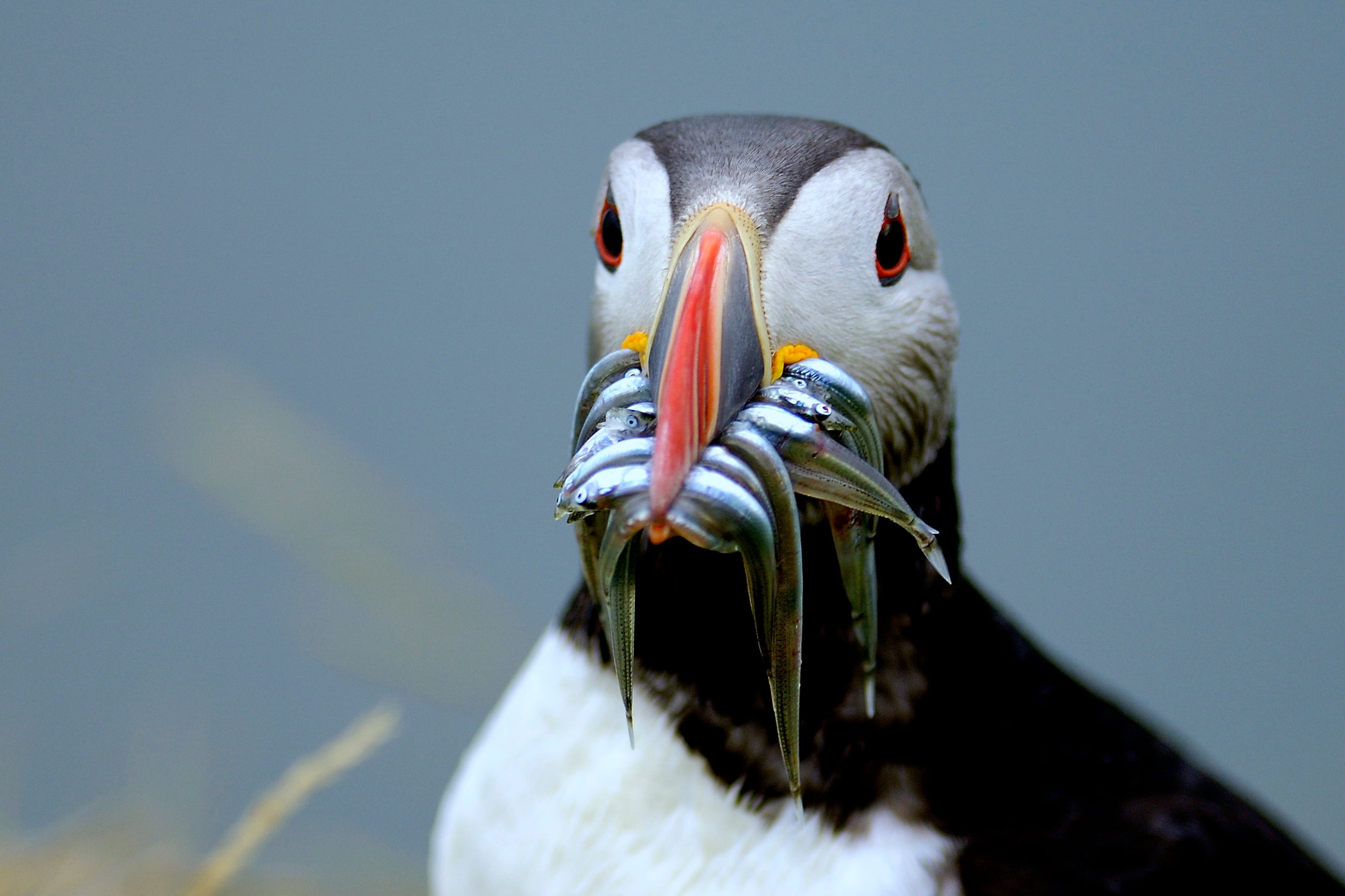 When to see puffins in Iceland
Puffins spend the winter at sea, and come to Iceland for spring and summer in their preferred breeding grounds: steep rocky cliffs by the ocean. Fun facts: puffins return to the same breeding grounds, and are monogamous, breeding with the same partner for life.
They usually begin arriving in early April and stay as late as early September, so May to mid-August is the best time to be assured of seeing them in large numbers. (In 2023, the first puffins were observed at Grímsey on April 10.) They are best observed at the breeding grounds in the early mornings or evenings, as they often spend the day at sea.
Best places to see puffins and other birdlife in Iceland

Got a thing for feathers? Twitch away, friends. This map only scratches the surface of the avian riches to be found across Iceland, from tiny islets and soaring sea cliffs to lakes, ponds and lagoons that play host to countless visitors with a starring role on birders' checklists.
Icelandair connects Reykjavík with domestic destinations close to some of the finest puffin-watching locales:
Akureyri in North Iceland: access to Hrísey, Grímsey and Mývatn
Egilsstaðir in East Iceland: access to Borgarfjörður Eystri
Ísafjörður in the Westfjords: access to Látrabjarg and Vigur
Reykjavík Birds enjoy city life too, if Tjörnin pond and the wetlands of Vatnsmýri are any indication. No puffins, though! Boat tours operate from Reykjavík for puffin-watching cruises around the nearby islands of Akurey and Lundey.
Arnastapi Rocky arches meet nesting seabirds at this Snæfellsnes beauty spot.
Látrabjarg Iceland's westernmost point, and Europe's largest bird cliff teeming with puffins.
Vigur Abundant eider ducks and puffins visit this view-enriched island, reached by boat from Ísafjörður.
Drangey An adventurous tour lets you clamber to the top of this northern islet.
Hrísey A small, low-lying island with glorious views of Eyjafjörður and surrounding mountains, and large colonies of Arctic tern and ptarmigan.
Grímsey As far north as you can go in Iceland, with bountiful birds plus the Arctic Circle crossing point.
Langanes A remote duck-shaped peninsula has prolific birdlife, and there's a great viewing platform above a large gannet colony at Skoruvíkurbjarg.
Mývatn This lake is actually named for its insect life (mý means midge fly) and is a magnet for ducks and other waterfowl.
Borgafjörður eystri Come eye-to-eye with puffin posses in this secluded Eastfjords spot.
Djúpivogur A renowned spot with trails weaving through coastal wetlands full of ducks and waders.
Ingólfshöfði Take a tractor ride to a promontory rich in birds, panoramas and history.
Dyrhólaey A picturesque promontory is a scenic nesting place for puffins and seabirds. Its name translates to 'Door Hill Island'.
Reynisfjara The famed black beach near Vík has loads of appeal, especially when the puffins nest overhead.
Vestmannaeyjar These storied southern islands are overflowing with puffins.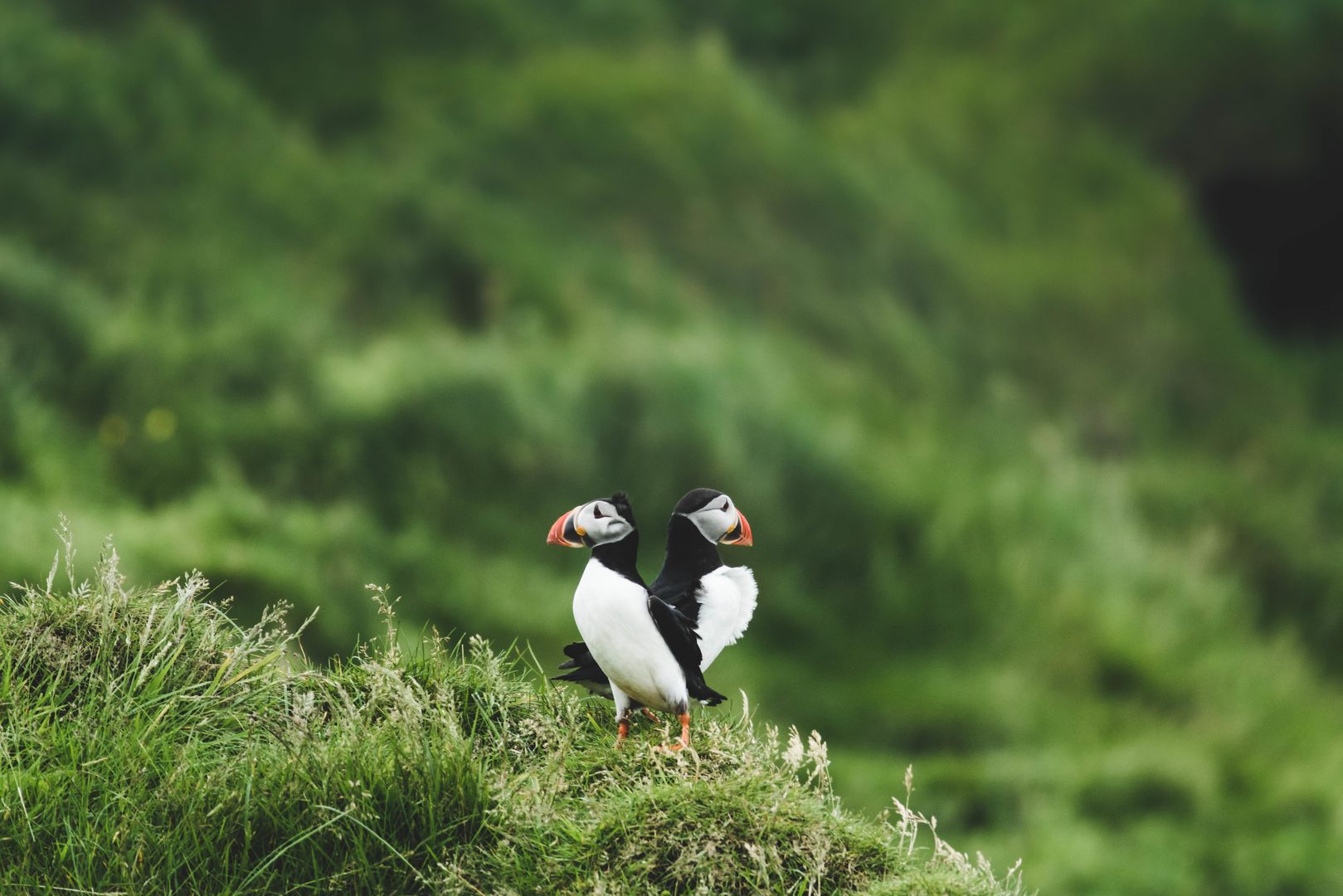 Ingólfshöfði, South Iceland
In the southeast region of Iceland, where all eyes are drawn to icy flows (and tours to icy endeavors), the summertime puffin tour of Ingólfshöfði warms hearts with its homespun charm. Not far from the national-park treasures of Skaftafell, visitors board a tractor-towed hay cart for a rustic journey to the Ingólfshöfði nature reserve, a 250-ft (76m) headland where great skuas nest and puffins take up residence in the cliff edges.
After a bumpy open-air ride of 3.7 miles (6 km) across mudflats, the property owners (who have lived in the area for generations) guide guests up a steep sandy trail to an elevated position where the majesty of the Vatnajökull glacier is on full display (on a clear day, that is). The tour begins with a brief history lesson: This is where Iceland's first settler, Ingólfur Arnarson, spent his first winter in A.D. 874. Then a leisurely 90-minute walk is taken around the flat headland, drinking in the views, marveling over seemingly misplaced sheep, dodging protective skuas, and ogling camera-ready puffin colonies.
Tours run from mid-May to mid-August (when the puffins depart), and pre-booking is required. It's worth noting that you are very exposed to the elements on this trip, so dress accordingly.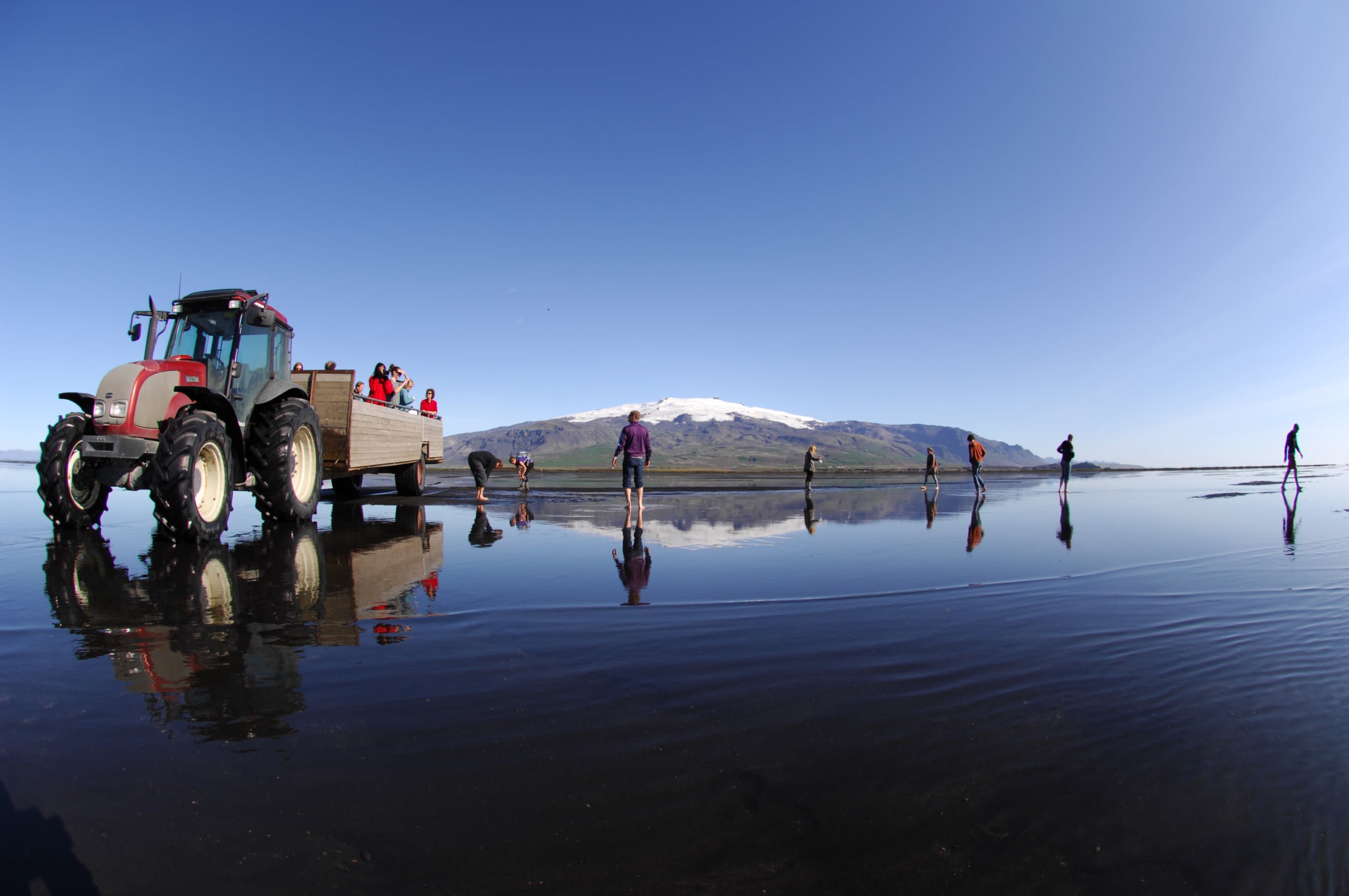 Tractor ride to Ingólfshöfði. Photo by Einar Rúnar Sigurðsson
Borgarfjörður eystri, East Iceland
I find it hard to sleep when I pay my regular summer visit to Borgarfjörður eystri. I usually arrive buzzing on a splendor-induced high after driving the spectacular approach road, 43 miles (70 km) from Egilsstaðir, and sleep doesn't come easily. On recent trips, I have developed the habit of paying a post-midnight visit to Hafnarhólmi, 3 miles (5 km) outside the village, where I can sit alone on the viewing platforms among prolific birdlife, listening to puffins warble and gulls screech while admiring the pink summer sky that won't darken properly for weeks.
Hafnarhólmi is a small bird-filled hill by a picturesque marina, and a timber staircase climbs the hillside and levels out at platforms where you can observe puffins going about their business from marvelously close proximity; a small birdwatching hide is also available. The hill's raucous cliffs are more than just a puffin playground from April to mid-August—thousands of kittiwakes, fulmars and eider ducks also nest here each summer.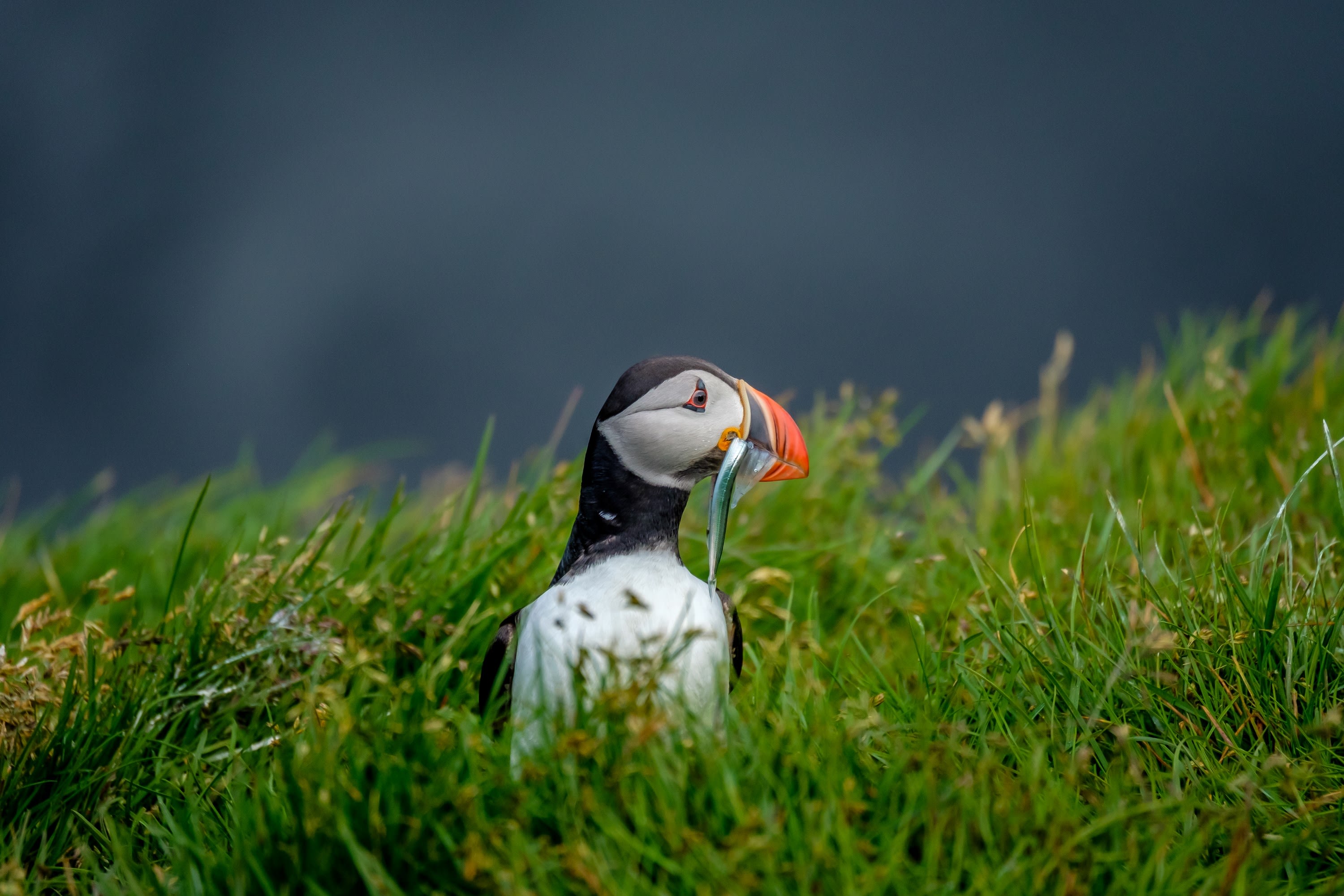 Photo by Einar Rúnar Sigurðsson
Drangey, North Iceland

It's no mean feat to combine a boat tour and adrenaline-inducing hike with superb birdwatching and storytelling, but a summertime trip to Drangey, a rocky volcanic islet in North Iceland's Skagafjörður, does it with aplomb.
From a tiny dock north of Sauðárkrókur, a morning boat sets off on one of Iceland's least hyped but most fun adventures. After a 20-minute trip across the fjord waters, the boat reaches a small dock at the foot of this 590-ft (180-m), sheer-sided rock fortress, and the adventure begins: Rough-hewn steps, ladders and narrow trails climb up the cliff-edge to reach the grassy top, from where the 360° panoramas are mind-blowing and the birdlife magical. Sitting on the grass watching the comical take-offs and landings of puffins, auks and guillemots is entertaining enough, but the island's connections to Grettis Saga, a tale of outlaws as recounted by guide Helgi, enrich the experience.
Note that this tour is physically challenging, and not for small kids or people with mobility issues or a fear of heights! Rest assured, you can go at your own pace, but at your own risk. The exhilaration of the climb is matched by the views.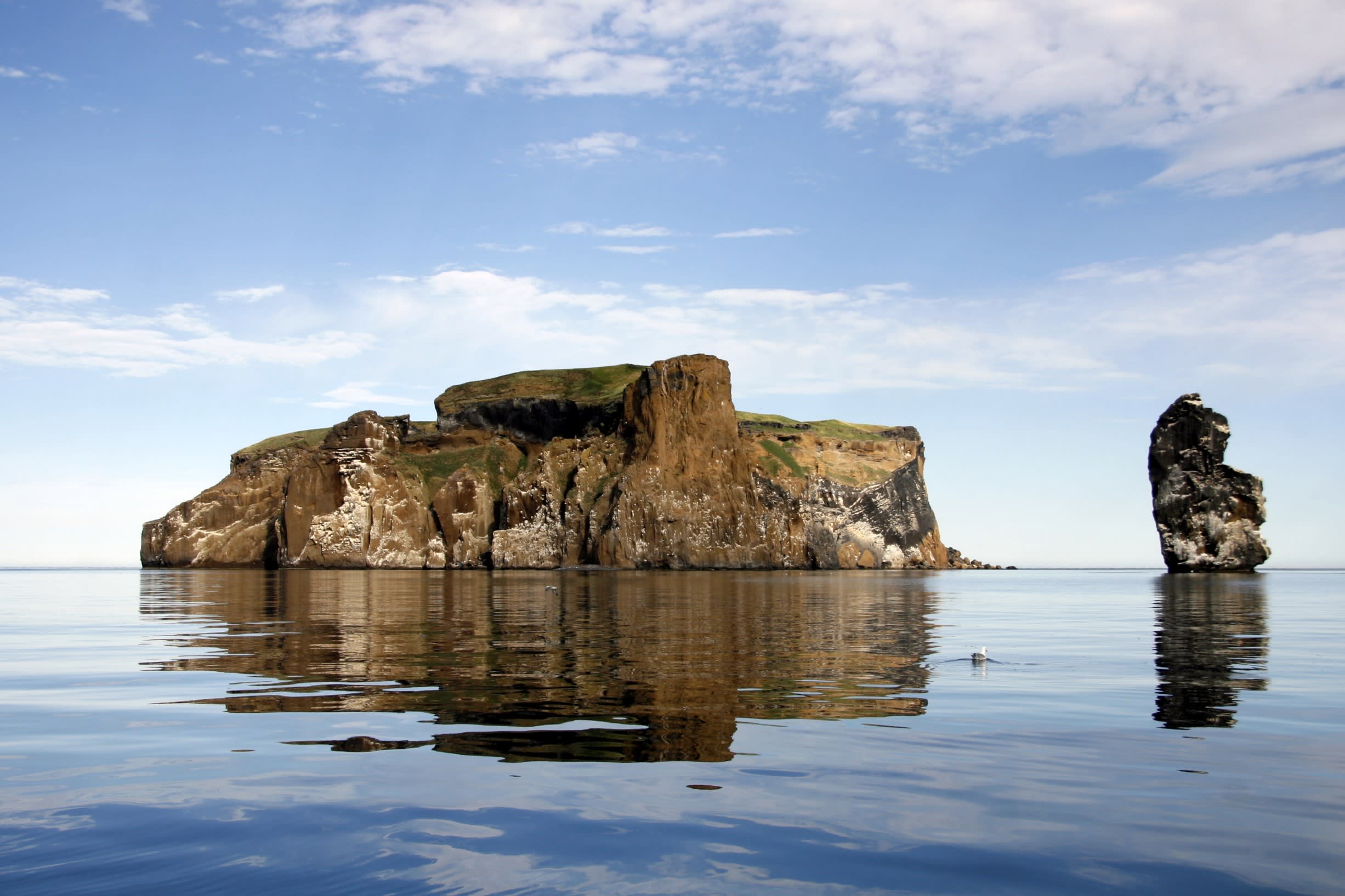 The rocky islet of Drangey. Photo by Kári Heiðar Árnason
Trip notes
Traveling transatlantic with Icelandair between North America and Europe, you have the opportunity to add a stopover in Iceland at no additional airfare.
---
Text by Carolyn Bain

Banner photo by Einar Rúnar Sigurðsson