05/18/2021 | 11:00 AM
​The Eyrarrósin Award
This weekend, we traveled to Patreksfjörður in Iceland's scenic Westfjords to celebrate the local award ceremony known as Eyrarrósin. The Eyrarrósin award is given to an outstanding cultural project in the rural areas of Iceland and has been running since 2005, inspired by Reykavík's time as a European City of Culture in 2000.
The aim of Eyrarrósin is to encourage diversity, innovation and development in arts and culture, outside of Iceland's capital. The award is a collaboration between Reykjavík Arts Festival, The Icelandic Regional Development Institute and Icelandair, and the patron is Iceland's First Lady, Eliza Reid. We are proud sponsors of the awards, which celebrate the spirit of Iceland's creativity and innovation in all corners of the country.

Eyrarrósin 2021

The winner of Eyrarrósin in 2020 was Skjaldborg, the Icelandic documentary film festival held in Patreksfjörður each May/June. This weekend, the Skjaldborg cinema was the venue for the 2021 awards, and Icelandair operated a special flight to transport guests and award-winners from Reykjavík to Bíldudalur airport in the Westfjords.
Eyrarrósin 2021 was awarded to Handbendi, a professional puppetry and theater production company based in Hvammstangi in Northwest Iceland. Greta Clough, pictured below, is the artistic director and creative producer of Handbendi, which tours nationally and internationally with puppetry and theater productions for all ages. The company is also behind the HIP Festival - the Hvammstangi International Puppet Festival, held in October.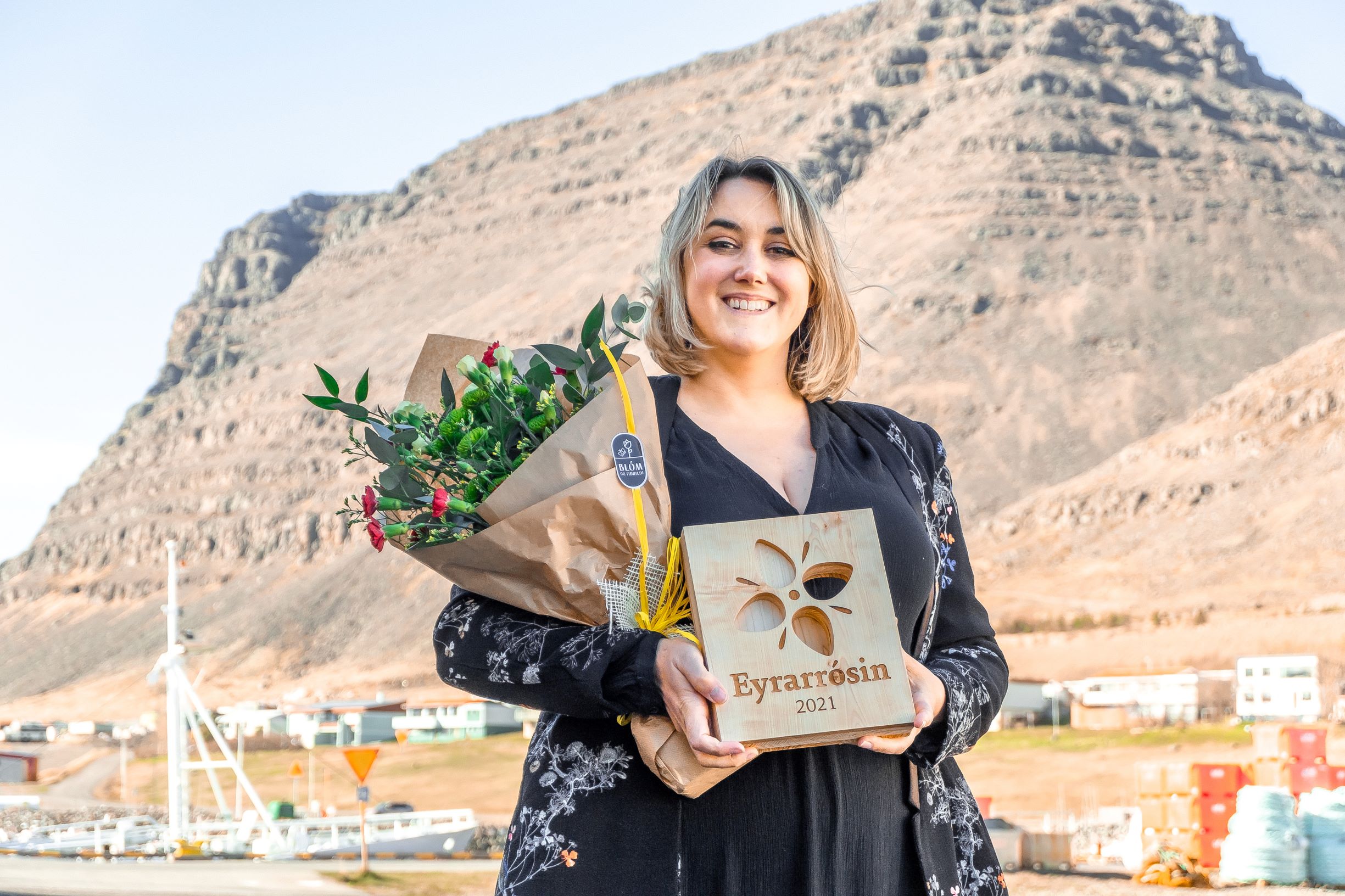 In addition and for the first time, the Eyrarrósin Encouragement Award was granted to 3 exciting projects, with recipients pictured below: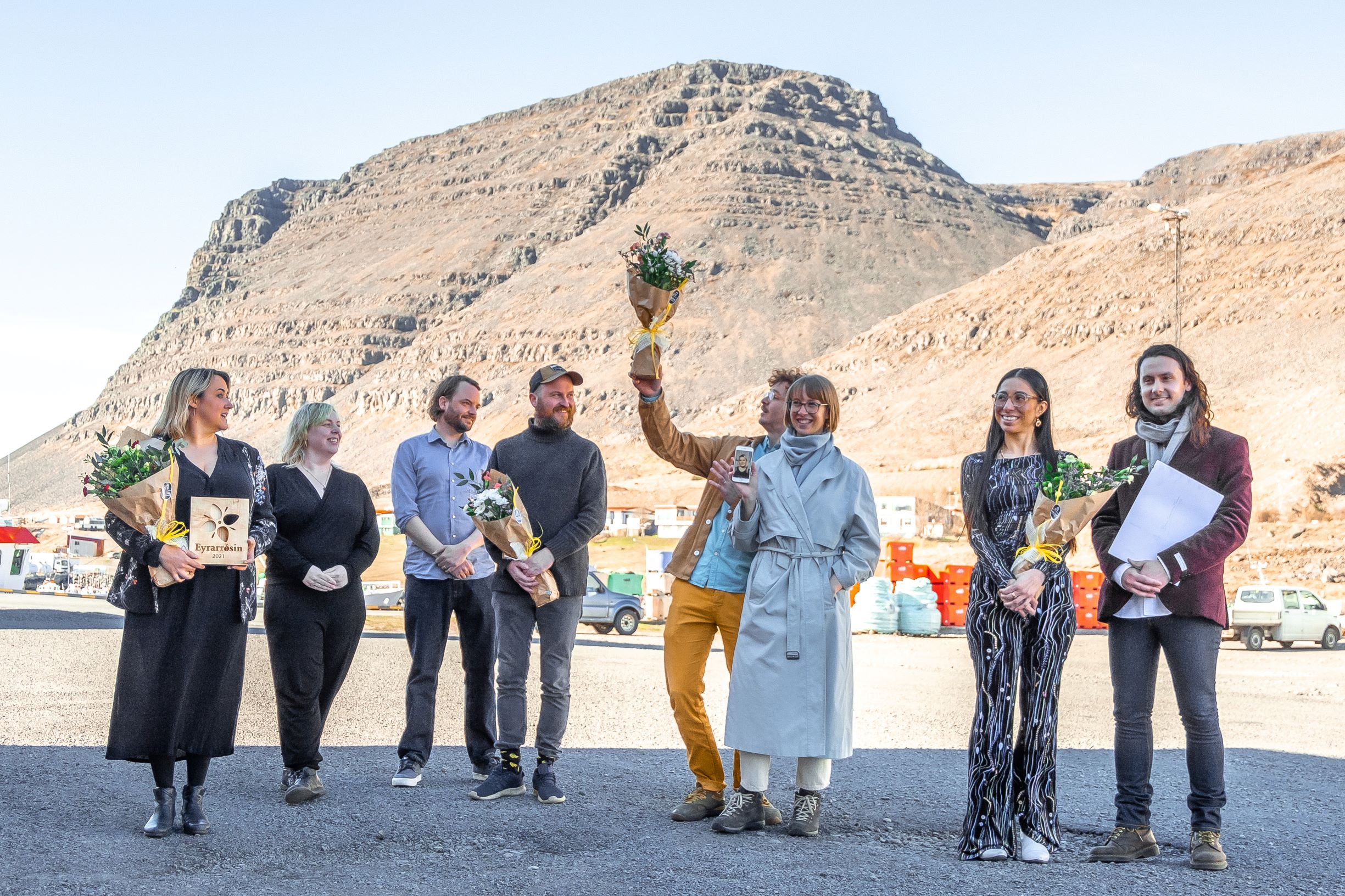 Past winners
Applicants for the Eyrarrósin award can be an institution, a temporary project, a museum, or a cultural festival, and they must be in the rural areas of Iceland. Selecting the Eyrarrósin awardee is primarily based upon the impact the project has made so far on art and culture in its local community, in addition to the project's operational integrity and a clear vision for the future.

Check out the full list of past winners, and consider adding them to your Iceland itinerary or holiday calendar for a winning taste of what makes regional Iceland buzz with creativity. We have a handy map locator below.

2020: Skjaldborg, the Icelandic documentary film festival staged in Patreksfjörður in the Westfjords, in a restored cinema by the same name.
2019: List í ljósi, a winter festival that celebrates art and light in Seyðisfjörður, East Iceland.
2018: Fresh Winds, a month-long art biennale held in winter in Suðurnesjabær on the Reykjanes peninsula.
2017: Eistnaflug, a four-day summer music festival heavy on metal, hardcore, punk and rock, held in Neskaupstaður in East Iceland.
2016: Verksmiðjan á Hjalteyri, an exhibition space in an old herring factory north of Akureyri in North Iceland.
2015: The Freezer, a combined hostel and cultural center in Rif on the Snæfellsnes peninsula.
Beginning in 2021, Eyrarrósin is awarded every other year, with winners invited to participate in the biennial Reykjavík Arts Festival, next scheduled for 2022.