11/04/2022 | 3:00 PM
Iceland Noir: A conversation with Ragnar Jónasson
Crime author Ragnar Jónasson talks Iceland Noir, literary festivals, international success, and his beloved Siglufjörður.
By Eygló Svala Arnarsdóttir.
Updated April 5, 2023 with 2023 festival dates and details.

Winter is upon us. Reykjavík residents wake up to dark mornings and, as day breaks, a dusting of snow in the mountains. Temperatures still cling to the plus side of zero, but the wind chill whisks away any illusion of an Indian summer. It's on one such shivery autumn morning that I meet up with celebrated crime author Ragnar Jónasson, warming my hands on a cup of coffee as we chat about the upcoming Iceland Noir literary festival.
The 2023 edition of Iceland Noir takes place November 15–18 at venues in the center of Reykjavík. Icelandair offers vacation packages from our gateways in North America that include four-day festival pass and round-trip flights, with hotel-inclusive packages available.
Headliners have been announced for 2023: Dan Brown, Neil Gaiman, Louise Penny and Irvine Welsh will headline the festival, with many more to be announced. Prime Minister of Iceland Katrín Jakobsdóttir, First Lady of Iceland Eliza Reid, and Ólafur Darri Ólafsson of TV series Trapped will also be appearing.
Introducing Iceland Noir
Ragnar founded Iceland Noir with authors Yrsa Sigurðardóttir and Quentin Bates (who has since left the team) in 2013. "When we attended similar events abroad, people kept asking why we didn't have a dedicated crime literature festival in Iceland. We started it on short notice, but it proved a great success, and our guests were pleased." After that, the festival was held annually, then biennially—until the pandemic when it was canceled along with other events. "So now we've gone back to every year—we had a festival last year, too—we felt like we were in debt."
Originally, the festival focused on crime literature only, but now it covers darkness in all forms of literature. "The title is also a reference to the timing of the festival. It's held during the dark season," elaborates Ragnar.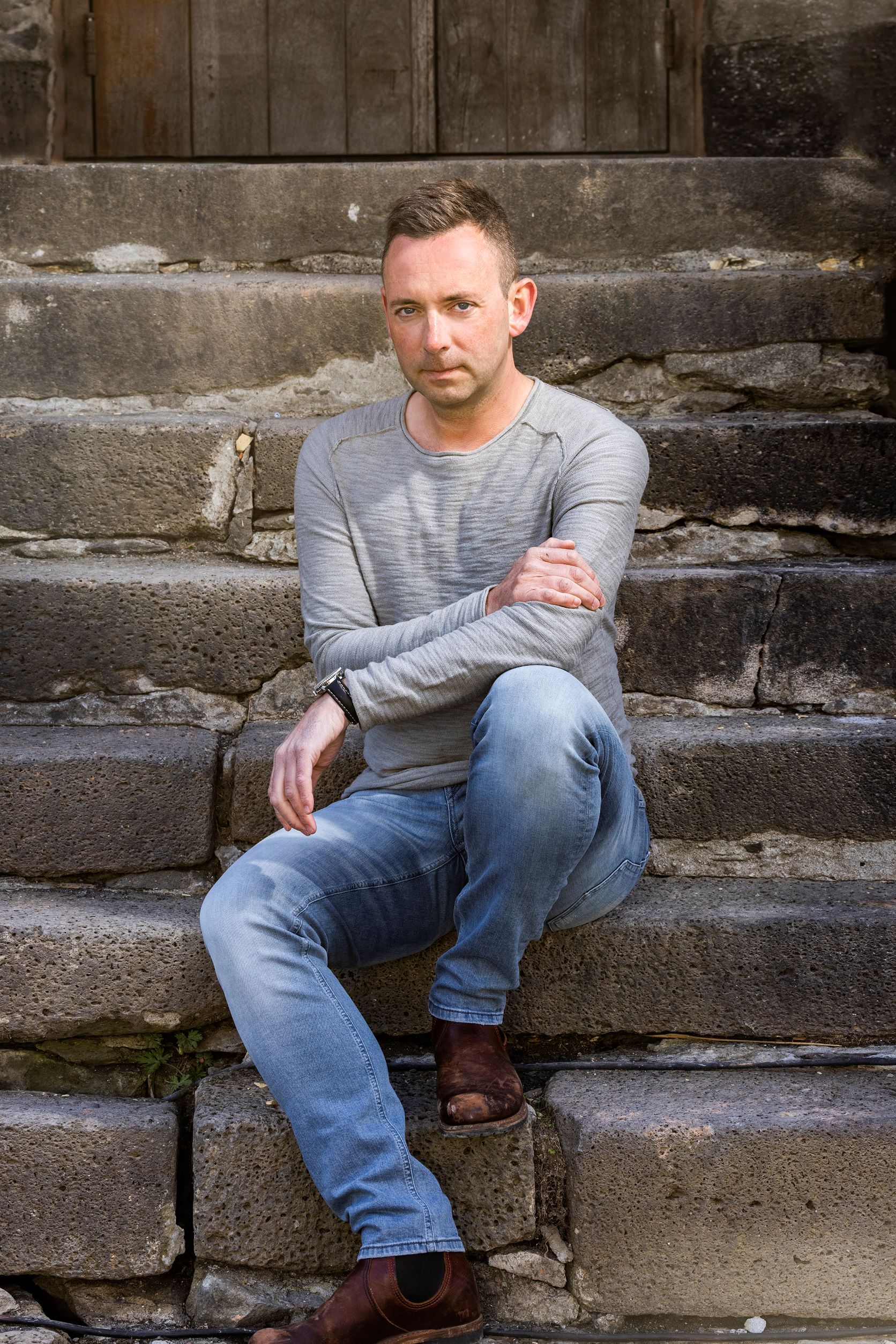 Icelandic crime writer Ragnar Jónasson.

Partnering with the Prime Minister

In 2022, Ragnar and the Prime Minister of Iceland Katrín Jakobsdóttir released a suspense story which they co-authored. "We've known each other for a long time," says Ragnar (in interview in 2022), of himself and Katrín. "The idea came up over lunch almost three years ago. I had suspected for a long time that she wanted to write a book—she's such an enthusiast—and every Icelander wants to write a book!" Katrín, who holds degrees in Icelandic and literature, wrote her BA thesis on Icelandic crime novels.
"At that time, we weren't sure whether it would happen. She's obviously very busy and I was working on my own novels. But then we finished it during covid. It [was] released in October 2022." Ragnar adds that the book will be published in English by MacMillan in the US in May 2023, and by Penguin in the UK in August 2023.
The novel, entitled Reykjavík, has been eagerly awaited by suspense fans. It features a young woman who went missing in 1956. However, it's mainly set in 1986, when the capital's 200th anniversary was celebrated, and the Reykjavík Summit marked the beginning of the end of the Cold War.
The book is different from Ragnar's earlier novels, more nostalgic, he says. "We thought it would be fun to set it in the '80s, in a year when so much was happening and which both of us remember from our childhoods. Everything that you experience as a kid becomes magical in your memories. We studied songs and movies from that time to create the right mood." Ragnar says that he wouldn't co-author a novel with everyone, but Katrín proved a good partner. "She's creative and clever and good company. We would chat over a cup of coffee and toss ideas back and forth."
From book to big screen

Promising things are in the pipeline for Ragnar, as three film projects based on his books are underway. Scott Free Productions, acclaimed director Ridley Scott's production company, has bought the rights to Ragnar's psychological thriller Outside; CBS Studios are to produce the adaptations of Ragnar's Hidden Iceland trilogy; and Warner Bros. International Television Production Germany acquired the rights to his Dark Iceland series.
"It's very exciting. But the film industry operates very differently from the world of literature. Nothing can be taken for granted and time is a very flexible concept. I'm just waiting patiently but the projects seem to be on a good track, so I'm optimistic that some of them will be realized, and—although nothing has been confirmed—shooting for one of the projects might begin next year (in 2023)."
Ragnar reveals that it feels surreal to have his novels adapted by such respected film producers. "I'm a big movie fan so it didn't take a long time for me to agree to sell the filming rights to Scott Free Productions. To be able to connect your book to someone like Ridley Scott is an absolute dream." Ragnar says that he meets the production teams from time to time for creative input and that he might become a little more involved with one of the projects.
With 3 million books sold in 34 territories around the world, Ragnar has achieved amazing international success since the publication of his first novel in 2009. The popularity of his novels outside of Iceland continues to amaze him. "I've always written for an Icelandic audience, so it surprises me every time I see my books abroad and meet readers. It's like a fairy tale." He has also received six international awards. "It's incredible, every time. It's something that I'd never expected. I care deeply about all of them but was especially touched when my Hidden Iceland trilogy, as an entity, received the Palle Rosenkrantz Prize in Denmark last spring. I'm fond of Hulda, the main protagonist, and the Scandinavian market is difficult to penetrate."
Ragnar's secret Siglufjörður
Six of Ragnar's first novels, starring detective Ari Þór Arason, were set in Siglufjörður, a former herring boom town, trapped between tall mountains in the northernmost part of Iceland. This is where Ragnar's father grew up.
"It felt natural to pick Siglufjörður as a background for my stories. I visited it many times a year during my childhood, so I know it well, and I'm interested in how isolation affects people. How they react to such circumstances." In 2010, the very year when Ragnar's first Siglufjörður novel was released, a tunnel connecting Siglufjörður with neighboring town Ólafsfjörður—and abandoned Héðinsfjörður—was opened, breaking its isolation and contributing to an increased flow of tourists.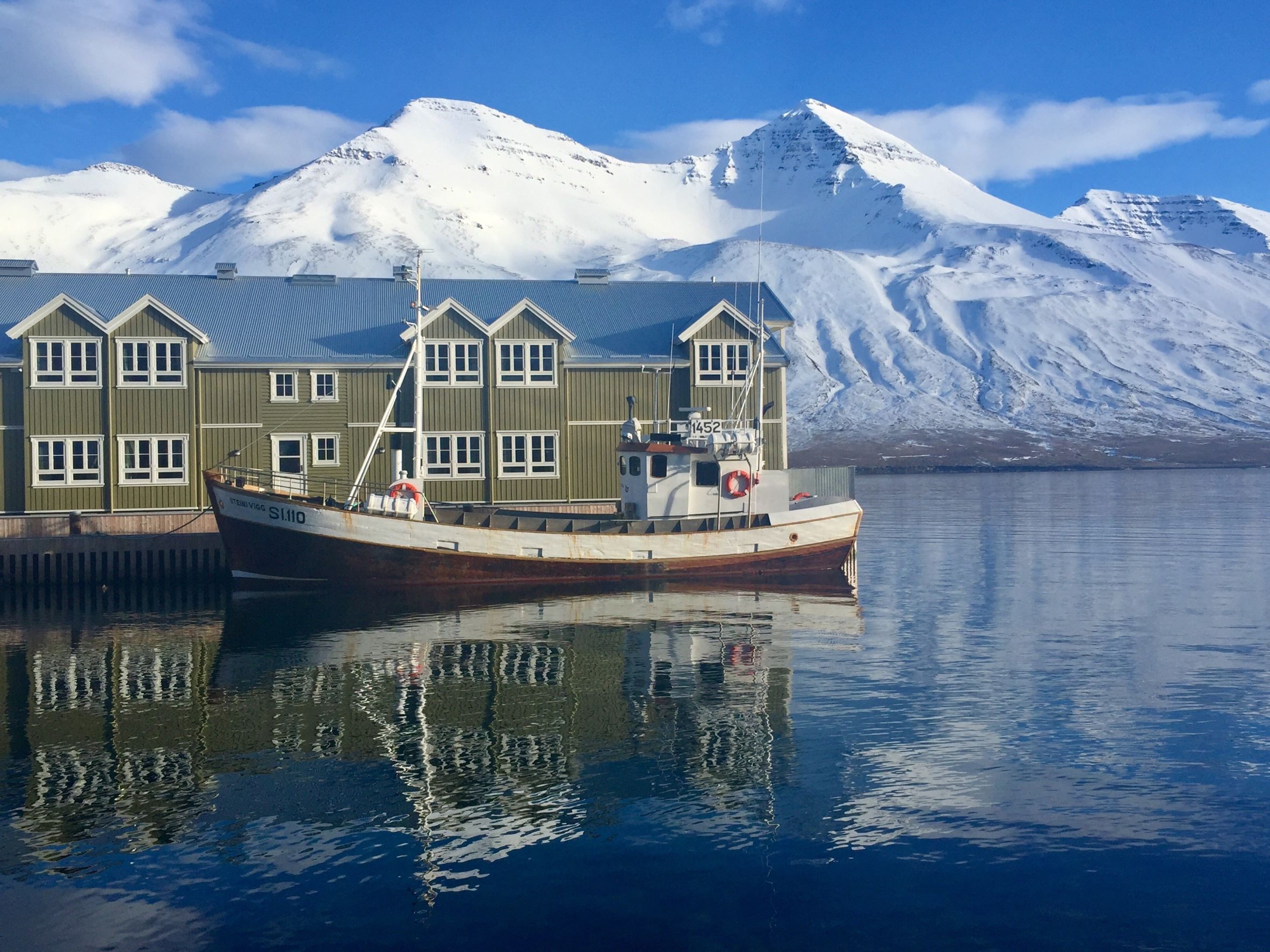 Scenic Siglufjörður.

"I recommend the bakery and especially the cinnamon buns. They're called hnútar and they're delicious. And to breathe in the sea air. It's so fresh and invigorating. There are also touristic things to do, like visiting the Herring Era Museum. Everyone should visit it. It's like walking into Siglufjörður of the past. What it was like when my grandparents were young and when my dad was growing up there." Ragnar adds that now that Héðinsfjörður has become accessible to all by tunnel, people should take some time to explore this desolate place—featured in his novel Rupture.
Siglufjörður is a paradise for skiers, alpine, cross-country and off-piste. Ragnar doesn't ski but he enjoys walking in the forested area near the ski resort. "There's a waterfall there, somewhat of a secret place, very beautiful." Ragnar also likes to trek to Hvanneyrarskál, a col connecting two peaks above the town. "It's something that I used to do with my grandfather. I still go there to enjoy the view."
Ragnar has his own secret place in Siglufjörður which he won't share with anyone outside his family. "It's my grandparents' house on which Ari's house in the books is based. It's like traveling back in time. I go to Siglufjörður at least once a year. Just being there is inspirational."
Icelandair connects Iceland with more than 50 destinations in Europe, North America and Greenland. When you fly transatlantic with Icelandair, you can add a stopover in Iceland at no additional airfare.
Icelandair connects Reykjavík with Akureyri in North Iceland, with frequent flights daily. From Akureyri, it's 77km (48 miles) north to the town of Siglufjörður.