01/03/2021 | 12:00 PM
Icelandic sweater story
It was November when we arrived in Iceland. It was rainy and cold, but one thing colored the streets of Reykjavík: The lopapeysa (literally: "lopi wool sweater"), which so many Icelanders wear. One glance and we were sold on these beautiful sweaters. However, with so many things to consider, they aren't something you buy at the drop of a hat. First, you need to consider the number of cables, the color, and what style or pattern you prefer. And if you don't see the color or pattern you want, you can have it custom-made.
We were curious to find out what makes this sweater so special. We quickly discovered that the sweater has become a national icon and that the tradition of wearing homemade woolen knitwear goes back centuries. The sweater is made from Icelandic sheep's wool, also known as lopi, which is not spun and therefore has better insulating qualities. The modern lopapeysa pattern originates from the mid-20th century, around the time when Iceland became an independent nation. This knitwear continues to be very popular today, not only among Icelanders but also with tourists from all over the world.
For this series, we photographed people wearing their sweater and asked about the stories behind them.
If you're interested in learning more about the lopi, check out the Icelandair guide to the language of lopapeysa.
About the photographers
Text and photos by Esmee van Loon and Willemijne van Zelst.
Esmee van Loon and Willemijne van Zelst are the photography and design duo Curly and Straight, based in the Netherlands. Every year they travel to different places to make a story about a typical subject or product from the country they're visiting. They visited Reykjavík to find out more about this symbolic sweater.
This article first appeared in the Icelandair Stopover magazine, winter 2019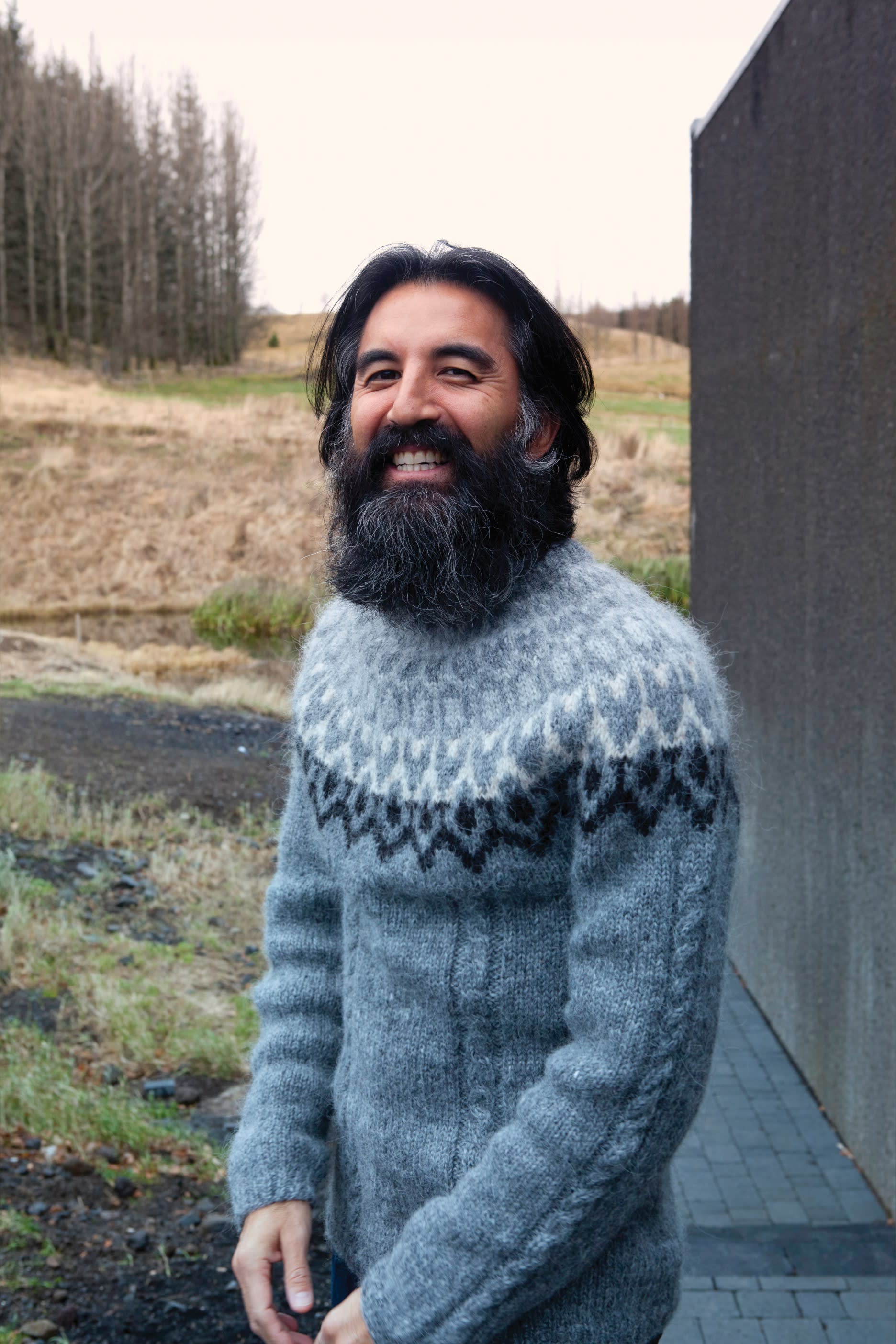 MJ Mirghanbari: He is from the US and traveled especially to Iceland to buy a custom-made sweater. He sent his measurements to the knitter online and was very happy that the sweater fits.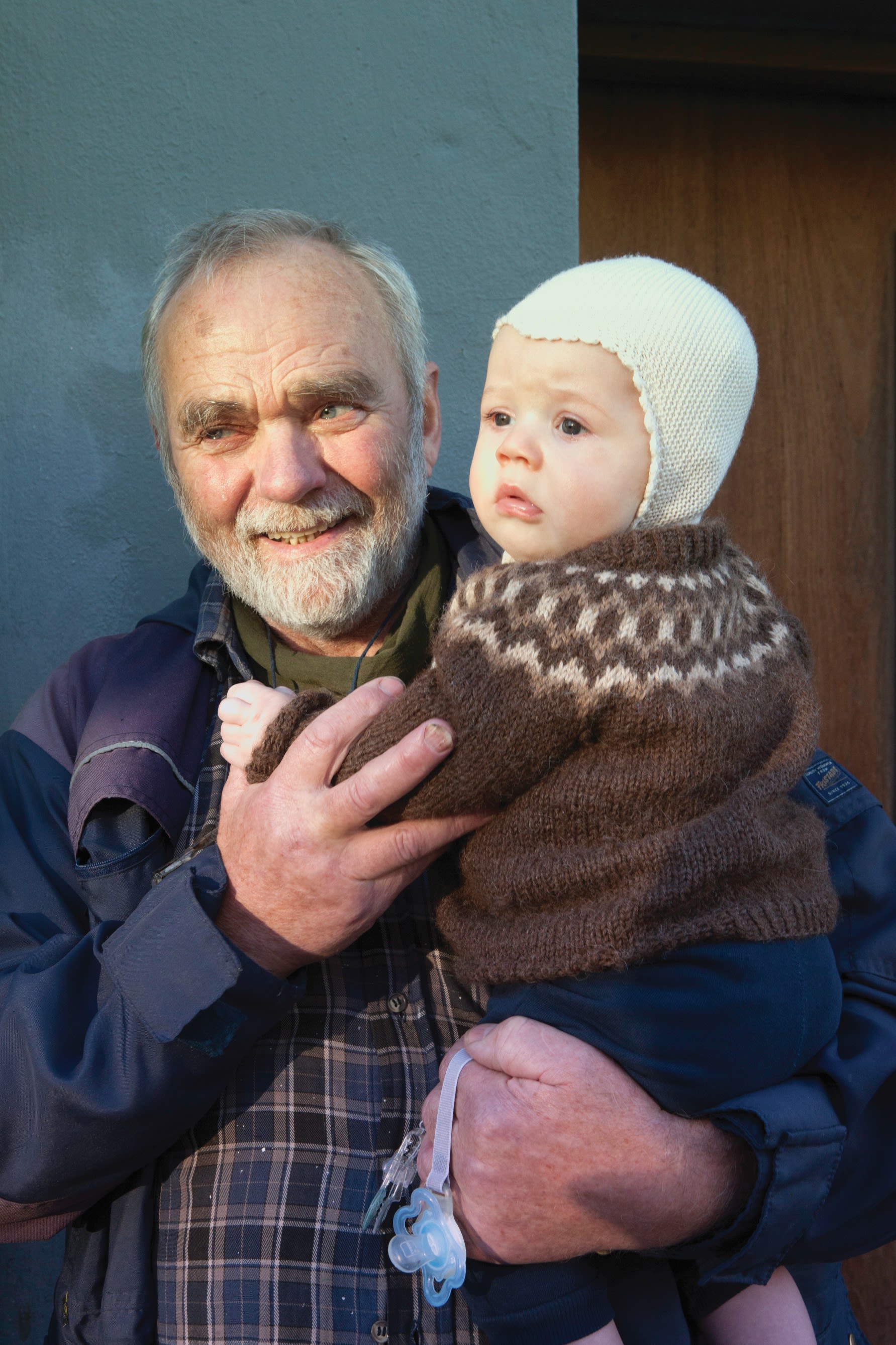 Siggi (seven months): According to his grandfather, also in the picture, Siggi's aunt knitted his sweater and she is crazy about knitting. And she is already knitting another one!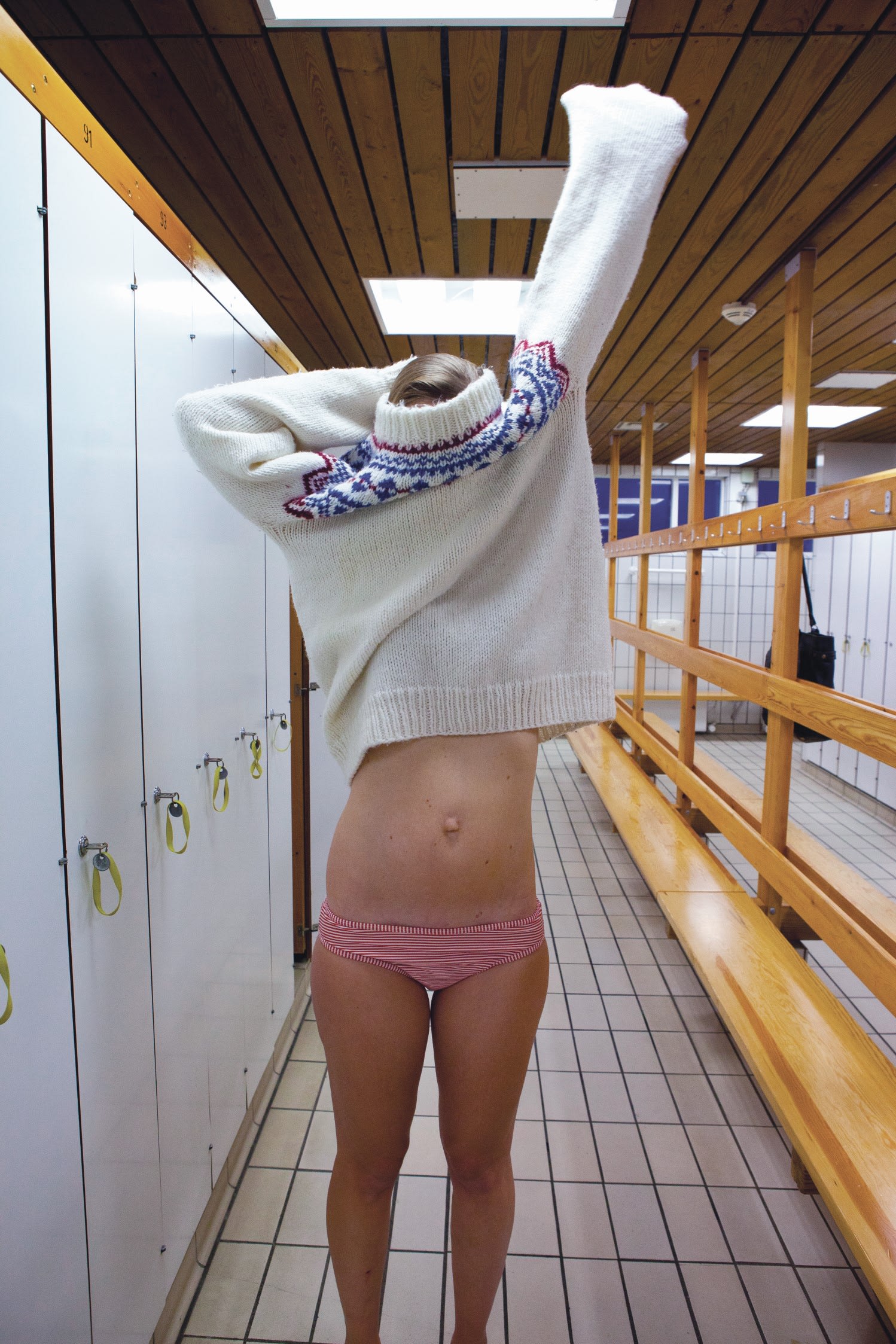 Inga Eyjólfsdóttir: She is a fanatical swimmer and swims five times a week at 7 am. She never wears anything underneath her sweater besides a bra or a bikini top, because she likes the softness of the wool against her skin.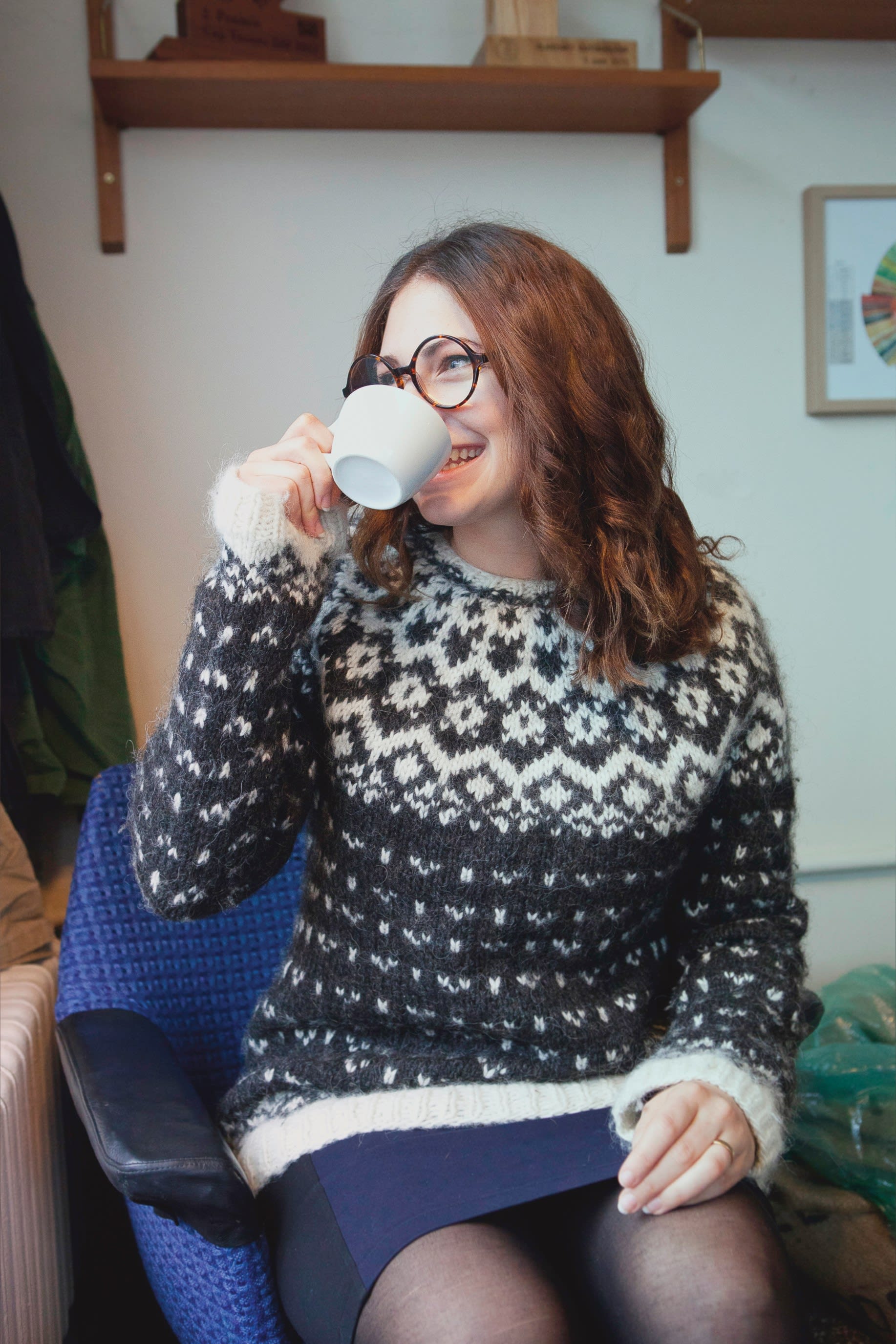 Julia Gasiglia: She is a French woman who fell in love with an Icelander and moved to Iceland. She prefers his sweater over hers. In the picture she is wearing her boyfriend's sweater.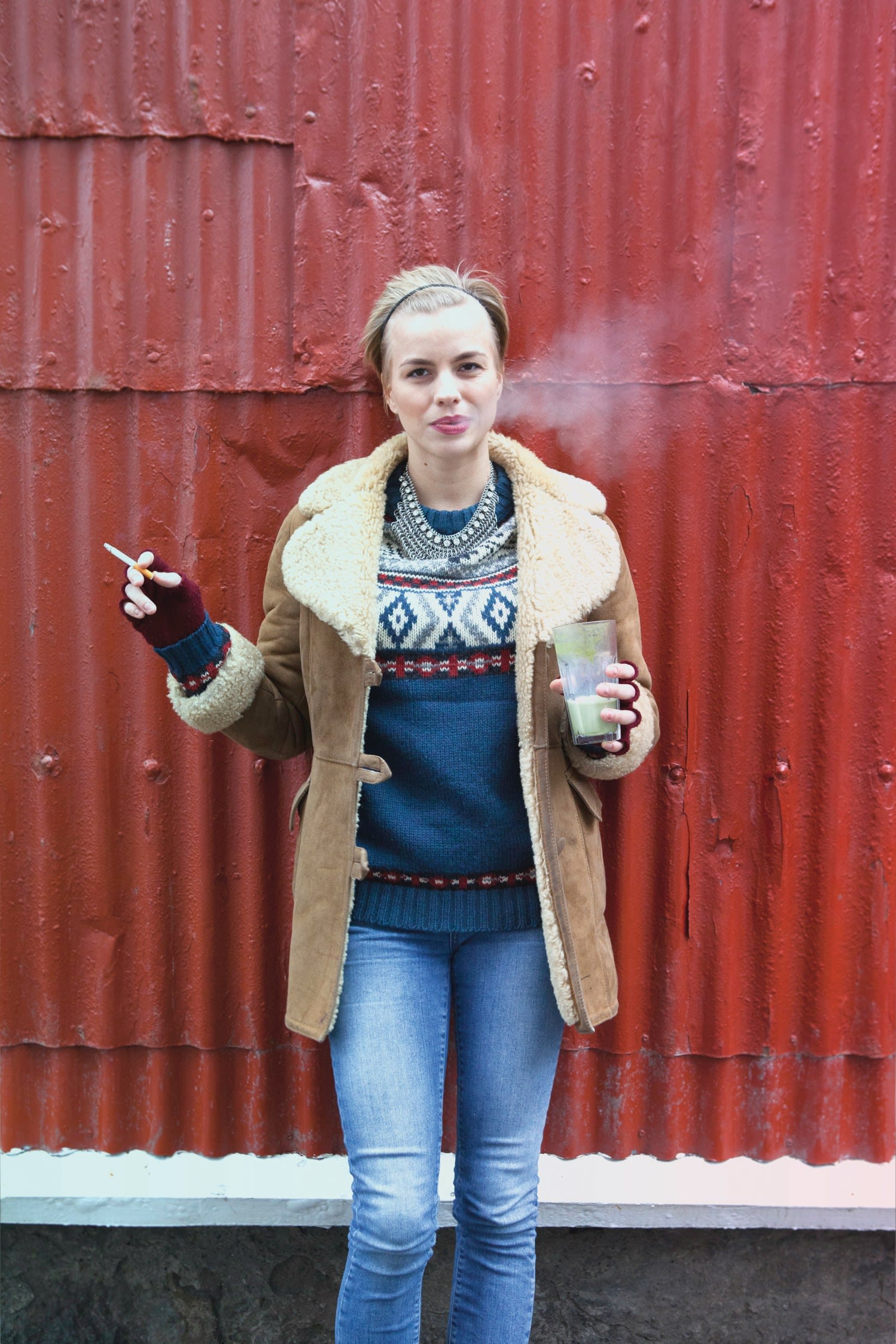 Elsa Borg Jónsdóttir: She knitted the sweater herself, but it took her a very long time to finish it, so she is probably not going to knit another: "Hopefully my grandmother will knit me another one."