12/17/2019 | 12:00 PM
The icy northern shores
Photographer Benjamin Hardman explores the wondrous winter landscape of the sub-Arctic North.
Known for its distinct winter season, the North makes a great setting for a winter experience in Iceland. With thick snow blanketing the peninsula every winter, adventurers of all types are drawn to the region for the vast range of winter activities on offer.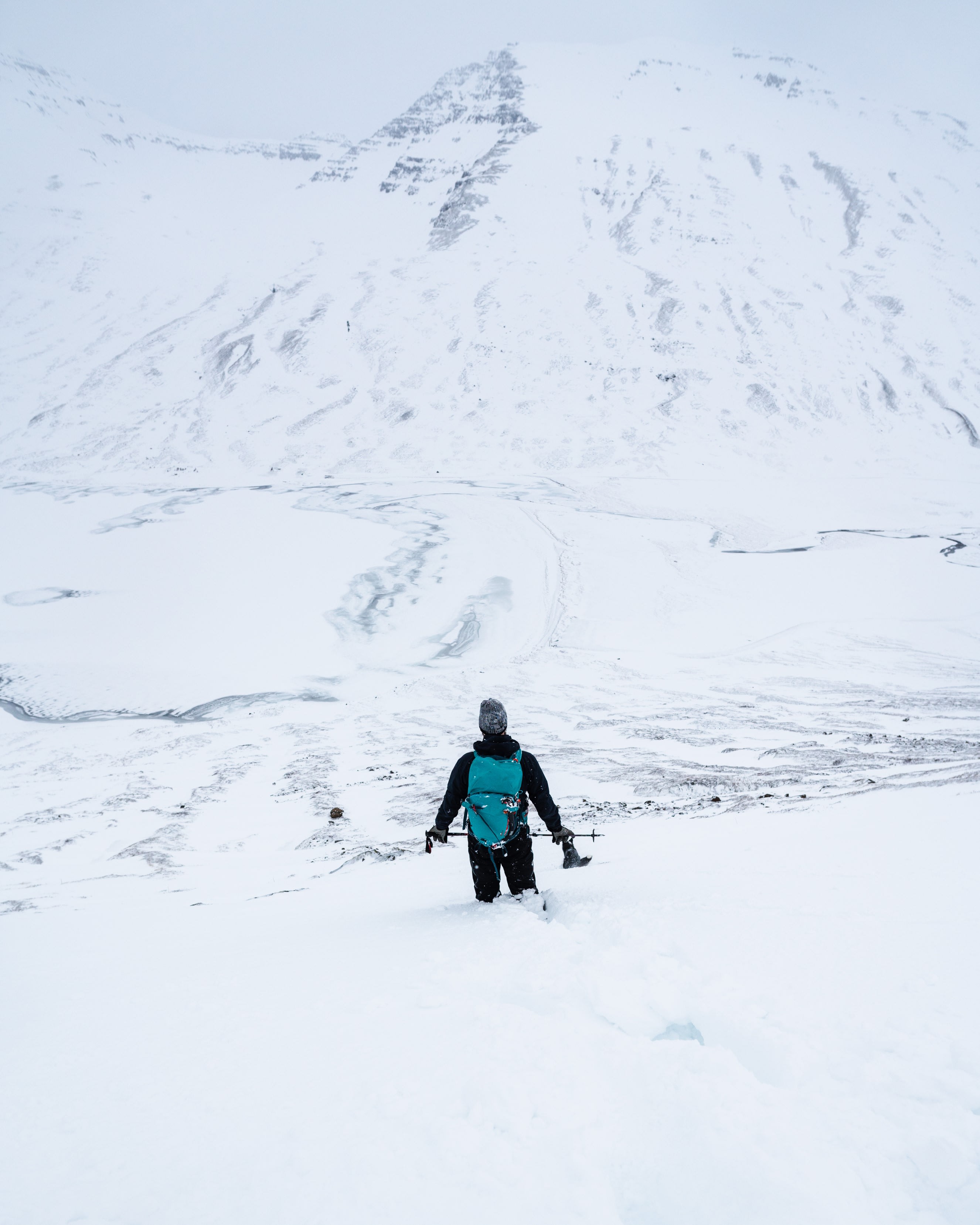 Last winter I joined two friends for a road trip around Tröllaskagi, known as the "Troll Peninsula" in English, situated high up in the North. This beautiful area takes travelers on a quest through winding fjord roads, mountain passes and dramatic sea cliffs to experience a unique side of Iceland's winter landscape. In such stark white surrounds, the focus moves from the vivid colors of the summer months to the rugged and dynamic formations in the mountains, visible only by their contours in the snow.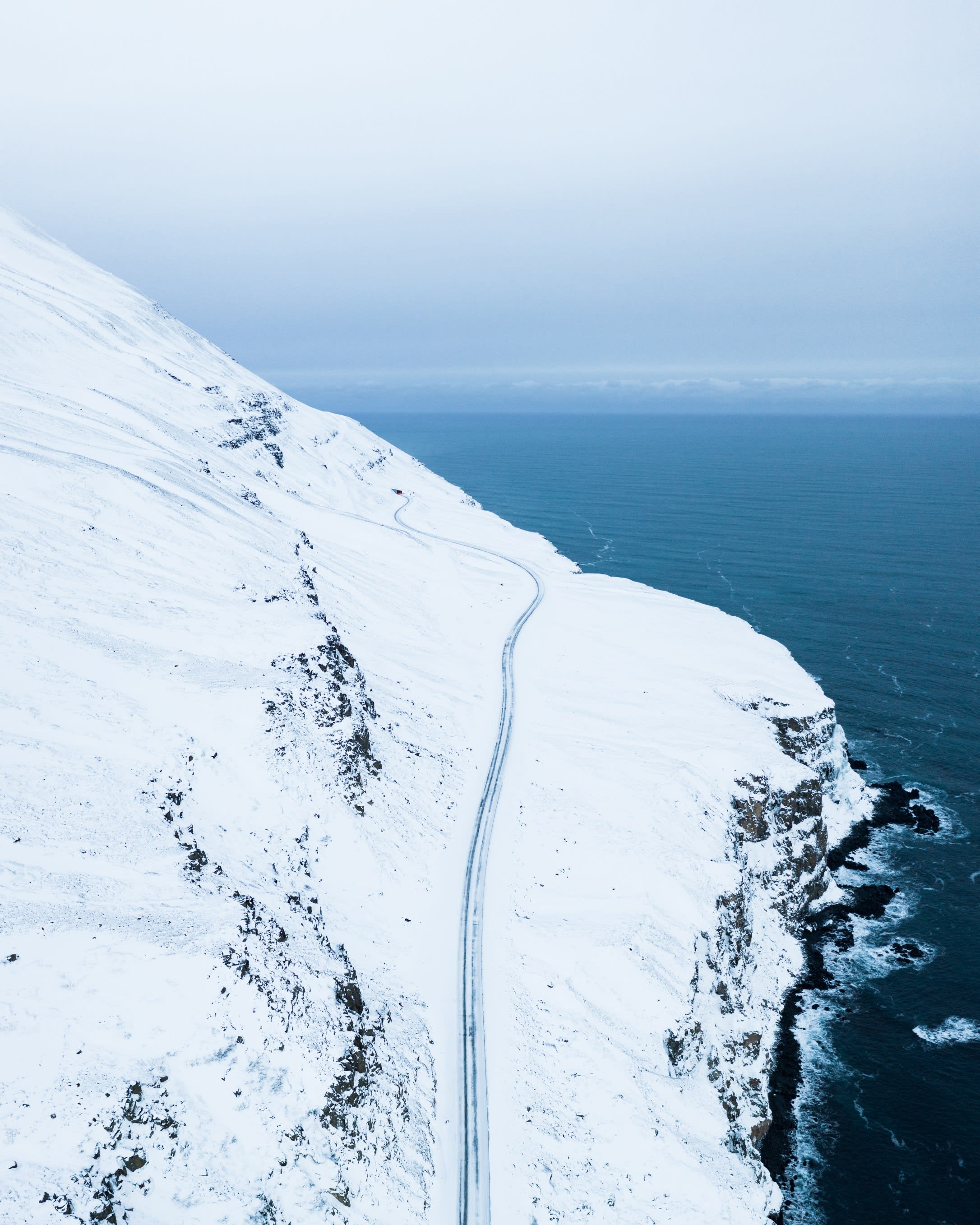 After making our way up from Reykjavík, we chose to make our first stop in Akureyri for a ski session on the slopes of Hlíðarfjall, one of Iceland's premier ski resorts. Skiing is a popular sport around Tröllaskagi; from back- country touring to heli-skiing, the options are practically limitless. With an amazing night ski session in the bag, we then spent a few days driving around the west side of the peninsula, passing through the small towns of Dalvík and Ólafsfjörður before reaching Siglufjörður. Each town has its quirks, from cozy coffeehouses to the local swimming pools, and you'll gain a true sense of the Icelandic culture in these areas. I remember going for a dip at the local swimming pool in Ólafsfjörður one night; amidst our very relaxing time in the hot pools, we each made a quick jump into their cold plunge pool, which in the middle of winter was exceptionally cold!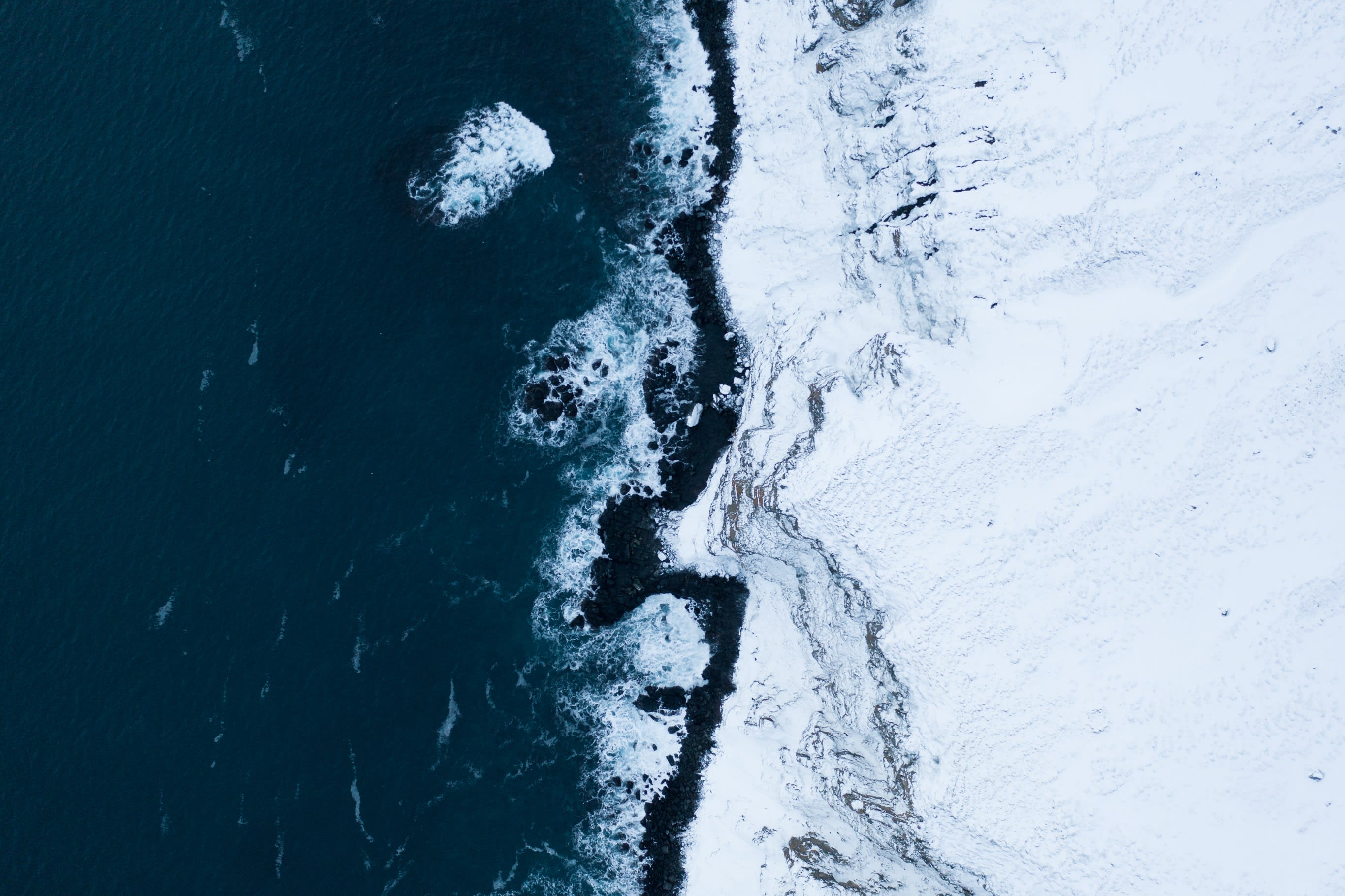 A bird's-eye view of the northern coastline contrasted against the freshly fallen snow.
Approaching the coast at the northern tip of the peninsula, we were treated to an endless view of the blue Arctic Ocean. Hiking up through the snow to a viewpoint overlooking the water, it was hard to fathom that the next land would be the remote northwestern tip of Greenland and beyond that, the North Pole—a world of Arctic sea ice and polar bears.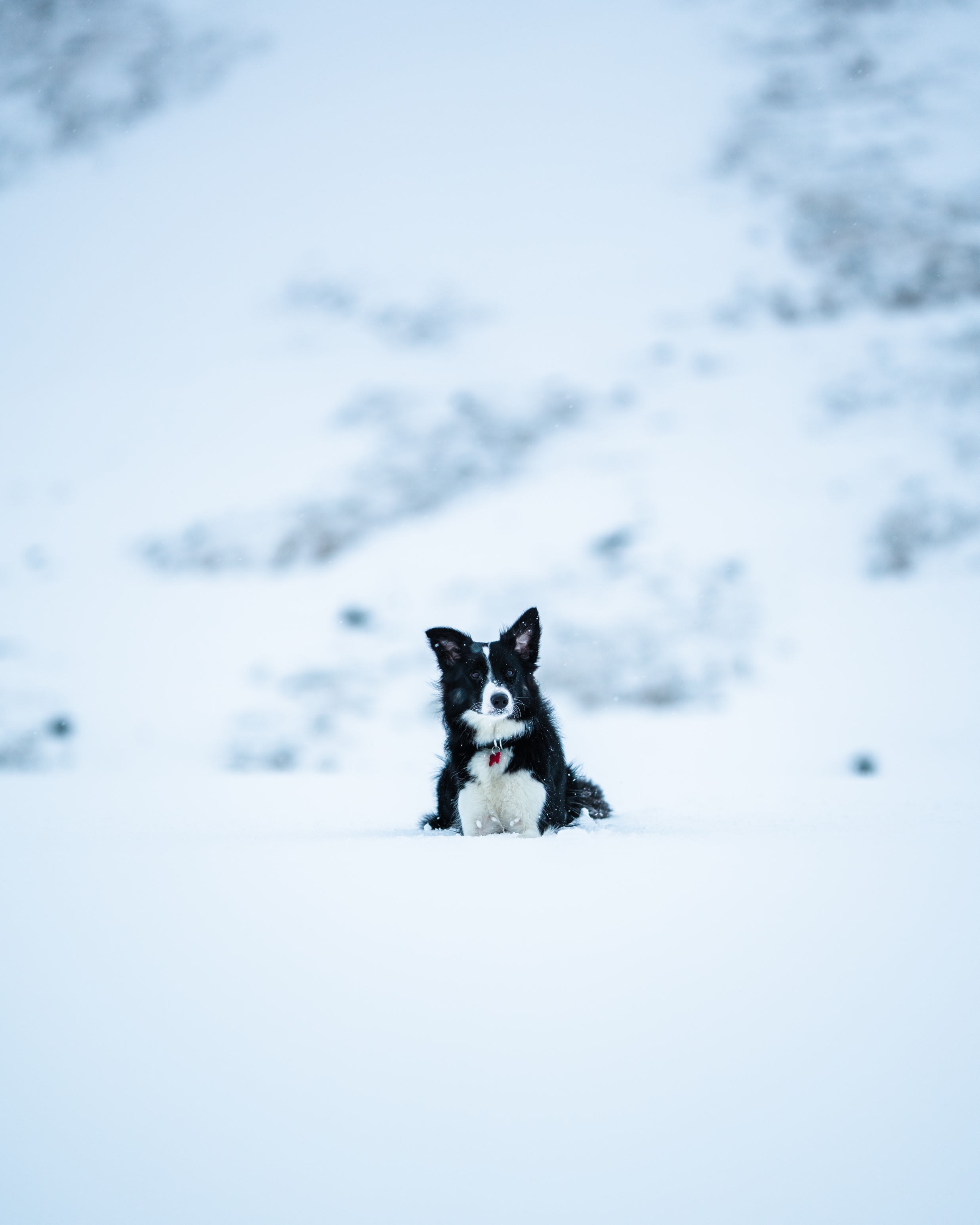 With daylight fading, the short days of winter in the North provide a special ambience that is hard to find elsewhere. The combination of sweeping fjords and snow-covered mountain peaks will immerse you in what feels like a distant frozen world, with hues of blue and white in all directions.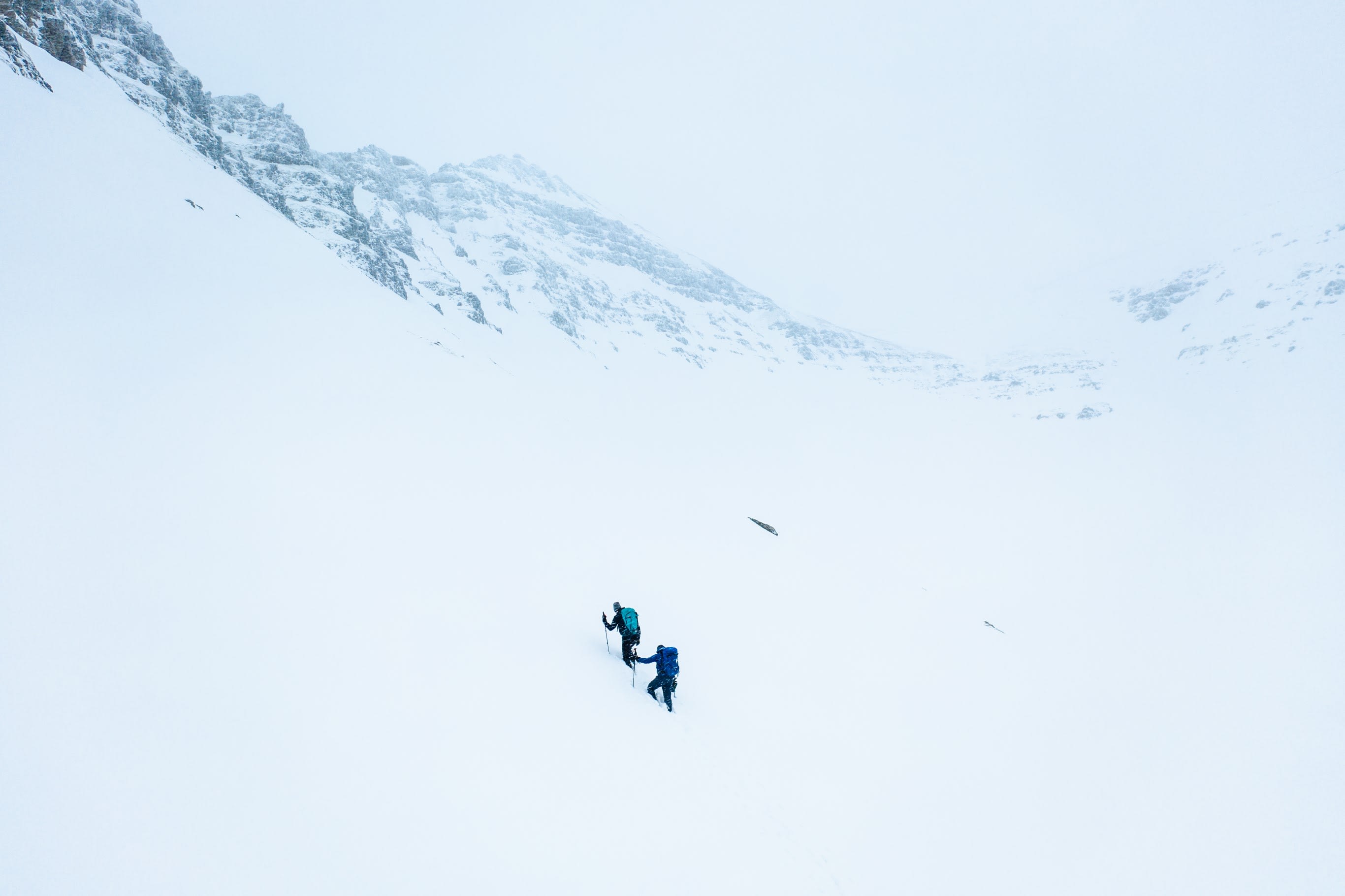 Hiking through the winter conditions in search of a higher vantage point over the fjord.
Note: Winter conditions can be very unpredictable in Iceland. It's important to check road.is regularly for local road conditions while you're traveling to ensure that the roads are passable and safe for driving.

Text and photos by Benjamin Hardman (Instagram @benjaminhardman)
This article appears in the Icelandair Stopover magazine, winter 2020