01/25/2022 | 1:00 PM
Icelandair flies to Antarctica: Putting the ice back in Icelandair
Update: February 3, 2022
In February 2021, we took an incredible trip south, way south, to pick up Norwegian scientists at their Antarctic outpost and return them home for the northern hemisphere summer. In November 2021, we had the mission of delivering them back to Troll research station (via Cape Town) to begin a new southern summer on the ice. It's always a joy to work on projects such as these.
In January 2022 we took another spin, from Norway to Troll Station via Cape Town. There were 21 passengers aboard, and they had been quarantined in Oslo for 40 days before the trip. The aircraft was flown from Oslo to Cape Town (flight time approximately 13 hours), where the crew was changed and the aircraft refuelled. The flight from Cape Town to Troll took 5.5 hours; conditions on landing: a slow wind from the west, slightly cloudy, and -6°C.
Below you can watch our Boeing 767 land at Troll airfield in January 2022 – over 1 million people have viewed the unique footage from the cockpit on approach to the icy runway. There's footage of departure too, as well as perspective from the ground.
Check out our other Antarctica project over the southern hemisphere summer, working with Antarctica Logistics & Expedition and connecting Punta Arenas in Chile with Union Glacier.

---
We usually fly closer to home, near the Arctic Circle, but this flight was even cooler: 4 days and 42 flight hours from the top of the world to the bottom, and home again.
On Friday, February 26, an Icelandair Boeing 767 (TF-ISN), landed at Troll airfield (QAT) at the Troll research station operated by the Norwegian Polar Institute in Dronning Maud Land, Antarctica.
The flight was operated by Loftleiðir (Icelandair's charter-flight subsidiary) to offload provisions for the research station's staff who will remain at Troll this winter, and to pick up scientists returning to Norway after their summer service. Some of the scientists had been at Troll for 16 months and were happy to be heading home.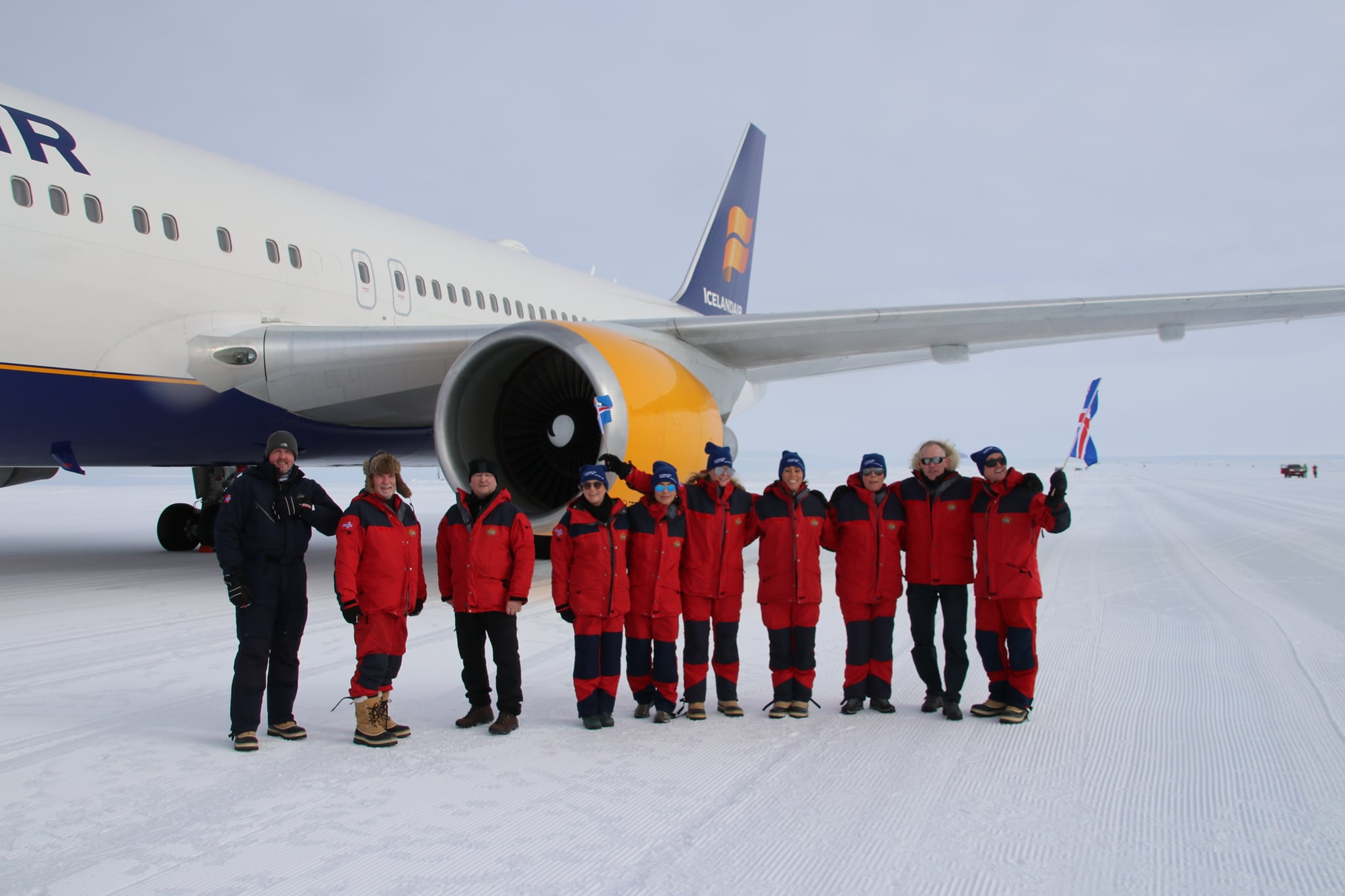 The flight
The journey involved a lot of planning due to the unique conditions, and involved 6 pilots, 13 crew and 1 flight engineer.
From Keflavík airport in Iceland, the plane flew nonstop to Cape Town, South Africa, where it paused for a rest and refueling stop. Some of the team stayed in Cape Town and the remainder flew 4,332km south to Troll in 5 hours and 43 minutes.
After a 2-hour layover at Troll, the aircraft returned with the Norwegian passengers to Cape Town, picked up the fresh crew, and continued on to Oslo, then home to Iceland.
According to flight commander August Hakansson, landing conditions at Troll were far better than forecast. And the worst weather of the entire trip was upon the return to Keflavík!
The flight route was so unusual that it attracted worldwide attention from aviation fans and media, including over 30,000 followers on Flightradar. And although it might seem crazy, this isn't Icelandair's first time in the Deep South – back in 2015, Icelandair became the first commercial airline to land a plane on a blue-ice runway in Antarctica.
If you want to read more about the airport at Troll research station, we recommend this article on Flightradar.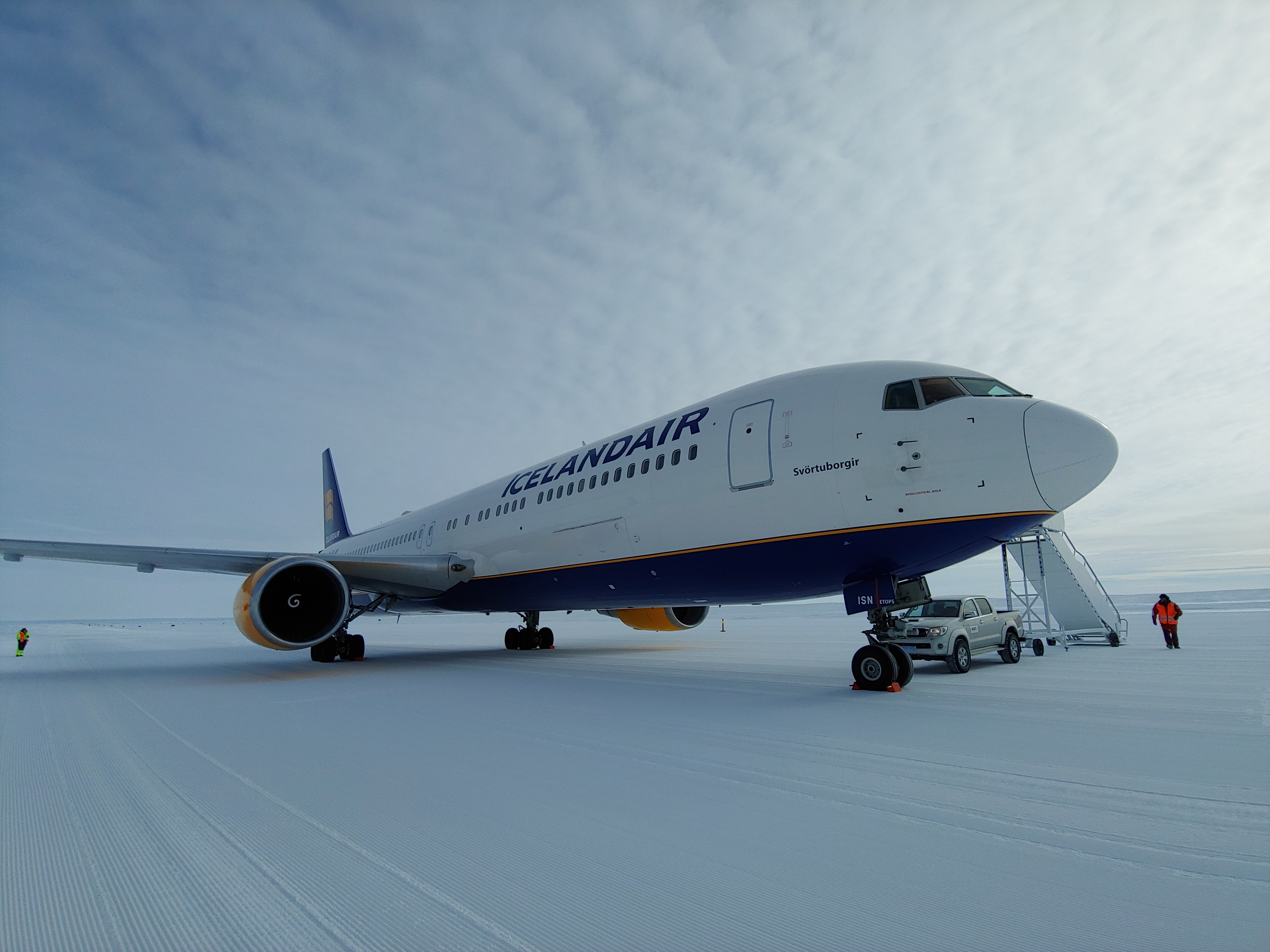 Logbook entry from copilot Bjartmar Örn Arnarson
Departed early from Cape Town, headed south for Antarctica. Low stratus clouds blocking our views of the King Haakon VII Sea beneath.
After 4 hours' flight the cloud base cleared in the direction of the ice shelf and we got a glimpse of Dronning Maud Land. The icebergs breaking constantly off from the mainland of ice and snow that covers this massive ice-bound continent. From our flight-deck seats we could see the vertical 30-40 meter high ice wall that marks the beginning of solid ice leading inland to the Troll station some 250km from the edge. Contacted Johannesburg for descent out of controlled airspace and into the Antarctic, land of few people and little life but magnificent nature of desolation and untouched wasteland.
The Norwegians have built a runway on the blue ice that is special because of its strength and structural nature. It has been beaten down with constant hurricane-force wind that has squeezed the air bubbles out of the ice, and it appears deep blue. And because of its solidness it can hold a massive airplane as the B767 and is really smooth.
At that time when crossing into the Antarctic territory we got a message from Troll. There was a problem with the runway. They had found a hole and were preparing to repair. The Troll crew managed to temporarily repair the hole and mark it properly. A little setback but we can still continue our task.
Now in radio contact with Troll Station, the weather looked good. Some low stratus clouds coming in from the west but good visibility to the north and east where we were planning our landing. Flying downwind we visually located the runway and made a great smooth landing on the blue ice.
A warm welcome met us on the ice from the Norwegian crew. Their equipment serviced the airplane, and pictures were taken and greetings exchanged. It was a pure pleasure to see the close-knit group of various talents in high spirits after many months of research and specialized work.
After less than 2 hours' visit we needed to head back to civilization. In a light northeasterly breeze of temperature of -15°C we took off to the east and headed towards Oslo, Norway on the other side of the globe, with a short stop in Cape Town.
Watch the landing at Troll airfield from the cockpit in this video by Bjartmar Örn Arnarson:
About Loftleiðir Icelandic
This was a unique project, but Loftleiðir Icelandic has made a name for itself internationally in recent years in projects in foreign countries, and it is fair to say that with this project, the company has visited all 7 continents in the world in the last 12 months.
This is also a good example of the diverse charter flights projects that Icelandair Group undertakes through Loftleiðir, which utilizes Icelandair's experience, knowledge, crews and fleet and creates important income for the company, which is particularly useful in these times when traditional passenger flights are at a minimum.