04/23/2021 | 11:00 AM
An Oscar for Húsavík?
Update: April 26, 2021
Iceland and Húsavík won many hearts on Oscars night, even if 'Husavik (My Home Town)' didn't win the award for Best Original Song. What a magical performance by Molly Sandén at Húsavík's scenic harbor, featuring a local choir, iconic Icelandic knitwear, and even the northern lights bursting out in color. The clip below from the Oscars finishes before the fireworks (you can watch the entire performance on the website of the Icelandic national broadcaster, RÚV).
----
In the north of Iceland is a pretty town called Húsavík, sitting on a beautiful bay looking across to a snow-capped mountain range. It has a population of around 2,300 people (and 70,000 puffins in the summer).
If you've visited Iceland, you may know Húsavík as the whale capital of the country (with superb whale-watching opportunities), and the home of a spectacular geothermal bathing complex known as GeoSea. This is prime road-tripping country, surrounded by geological marvels and roaring waterfalls, with Húsavík a popular stop on both the Arctic Coast Way and the Diamond Circle tourist routes. Icelandair can fly you to nearby Akureyri to begin your explorations of this stunning part of the country.
Húsavík, star location and song inspiration
If you've watched the 2020 Netflix hit movie Eurovision Song Contest: The Story of Fire Saga, you may know Húsavík as the hometown of Lars Erickssong and Sigrit Ericksdóttir. And as the inspiration for Sigrit's big ballad, 'Husavik (My Home Town)'.
Oscar nomination
'Husavik (My Home Town)' received an Oscar nomination for Best Original Song, with the awards ceremony being held on April 25, 2021. The song is written by Fat Max Gsus, Rickard Göransson and Savan Kotecha, and performed by Will Ferrell and Molly Sandén for the film.
The people of Húsavík started their own DIY campaign, with spokesperson Óskar Óskarsson keen for a shiny new Oscar in town. You can read all about the town's creative campaign on the website Óskar for Húsavík.
Oscar night performance
Unlike the other songs nominated in the same category, Molly Sandén won't be singing 'Husavik (My Home Town)' at the Oscars ceremony in Los Angeles on Oscars night. Instead, she recorded her performance from Húsavík, joined by 17 girls from the Húsavík Children's Choir. Perfect!
Below is Molly in Húsavík with Óskar Óskarsson, and meeting some of the local girls. The town created a red carpet on the main street for the event.
We can't wait to see Molly and the choir perform, and to see Hollywood's spotlight shine on Húsavík. Good luck, Húsavík - we hope you bring that Oscar home!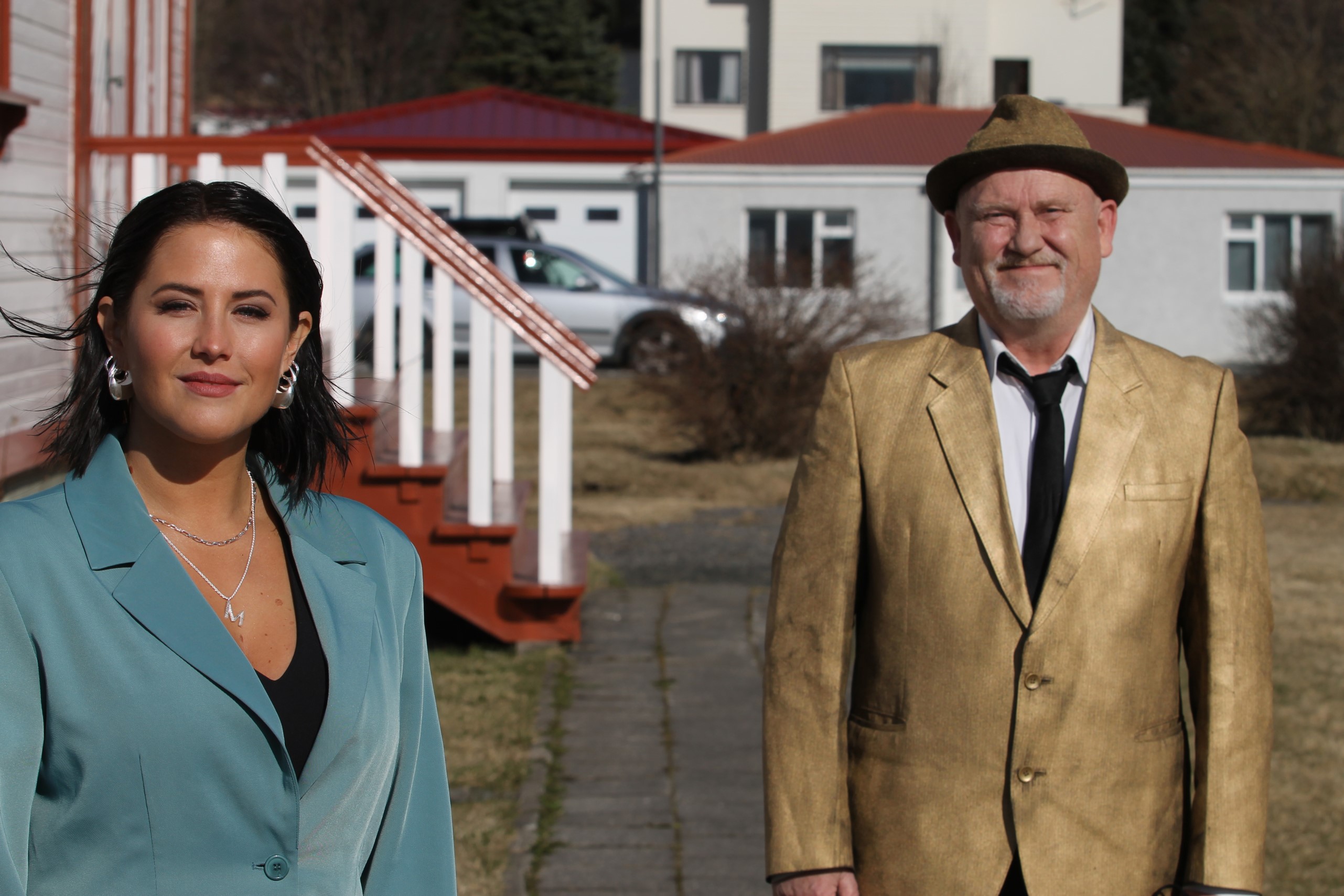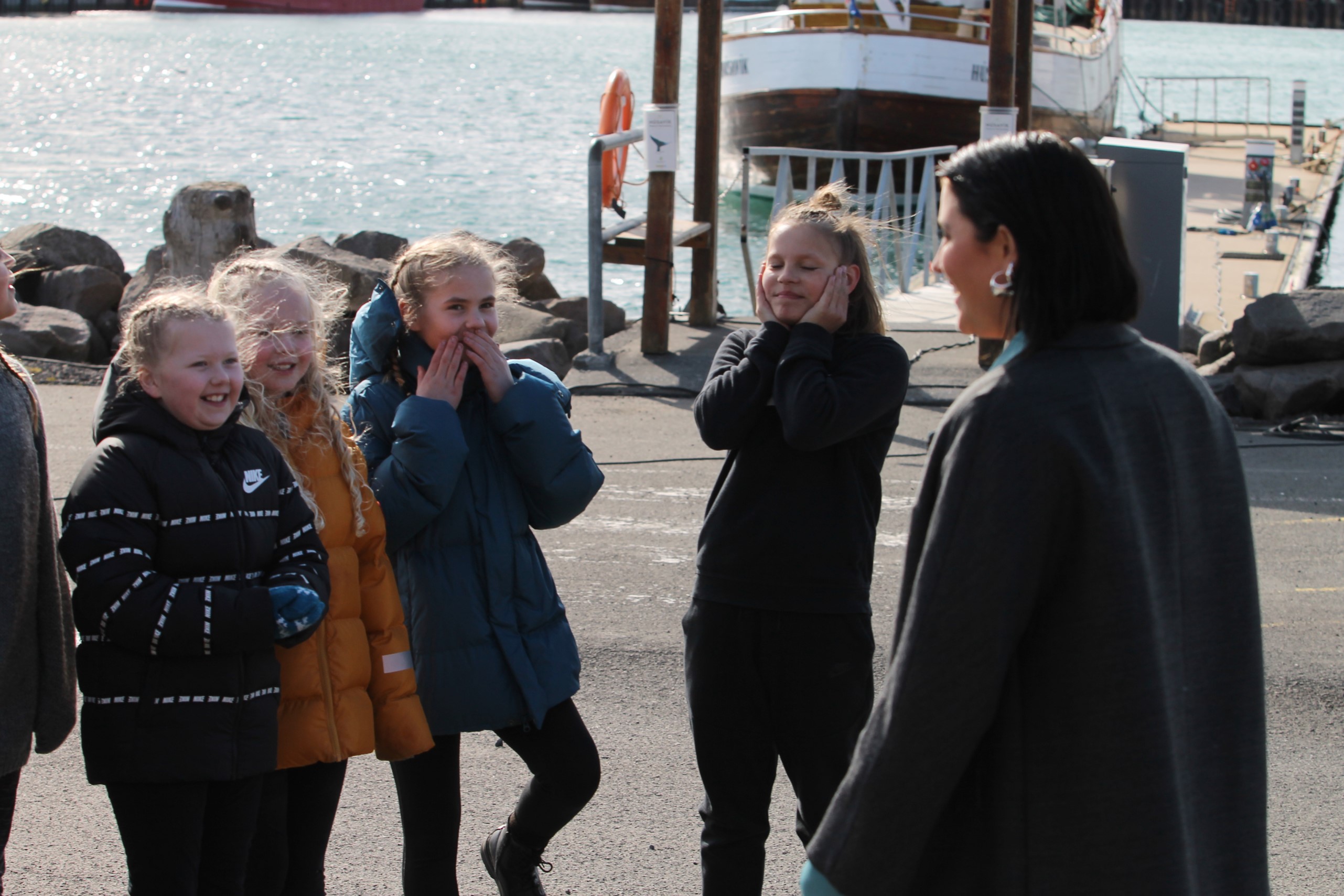 Banner photo of Húsavík courtesy of Visit North Iceland.