05/05/2022 | 5:00 PM
Family travel in Iceland with Chris Burkard
Are you planning a family trip to Iceland? Or considering one?
Let Iceland expert and adventure traveler Chris Burkard inspire you – with his answers to our questions, his tips for travel, and a peek at the family travel album from a trip he made to Iceland in fall 2021, together with his wife, Breanne, and their 2 sons: Jeremiah, aged 9, and Forrest, aged 7.
Chris is a frequent visitor to Iceland, and a photographer and adventurer who showcases his epic trips with beautiful imagery. Check out his cross-country tour of Iceland by bike, his cycling trip of the Westfjords, and a touching film he made in Iceland about the power of family and nature.
Text and images by Chris Burkard.
Was this the first time in Iceland for your sons?

It was!! They knew I loved it and had been a ton of times so they were super excited to go and see it for themselves. Planning the trip with them was one of the funnest parts of the trip.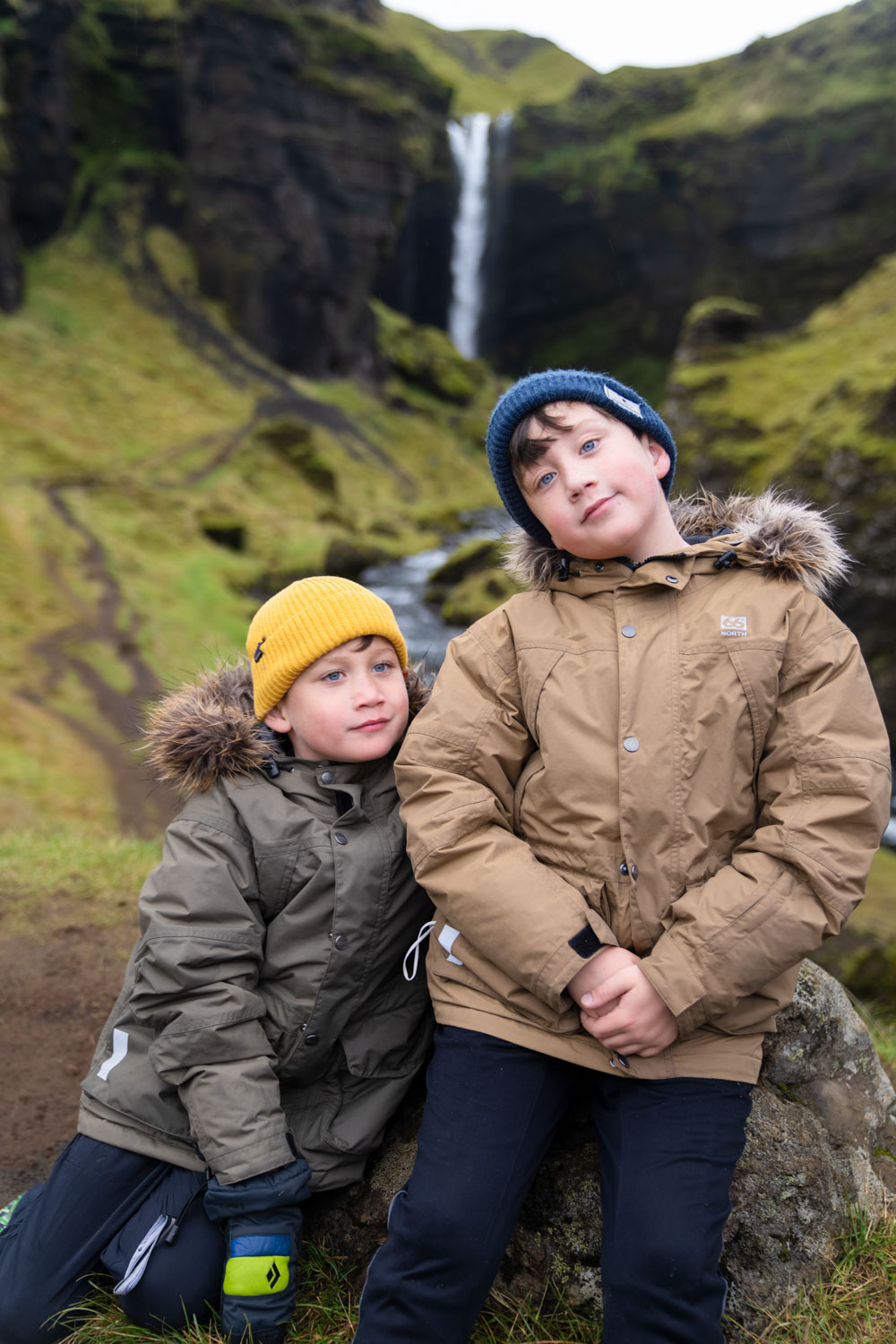 Forrest and Jeremiah at Kvernufoss.

Do they now share your love of the country?

Absolutely!! We are already talking about our next trip back. They left with more that they wanted to do and see.
In your opinion, what makes Iceland a good destination for children?

As a parent, I think you are first and foremost looking for a place that is safe – and Iceland is really safe for kids. The other cool part is that if you are coming from outside the country you are usually jetlagged. And it's hard to get kids on a normal schedule, but with 24-hour daylight in summer it's easy to go and see stuff with your kids and fewer tourists, which is a double bonus.

I also think that the fact that there are a lot of roadside adventures you can check out is great. If your kids are small and can't hike far, you can still see a ton of stuff which is awesome.

At Arnarstapi, Snæfellsnes.

What age is good for family travel and adventure in Iceland?

I am constantly thinking about the best age to travel with kids, and I feel like the key thing is doing it at a time where they can remember the trip and the experience. It's tough taking kids when they are super young because they won't be able to remember. But this trip is one of the things they [Chris' sons] talk about every day. They're 7 and 9, which I think is a great age.

Any general advice about planning a family trip to Iceland?

Loads of advice...! But to start: Think about doing one major thing a day rather than packing in a ton of small stops. My kids, and I'm sure many of the readers' kids, could spend the entire day at Jökulsárlón ice lagoon and beach. They want to throw rocks, eat ice, and just examine all the small things. Adults love to take in the view and take pictures and maybe get their feet wet, but kids are usually entertained by all the small and unique wonders of these places – so make sure to take the time for them to really enjoy it.
I would also always say to pack SNACKS!! Iceland can be tricky in that there are a lot of restaurants and places that will shut down early, and if you want to go explore during midnight sun it can be tough to find places to feed the kids. So bring extra food – or know where the late-night gas stations are open.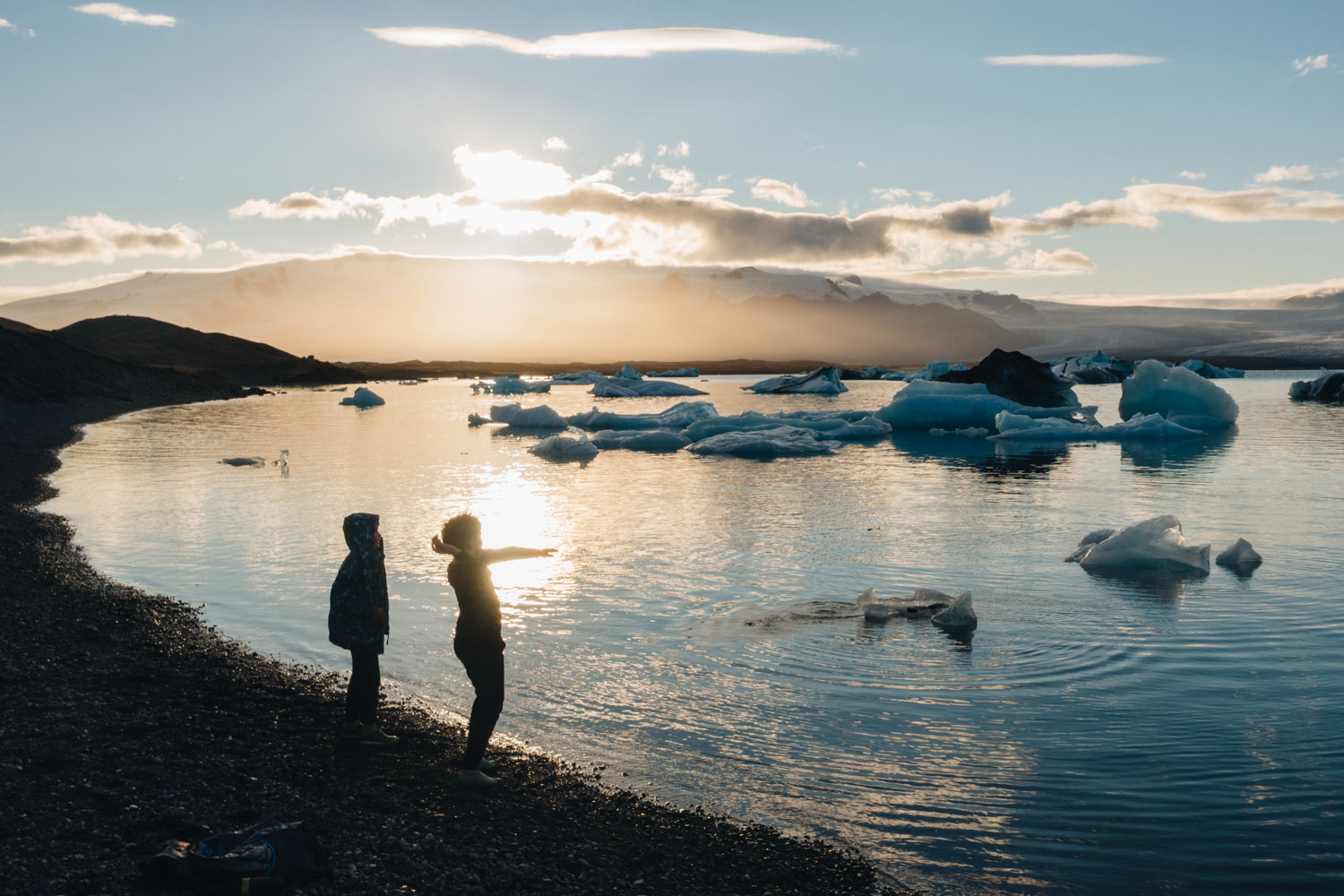 At Jökulsárlón.

Do you have a favorite area or feature of Iceland for family exploration?

I have a ton of places that I love to explore personally, but my experience has shown that places where kids can have hands-on experience are really powerful. A waterfall they can hike behind, a glacier where they can touch ice, a cliff where they can see puffins soar overhead. Those tangible things for kids are key. They remember it much deeper I think.
Was there anything your sons reacted to that surprised you?

YES! They loved the black licorice and the dried fish. Haha, that was a shock because sometimes kids don't like the taste and it was something that made me laugh and smile since it's a good sign they really will fit in well!!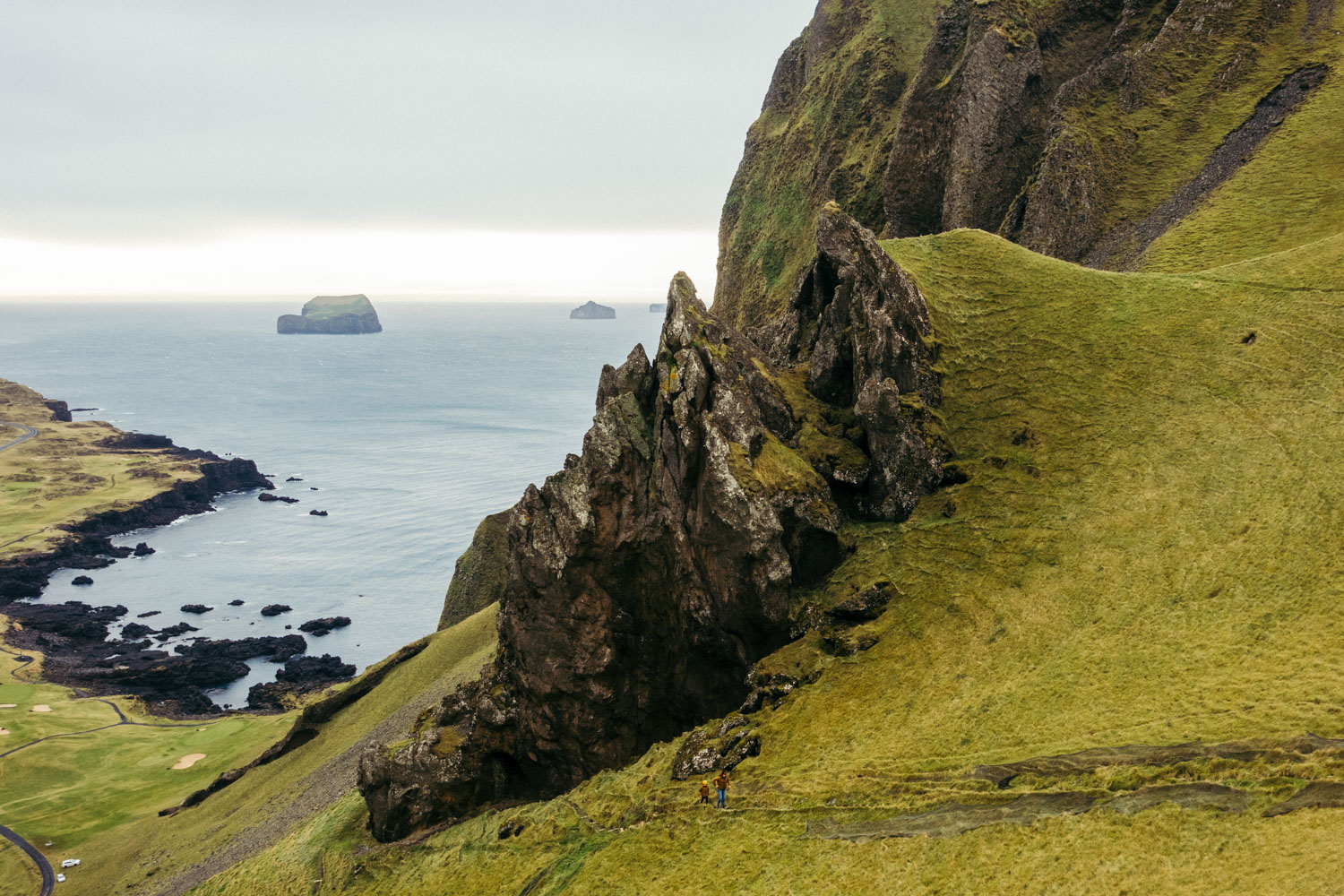 Climbing high on Vestmannaeyjar.

Any unexpected hits or misses?

We definitely made the mistake of exploring a few places where the weather was really terrible and rainy and we didn't bring proper rain gear. Sometimes you think you can just toss them in the car and they will dry off but then your car gets super moist and foggy inside and that can really be a downer. Also having some warm liquids goes a long way to keeping the kids occupied and happy when they get drenched and cold. I always brought some hot chocolate and soup for them after that.
Did your kids open your eyes to anything new? Did you see anything about Iceland in a new light thanks to them?

I think I am constantly learning to appreciate the small things. Or rather re-appreciate them after seeing them with the kids. They were fascinated by the moss and the feeling of it - I hadn't touched it in years, so to see their faces light up as they touched it was really cool. Also the simple things like the community pools with the slides. That was one of their favorite things they experienced. As an adult I'm always looking for that secluded hot spring but for them the pools were the funnest part. It made me appreciate parts of the Icelandic culture I hadn't in a long time.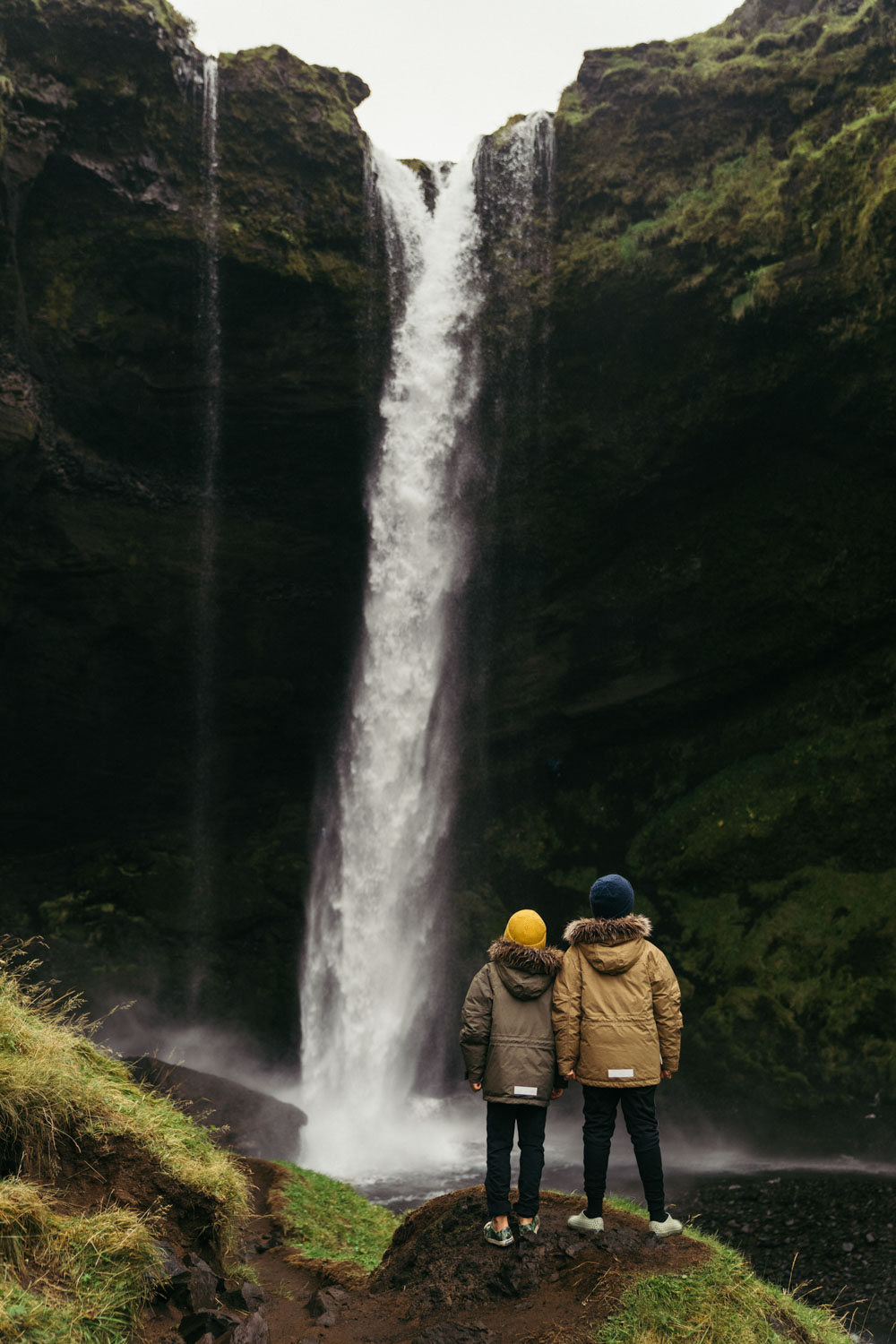 At Kvernufoss.

Many say that Iceland is a brilliant science classroom. Did the trip prompt any questions from your kids about the local geology, geography, nature etc?

Absolutely. Being able to fly over the volcanic eruption and see its smoke was really engaging for them. It allowed me to explain how the landscape was created in a more visual way. I think that all the elements of Iceland help kids imagine how it was created. Many of the museums are pretty exceptional for that. I think that a great first stop in the country is visiting Perlan [an interactive museum in Reykjavík] for them to gain a good understanding of just how things were made and how they continue to evolve.
Do you have any thoughts on growing up in Iceland versus the USA, based on your travels here and your friendships with Icelanders?

I would say that the main thing that attracts me to Iceland is that people truly live in the moment. For thousands of years, they have been forced to, due to the inclement weather, volcanoes and overall savage landscapes that have kept them wondering if they will survive the winter. Although modern advances have allowed them to not worry about those things as much, it is still very much ingrained in the culture. The phrase þetta reddast is one of my all-time favorites because it sums up the fact that amid any trial, the perspective that "everything will work out okay" is truly a beautiful way of looking at life. In the States it can be tough to not constantly look forward to the next thing, the next promotion, next event, next job or whatever. And I think people [in the USA] are generally a bit more focused on the future. Being in the moment is my favorite thing I have gleaned from Icelandic culture and hope to instill in my kids.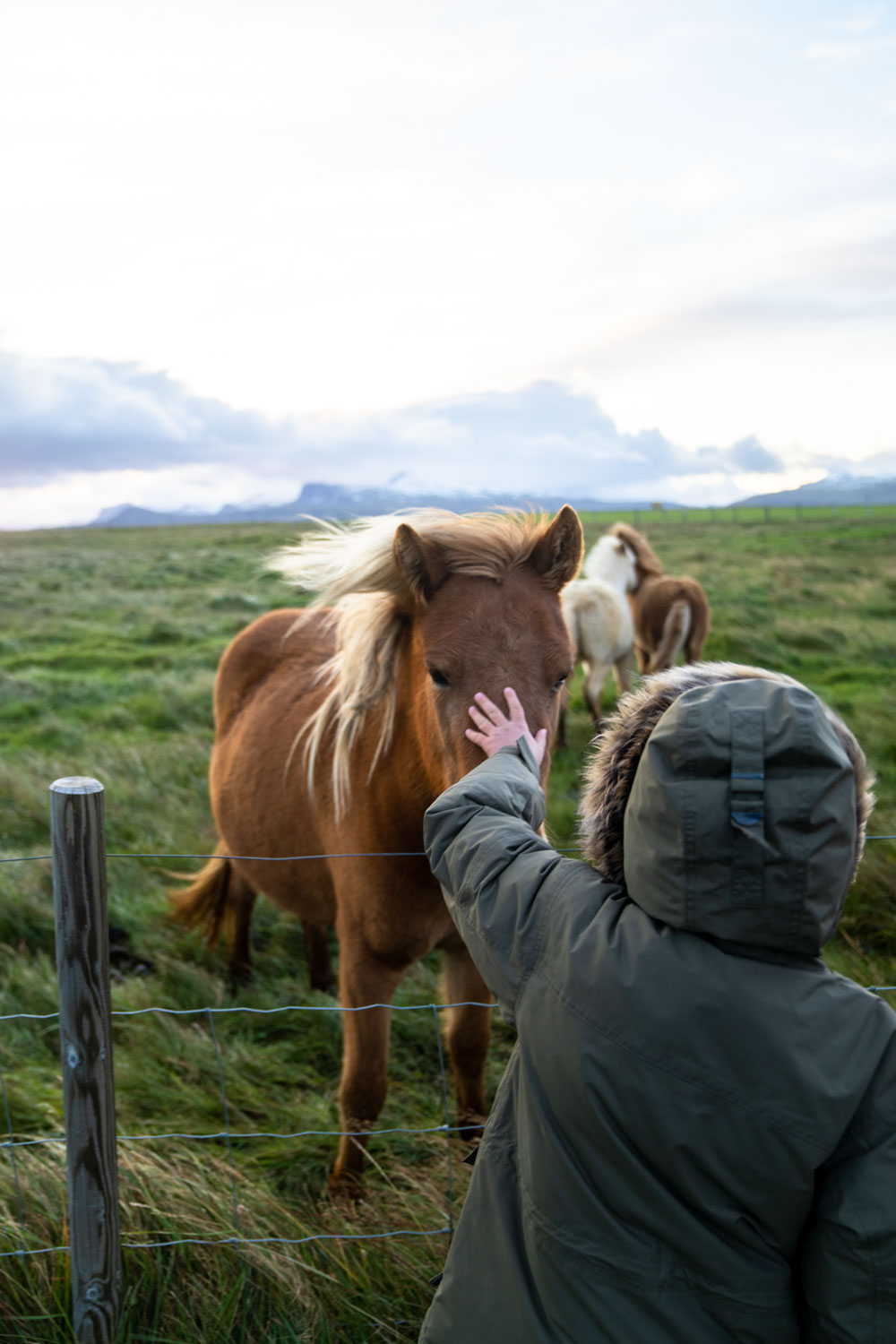 Any thoughts on raising a family in Iceland versus the USA?

Yes, I think that although it comes with its challenges – kids in Iceland learn to make friends easily, are very adaptable, and often are excited to see the world around them. When it comes to raising a family in the country – I hope to someday get the full experience of what that is like.
My only hope right now is that some of the best parts of the culture rub off on my kids so they appreciate a different way of life and culture. I think even just allowing our kids to be around a different language, and a different way of doing things and seeing things, can make them more well-rounded and appreciative in life. That is what Iceland did for me and I wish I had experienced it much younger.

What do your kids want to see next?

They really want to experience the highlands. I have talked about it to them with so much excitement that the idea of traveling to this remote inland environment and staying at a mountain hut has really captured their imagination and they are super excited!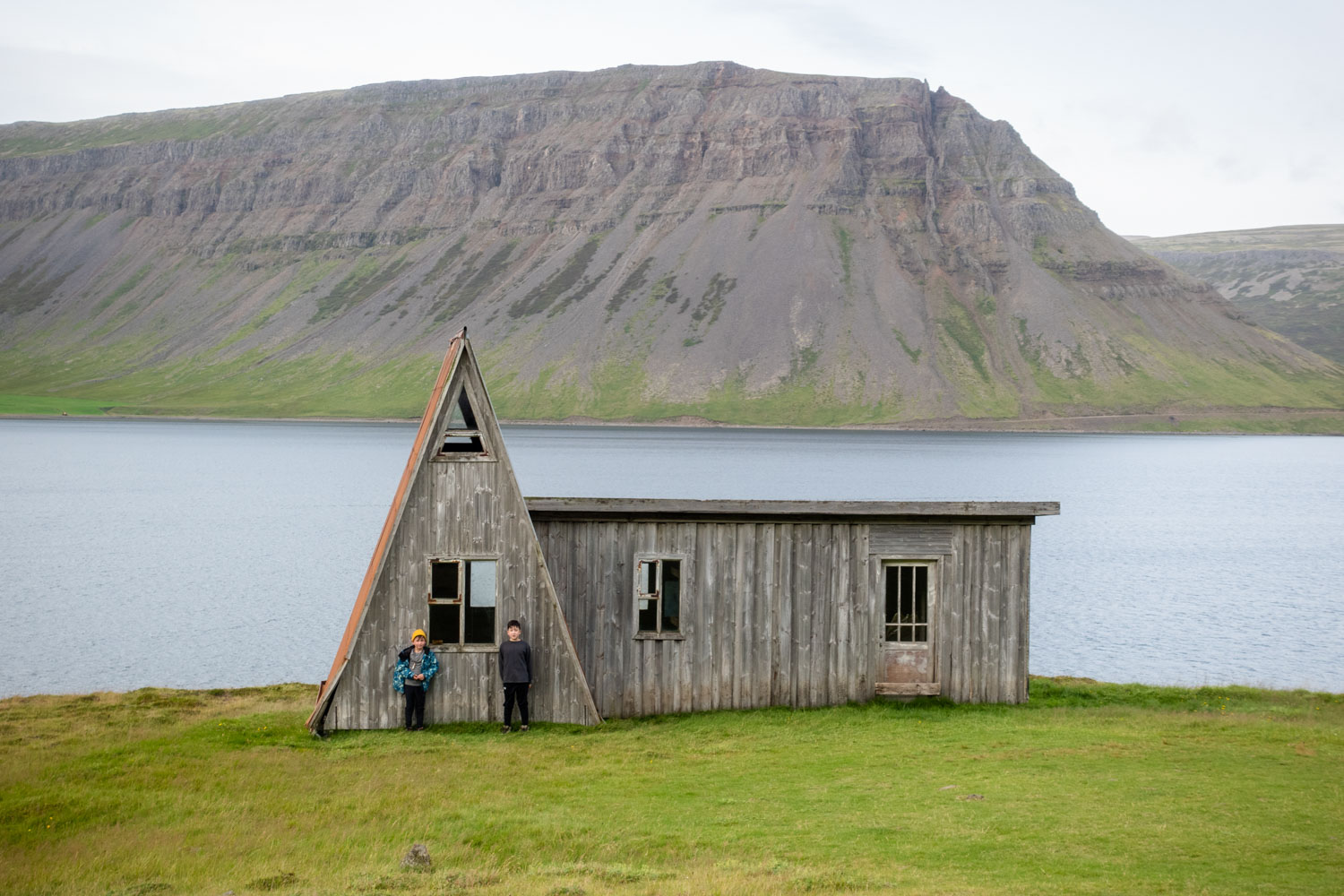 At Fossfjörður, Westfjords.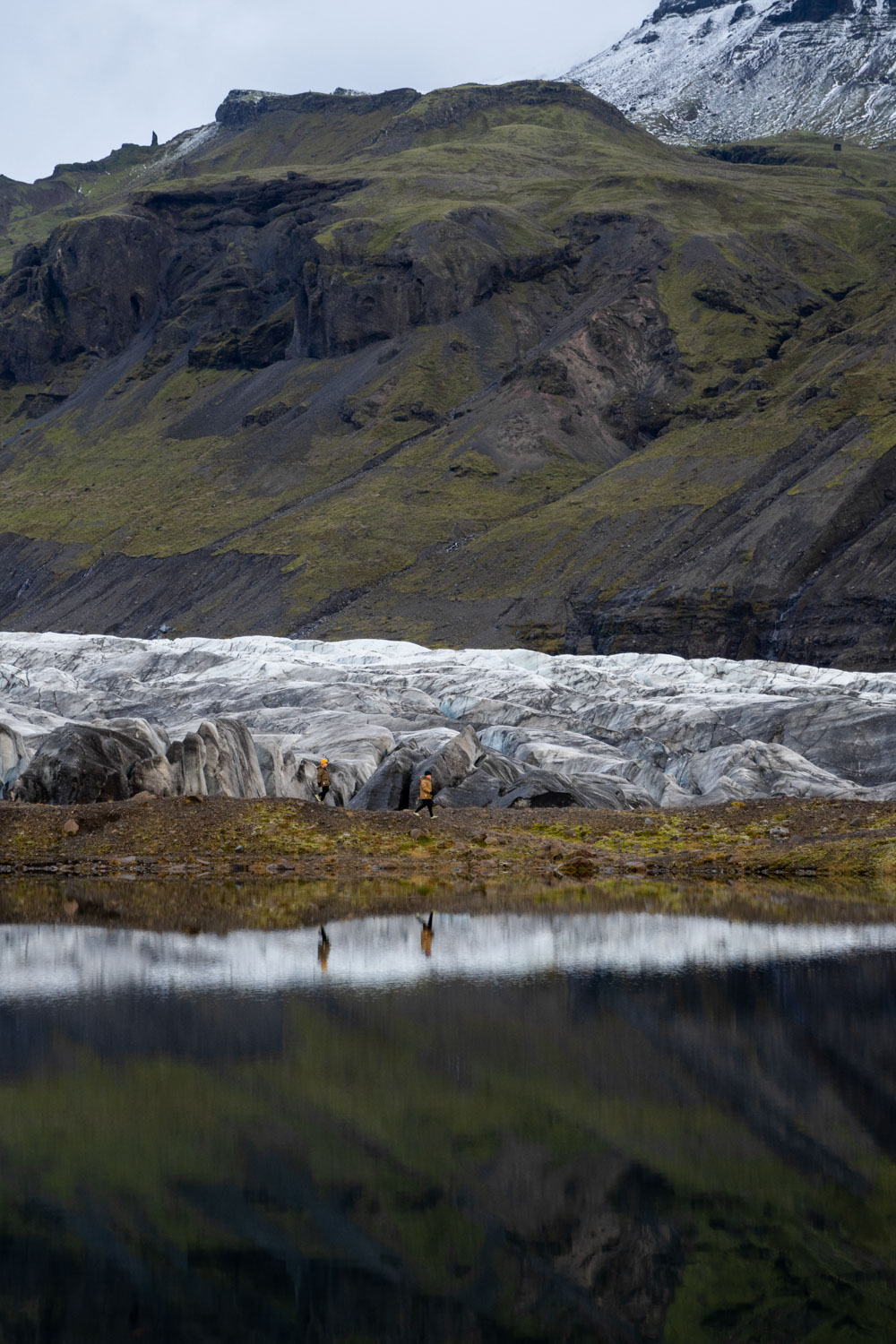 At Svínafellsjökull.

-----
Icelandair welcome families, and always aim to make the flight enjoyable for our youngest passengers, with onboard activities, in-flight entertainment and complimentary meals for kids aged 2 to 11. Read more about family travel with Icelandair.

We connect more than 40 destinations on both sides of the Atlantic from our hub in Iceland. We also fly domestically within Iceland, and between Iceland and Greenland.