01/18/2022 | 3:00 PM
Goals and glaciers: Greenland's footballing future
Is Greenland on your bucket list? Icelandair flies to 4 destinations in Greenland, with connections from North America and Europe via Iceland.
In this feature, journalist Joseph Phelan takes the temperature of football in Greenland.

Greenland is an isolated outpost that splits the Arctic and Atlantic oceans. It is a land of ice, ferocious winds, harsh conditions and, in the long winter months, almost perennial darkness. It is a place with the lowest population density of any country in the world. A place where seals outnumber humans by more than 300 to one, where nearly all settlements can only be accessed by boat.

Yet, despite its apparent inhospitality, it is home to a passionate footballing community; indeed, latest figures suggest around 10% of the population are registered as players. Football is both Greenland's national sport and also the most popular, and while this is true of countless countries across the globe, Greenland has a few notable points of difference.
For starters, none of its football takes place on grass; due to its climate and terrain, all games are played on pitches of dirt or artificial turf. Another key distinction is that Greenland is not a member of FIFA (the international governing body of association football), meaning the national team, currently managed by former Danish defender Morten Rutkjær, cannot participate in major international tournaments.
But that could be set to change. Greenland's football association has big plans for the future, and the appointment of Rutkjær, who in August 2021 celebrated his first anniversary as the national team's head coach, is seen as being the first of many steps designed to bolster, grow and progress the sport throughout the island – and eventually beyond.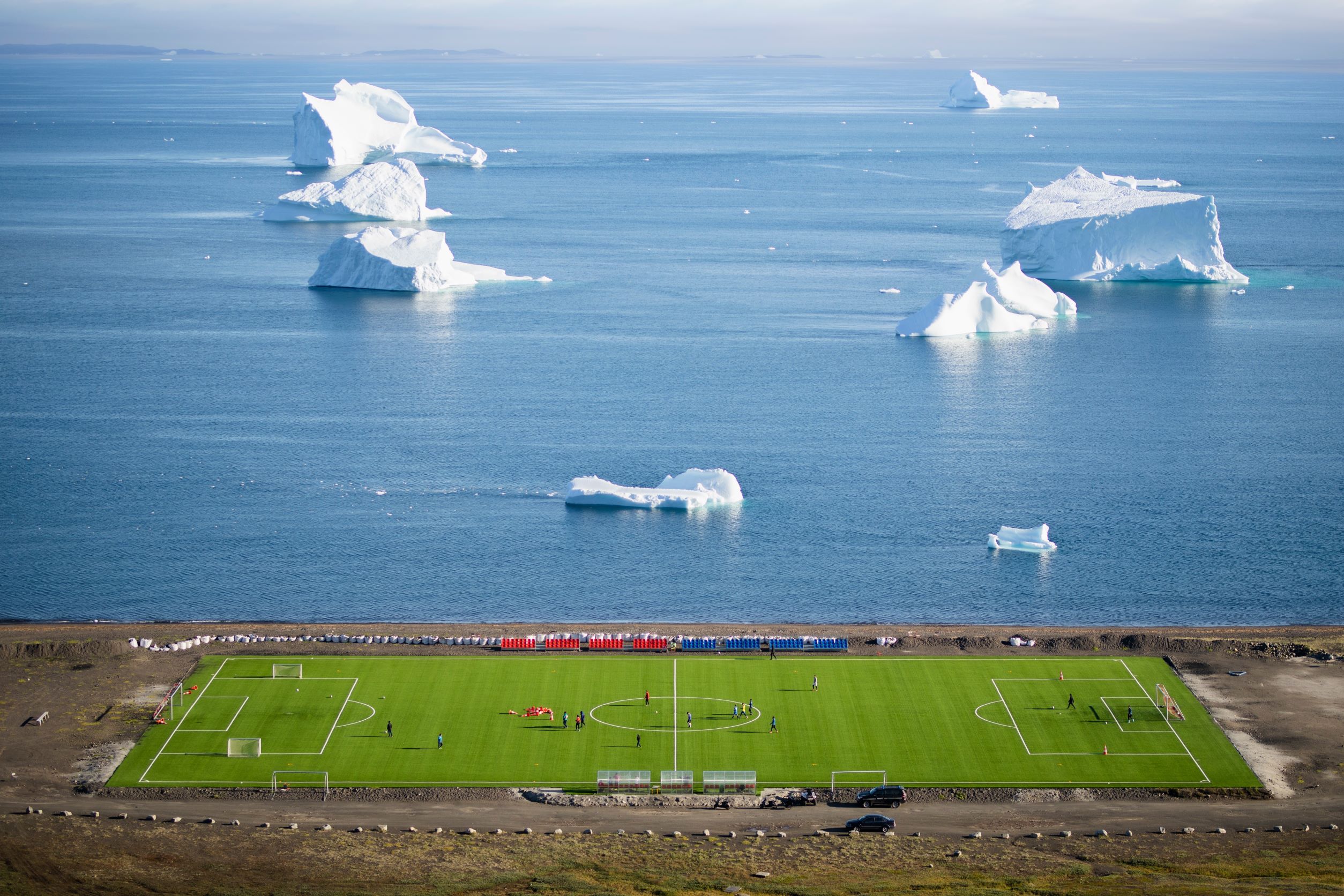 An aerial view of the football field at Qeqertarsuaq. Photo by Aningaaq Rosing Carlsen - Visit Greenland.
Banner photo: Aerial view of a winter football field. Photo by Aningaaq Rosing Carlsen - Visit Greenland.
The Polar Teddy Bears
Greenland's national football team, known affectionately as the Polar Teddy Bears, is currently at the beginning of what could be an incredibly exciting journey.
Though the side played its first ever international fixture in 1980—a 6-0 thrashing at the hands of the Faroe Islands—it has, in the intervening years, seen only minimal progression, largely due to lack of investment and direction. As a result, the country's most promising players—Nuuk-born Jesper Grønkjær being the finest example—have routinely moved overseas to play their football, and have chosen to represent Denmark when presented with the opportunity.
The Greenland FA and Morten Rutkjær are, however, now unified in their determination to catalyze a new era.
Speaking to Icelandair, Rutkjær said: "When I was approached about taking the Greenland job, it took me less than two minutes to make up my mind. It is such an interesting project and I can see so much potential.
"I quickly realized that the job is about much more than just managing football players; the real endeavor is working to build a team that talented people—of which there are many here—aspire to play for, can inspire future generations, and will become an institution that the country can be proud of. This isn't about me: it's about the people."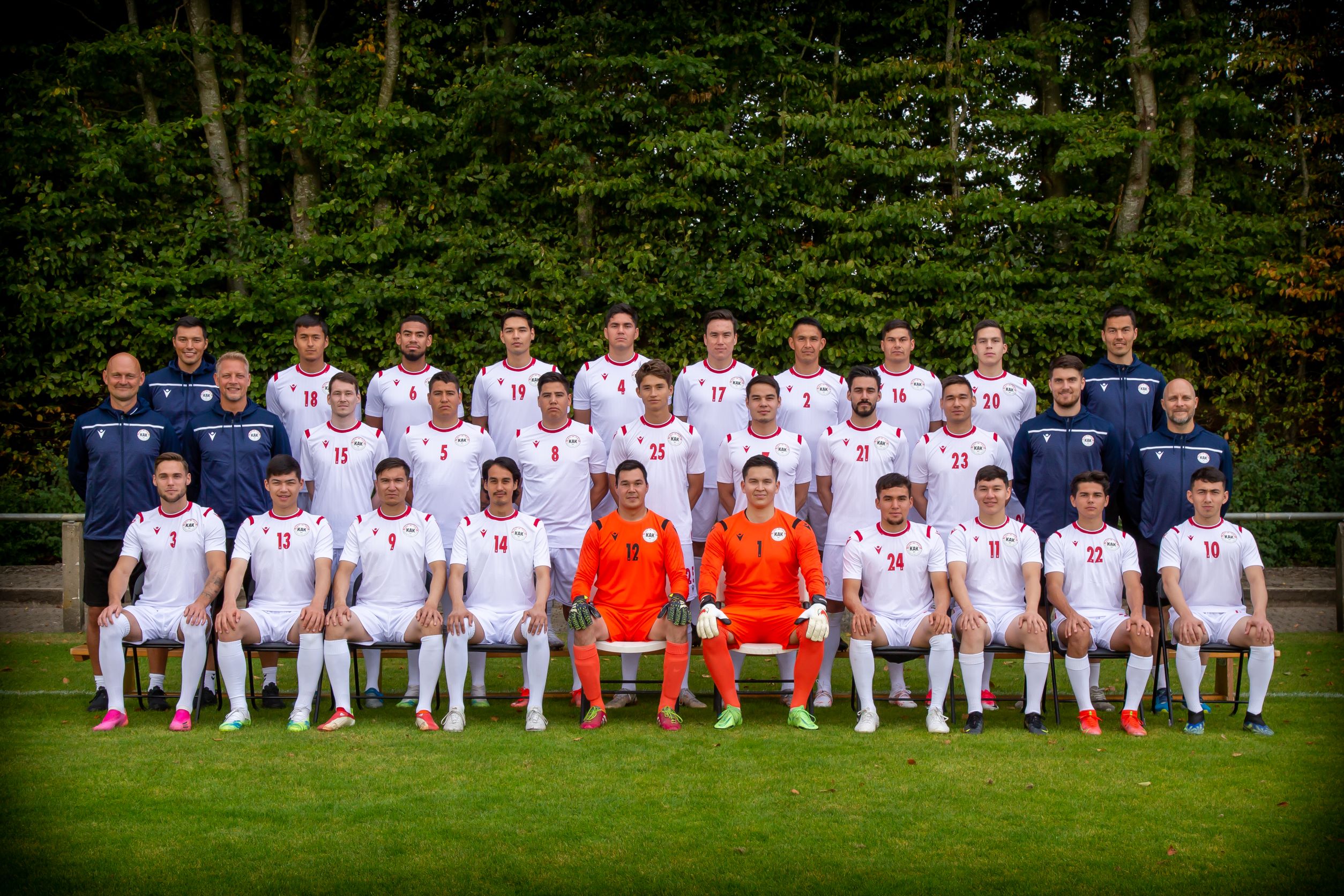 The Greenland football team. Photo provided by the Greenland Football Association (KAK).
The major milestone that Rutkjær and the Greenland FA would like to hit is being able to compete in international competitions, but a number of hurdles—largely FIFA-imposed—stand in the way.
For one, FIFA wants all of its members to utilize grass pitches, something that Greenland simply cannot facilitate. However, more and more teams around the world—from Young Boys in Switzerland to FC Lorient in France—are playing high-level football on artificial pitches, so it seems possible that this rule could be relaxed if the case is made strongly enough. Indeed, in 2010, now-disgraced FIFA head Sepp Blatter stated that he had no issue with Greenland using artificial pitches, though this was considered a personal statement rather than an official one.

Another issue is that Greenland is not technically a country in its own right, something FIFA is not a particular fan of. However, Greenland can take encouragement from the fact that Gibraltar, a British Overseas Territory, was able to join UEFA in 2013, and, despite initially having a bid to be part of FIFA rejected, was ultimately granted membership in 2016.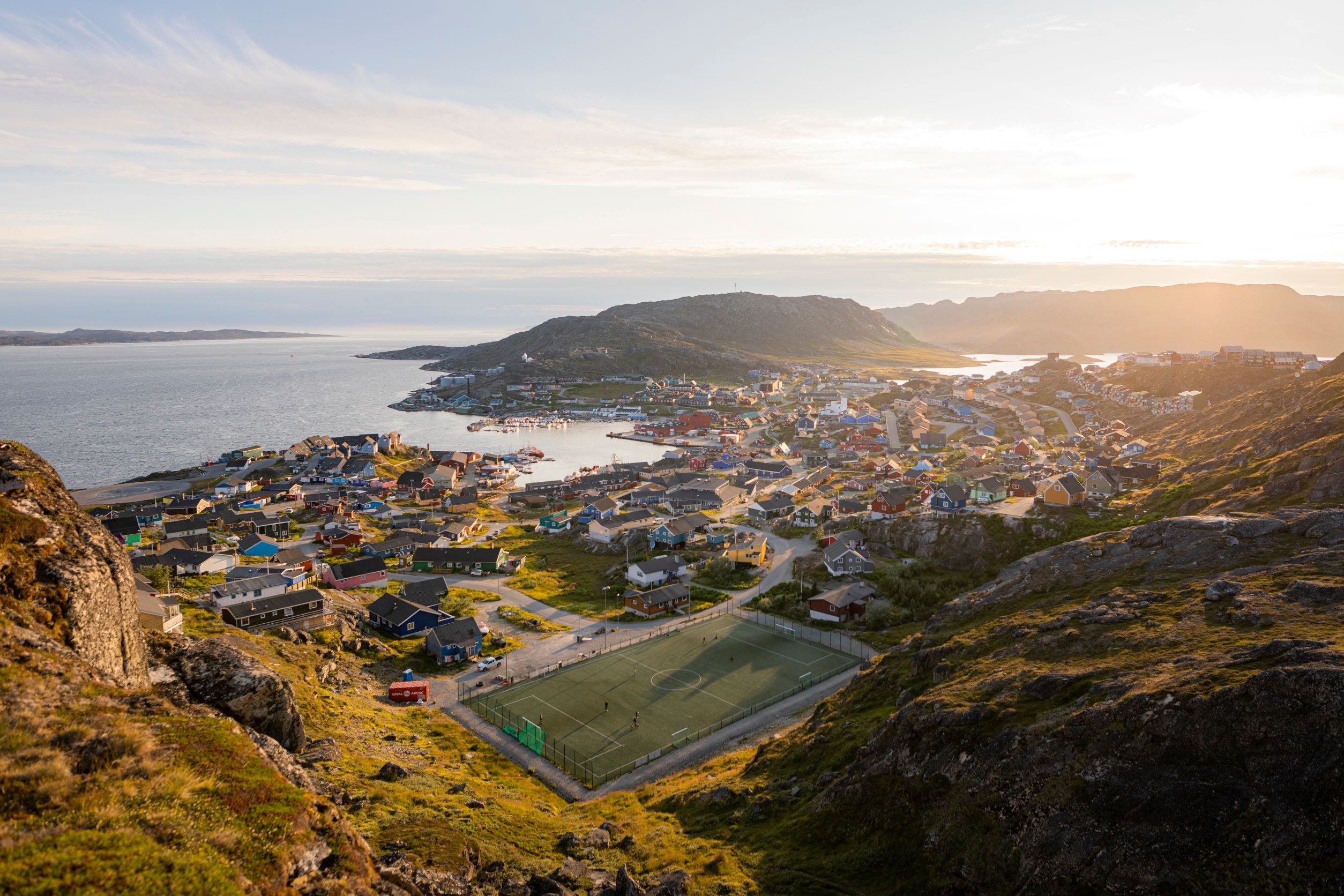 An aerial view of the town of Qaqortoq and its football field. Photo by Aningaaq Rosing Carlsen - Visit Greenland.

The third—and perhaps largest—barrier facing Greenland is its lack of a recognized national stadium. The Nuuk Stadium, where home games are currently held, is stated to have a capacity of 2,000, but this number simply refers to the number of people that would be able to stand beside the pitch during a match. There are no stands—save for some rudimentary benches—and a distinct lack of facilities.
While plans have been drawn up for a stunning new stadium—dubbed the Arktisk Stadion (Arctic Stadium)—that will have 3,000 seats, a lack of investment and economic issues due to the coronavirus pandemic have stalled progress.
"For the long-term future of football in Greenland to be bright, it is essential that a stadium of some kind is built," Rutkjær admits. "Across Greenland we need more artificial pitches. We need to focus on the grassroots side as well, because that's where the talent is nurtured, and that's where we can inspire and educate."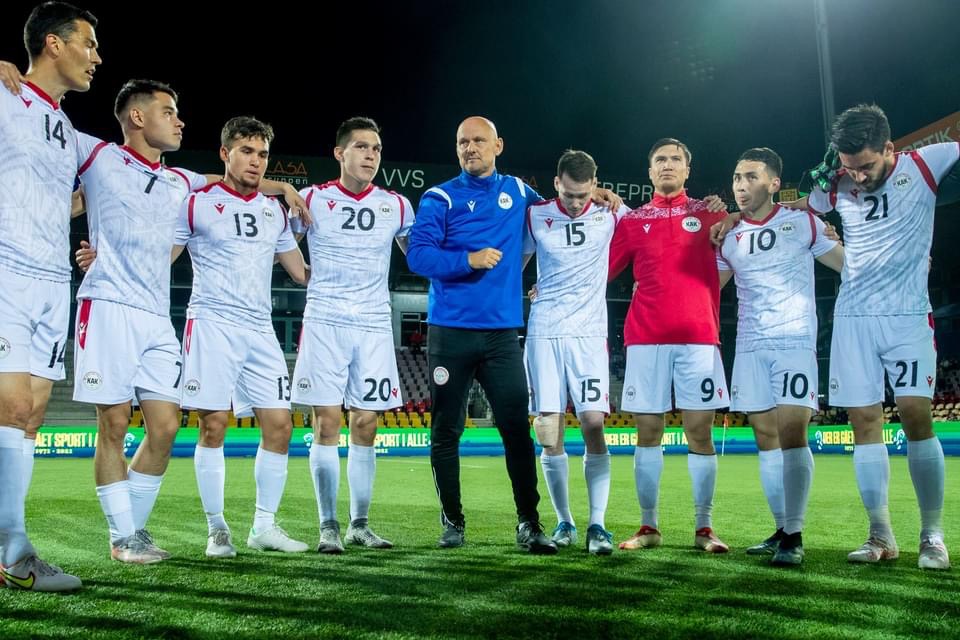 Greenland coach Morten Rutkjær with players on the field. Photo provided by Morten Rutkjær.

The Faroe blueprint
Greenland and the Faroe Islands share a number of similarities. Both have a population of around 50,000, contain numerous small communities built around fishing, and are autonomous territories of the Kingdom of Denmark. When it comes to football, however, there is one clear point of difference: while the Faroe Islands is an official member of FIFA, Greenland is not.
"The Faroe Islands' story is a huge inspiration," says Rutkjær. "I hope that we will be able to follow in their footsteps and do something similar in Greenland. It takes many years, but we have the desire, and that's very important."
The Faroe Islands became a FIFA member in 1988, long before many of the current joining requirements hampering any Greenland bid were put in place.
It has, for much of its membership history, been regarded as an easy opponent for international football's more established teams, but this is no longer the case. They are currently ranked 114th in the world, putting the tiny North Atlantic archipelago ahead of established names such as New Zealand, Angola and Azerbaijan.
Recent wins over Moldova, Andorra and Malta, as well as a 5-1 hammering of Liechtenstein in June 2021—the team's biggest ever win—have showcased that the Islands' footballing stock is on the rise. It has taken time for Faroe Islands to develop, and to craft a grassroots setup capable of nurturing and promoting talented footballers, but just over 30 years after joining FIFA, it is clear that the future is bright.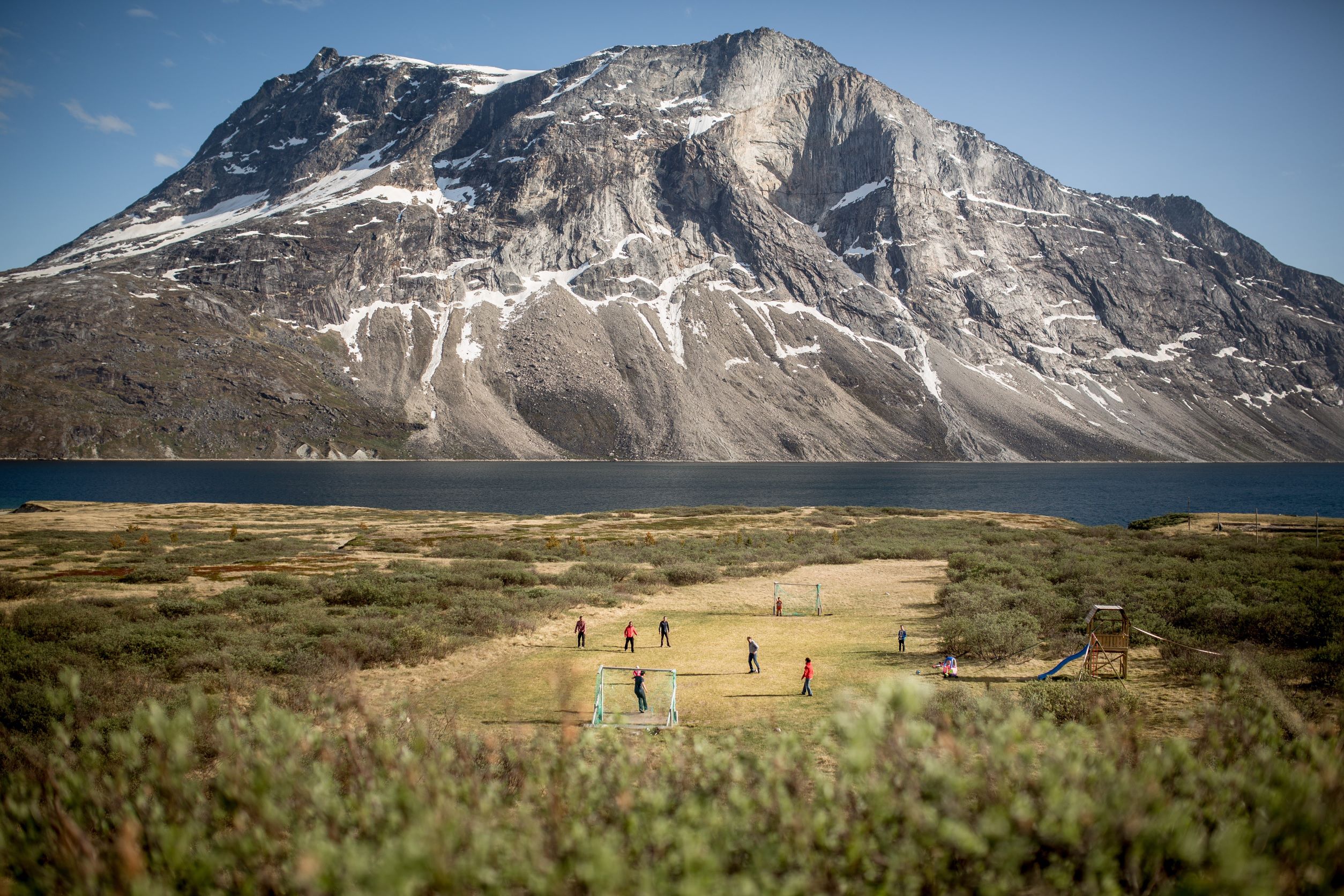 The backcountry football field at Qooqqut, close to Nuuk. Photo by Mads Pihl - Visit Greenland.

Icelandic inspiration
Greenland's ambitions are bold, and are undoubtedly more closely aligned with the Faroe Islands' than any other nation, but the Polar Teddy Bears have also undoubtedly been buoyed by the recent on-pitch successes of neighboring Iceland, who were themselves a relative minnow for decades.
With a population of just 360,000, and given that its long, dark winters are hardly conducive to a sport played outside, it is unsurprising that Iceland, for most of its footballing history, has been overshadowed and outplayed by the majority of its opponents.
However, following decades of steady progress and infrastructure investment, Iceland's men burst onto the international scene, claiming a historic place at Euro 2016. This was the first time the men's team had ever reached a major international tournament, and made Iceland the smallest country ever to play in the competition. Iceland's tournament peaked when the team stunned England in the Round of 16, winning 2-1 to unceremoniously dump the Three Lions out.
Iceland's women reached their first international tournament a few years earlier than the men, qualifying for the UEFA Women's Championship in 2009, putting in three fantastic performances against far more established sides. The women's team has been steadily growing, improving and developing since then, and now, ranked as the 16th best team in the world, will be a force to be reckoned with during 2022's UEFA Women's EURO tournament.
While Iceland has both a far larger population and a more established sporting infrastructure than Greenland, its meteoric rise, and its ability to compete with—and indeed defeat—sides with more resources and funding, showcases that should Greenland be able to establish the requisite foundations, and subsequently build upon them over the coming years, the sky's the limit.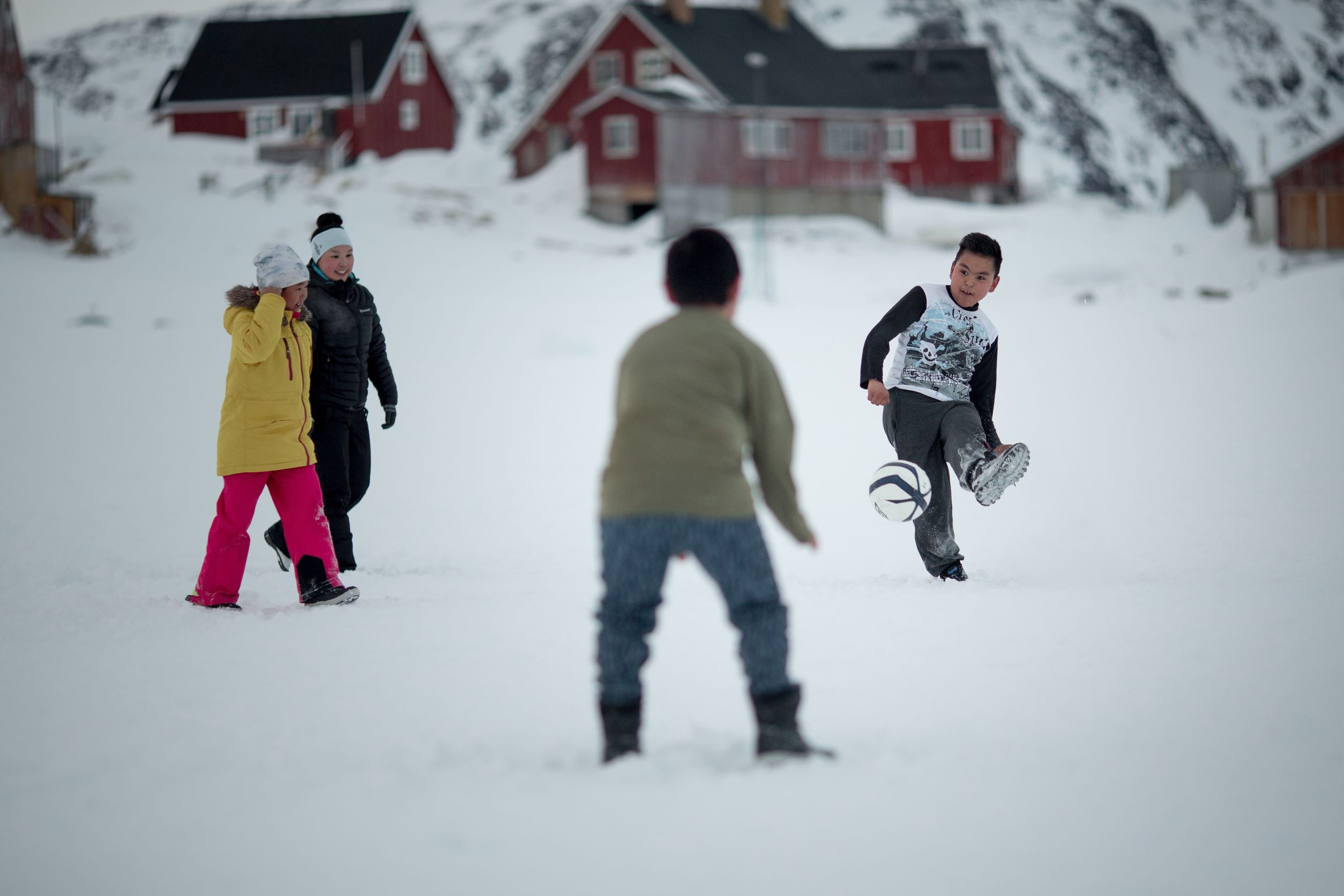 Kids playing football on the sea ice in Kulusuk. Photo by Mads Pihl - Visit Greenland.

What next for Greenland?
The ambition within Greenland's footballing community cannot be denied, and if the money can be found to complete the Arktisk Stadion, then a FIFA bid may not be too far away.
For Rutkjær, the long-term plan is clear. "We are small, so we may not win many matches, but that isn't the most important thing. The key is building something for the benefit of Greenland. I want our supporters and players to be as proud of this project as I am. I am looking forwards, and I want everyone to keep their heads high, because great things are coming."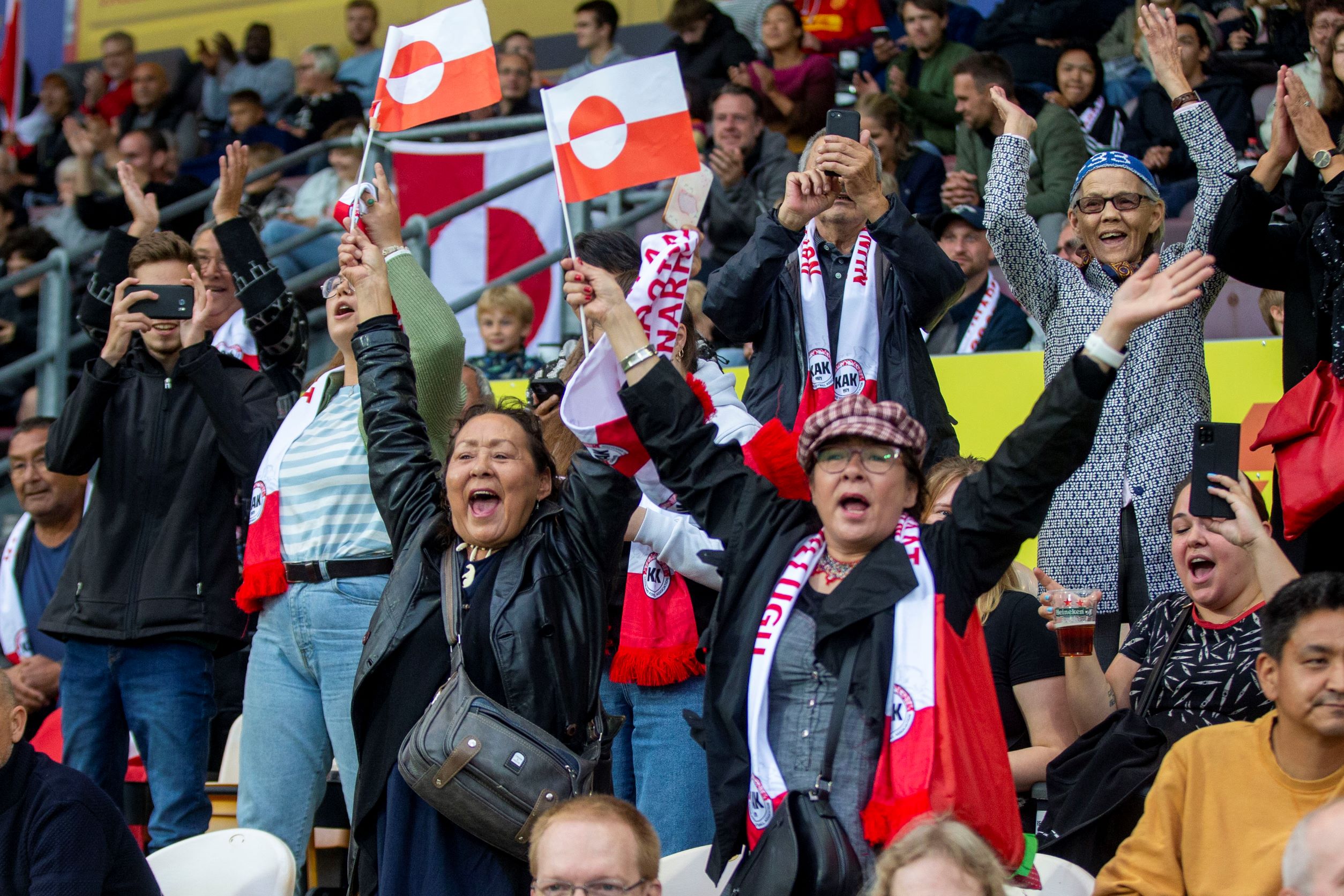 Greenland team supporters in the stands. Photo provided by the Greenland Football Association (KAK).