03/08/2023 | 12:00 PM
International Women's Day
On International Women's Day, we especially like the quote: 'Strong women: May we know them. May we be them. May we raise them.'
We work among many strong women at Icelandair, and we live among them in a country that leads the world in gender equality.
We're proud to bring the spirit of Iceland to the world: gender equality is a key part of that spirit, and one of our core values.
Linda Gunnarsdóttir, Chief Pilot at Icelandair
Linda is the Chief Pilot at Icelandair, leading a team of approximately 560 pilots ("That's like the population of a small village in Iceland," says Linda). The ratio of female pilots working at Icelandair has recently increased to close to 13% – a similar figure to the pre-covid era. That's among the highest ratios of female pilots working for any major airline in the world, a statistic that we are very proud of.
New to the team is Linda's 23-year-old daughter, Birna Katrín Gunnlaugsdóttir, who has followed in her mother's footsteps and will be piloting Dash aircraft on domestic Iceland routes. It's been a dream of Birna Katrín's for a long time, no doubt inspired by her mother.
Linda acknowledges the immense value of having female role models when she was considering pursuing a career as a pilot. (Icelandair's first female pilot, Sigríður Einarsdóttir, retired in 2022 after a 38-year career. For her final flight our female pilots formed a guard of honor, pictured below.)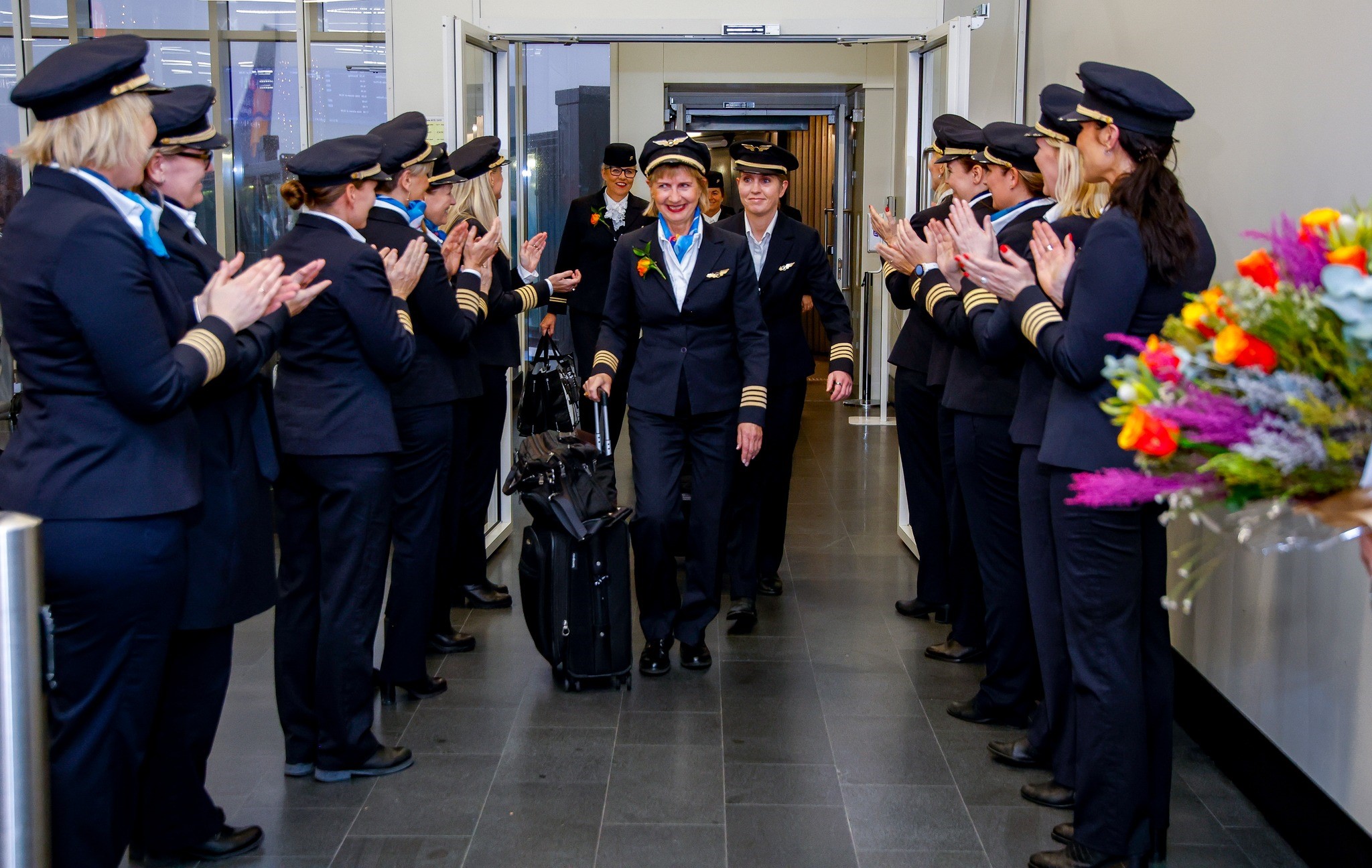 Linda explains, "That surely matters. My own father was a pilot, and in the back of my mind I dreamt of being a pilot. But in those days I didn't think it was an option. But I recall flying to Akureyri and this first woman pilot [Sigríður], she was actually flying. I recall seeing her on the flight and I started to realize that this was a dream that could come true. And I'm very lucky to be born here, in a country where I had the chance. You don't have to go very far from Iceland to see women getting fired when they get pregnant."
Linda and her team work to encourage women to strive to reach their goals. "We try to promote this job as a good opportunity for females as well as males. Let's inspire young girls with stories of successful women in aviation and give them a chance to get the enthusiasm needed to build a career in aviation."
Check out the cockpit images of Linda and Birna Katrín – in 2022, and in 2003. And scroll down to see Linda as part of an all-female crew from 1999.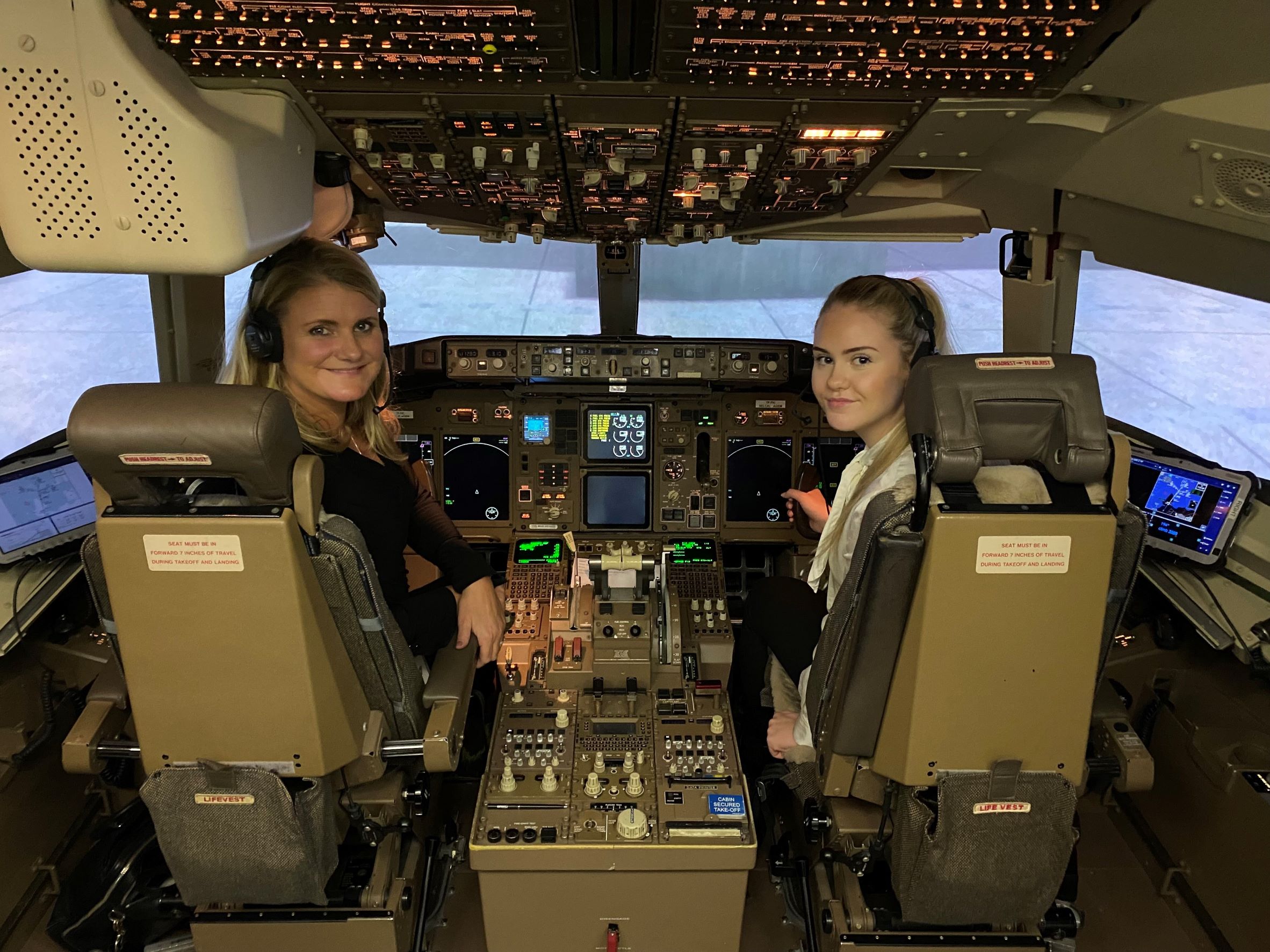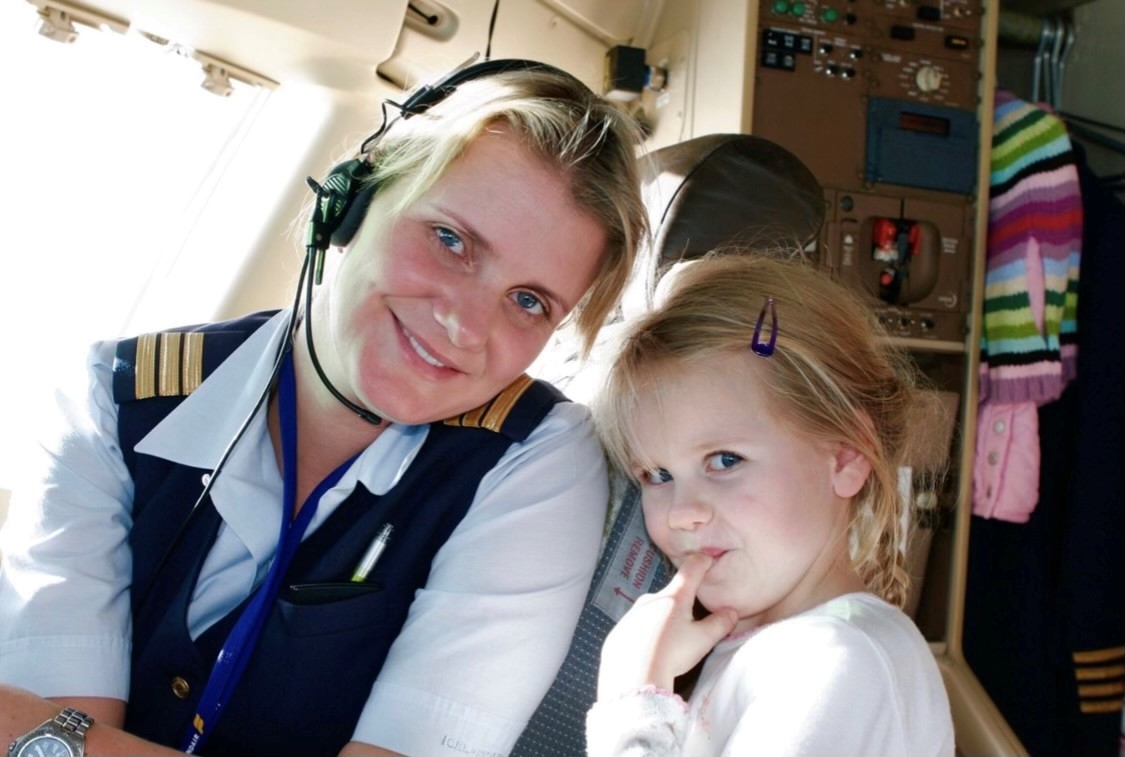 More information?
Watch a 10-minute speech made by Linda at the Global Aviation Gender Summit in August 2018, where she discusses her career, and what's needed to bring more women into aviation.

International Women's Day 2022
In celebration of International Women's Day 2022, we operated a flight staffed by an all-female team.
Flight FI528 flew from Keflavík airport (KEF) to Berlin Brandenburg Airport (BER), and included an all-female staff of cabin crew, pilot, co-pilot, and gate agents (team pictured below).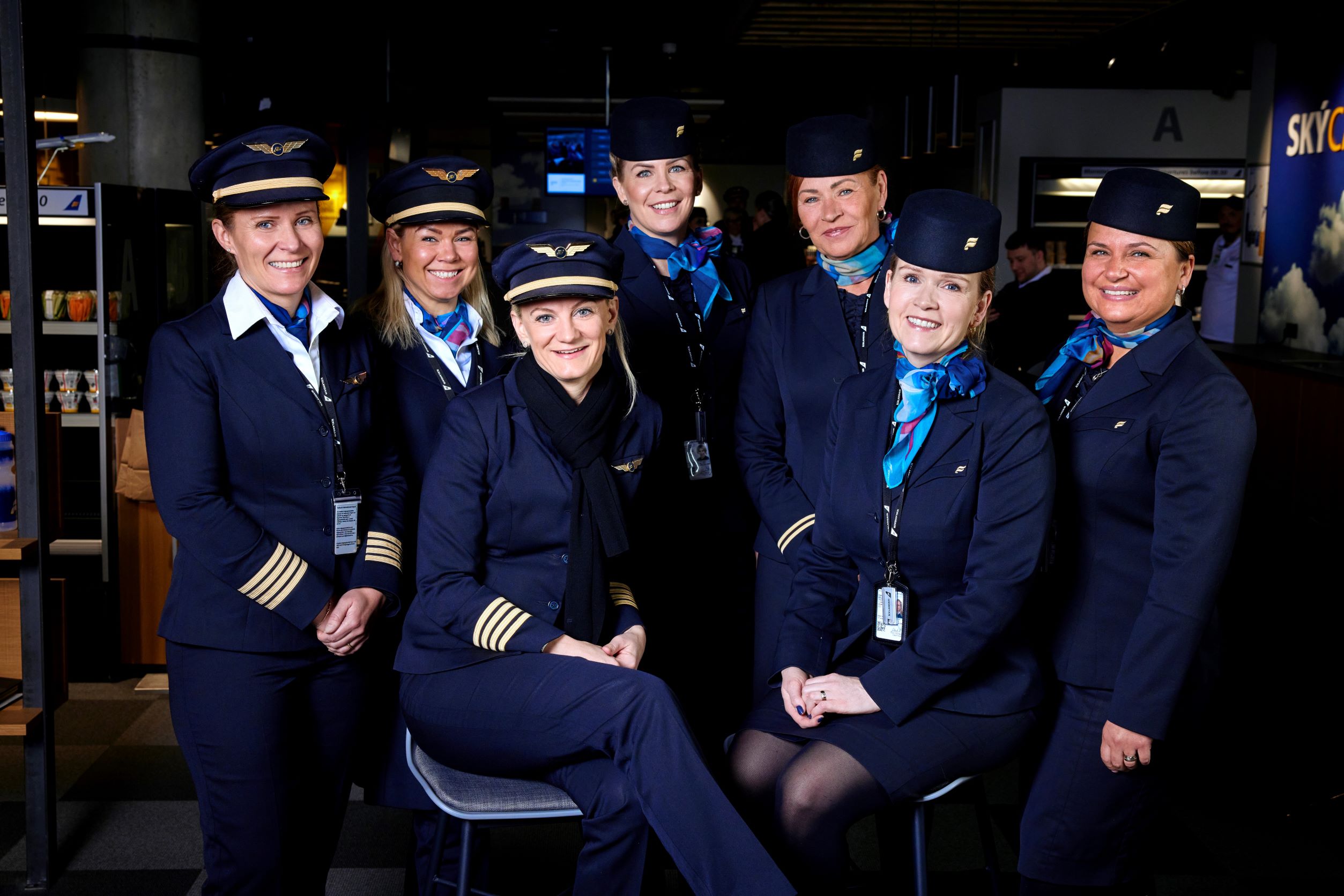 A nod to the past
On Women's Rights Day, June 19, 1999, an Icelandic jet airliner was flown by an all-female crew for the first time (pictured below). The captain was Geirþrúður Alfreðsdóttir, assisted by Linda Gunnarsdóttir. The flight attendants were led by the captain's sister, Katrín Alfreðsdóttir.
Today, Linda Gunnarsdóttir holds the position of Icelandair's Chief Pilot. At the time of this flight, Linda was six months' pregnant with her daughter Birna Katrín – who recently joined Icelandair as a pilot.
Two years after the all-female flight, another notable flight took off with female pilots and male flight attendants – an interesting reversal of the traditional roles of airline crews.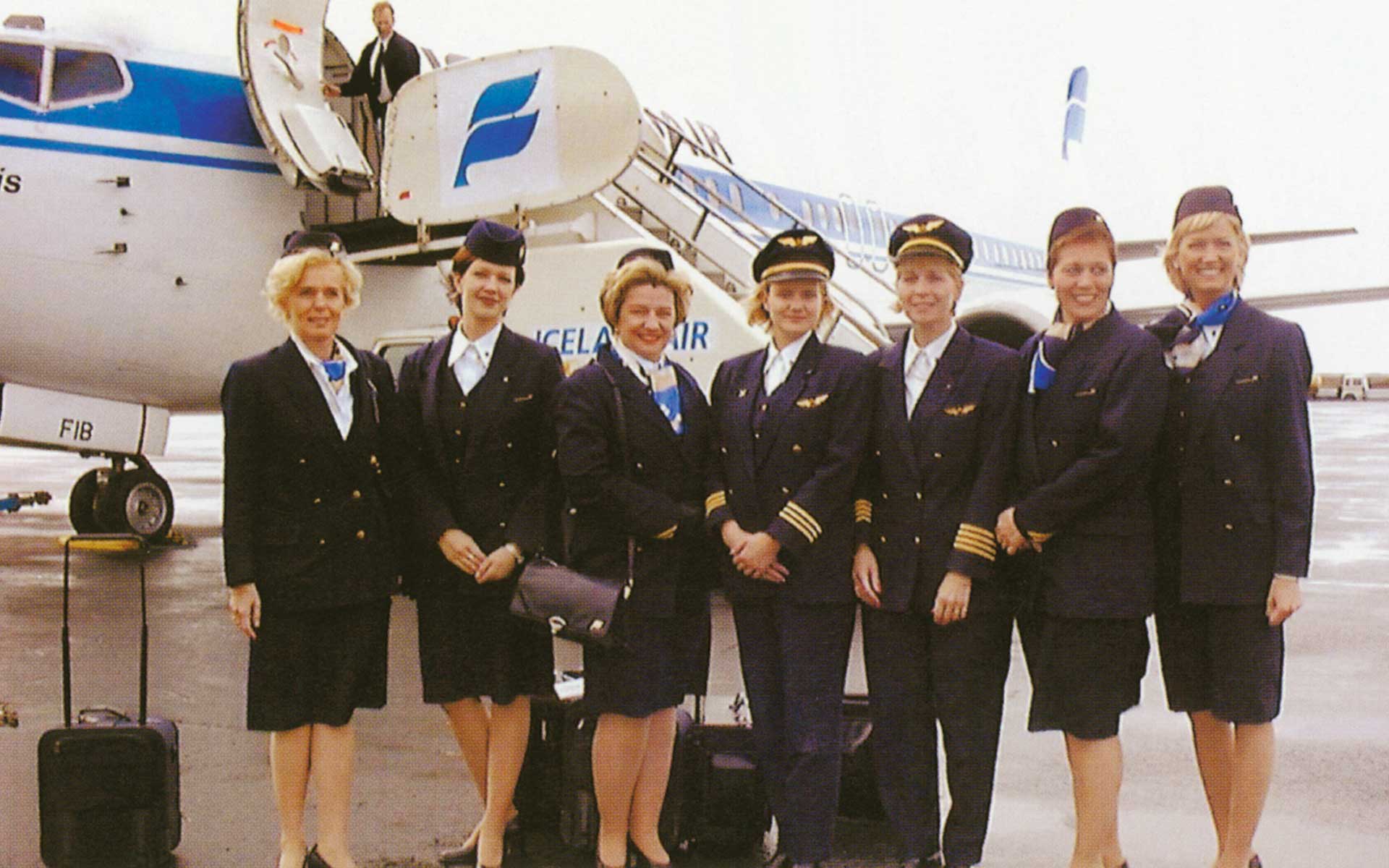 Iceland as a leader in equality
We celebrate Iceland's position as a pioneer of equality and women's empowerment. For over a decade, Iceland has topped the World Economic Forum's annual index measuring gender equality. In its key findings, the WEF writes:
'Iceland has once again been named the most gender equal country, topping the World Economic Forum's Global Gender Gap Report 2022. The Nordic country has closed more than 90% of its gender gap – and tops the ranking for the 12th year in a row, out of a total of 146 economies in the 2022 Global Gender Gap Index.'
As part of Icelandair's commitment to bring the spirit of Iceland to the world, we aim to be a global leader when it comes to improving gender equality in the world of aviation.
About a decade ago, there was only 1 woman of 5 Board Directors and the Executive Management team was exclusively men. Today, women represent 40% of the Board of Directors, 33% of the Executive Management team, 42% of other management positions, and 41% of overall management positions.
25by2025
In recent years, we have worked systematically towards progress on gender equality through our active gender equality program and equal pay policy.
As part of IATA's (International Air Transport Association) '25by2025' equality project, we have set the following goals:

To ensure an equal gender balance in the management positions – never less than 40% of either gender in management positions
To increase the number of female pilot positions by 25%
To increase the number of male cabin crew positions by 25%
To increase the number of female aircraft maintenance technicians by promoting the job and education to girls.
More on this topic
In 2022, Iceland's First Lady, Canadian-born Eliza Reid, published a book titled Secrets of the Sprakkar, covering 'Iceland's extraordinary women and how they are changing the world'. It offers a great examination of the status of women in Iceland. You can read an excerpt from the book in our blog post, Eliza Reid: Secrets of the Sprakkar.
Iceland Travel has a great post about Icelandic Women: Myths, Role Models & History.
Icelandair Group's Annual and Sustainability Report for 2021 has detailed information on our equal pay policy, equality objectives and opportunities, and relevant staff numbers. The 2022 report is due to be published March 9, 2023.
The Icelandic Women's Rights Association has excellent resources on gender equality in Iceland.