Book your flight to Alicante with Icelandair
Fly in the next three months: Flights to Alicante
Please use the search function at the top of the page to find our best flight deals
*Fares displayed have been collected within the last 72hrs and may no longer be available at the time of booking
Plan ahead for your trip to Alicante with Icelandair
Please use the search function at the top of the page to find our best flight deals
*Fares displayed have been collected within the last 72hrs and may no longer be available at the time of booking
What to see and do in Alicante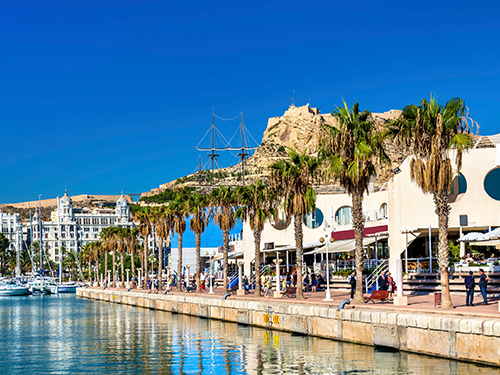 What to expect in Alicante
The port city of Alicante lies on the coast of the Mediterranean, more precisely Spain's Costa Blanca, the white beach.
The city has everything you'd expect from a perfect holiday destination.
It boasts a warm and mild climate, plenty of golden beaches, leisure activities for all ages, the natural beauty of the Mediterranean, a visible history and a varied culture, as well as two thrilling waterparks. What's not to love?
Benidorm and other charming Spanish holiday destinations are just a short distance away too, and a drive to the big city of Valencia takes just 90 minutes.
Getting around Alicante
Alicante is a relatively small and flat city, making it the perfect place to explore on foot.
It's full of colorful, unique buildings and cute cobblestone streets that you risk missing out on if you drive everywhere.
That being said, if you're travelling a little further or simply need to give those legs a break, then Alicante has an abundance of public transport options, including the bus, tram and plenty of local taxis.
Plus, if you fancy renting a car to explore those hidden gems or take a trip out of town, then driving in Alicante is fairly easy with relatively low traffic and ample parking spots.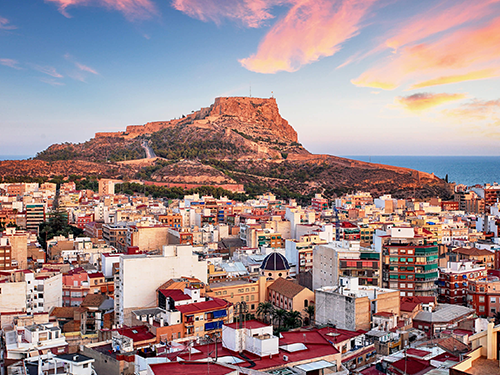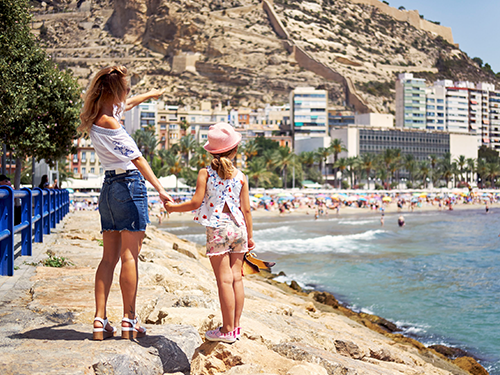 The best time to go to Alicante
Alicante is a bustling city to visit all-year round, and thanks to its Mediterranean location – it remains pretty warm for most of the year. Even in the winter, you can still don your shorts and sliders.
For sun-seekers, the best time of the year to book flights to Alicante is between June – September. You'll find the skies at their bluest and the sun at its hottest this time of year. However, expect to have to battle it out for a sun bed, as this is this is also the busiest time of the year in Alicante.
If you're looking to beat those summer crowds and don't mind the slightly cooler temperatures, visiting Alicante during its sholder season (November – April) may be the perfect time for you. Plus, you might be able to bag yourself a better deal on flights and accommodation, too.
Things to do in Alicante
Everyone who comes to Alicante for a refreshing holiday in the sun can find something to their liking: a game of volleyball at the beach, a dip in the ocean, a golf course with a view of the Mediterranean, a good book under a sunshade. Whatever it is you're seeking, you'll find it in Alicante.
In a city with a long and rich history, there's plenty for the eye. Take in the atmosphere and historical beauty of the old town on an evening wonder, perhaps stopping by the main town square, Plaza de San Cristobal, where the architecture of the baroque era greets you in all its splendor.
You won't want to miss the city's most majestic construction, the fortress Castillo de Santa Bárbara, which overlooks the city from its seat on top of Mount Benacantil.
The oldest parts of this historic edifice go back to the ninth century and the view it provides over the town and out to the deep blue ocean is no less impressive than it was back then.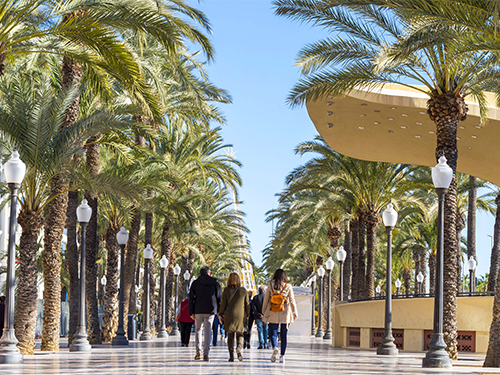 Places to eat in Alicante
The basic ingredient of Alicante's traditional cuisine is unsurprisingly, given that this is a port city, fresh seafood.
Rice is no less esteemed in Alicante's culture either, and it's not just used as filling. There is a tradition of taking great care in the preparation of rice in Alicante, and many a classic rice dish exists. Arroz a banda is not the same as arroz con costra!
Alicante also has its own variety of sweets. The local favorite is called Turrón de Jijona, and is composed of nougat mixed with almonds and honey. Locals associate this traditional candy with the Christmas season. Be sure to give it a try!
From the city's main street, Explanada de España, you'll find a wealth of places to eat on a night out. In fact, all across the old town there are thriving bars and restaurants, both traditional and modern, which are certainly worth a visit.
Exploring Alicante's culture
Alicante comes alive in the summer, when various cultural events take place and the street performers are in full swing.
The Noche de San Juan, or St John's Mass, is a standout event, taking place on June 24th each year, during which bonfires are lit across the city, supposedly to drive away evil spirits.
You can also take the opportunity to visit some of the city's museums and take in the cultural and artistic history of the region. Among the highlights are the MARQ Museo Arquelógico de Alicante and the Museu de Belles Arts Gravina.
And there's no reason why you shouldn't venture out of Alicante for the day, either. Pay a visit to the beautiful island of Tabarca, which offers its own kind of comfortable beach life and beautiful natural environment.
The island was declared a reserve for marine life in 1986. It's therefore the perfect place to witness the beauty and color of the underwater world whilst you do a spot of snorkelling.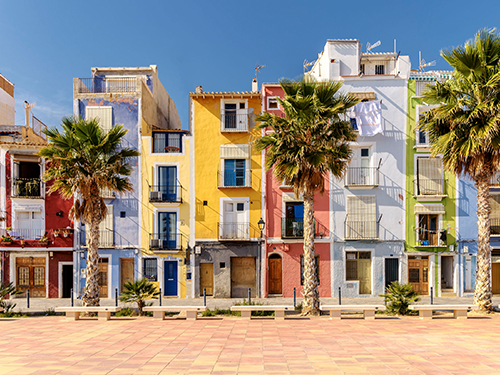 FAQs about travel to Alicante
Helpful information for travelers to Alicante
Does Icelandair offer flights to Alicante from Canada?
When can you book cheap flights to Alicante?
Which airport do I fly into for Alicante?
How long is the flight from Canada to Alicante?
Make the most of your trip