What to see and do in Geneva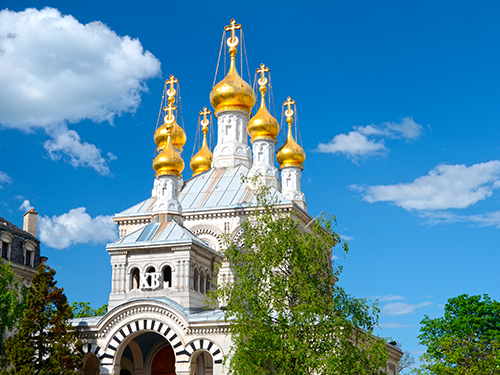 Best time to fly to Geneva
The most popular time to fly to Geneva is during the summer months of June – August, with crowds of locals and tourists flocking to the lake shores. . It's warm and sunny but never gets too humid due to the high altitude.
Geneva is also a popular destination during the winter months of December to March. The nearby ski resorts are full of keen skiers and snowboarders during this time.
The months of November and May are typically the quietest because they're in between the high seasons of summer and winter. But from the beautiful Alpine spring in April-May to the cold but festive months of December-January, Geneva is a wonderful place to visit all year round.
Whenever you choose to travel, make sure to book your flight tickets to Geneva well in advance for the best deals.
Getting around Geneva
Public transport in Geneva is incredibly efficient. Its interconnected system of buses, trams, trains and mouettes (yellow transport boats), all of which use the same tickets, which can be bought at machines at every bus or tram stop.
Flagging down a taxi isn't easy, and there are only a handful of taxi ranks around the city. It's, therefore, best to hire a cab in advance or have a taxi company number saved on your phone if you want to travel by car.
Getting to and from the airport is also straightforward. You can take a 6-minute train ride from the airport to the city center, and there are trains departing every 12 minutes during peak hours.
You can also continue onwards from Geneva to France via train directly from the airport.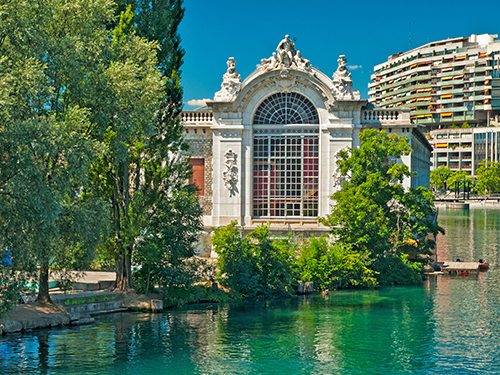 Things to do in Geneva
Home to big-name international organizations, mountain vistas and lakeside parks, Geneva is the perfect combination of class and cosmopolitanism with a good serving of natural beauty on the side.
The city has a great supply of world-class museums to explore, dedicated to the history, art, and local traditions of Switzerland, including their internationally celebrated watch-making. You can also visit some of the high-caliber establishments that reside here, like Palais des Nations (home of the UN) and CERN, an innovative hub of scientific research.
Geneva is also renowned for its shopping scene. Whether you want to explore high-end retail on the parallel streets of Rue du Rhône and Rue du Marché or visit flea markets and antique stores in the Old Town, you won't be disappointed by the retail opportunities.
Before heading home, why not pick up some signature souvenirs? Geneva is home to lots of chic boutiques that sell the nation's signature staples, including jewelry, watches, and perfectly packaged chocolate treats.
Dining in Geneva
When you're done exploring, why not unwind with a lakeside picnic or promenade? Lake Geneva (called Lac Leman in French) is Europe's largest lake, and in summer the locals swim at inviting beaches and pavilions.
In fact, one of your best (and cheapest) meals might be a picnic in one of the city's fine parks.
Find local flavor in the Old Town on Place du Bourg-de-Four, Geneva's oldest square. Classy and cool cafes and bistros are plentiful in the pretty Carouge neighborhood (billed as the Greenwich Village of Geneva), and Pâquis provides a fertile hunting ground for global cuisine and late-night bars.
If you're after traditional local specialties, look out for cheese fondue, or try a smoked sausage known as saucisson vaudois, or pan-fried lake fish. And of course, tasting Swiss chocolate is a must.