07/26/2019 | 1:26 PM
​Getting into hot — and cold — water
"I want you to meet Stephanie. I spend a lot of time with her—she's mostly the reason that my wife and I split up," Erlendur Bogason said with such steely stoicism I was only half-sure he was joking. "She's my pet wolffish," he added with a smirk, pointing to the water out the window where she lives.

Erlendur is the custodian of three delicate chimneys, called strýtur, in Eyjafjörður, one of Iceland's longest fjords, taking eager scuba divers like me deep below the sea to mingle with legions of spawning cod and explore Stephanie's rock garden—true to her reputation, she found a cozy spot between my legs as we knelt on the ocean's sandy floor.
Erlendur's outfit, the aptly named Strýtan Divecenter, offers diving courses and tours from Hjalteyri, near Akureyri, North Iceland's largest town. And the hallmark experience is witnessing the awesome, ancient power of the strýtur—imagine: As you venture deeper, the icy water begins to warm. As a child, Erlendur heard stories of strange protrusions in the sea from sailors measuring their fishing grounds—20 years ago he helped discover the hydrothermal conduits connecting the surface of the planet to the center of the earth, pumping up hot water that scientists believe to be over 10,000 years old.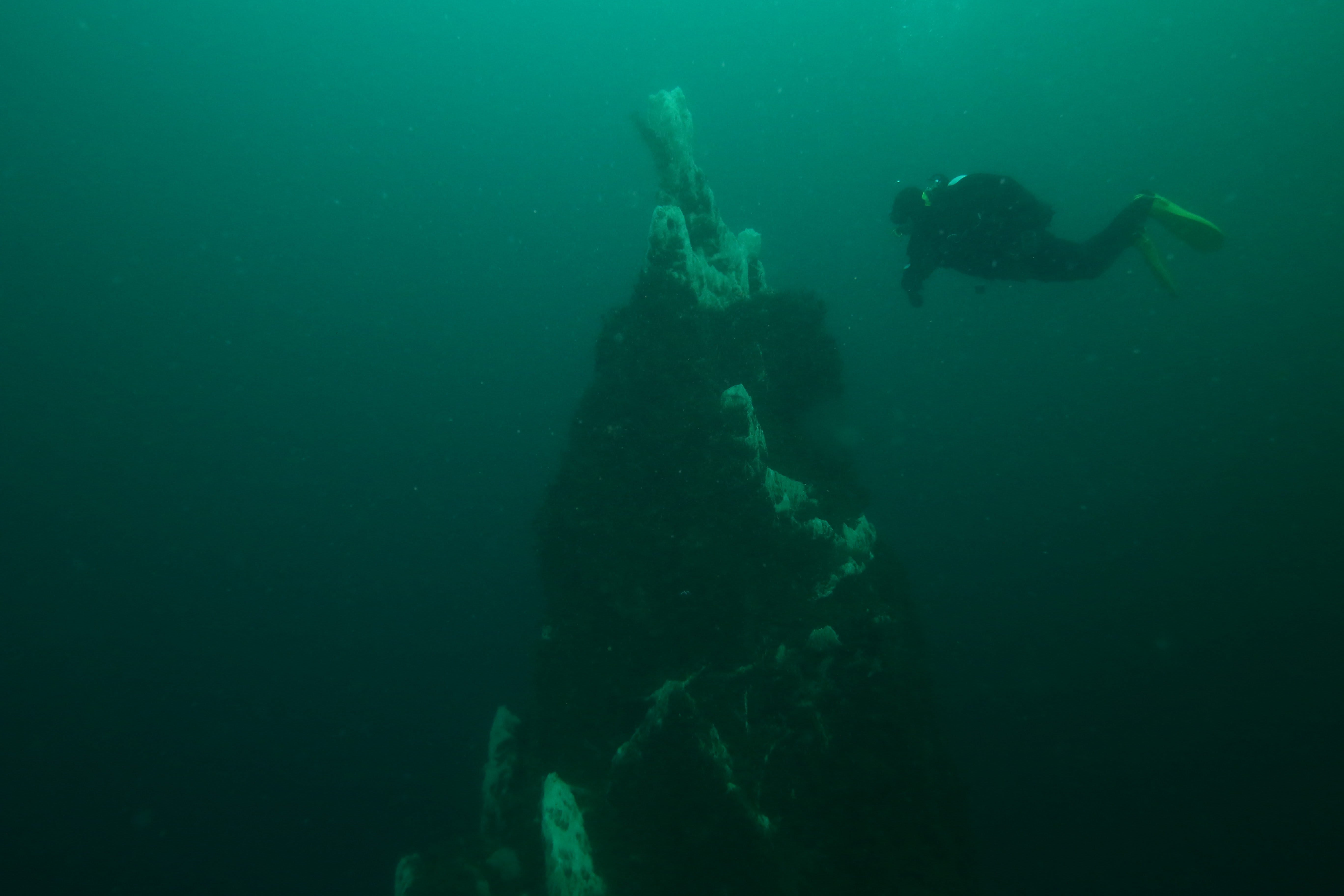 Scuba diving around Strýtan. Photo by Erlendur Bogason
Up the road in Árskógssandur, you'll find Bruggsmiðjan, the nation's first microbrewery, which started serving Kaldi, its wildly popular beer, in 2006. Originally an idea spawned from a news report about craft draughts in Czechia, Bruggsmiðjan's founders recently returned to Eastern Europe to garner inspiration for their next concept: beer baths. Turns out a concoction that may not be so good for the liver does wonders for the skin—guests soak in a mixture of the area's legendary mineral water topped off with live yeast cultures, hops and gallons of beer in its earliest stages of fermentation at Bjórböðin Spa. You can also enjoy a cold one the old-fashioned way in a pint glass to help wash down some delectable lamb or Arctic char at the onsite restaurant. And for those who are less inclined to suds up in a tub of ale, there are oversized barrel kegs on the fjord-side patio, filled to the brim with good 'ole H2O from a nearby spring.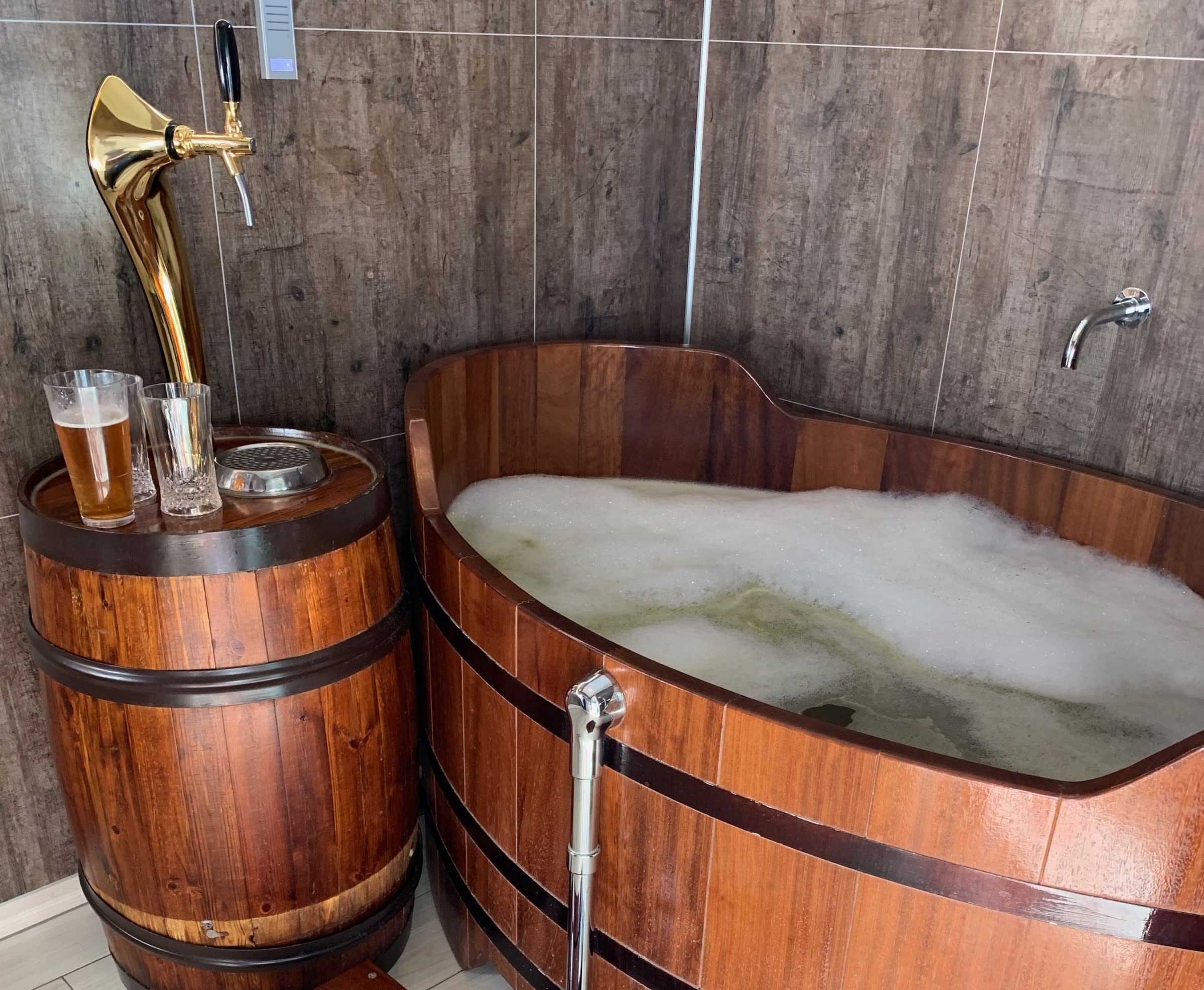 Beer bath. Photo by Brandon Presser
On the far side of Eyjafjörður—plus an hour's drive further beyond—is the coastal village of Húsavík, where hot-water wellness is brewed in a completely different manner. Long famous as Iceland's whale-watching hub due to the scores of minke and humpback whales that congregate in Skjálfandi bay, the port town is now earning a second reputation as a haven for thalassotherapy. Developed on the western shores of France, the warming of seawater has been proven to have ameliorative effects on conditions as varying as joint pain and weight loss.
The hot pools at Húsavík's Geosea could be considered doubly potent, as the healing properties of hot ocean water are combined with the rich mineral outpouring from a local geothermal source. Perched on a grassy hill overlooking the bay, Geosea is best visited around sunset (or as late as possible during the weeks of endless daylight) as the soft glow of golden hour seemingly glitters all the way to the North Pole.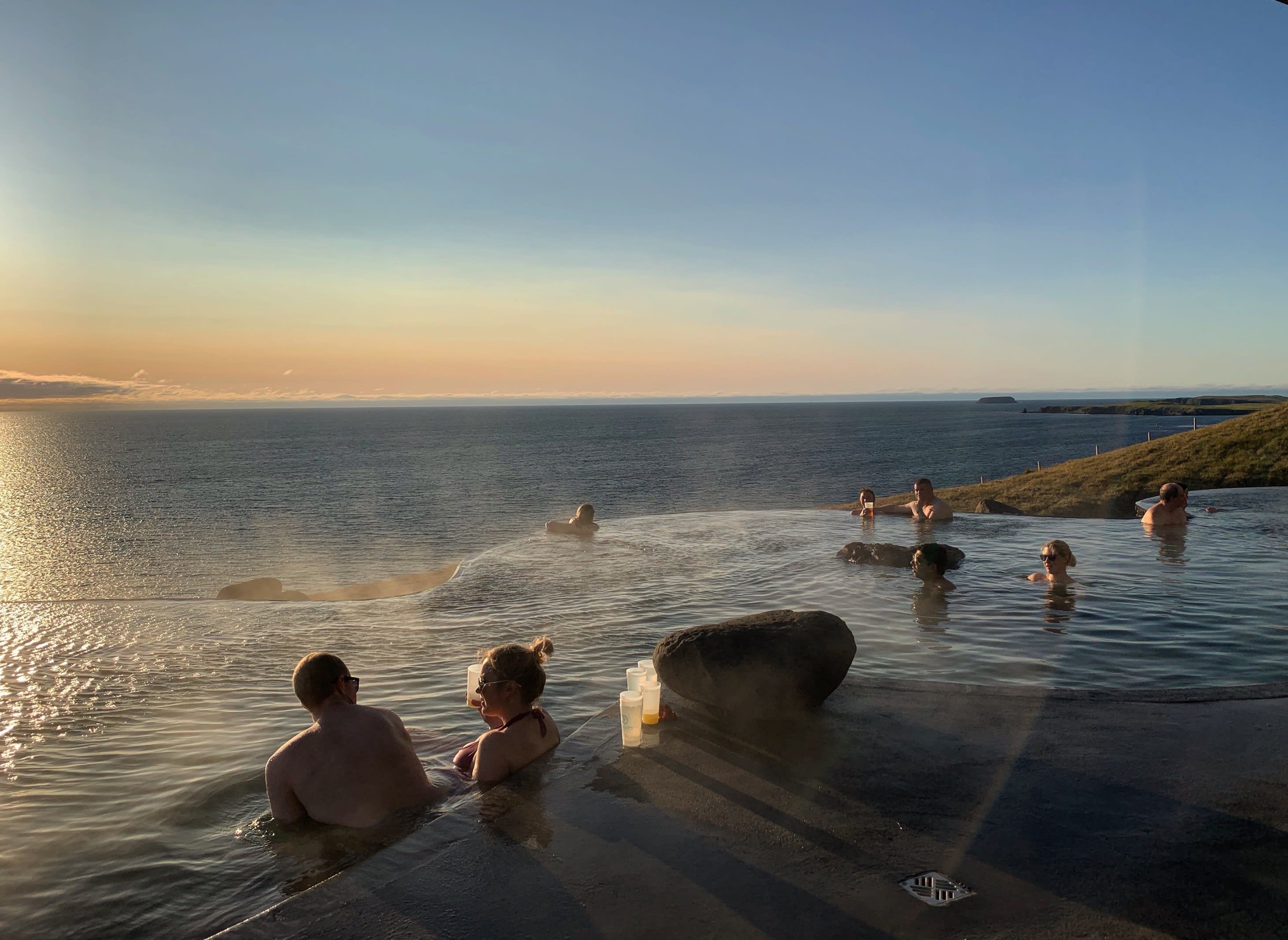 Geosea. Photo by Brandon Presser
There's only one piece of the land of fire and ice, however, that truly protrudes beyond the Arctic Circle—the offshore islet of Grímsey, a community of hardy fisherfolk living in a time-warped version of Iceland from 40 years ago. Just 2 square miles (5.3 sq km) in size, Grímsey's huddle of wind-battered abodes is home to a human population that's far outnumbered by its roaring colonies of kittiwakes, guillemots, puffins and terns.

Most travelers only come for the afternoon to snap selfies at the erroneously placed Arctic Circle monument. The real magic, however, happens after the day-trippers leave—especially under the infinite rays of summer sun that illuminate Iceland's distant northern crest and give the island's nest-riddled coves a blue-green Caribbean tint. Arctic Trip, run by Halla Ingólfsdóttir and her family, welcomes overnight guests to the island and promises one of the most unique swimming experiences on the planet—no curious wolffish are involved—on Grímsey you snorkel with... birds.
Patience and perseverance are necessary virtues for a successful dive, but once you get the hang of the stillness required to float under the avian colonies, you'll soon be side-by-side with gulls pummeling the ocean's surface in search of small fish. Stories about the perilous task of egg gathering and tales of Grímsey's unusual history—including why every household has a chess board—are duly offered after a hot shower and a tea.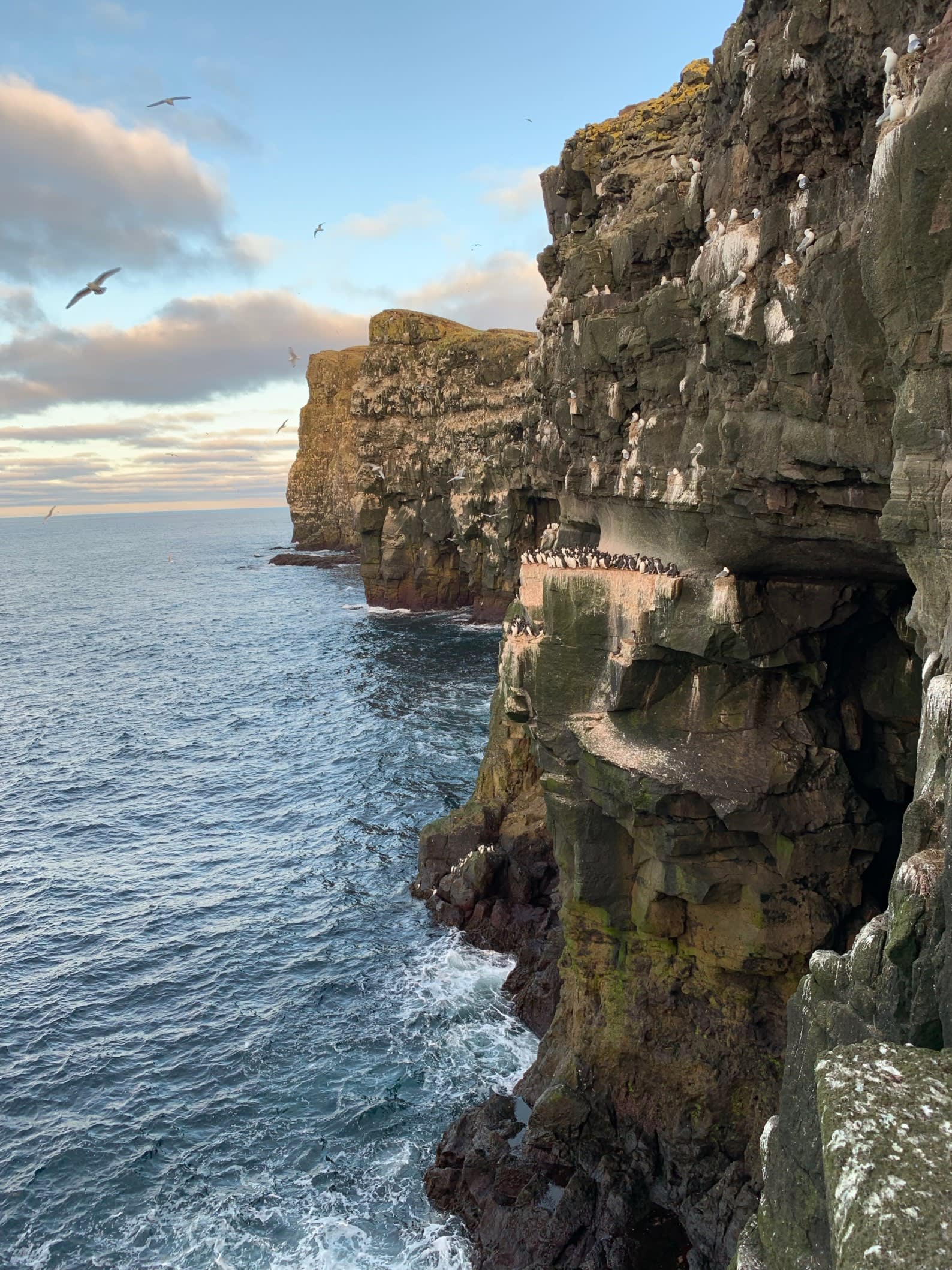 Grímsey's bird cliffs. Photo by Brandon Presser
And Halla's desire to bridge the gap between the Arctic realms of land and sea is helping bolster Erlendur's continued underwater analyses as he moves beyond studying the strýtur formations. Many of his recent surveys have targeted the Atlantic wolffish—in Iceland they're called steinbítur, or "stone biters," and don't make for very comely girlfriends with their snarled jowls of overgrown teeth. Over the last few years, Erlendur has become one of the world's leading researchers of the bottom-feeding species, a creature that has largely eluded scientists as they tend to hide between rocky outcrops in near-freezing temperatures. He is now one of the key individuals in successfully documenting the mating and maturing trends of this elusive fish. Recently he figured out that his dear Stephanie was actually a Stephan.
Trip notes
Icelandair offers multiple daily flights from Reykjavík Domestic Airport to Akureyri. There are air links from Akureyri to Grímsey with Norlandair. There is also a ferry connection from Dalvík to Grímsey.

This area is part of the newly developed tourist route through North Iceland known as the Arctic Coast Way.
For accommodation, Hótel Dalvík is central to both to the strýtur and the beer baths, and is a stone's throw from the pier for the Grímsey ferry. It earns high marks for its breadth of lodging options, from private apartments to ergonomic dorms.
In Húsavík, try Árból—a manse refurbished with rustic Nordic charm. From the same friendly owners, the modern apartments at Skjálfandi dial up the design factor.
Credits
Text by Brandon Presser

Photos by Brandon Presser and Erlendur Bogason / Strýtan Divecenter

Banner photo: Swimming with birds around Grímsey. Photo by Brandon Presser
This article first appeared in the Icelandair Stopover magazine, summer 2019