06/17/2020 | 5:00 PM
Iceland Airwaves 2020: Packages, lineup announcements and more!
Update: August 26, 2020
Attention music lovers: We know many of you were looking forward to November in Reykjavík, as were we. But sadly, we must share the news that Iceland Airwaves 2020 has been rescheduled to 2021.
2020 has changed travel and the celebration of live music. We hope to see you in 2021, ready to rock Reykjavík with us and the Airwaves team. in the meantime, check out the newly announced 2021 festival lineup.
If you have already purchased a travel package for Iceland Airwaves 2020, you will receive an email from us with refund details.
----
Hey music lovers! The 22nd edition of Iceland Airwaves returns November 4-7 to Reykjavík, the coolest capital on earth.
One ticket offers 4 days of incredible music from homegrown and international artists. See below for our special packages that include festival pass, round-trip flights, and hotel accommodation.
On June 16, the fine folks at Airwaves made a special announcement:
Icelandic pop sensation Daði Freyr makes a triumphant return to Reykjavík this November with an exclusive show for music festival Iceland Airwaves. Since performing at last year's edition of Airwaves, Daði has 'broken the internet' with a winning combination of musical earworms, viral dance routines, genius film clips and customised sweaters.
His omnipresent single "Think About Things" saw him to set to be the sure-fire favourite for the 2020 Eurovision final that never was. While Covid-19 cancelled Eurovison, Daði won the internet, sweeping up a groundswell of admirers worldwide, including Russell Crowe, Jennifer Garner, P!nk and James Corden.
Get all the latest info on the official Iceland Airwaves website.
Here's the first lineup announcement, from February 2020. There's loads more to come, we promise!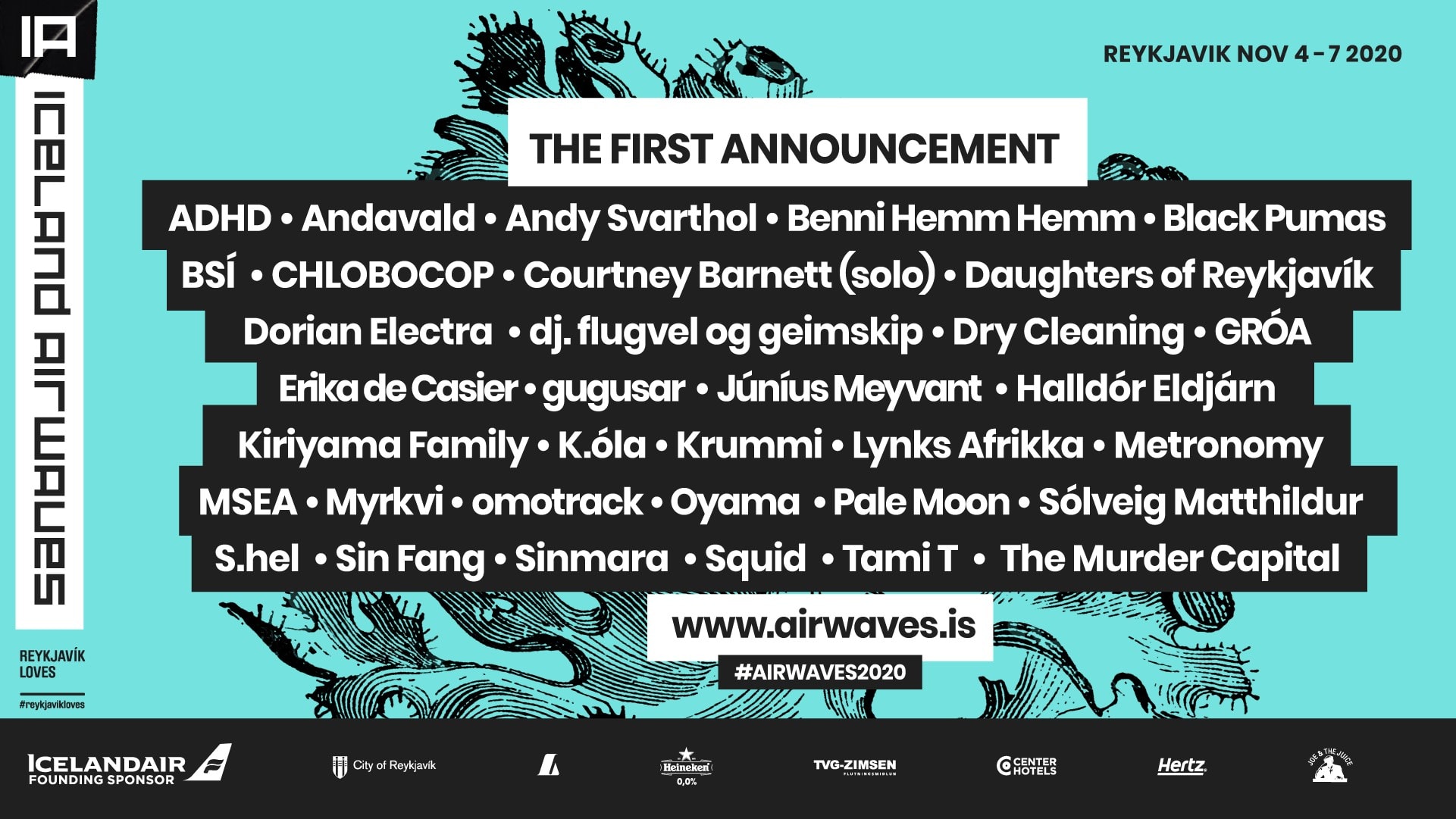 Airwaves 2020 - book your tickets now
Put the dates in your diary and get ready to join the party. Travel packages are available for 2020 and include festival pass, round-trip flights, and hotel accommodation.

Packages from the US

Packages from Canada (in English, in French)
Packages from the UK
Packages from Ireland
Packages from Germany
Packages from France
Packages from Denmark
Packages from the Netherlands
Packages from Belgium (in Dutch)
Packages from Finland
Packages from Sweden
Packages from Norway
Airwaves 2019
Check out the 2019 highlights - and don't just take our word for how good Airwaves is: it was nominated as the world's Best Small Festival at the 2020 NME Awards.
More info
Come back soon to check for festival line-up announcements and other news, and visit the official website of Iceland Airwaves for loads more information.