03/24/2023 | 8:00 AM
The spirit of Iceland
Icelandair proudly brings the spirit of Iceland to the world. Your introduction to Iceland, our hub and home, begins the moment you step aboard one of our flights.
We'd like you to feel as if you've learned a little bit about our country during your flight, whether you're flying with us to or from Iceland, or traveling between Europe and North America. On a transatlantic trip you might have just a brief connection at Keflavík airport, or maybe you'll choose an Icelandair Stopover to explore Iceland's wonders for a few days (an excellent decision!). The Stopover makes it easy to visit, but hard to leave!
We've been connecting our island with the world for over 85 years. We're proud of our Icelandic heritage and culture and we want to share that enthusiasm with you. On board our aircraft you can find several little glimpses of Iceland, but if you want to catch them all, here's our cheat sheet.
Our livery
In 2022 we updated our livery – the way our planes look – with new colors drawn from Icelandic nature, including the beloved northern lights.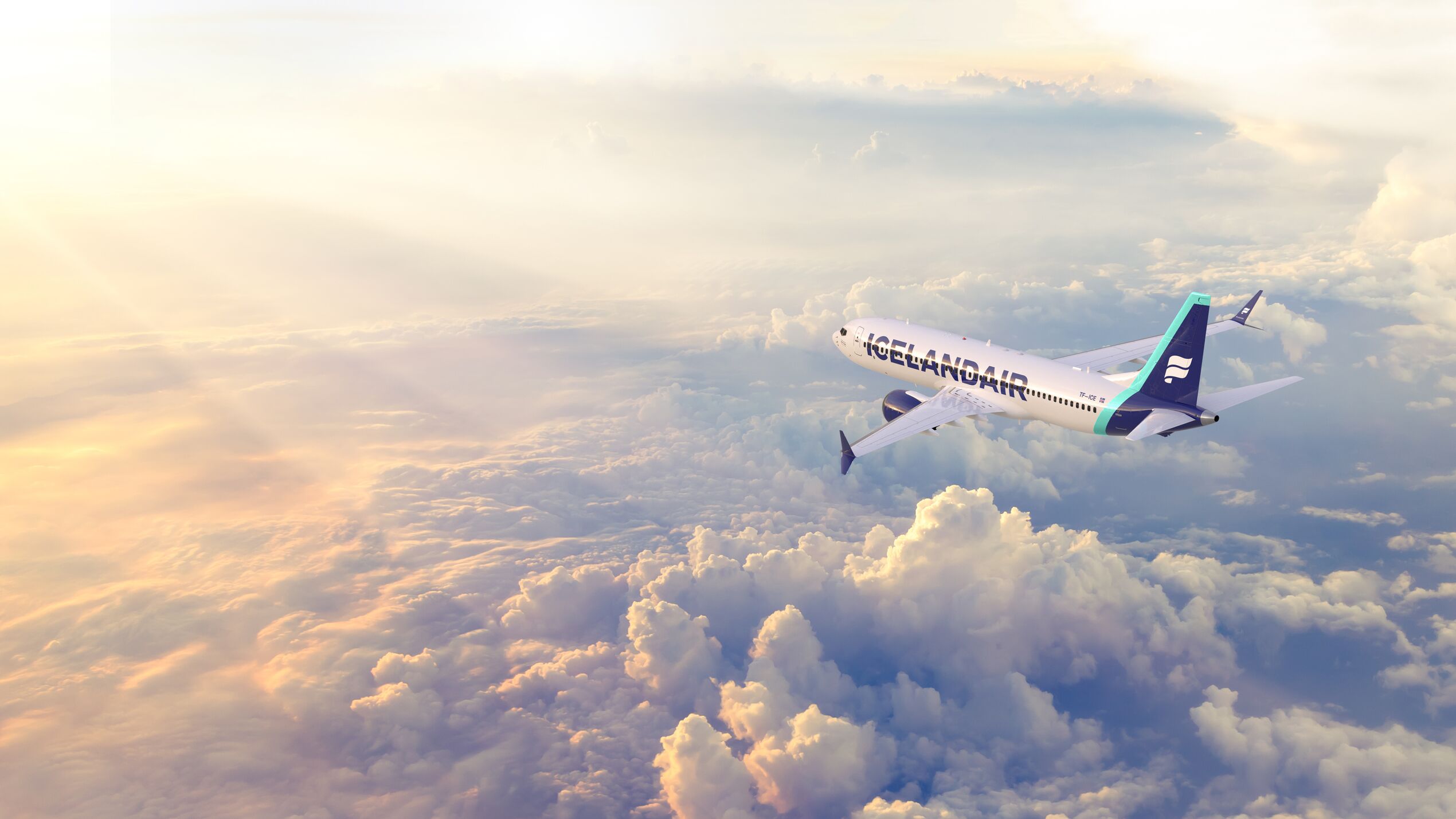 We're very proud of our special livery aircraft, including Hekla Aurora (painted with the northern lights, pictured below), Vatnajökull (celebrating Vatnajökull glacier), and Þingvellir (dressed in the Icelandic national flag).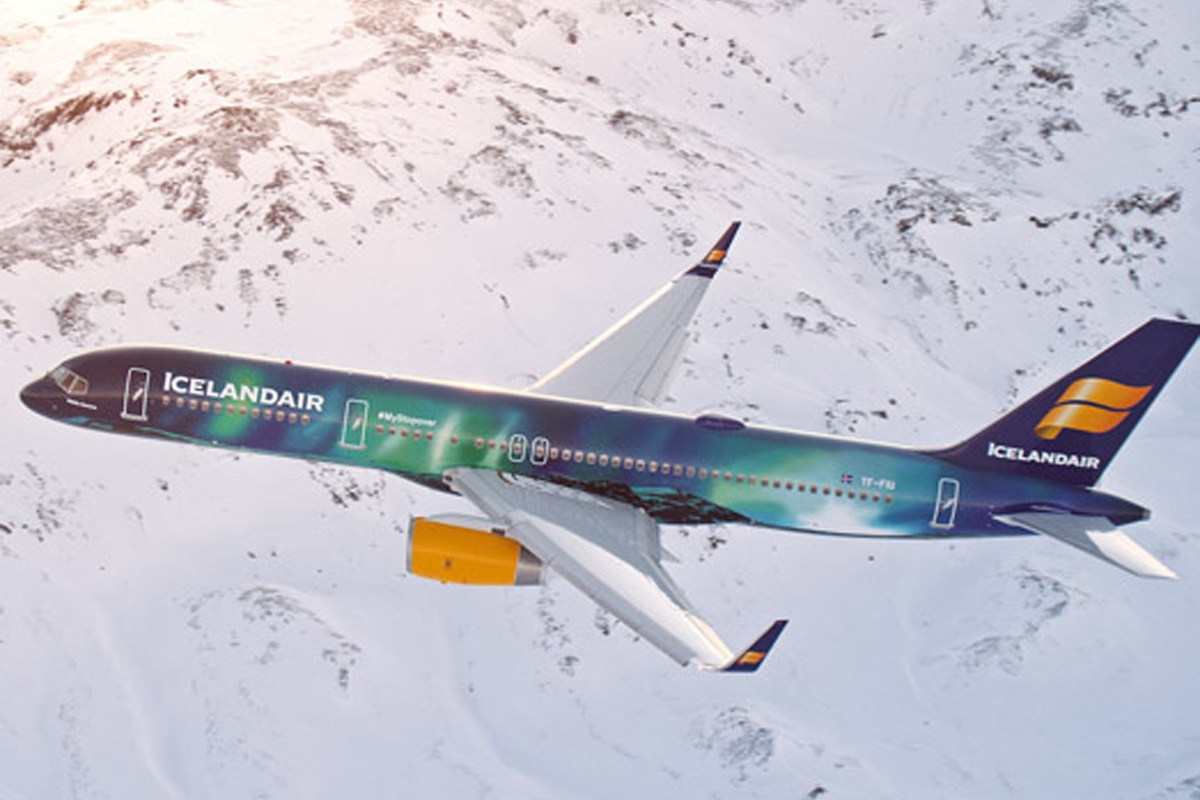 Music
The music as you board was composed and performed by Icelandic artists. Like it? It's from our Icelandair Spotify playlists. You can check out the playlists in our in-flight entertainment system.
We love how Iceland sounds, and we're proud founding sponsor of the acclaimed Iceland Airwaves music festival, held every November in Reykjavík. You can watch a fun documentary about it in our in-flight entertainment system.
Did you know we received an award from Samtónn, the Icelandic Music Association, in recognition of our ongoing support for Icelandic music and musicians?
Natural wonders
We're so fond of our volcanoes, glaciers and other natural wonders that we've named our aircraft after them. After all, Iceland is famous for its spectacular landscapes. Each aircraft bears the moniker of an Icelandic attraction, including Vatnajökull, Europe's largest glacier; and Þingvellir (that's Thingvellir, in letters you recognize), the rift valley where our parliament was founded in 930 AD.
Our onboard textile collection (blankets, pillows, headrests and more) is inspired by the peaks of Iceland's mountainous landscapes, and is primarily produced from sustainable materials.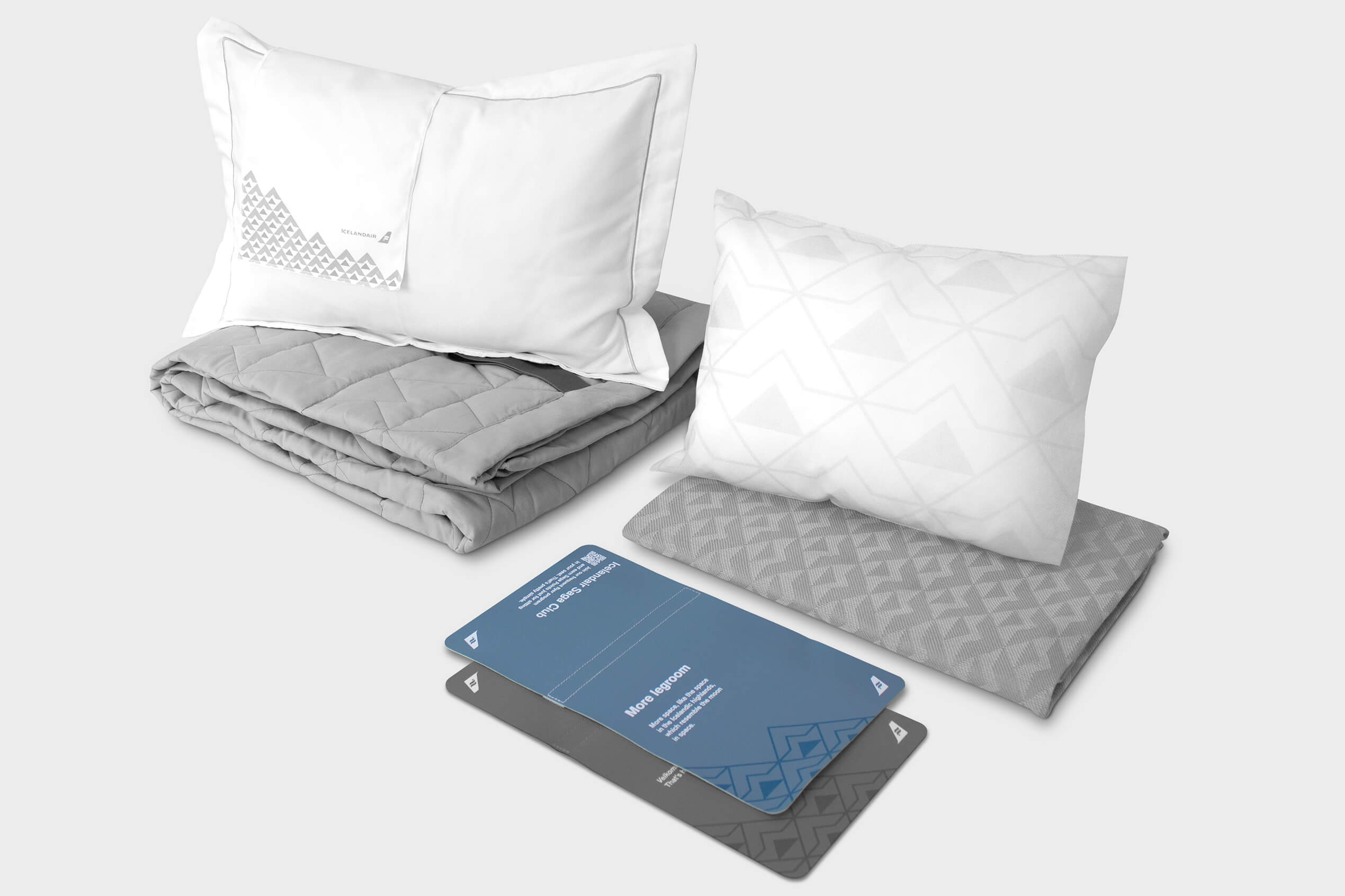 If you travel in Saga Premium on our North America routes, you can see another tribute we pay to the Icelandic nature. Our eco-friendly, award-winning amenity kit collection celebrates local wildlife (puffins, horses, ravens and arctic foxes) and is designed to enhance the onboard experience.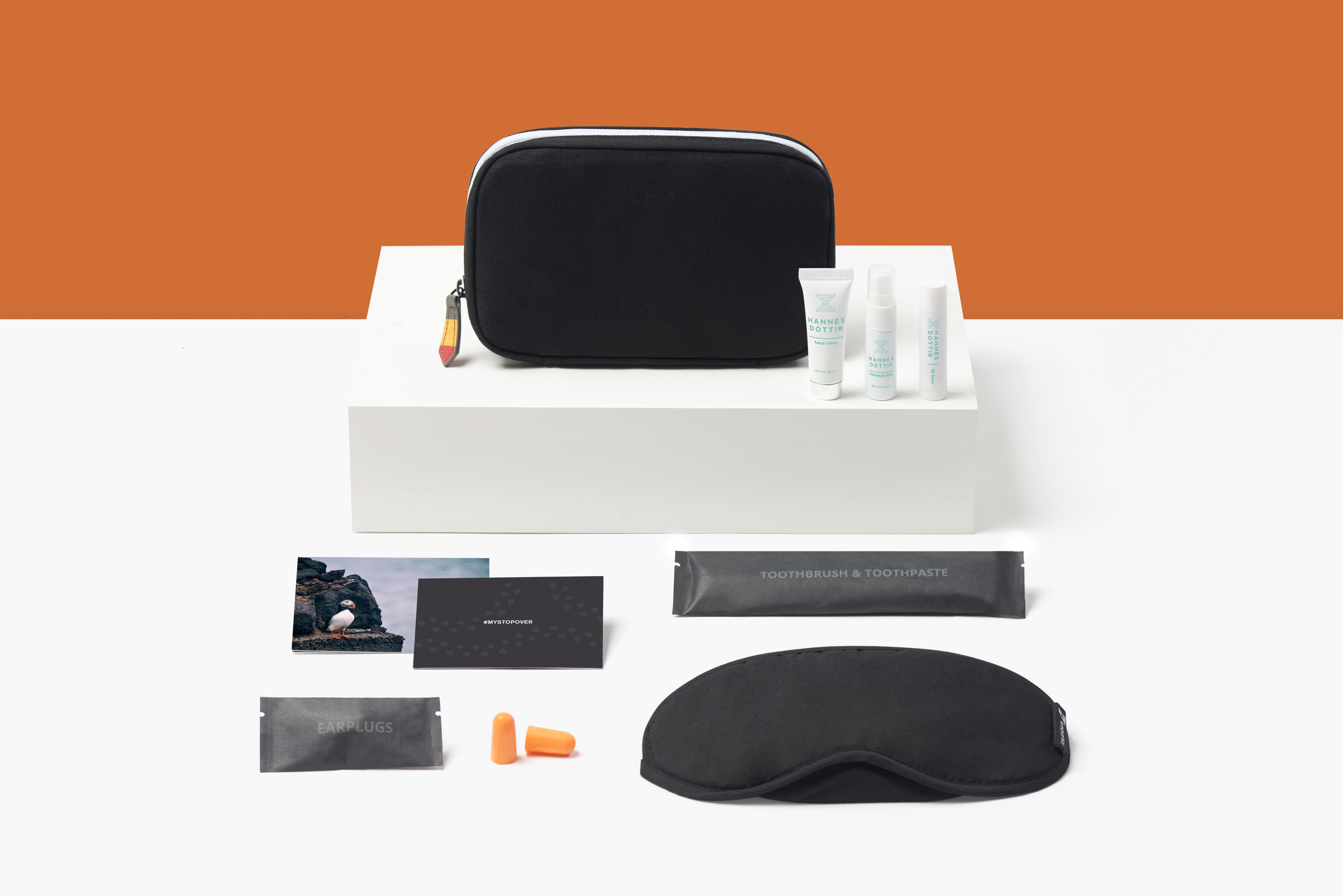 Language
The Icelandic language is an important part of our identity. You'll see samples of the language throughout the cabin (look out for it on our cups and napkins), and you'll hear its uniqueness in announcements from our crew.
In-flight entertainment
Our in-flight entertainment system features Icelandic films, documentaries and TV programs, which will introduce you to some of the country's highlights.
Tune in to our 'Unique Iceland' videos: four videos with different themes (shopping and design; activities and experiences; health and wellness; taste of Iceland) that introduce you to some of our favorite things to see and do in Iceland. They showcase what makes our home so unique and are a great way to do some in-flight preparation for your vacation!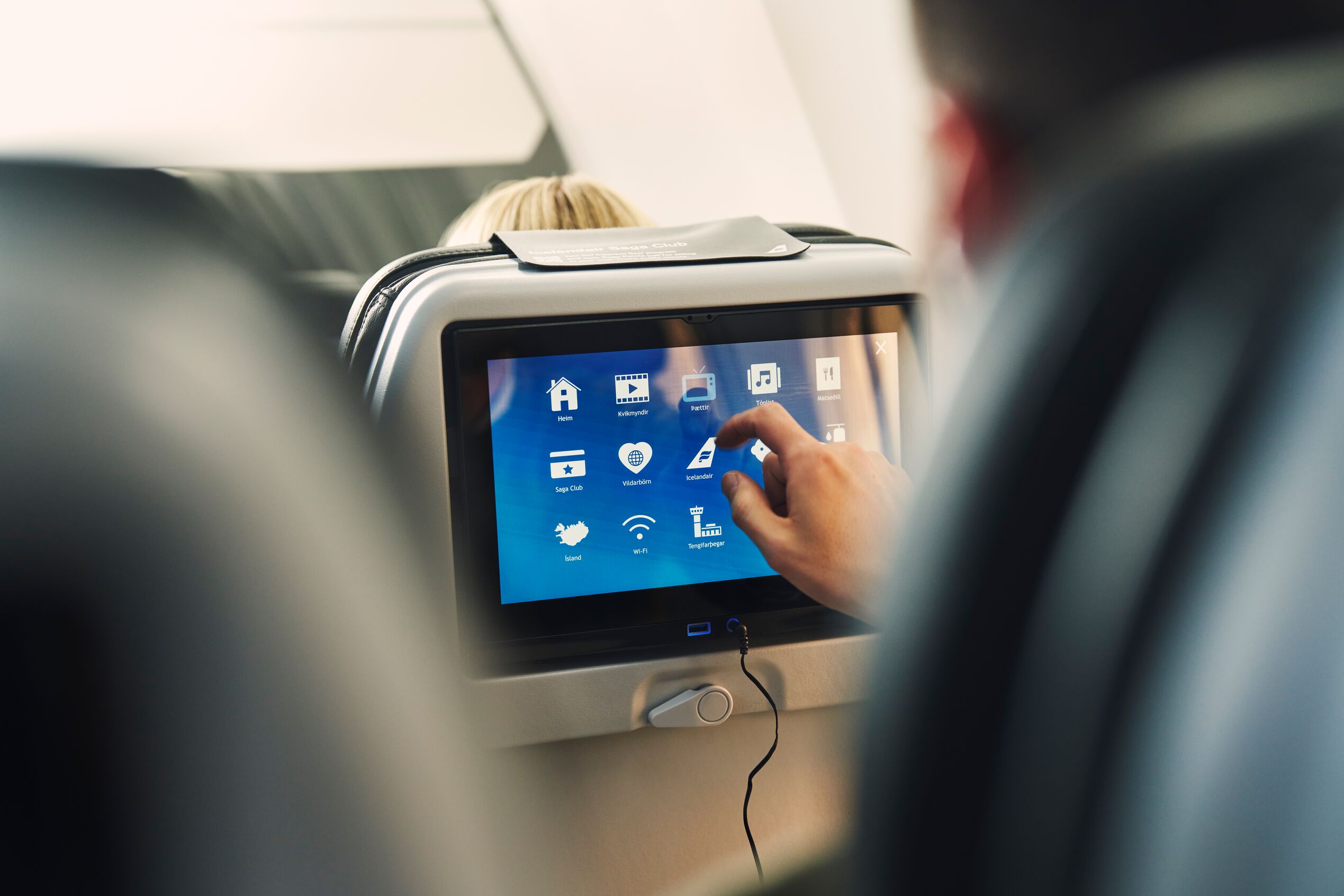 Menu
When food and drinks are served on board, our menu selection features Icelandic ingredients and snacks such as hjónabandssæla (an oat-and-jam square, whose name translates as 'happy marriage'), Icelandic chocolate, and locally distilled spirits and craft beers.
At the risk of being immodest, we think our water is the best-tasting water in the world. Try it for yourself on the flight. We serve refreshing Iceland Spring water throughout the trip.
Special days
If you're traveling with us on one of Iceland's unique celebratory days, we aim to share some of our traditions with you. That might mean pastry buns on Bolludagur (Bun Day), treats to celebrate Pride, or stories of our mischievous Yule Lads in the lead-up to Christmas.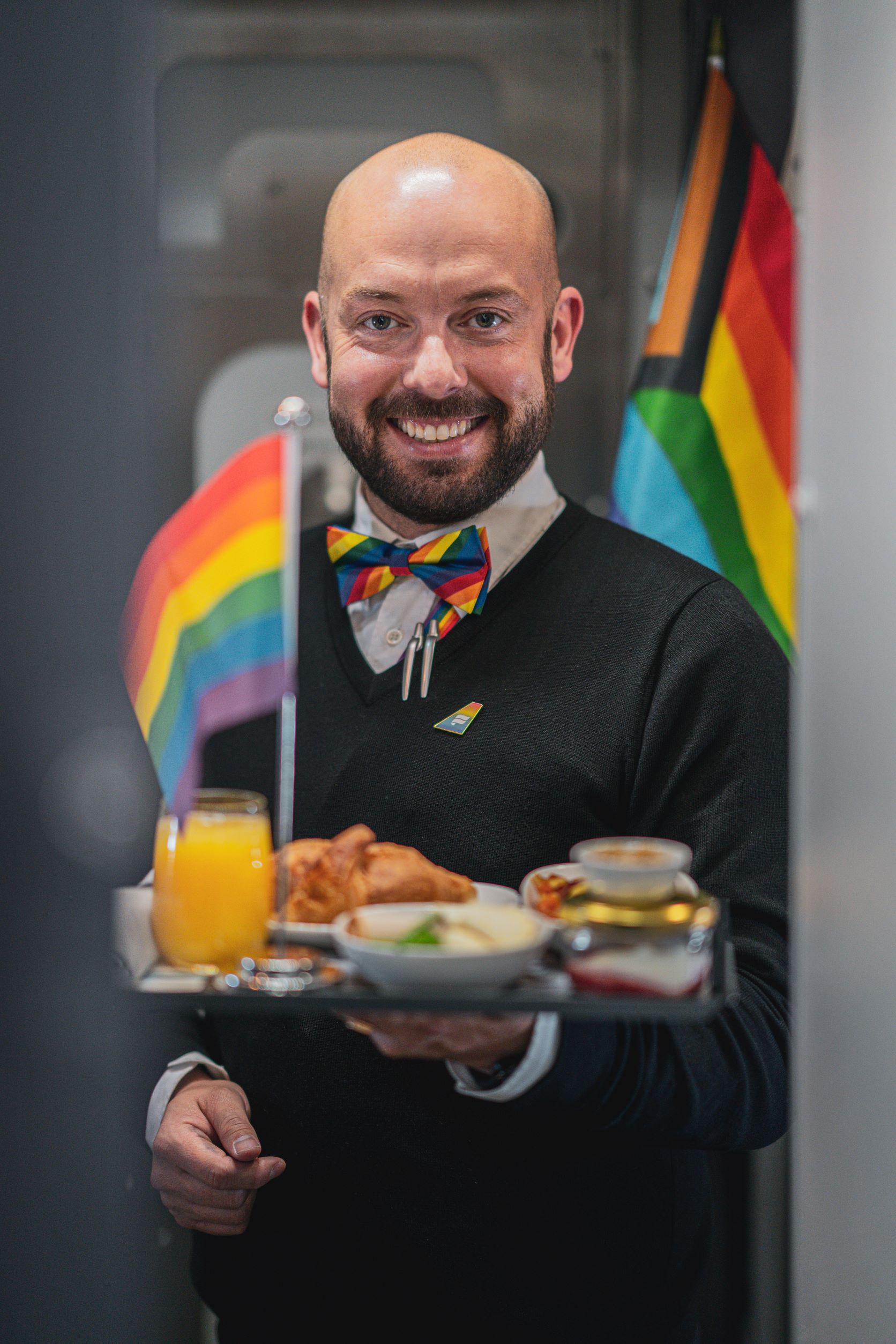 Mood lighting
On some aircraft you'll find mood lighting, like on board Vatnajökull: the blue LED lighting in the cabin creates the illusion of being inside an ice cave, while on Hekla Aurora (with its livery painted in the colors of the aurora) it feels as if you're watching the northern lights dancing in the Icelandic winter sky. If you're lucky, you might even see the real thing out the aircraft window – read more about planning for a northern lights trip to Iceland.
Whatever your reason for travel and however long you're spending in our company, we hope you enjoy your flight with Icelandair.