08/18/2022 | 10:00 AM
Iceland Airwaves 2022: Packages, lineup and more!
Hey music lovers! Have you landed here in your search for Icelandair packages to Iceland Airwaves 2023?
Let us move you to the right place: Iceland Airwaves 2023.
---
On November 3-5, 2022, Iceland Airwaves returns to Reykjavík, the coolest capital on earth.
We don't need to tell you that the COVID-19 pandemic threw a spanner in the works of so many festivals and fun travel plans over the past 2 years. We know you felt it too.
As founding sponsors of the Iceland Airwaves music festival over 20 years ago, we were proud to be involved in the reinvention of Iceland Airwaves into the amazing hybrid live events and livestreams from Reykjavík in 2021 and 2020. But now it's time to bring Airwaves back to its original premise, and welcome you all back to Iceland to celebrate.
The lineup

On March 23, Iceland Airwaves announced the first 14 acts for the 2022 lineup.

Please welcome: Amyl & the Sniffers, Arlo Parks, Arny Margret, Axel Flóvent, Crack Cloud, Daughters of Reykjavík, Eydís Evensen, FLOTT, gugusar, HAM, LÓN, Metronomy, superserious, and ZÖE.

On August 18, more joined the mix!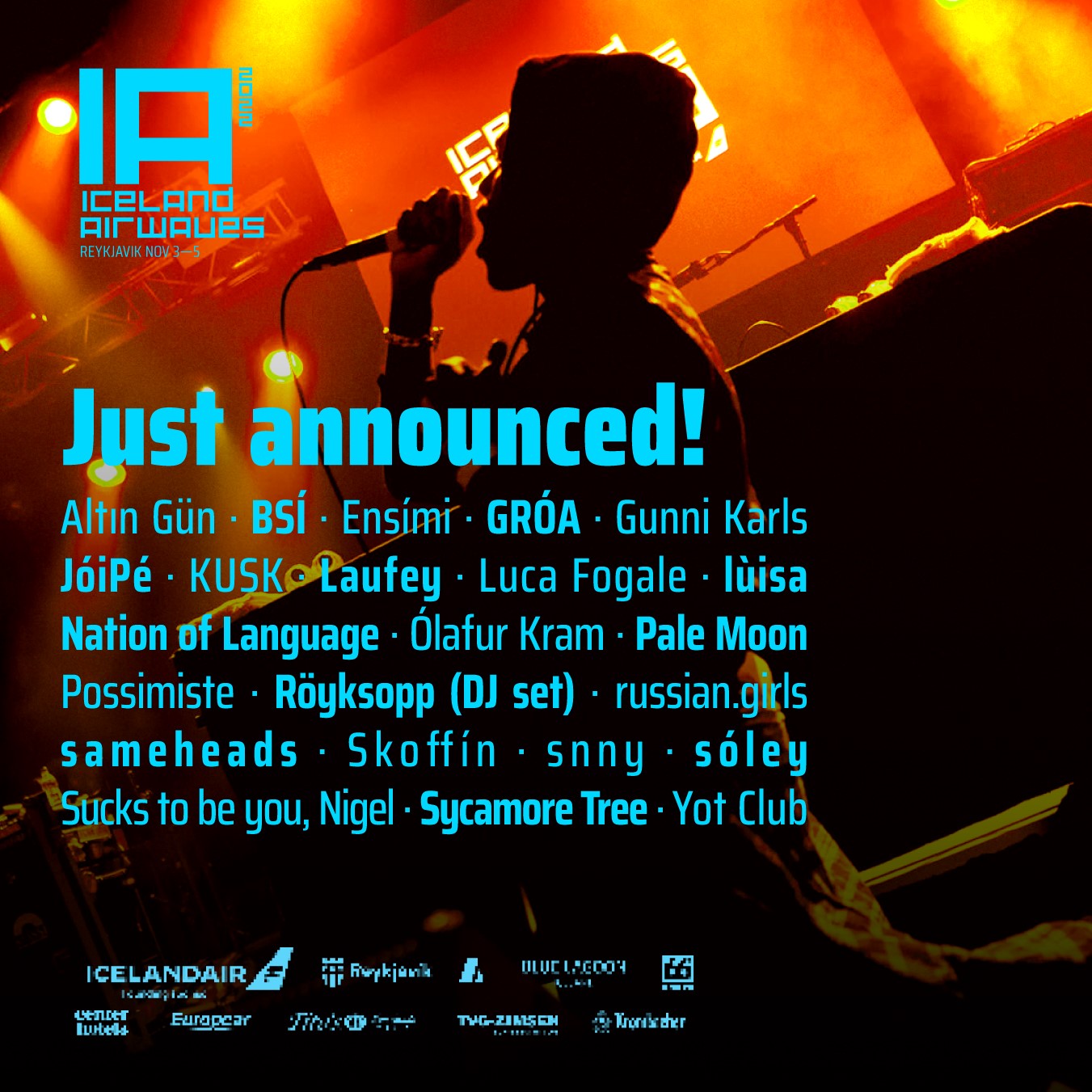 The A-Z of the lineup so far:
Altın Gün, Amyl & the Sniffers, Arlo Parks, Arny Margret, Árstíðir, Axel Flóvent, BSÍ, CeaseTone, Chiiild, Combos, Countess Malaise, Crack Cloud, Daughters of Reykjavík, Emotional Oranges, Ensími, Eydís Evensen, FLOTT, GREYSKIES, GRÓA, gugusar, Gunni Karls, HAM, Inspector Spacetime, Jan Verstraeten, JFDR, JóiPé, Kaktus Einarsson, KAMARA, KUSK, Laufey, LÓN, Luca Fogale, lúisa, Magnús Jóhann, Metronomy, Nation of Language, Ólafur Kram, Pale Moon, Possimiste, Porridge Radio, RAKEL, Röyksopp (DJ set), russian.girls, sameheads, Skoffín, snny, sóley, Sucks to be you, Nigel, superserious, Sycamore Tree, THUMPER, Ultraflex, Una Torfa, Unusual Demont, Yot Club, ZÖE.
Check out all the details and explore the artists on the official Iceland Airwaves site.
Iceland Airwaves 2022: book your package now
Get ready to join the party. Travel packages are available for 2022 and include 3-day festival pass and round-trip flights, with hotel-inclusive packages available.
Fly from one of 13 countries. Select your departure country below for more information.
Packages from the US

Packages from Canada

Packages from the UK
Packages from Ireland
Packages from Germany
Packages from France
Packages from Denmark
Packages from the Netherlands
Packages from Belgium (in Dutch, in French)
Packages from Finland
Packages from Sweden
Packages from Norway
Packages from Switzerland (in French, in German)
The sound of Iceland
How does Iceland sound? The answers from the musicians involved in the Live from Reykjavík events of 2021 and 2020 might surprise you (hint: mother nature often produces the most beautiful sounds).
When we say we are proud founding sponsors of Iceland Airwaves, here is what we are proud of – creativity, natural wonder, and the spirit of Iceland.
More info

Come back to check for festival announcements and other news, and visit the official website of Iceland Airwaves for loads more information.