03/01/2023 | 12:00 PM
The language of lopapeysa
Iceland's distinctive wool sweater is the very essence of winter coziness. It's known as a lopapeysa (or a 'lopi' for short) and has become a national icon – as well as a perfect souvenir of a visit to Iceland.
Here we give you the lowdown on what makes the lopapeysa unique, and we investigate a new book that digs deeper into this coziest of knitwear.
Photo below: 'Hestaland horse sweater' pairs well with a horse accessory.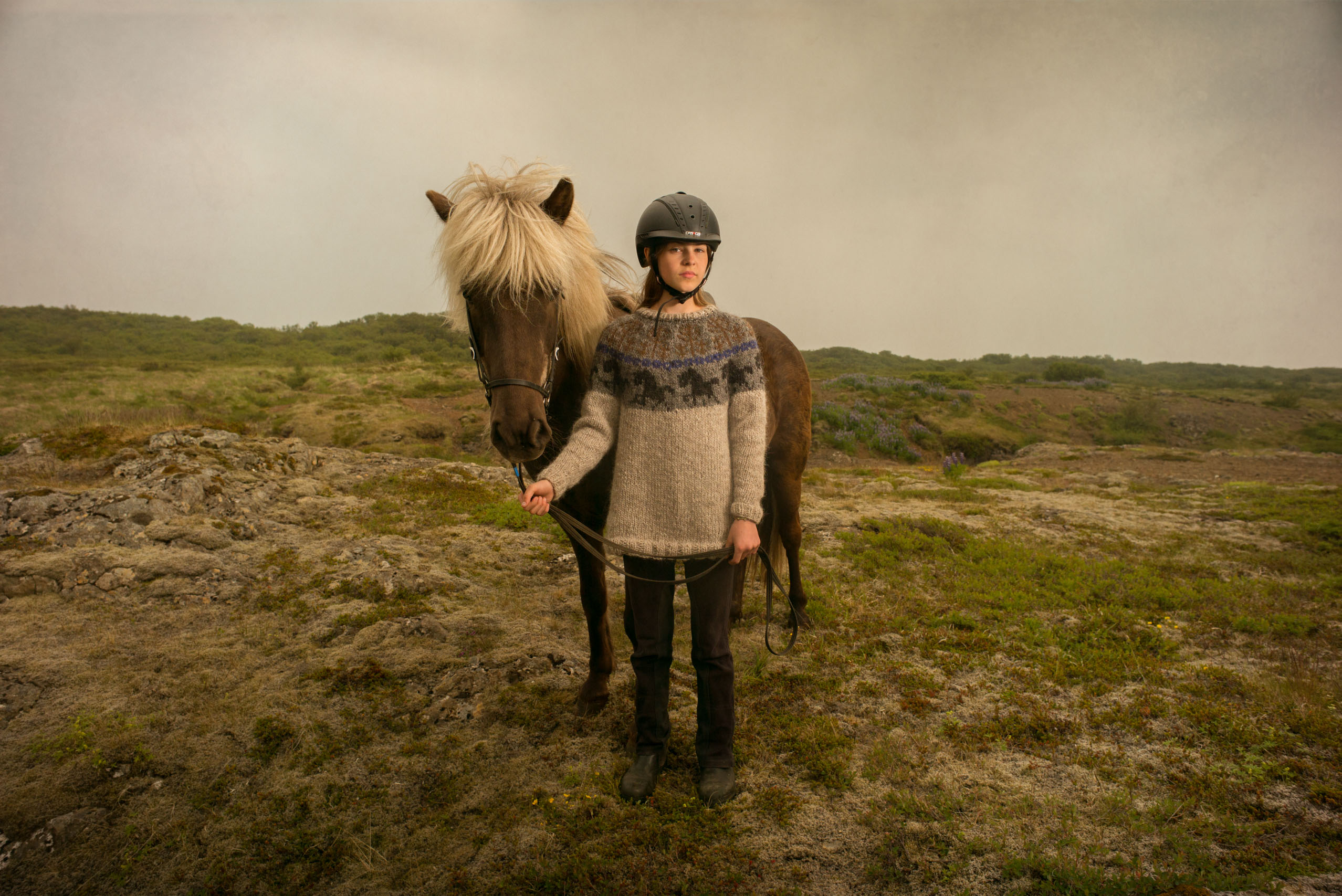 What is a lopapeysa?
The lopapeysa (the plural in Icelandic is lopapeysur) is a sweater made from Icelandic sheep's wool. The name is a compound: Lopi is the name of a special yarn, which is not spun and therefore has better insulating qualities. Peysa means sweater.
What are the characteristics of a lopapeysa?
Importantly, a true lopapeysa is handknitted (not machine-made), and made from Icelandic wool known as lopi.
Wool from Icelandic sheep has a distinctive combination of inner and outer fibers. The outer fibers are long, tough and water-resistant, while the inner ones are fine, soft and insulating, providing a high resistance to cold. In other words, these sheep – and these sweaters – are perfectly adapted for the local climate.
Initially, Icelandic lopapeysa were knitted in natural 'sheep colors' (black, brown, cream, grey etc). Today, they're available in all sorts of color combinations.
The round yoke is the most readily identifiable characteristic. Although the design might look old, the modern lopapeysa pattern originates from the mid-20th century. Inspired by Norwegian sweaters and the pearl collars of Greenland, the first knitting pattern of a round yoke sweater was published in a knitting magazine in 1956.
Photo below: The 'lakeside lopi', with lupins.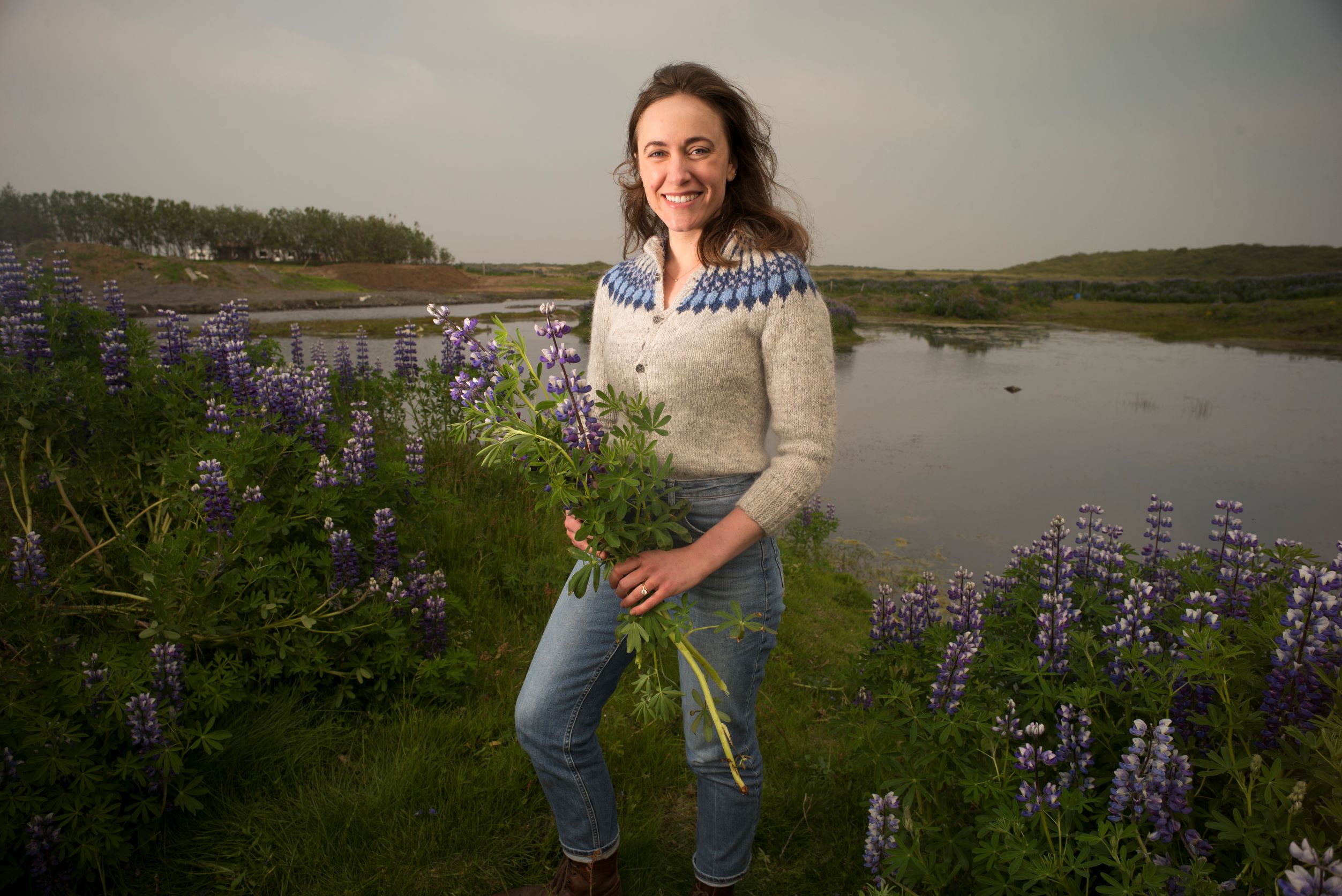 How do I wear a lopapeysa?
Well, that's easy. If you follow the lead of locals, you can wear a lopapeysa anywhere, anyplace. From festivals to hiking trails.
Wearing layers is the key to dressing for the (changeable) weather in Iceland. Icelandic wool is a great insulator, and the best way to wear a lopapeysa is as a middle or outer layer (not directly against your skin – Icelandic wool is not as fine as some types of wool, so some people find it to be a little coarse or itchy).
How do I select a lopapeysa to take home?
The best advice is to look for the label 'handknitted in Iceland'. A label reading 'Designed in Iceland' may indicate that the sweater was knitted offshore, and possibly machine-made.
There are fantastic places to hunt for a lopi in a size, design and color combination that works for you. In the Icelandic countryside you might come across handicraft stores, or guesthouses and cafes, where there's a selection of sweaters knitted by locals. In Reykjavík, head to the Handknitting Association of Iceland (in Icelandic: Handprjónasambandið) for a mind-boggling selection.
And if you feel so inclined, buy a pattern and some local wool, and make your own!
Lopapeysa by the book
What is a lopapeysa, where does it come from, and how do you make one? These are some of the questions knitwear designer Joan of Dark (aka Toni Carr) and writer/photographer Kyle Cassidy aim to answer in Lopapeysa – A Knitter's Guide to Iceland with Patterns, Techniques and Travel Tips, released in the UK and the USA in the fall of 2022.
Eygló Svala Arnarsdóttir spoke to Joan and Kyle for Icelandair.
All photos on this page are by Kyle Cassidy, and feature sweater patterns included in the Lopapeysa book.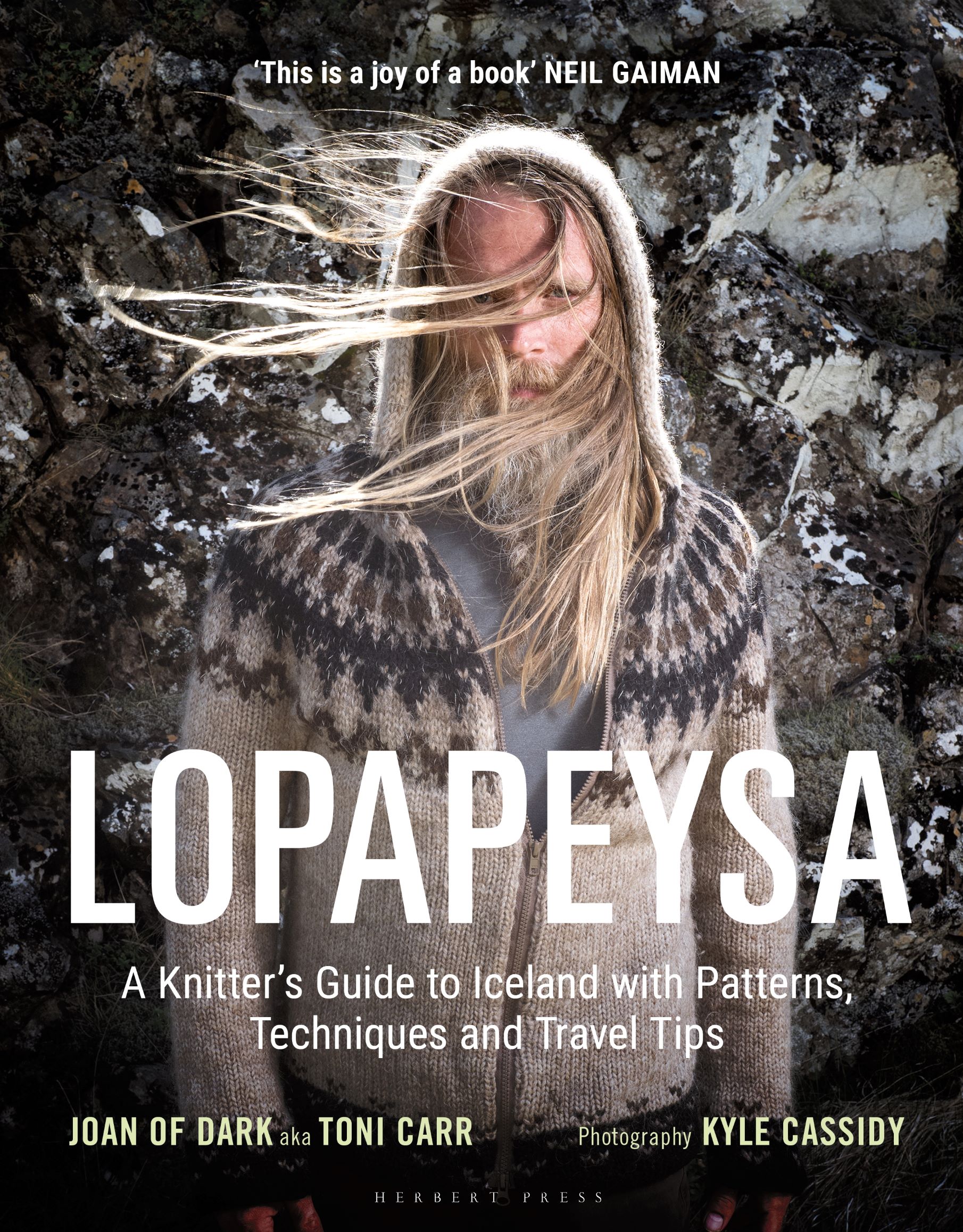 Patterns of a country
Joan's designs were inspired by Icelandic nature and her experiences in Iceland. For example, there's the Lakeside Lopapeysa, the Hot Springs Hat and – morbidly – the Executioner's Capelet. "All these things kept pushing into my head at the same time because you just look around and be constantly inspired," exclaims Joan. "If I'd had another two weeks, I would have come up with another 12 sweaters!"
Adding another layer to Joan's designs are Kyle's portraits of people wearing them in that very inspiring landscape. Kyle actually also designed and knitted his own lopapeysa while in Iceland, weaving his personal journey as a knitter into the story. "Everything in that sweater was something we had seen or experienced while we were there and that makes it so much different from a sweater you get in the store – even if it was knit by an authentic Icelandic grandmother. That sweater reflects what I saw and did while I was there. It's the greatest souvenir."
An interesting detail in Kyle's sweater is a line of orange in the neckline which represents the volcanic eruption they witnessed. Joan also mentions special crosses they saw at one of the churches they passed, which she helped him work into the design.
Photo below: The 'everywhere sweater' worn at Jökulsárlón glacier lagoon.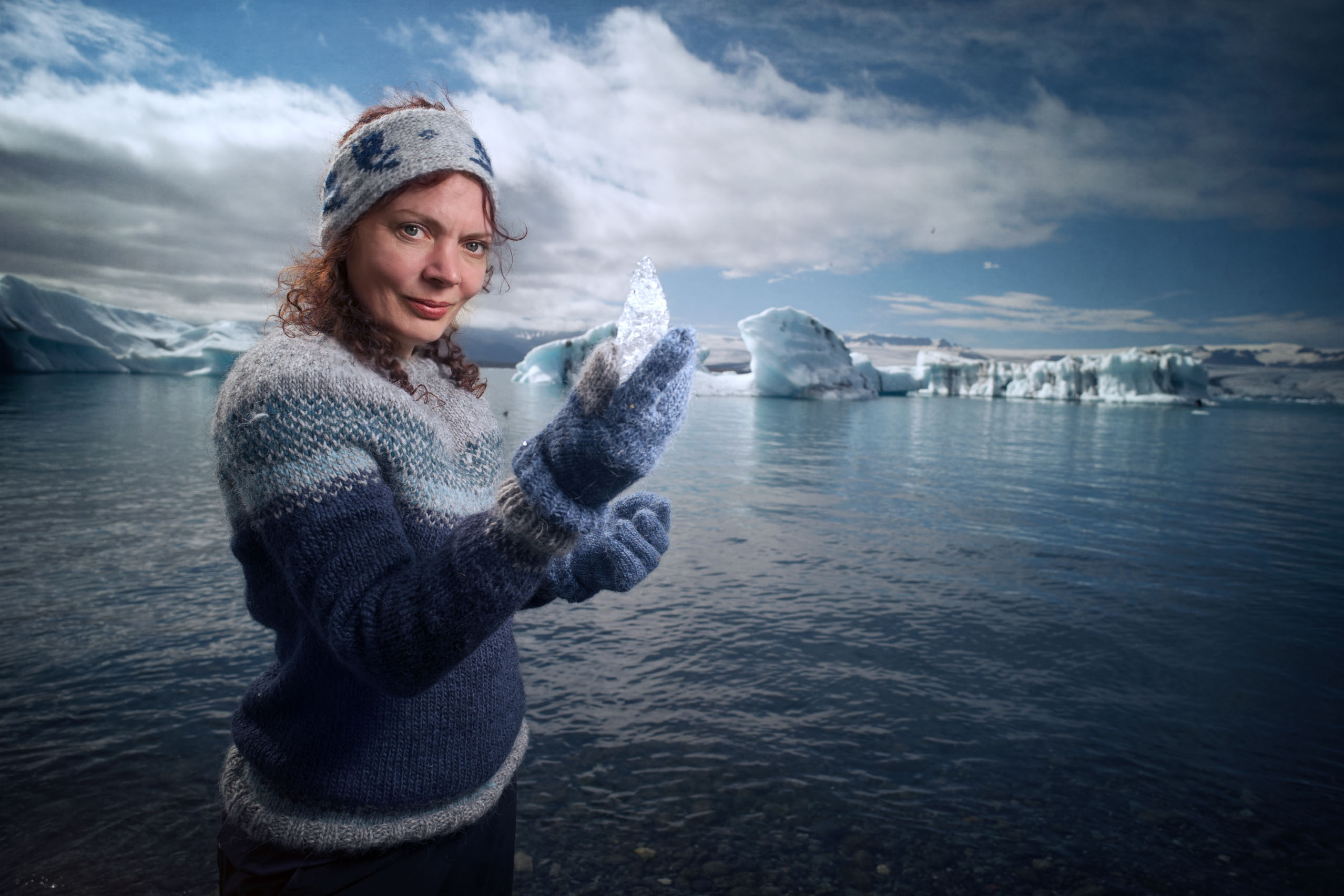 Knitting in no time
Joan taught Kyle how to knit over Zoom while they were waiting for travel restrictions to be lifted. "We were flying out in a few days and then they shut everything down," explains Joan. After coming to Iceland to research lopapeysa and putting together a book proposal in late 2019, their plan was to return in 2020 to finish the project. Covid forced them to reschedule, and they decided to make the most of the lockdown. "Kyle was such a quick student – and I'd never taught anybody over Zoom before – but it went really well. He was knitting in no time!"
Joan encourages everyone to give it a go. "My approach to teaching has always been like: 'Try it. What's the worst that can happen? You're gonna mess up and tear something out but you're gonna try it and see what works and what doesn't. By the time we got to Iceland he was knitting his lopapeysa." Kyle agrees that everyone can learn how to knit. "It's easier than I thought it was going to be. I don't think people should be intimidated if they haven't done it before."
Photo below: Book co-author Joan of Dark at Stokksnes.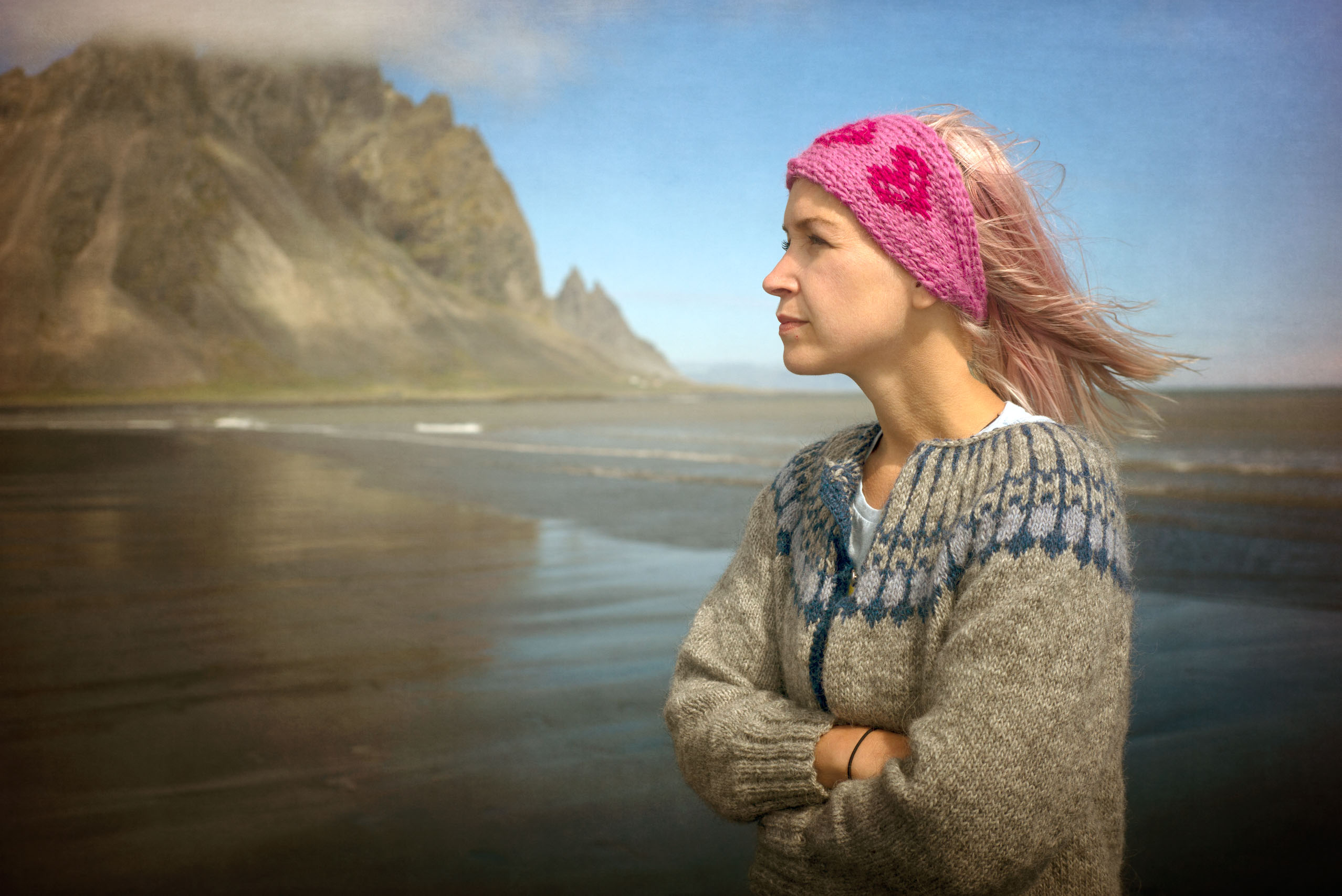 Journey through the patterns
The patterns in Joan and Kyle's book are for beginners and advanced knitters alike, with instructions on special Icelandic techniques. "We had to learn how Iceland steeks, which is when you cut the sweater," explains Joan, elaborating on how the book ended up being about more than just patterns. "It was fun to take people on our journey through the patterns. There are so many pattern books. The exciting part is to see how it came about. To see how we learned about Iceland and about the sweaters." Joan says she was amazed at how willing people were to talk to them and share their techniques.
'Lopapeysa' is somewhat of a social study of Icelandic culture and heritage, including interviews with the people Joan and Kyle meet while on their mission to unravel the mystery of the lopapeysa. In that sense, it's a little bit of a detective story, as Joan and Kyle follow the lopi thread back in time to discover the origin of lopapeysa and find the person who made the first sweater.
The book was written so that non-knitters would enjoy it, too, with travel tips and the story of Joan, Kyle and their team's adventurous roundtrip of Iceland in words and photos.
Photo below: Pint-sized and pufin-patterned.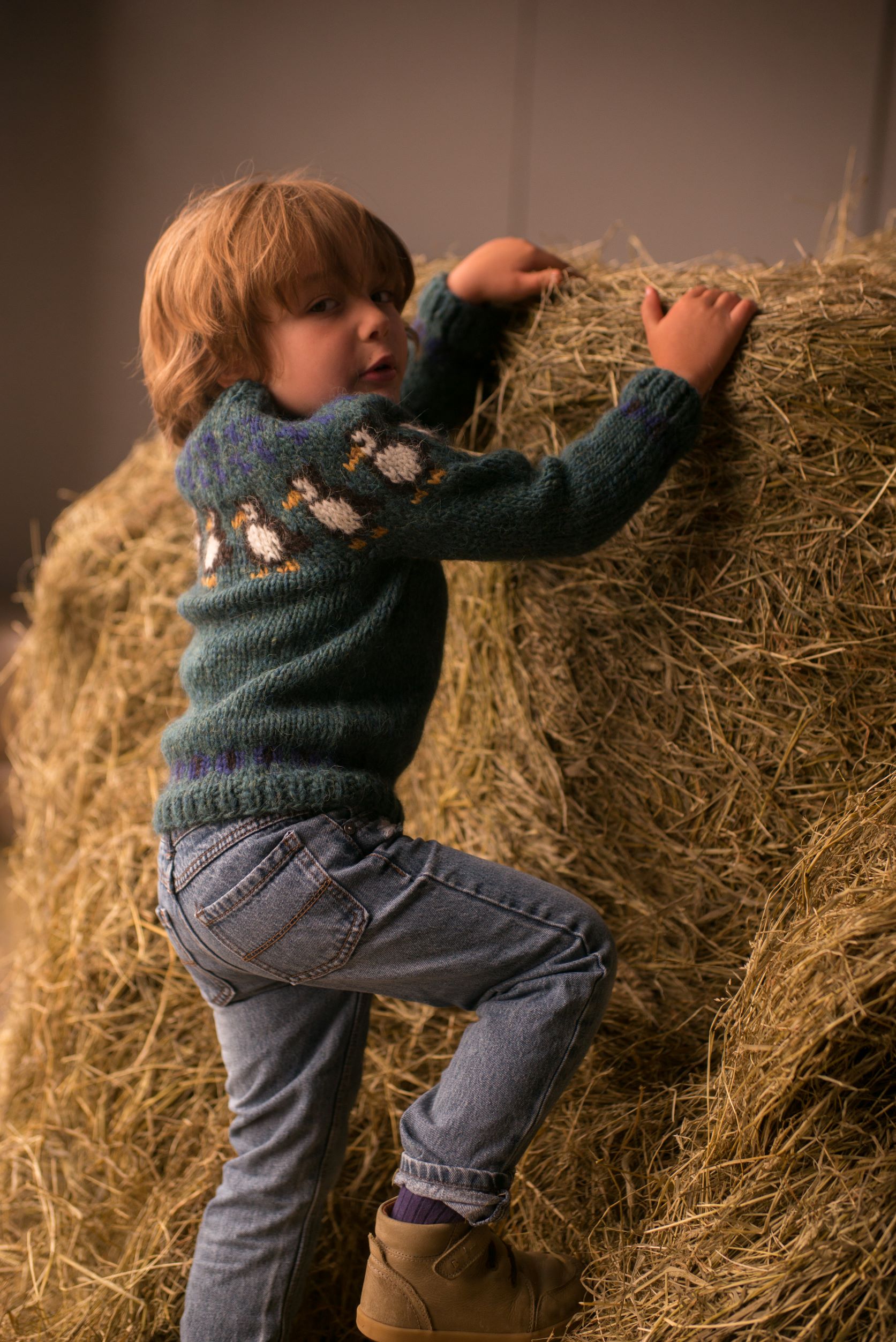 Fabric of a nation
A lot of people imagine that the tradition of lopapeysa must be centuries old. "I think that was the shocking part," admits Joan. "When we first started researching the sweater, I was like: 'Surely this has been around for hundreds of years.'" In fact, even though the tradition of making warm clothing from Icelandic wool is much older, lopapeysa as we know it today goes back to the mid-20th century. "It was created within the lifetime of people who are still alive. It was amazing to be able to meet some of the people who were right there at the very beginning and made some of the first," adds Kyle.
However, some of the elements of lopapeysa are actually ancient. "We found that some of these Icelandic designs had been written down since the 1600s, so there is a vocabulary of design that has been drawn upon for a long time. The eight-petal rose is an example of that, that's been used for hundreds of years in Iceland, and that people were adopting into their sweater designs and passing from one person to another," excites Kyle. "We talked to a lot of older women, in their 80s or 90s, who had been knitting for a long time, who mentioned that in the early days they didn't have patterns that were written down, but they would look at what their friends were doing and they would adopt that into their own knitting."
The more he learned about the origins of lopapeysa, the better he understood his own knitting. "As I got better at it, I would look at somebody's lopapeysa and say: 'I know all those parts. I could make that.' That was a really eye-opening revelation to me, and it happened like that, instantly. One second and I realized that I understood some of what went into making these, and that there were some things that I could just do because I understood the language of it."
Photo below: Puffin-patterned lopapeysa at Vík's black beach.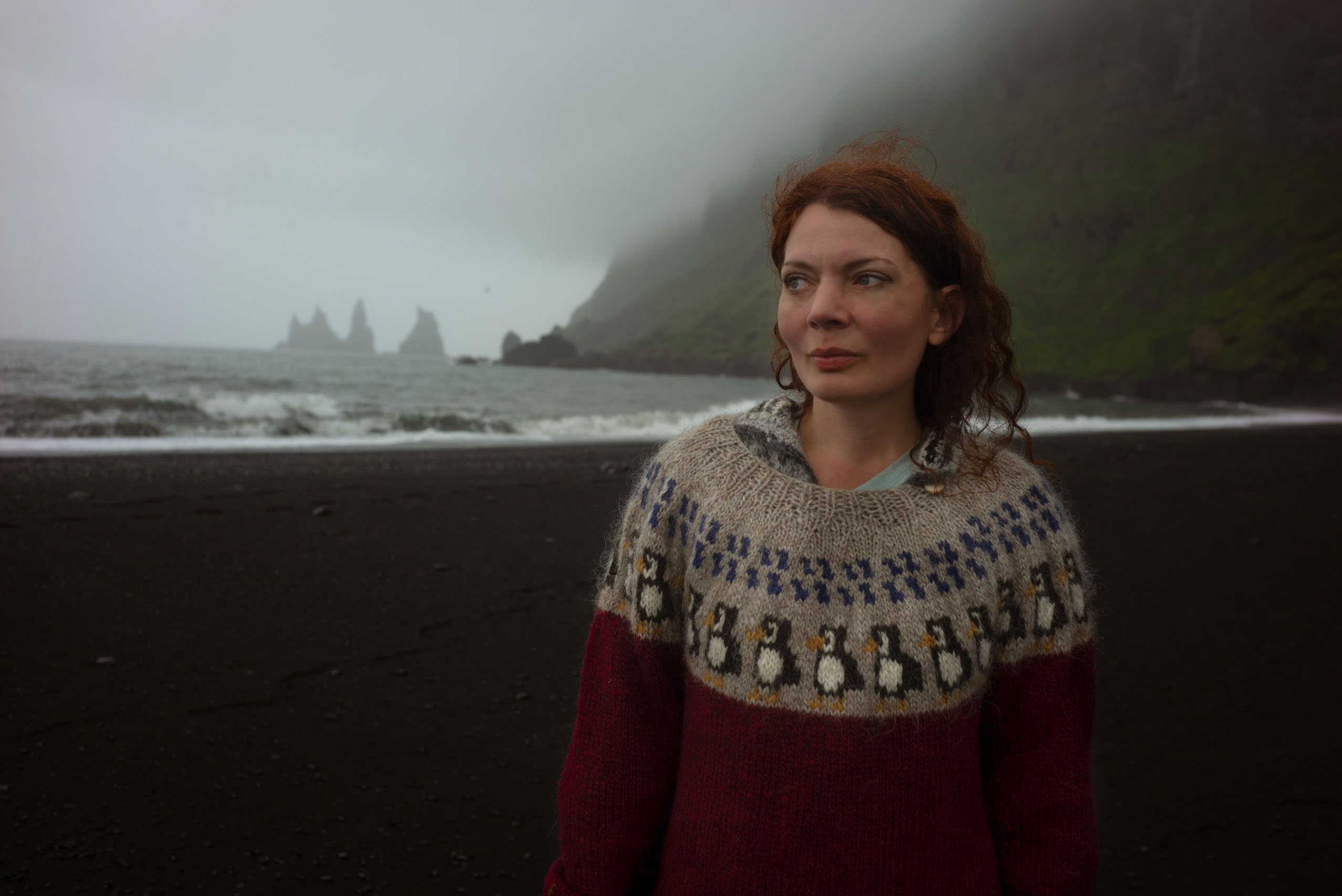 Embracing their national heritage
Most Icelanders seem to own at least one lopapeysa that someone made for them. They tend to think of them as no big deal and are quite surprised that foreigners might find them fascinating.
"It was so cool for me as a yarn enthusiast and as a knitter, having it be just ... everywhere. It's such a big part of the culture," says Joan of her fascination for lopapeysa. She mentions Addi, a member of heavy metal band Sólstafir, who takes a lopapeysa his grandmother made him on tour and even bothered mending it with leather patches after it wore out. Kyle laughs at the thought of a member of an American heavy metal band doing something similar. "What's something a grandmother would make that a heavy metal band would wear on stage? Nothing! The whole idea is doing something your grandparents wouldn't like!"
Joan states that there is nothing like lopapeysa in the US. "Our country is just this giant hodgepodge of cultures. We don't have something that you look at and say, like: 'Oh, that's American.' Most people would maybe think, like a cowboy hat, but it's not country-wide in the way that lopapeysa is. As Kyle said, the closest thing we have is maybe a hoodie, and that's not nearly as cool. It's interesting to see that something that you make is so tied into the culture, that you instantly look at and go: 'Iceland!' in your brain."
Kyle adds that the handmade aspect is part of its significance. "Many people told us: 'You don't buy a lopapeysa. Someone makes it for you.' It's sort of part of your development as an Icelander. They're not just gifts. They're gifts of a week of somebody's love." Joan agrees. "Even if you buy one from a shop. Somebody made that. As a tourist, that's really cool."
Photo below: A variety of sweater patterns, with the Fagradallsfjall volcanic eruption in the background.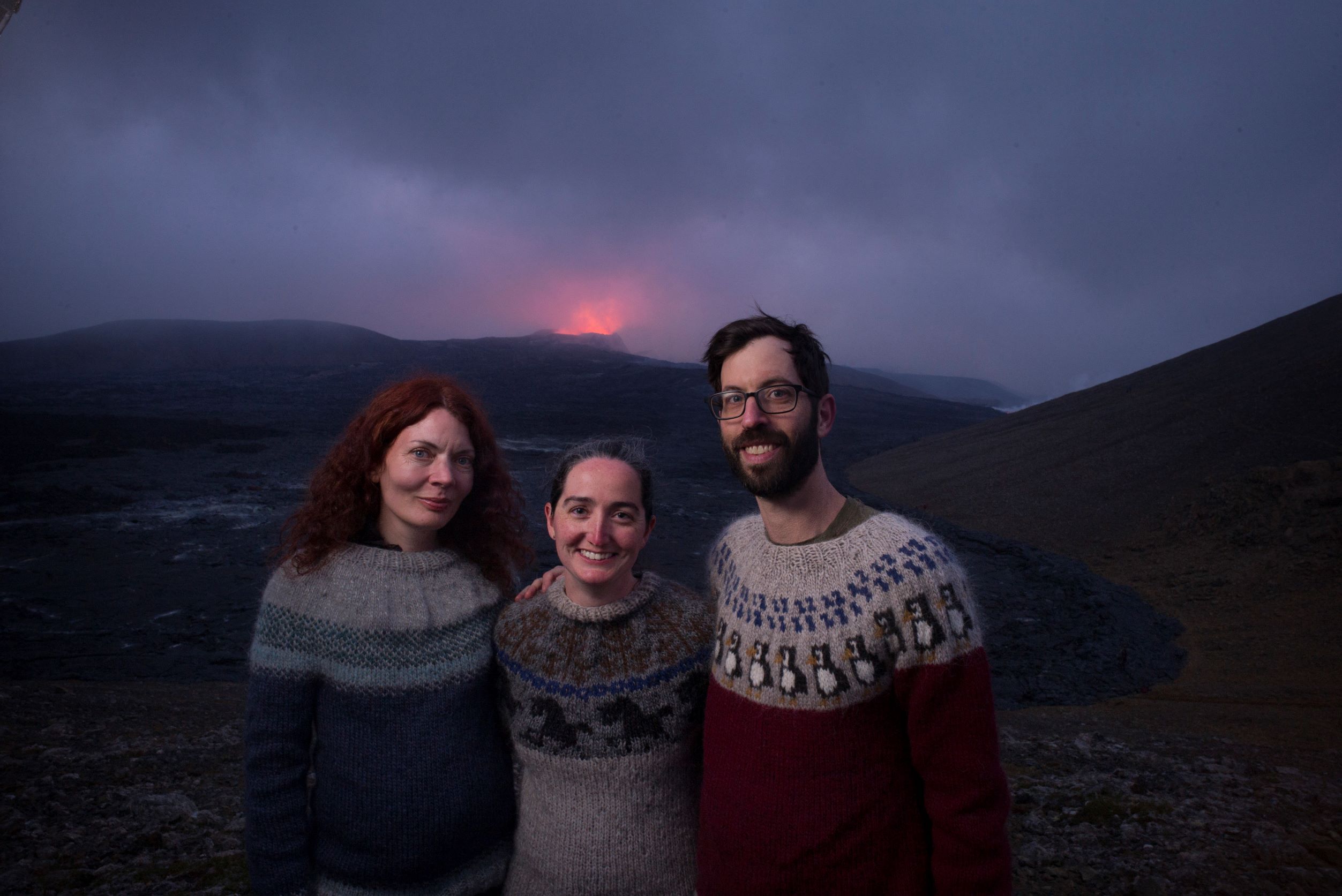 Building friendships
Joan and Kyle say they're definitely returning to Iceland to experience the things they missed out on during their last visit, like puffins and northern lights – and to visit the friends they made. "Iceland is not something you cross off your bucket list," states Joan.
When asked about their highlights, Joan mentions Hestaland horse farm, as she's crazy about horses. "I really loved the volcano," says Kyle. "But for me, I think one of the most amazing experiences was getting back to Reykjavík after we'd been around the country and see, on the street, people who we'd met before we left and who we now knew and thought of as friends. Building friendships that still exist. For me, that was the most life-changing part of it. The volcano was cool but it's even cooler to have somebody to text you when a volcano erupts."
"Everybody should visit Iceland at least once," recommends Joan. "Get the book, take it with you and follow in our path!"
Photo below: A lopi in the wild – at a stream by Helgufoss.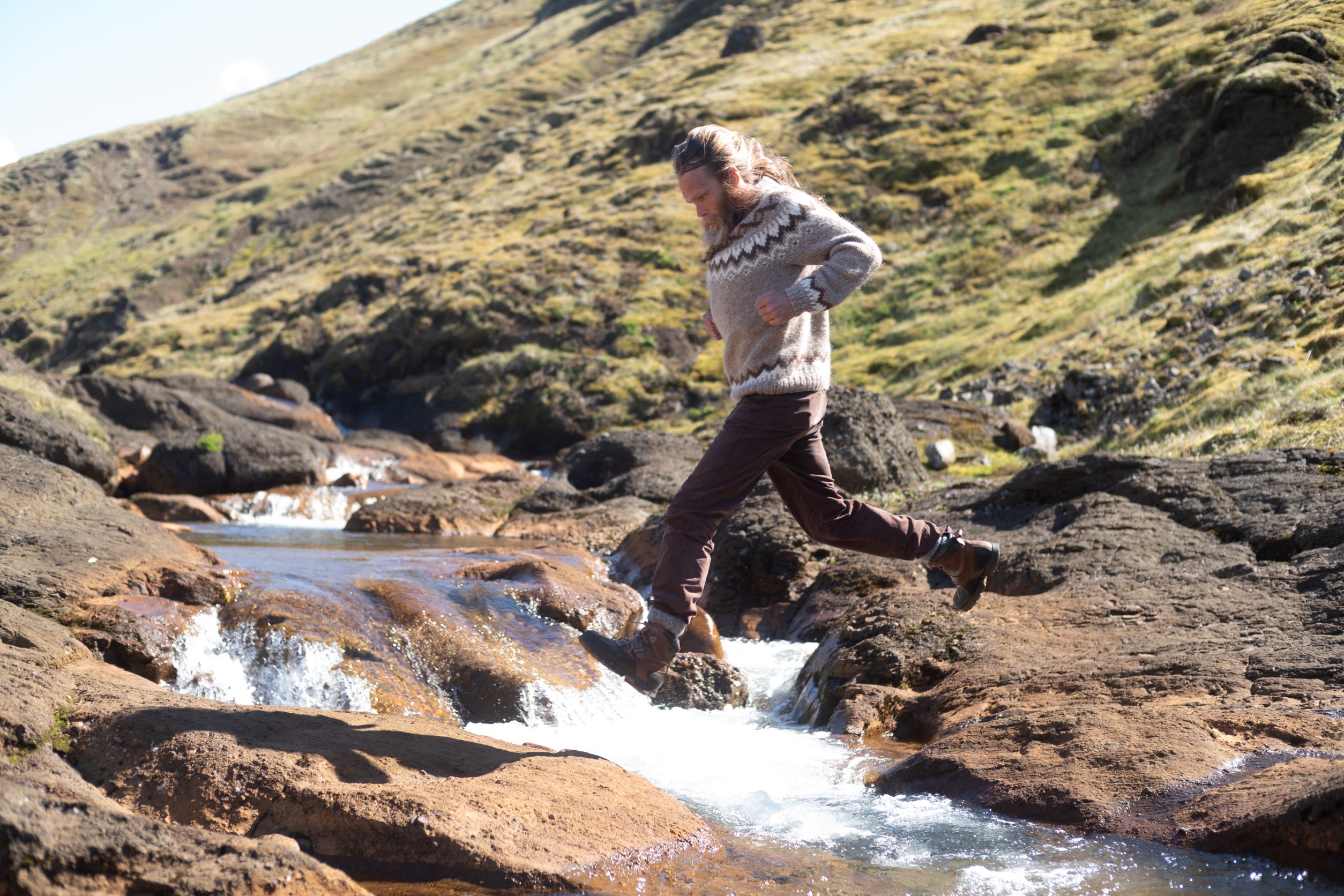 ---
Lopapeysa – A Knitter's Guide to Iceland with Patterns, Techniques and Travel Tips published by Herbert Press is available on Amazon, in the Eymundsson bookstores in Iceland, and can be ordered from your local book or yarn store.
Check out an earlier blog about lopapeysa, Icelandic Sweater Story.