What to see and do in Boston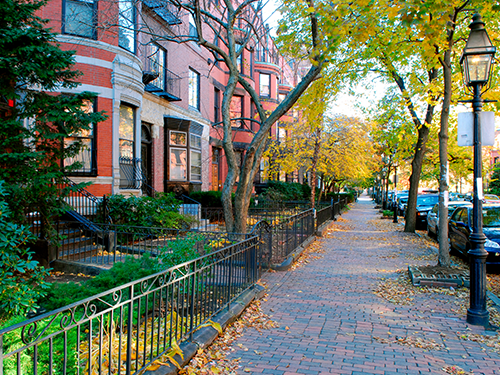 Experience the history of Boston
A few centuries ago, events in Boston changed the course of history - revolutionaries started to break from colonial powers and an independent America was born.
Most of the city's landmarks are nestled in the prettiest neighborhoods, so history lessons which offer context to the events leading up to the American Revolution are both educational and visually appealing.
As befits a distinguished city such as Boston, you'll find intriguing museums, galleries and institutions with strong ties to the past.
You can feel the presence of great minds and great achievements in the storied grounds of Harvard University in Cambridge, Massachusetts, and explore the 20th largest art gallery in the world at the Museum of Fine Arts, Boston.
Things to do in Boston
Boston is now a city full of culture and excitement. There is so much to see and do in Boston that you'll be spoiled for choice.
Taking the top spot on the list is the Freedom Trail. This 2.5-mile city path boasts an impressive 16 landmarks. You can take a walking tour of the trail, or explore it at your own pace.
Walking along the Freedom Trail, you'll visit Boston Common, Massachusetts State House, Bunker Hill Monument and Park Street Congregational Church, among other sites.
You'll also find the city is home to many sports fans passionate about the Red Sox (baseball) and the Patriots (gridiron). Cheer alongside locals at a baseball game at Fenway Park, the nation's oldest ballpark.
Many say that a visit to Boston wouldn't be complete without a visit to The Isabella Stewart Gardner Museum. Home to European, Asian and American art, it is an impressive Venetian house in the center of the city.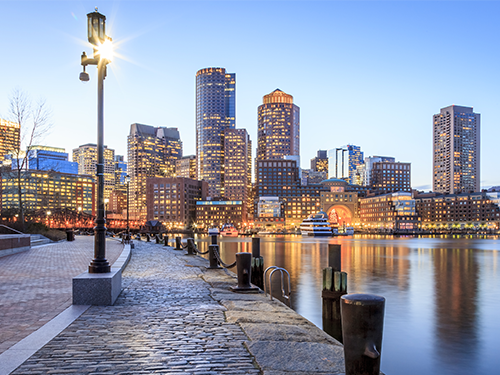 Shopping in Boston
A Harvard sweatshirt and a Red Sox cap? They might be must haves but rest assured there's plenty more to souvenir shopping in Boston.
On the Freedom Trail, the marketplace behind Faneuil Hall is a good place to start. There you'll find stalls, food, street performers and history all around.
The city's links with history and academia mean that it's known for its enticing bookstores and charming antiques. Newbury Street in Back Bay is a great place to wander, for high-street labels and upmarket finery among the townhouses, with some excellent refueling stops too.
The SoWa Art + Design District has found its home among the old warehouses of the South End and is a must-see for unique artisan studios, galleries and boutiques.
Places to eat in Boston
The history lesson continues into the kitchens of Boston. The oldest restaurant in the US is in Boston. Established in 1826, the Union Oyster House is popular among travelers and locals alike.
Meanwhile Quincy Market, or Faneuil Hall Market, is a great place to enjoy local food in one of the oldest market buildings in the US.
Seafood is the crowning glory all over town. Cod, lobster, oysters, clams and delectable creamy chowder are high on wish lists, and the Seaport District is the best place to find all manner of fish dishes.
The North End neighborhood is the city's Little Italy, where pizza and pasta is cooked to perfection. Nearby wine bars and bakeries also offer an authentic slice of Italy.
The South End and neighboring Chinatown are home to excellent late-night eateries too. Cambridge swells with a vibrant bar scene and plenty of crowd-pleasing food options (including many budget friendly options for the students in town).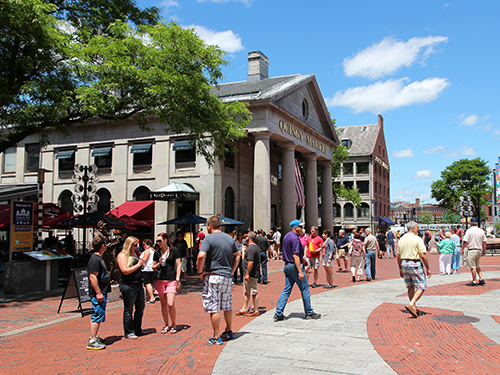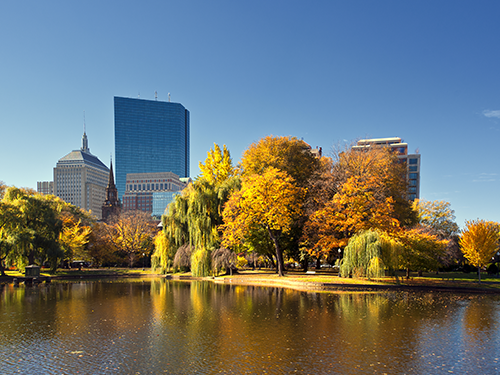 The best time to go to Boston
The thriving city of Boston is a wonderful place to visit practically all year round.
If you're looking for slightly lower airfare and accommodation rates, and want to beat those summer crowds, then between September and October is the perfect time to visit Boston. The mild weather offers optimal conditions for exploring the city on foot, too.
Winter in Boston often sees low temperatures and snow on the ground. Though on the plus side, Boston doesn't hold back on the Christmas celebrations. Expect festive lights and decorations in abundance, outdoor ice rinks, Christmas markets, and the Nutcracker, Boston's beloved annual ballet performance.
If you visit Boston in March, be sure to check out their world-famous St. Patrick's Day parade. Bostonians were the first to celebrate this day in North America and they sure know how to put on a party. Trust us, you won't want to miss it.
Getting around Boston
Boston is a large US city, and whilst you can easily explore each district on foot or bike, it's advised that you use public transport to travel between them.
Luckily, Boston has plenty of transport links. From the Hop-On Hop-Off Trolley Tour to buses and boats, you'll find there are plenty of options to take you around the city whilst also ticking off some sights.
Taxis (or cabs, as they call them in America) can also be found by the bucket load in Boston, and you'll have no trouble flagging (or hailing, as Americans say) one down.