Book your flight to Chicago with Icelandair from
Fly in the next three months: Flights to Chicago
Dublin (DUB)to
Chicago (ORD)
19 01 2024 - 28 01 2024
Dublin (DUB)to
Chicago (ORD)
29 01 2024 - 04 02 2024
Dublin (DUB)to
Chicago (ORD)
10 12 2023 - 17 12 2023
*Fares displayed have been collected within the last 72hrs and may no longer be available at the time of booking
Plan ahead for your trip to Chicago with Icelandair
Please use the search function at the top of the page to find our best flight deals
*Fares displayed have been collected within the last 72hrs and may no longer be available at the time of booking
What to see and do in Chicago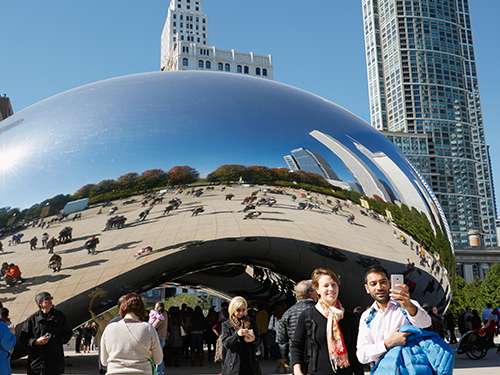 What to expect in Chicago
Chicago is the third-biggest city in the USA, but it's not one to make a song and dance about size. But it deserves some spotlight of its own, for all the right reasons - namely sport, art and architecture, great food and fun festivals.
Skyscrapers reach for the stars too: the 108-story Willis Tower was the tallest building in the world for 25 years. If you're brave enough, step onto its glass-bottomed Skydeck for a breathtaking - and slightly hair-raising - view.
At ground level, public art dazzles, especially at Millennium Park. Here, 'the Bean' (officially titled 'Cloud Gate') is a seamless, smooth and reflective sculpture that everyone wants to photograph. Don't stop there though - the nearby Art Institute of Chicago is the second-largest art museum in the country and is renowned for its impressionist collection.
Getting around Chicago
Chicago is too vast to explore solely on foot, but it's possible to walk or cycle around the city's individual neighbourhoods which are relatively easy to navigate.
Taxis are a convenient, yet more expensive means to get around the city, but can provide much-needed relief for tourists looking to avoid strolling around in freezing winter temperatures.
The Chicago Transit Authority (CTA) provides an extensive public transport network throughout the city. Comprising of buses, subways, and the L-train, the CTA makes getting around cheap, easy, and quick.
In addition to this, there is the Metra regional train network that services Chicago and its nearby towns, cities and boroughs. The Metra operates 11 lines and is the most reliable for transport to and from the suburbs.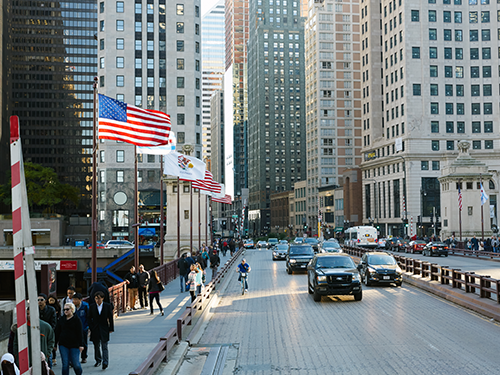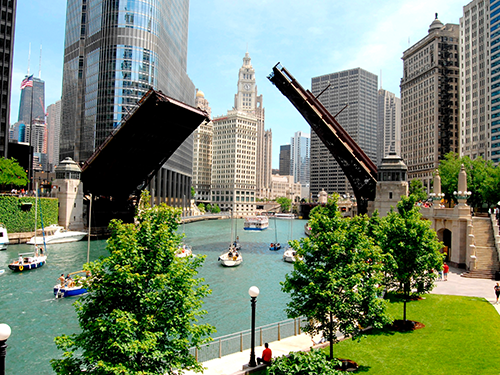 Visiting Chicago in summer and winter
Chicago may be known as the windy city, but there's much more to Chicago's climate than the breeze, and each season offers a different experience for residents and tourists.
The summer months of June to August are the warmest and mildest, providing excellent conditions for sightseeing as well as outdoor events and festivals.
There's also the opportunity for lakeside downtime on the shores of Lake Michigan, and Navy Pier is a landmark that draws thousands of tourists to play among its amusement rides and restaurants. It goes off with a bang twice a week in summer, when fireworks brighten the sky.
In contrast, winters in Chicago are brutally cold. From November to March, the bitter winds and near-freezing temperatures deter many tourists from visiting, though it doesn't affect the locals. If you can brave the cold, you'll be rewarded with lower hotel and flight deals.
The shoulder seasons in Chicago
If you're seeking the sweet spot of fewer crowds with a mostly pleasant climate, then booking flights to Chicago in spring or autumn is your best bet.
September and October bring cooler temperatures and fewer tourists after the summer high season, but events such as Chicago Oktoberfest and numerous music festivals still keep the spirit of the city alive.
The months of April and May also offer relatively pleasant conditions and more manageable crowds, even if a few spring showers are on the forecast.
Even with seasonal fluctuations, Chicago is one of the most visited cities in America, so it's important to book your flight tickets to Chicago in advance to get ahead of the demand.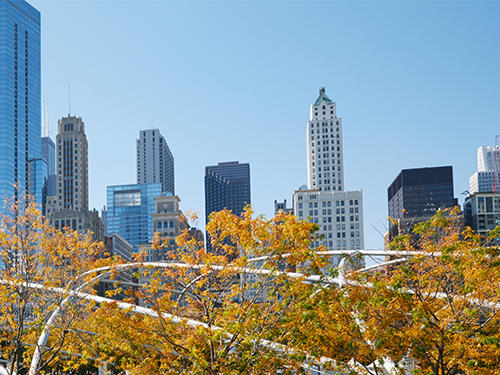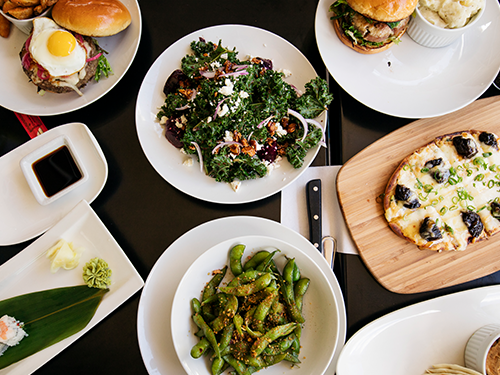 Dining in Chicago
On its way to becoming one of North America's finest dining destinations, Chicago tantalises foodies with a string of big-name, awarded restaurants, plus some great little ethnic eateries.
Stop by the Green City Market for a cooking demonstration from one of the city's big-name chefs, or head to the Wicker Park neighbourhood for popular and up-and-coming bars and restaurants.
Fancy something a little more laid back? There's a good chance that one of your favourite meals will be a simple picnic while listening to a free summertime concert in Millennium Park, or a hot dog and beers among the passionate, baseball-loving locals at century-old Wrigley Field.
And, of course, the city is known for its deep-dish pizza, doughy and with a thick, high crust. While trying this classic cuisine is a must, you may be surprised to find out that Chicago is building quite the name for itself on the global culinary stage.
Shopping in Chicago
For some seriously good shopping, head to the Magnificent Mile: a prestigious stretch of real estate that lines Michigan Avenue.
Set over 13 blocks between the Chicago River and Oak Street, the Mag Mile offers a smorgasbord of malls, boutiques, galleries, cafes and restaurants that fill the city with life - and style.
If this sounds a little too flashy for your tastes, there are plenty of more down-to-earth options in local markets and neighbourhood strips. Be sure to check out Randolph Street Market for vintage finds, antiques, and indie designers.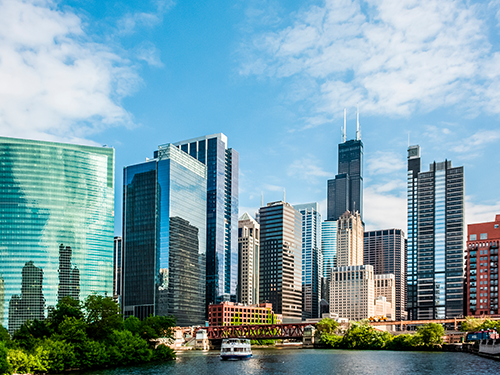 FAQs about travel to Chicago
Helpful information for travellers to Chicago
How long does it take to fly to Chicago from Ireland?
Flights to Chicago from Irish airports are typically around 9 hours long, but this doesn't take into account the total time spent traveling and if you choose to book a stopover.
Can you fly from Dublin to Chicago?
Icelandair offers regular flights from Dublin to Chicago. Use the flight finder tool above to get the best ticket deals ahead of time.
What are the two major airports in Chicago?
The two main airports servicing the city are Chicago O'Hare Airport (ORD) and Chicago Midway Airport (MDW). They are the largest operators of international flights to and from Chicago and are both located under 20 miles from the city centre.
Further away, 68 miles northwest of Chicago, there is also Chicago Rockford International Airport (RFD) which primarily serves US destinations.
How do you get from Chicago O'Hare to downtown Chicago?
It takes around 30 minutes to travel by car from Chicago O'Hare International Airport to central Chicago (downtown). The CTA L-Train also links the airport with the city center, but this takes slightly longer (around 45 minutes).
How can I find the best flight deal to Chicago?
You can typically find the best prices on flights from Europe to Chicago during the winter months, with January and February generally being considered the cheapest months to fly to Chicago, United States.
No matter what time you choose to visit Chicago, we recommend booking your flights in advance to secure the best deal.
Make the most of your trip