Book your flight to Detroit with Icelandair
Fly in the next three months: Flights to Detroit
Please use the search function at the top of the page to find our best flight deals
*Fares displayed have been collected within the last 72hrs and may no longer be available at the time of booking
Plan ahead for your trip to Detroit with Icelandair
Please use the search function at the top of the page to find our best flight deals
*Fares displayed have been collected within the last 72hrs and may no longer be available at the time of booking
What to see and do in Detroit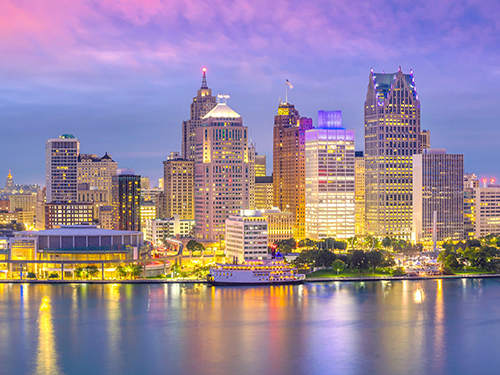 Introduction to Detroit
Motor City is going through a revival, and we're excited to witness it first hand. Want to join us?
Motown music, acclaimed art and design, and fine local flavors are among the appeal of this Midwest metropolis, named one of Time magazine's World's Greatest Places in 2022.
Icelandair offers regular flights to Detroit from the UK. Book now for your chance to explore this thriving American city that's been flying under the radar.
But before you discover the Motown music that Detroit is rightfully celebrated for, how about unearthing Iceland's very own renowned music scene? When you book a flight to Detroit with Icelandair you can add a stopover in Iceland at no additional fee.
The best time to go to Detroit
Like a lot of well-known American states, Michigan is an exciting place to visit all-year round.
That being said, the shoulder seasons (April to May and November to December) are the perfect time to visit Detroit for those hoping to avoid those summer crowds. You'll find spring and autumn bring with them more favorable weather conditions.
Visiting slightly off-season can also see you bag a better deal on accommodation and flight prices.
Though if you don't mind those colder temperatures, Detroit in the winter is definitely not a write-off. There may be snow on the ground but it only adds to the city's allure.
Plus, Detroit definitely doesn't hold back on the festivities. Expect Christmas markets, festive lights and inner-city ice rinks in abundance. Just don't forget your winter coat!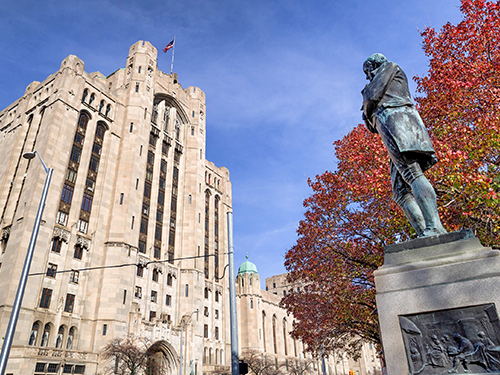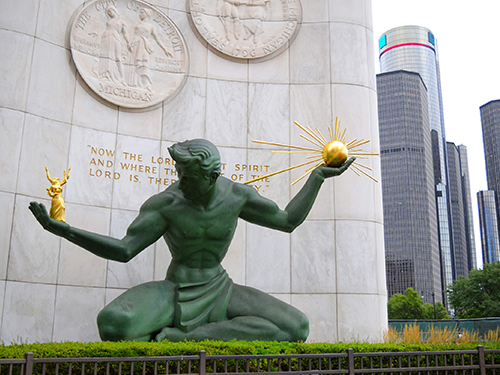 Things to do in and around Detroit
Whilst Detroit is a large, sprawling city with plenty to discover within Michigan state lines, you are well placed to do some exploring, too. Cross the river into Canada and you might even be tempted to cover the 380km (236m) that it takes to reach Niagara Falls.
If you're looking for something a little closer to home but have a taste for the outdoors, Belle Isle Park is an island in the Detroit River near Downtown Detroit that's well worth visiting.
It's accessible by bridge and features a zoo, aquarium, conservatory, beach and even a museum dedicated to the Great Lakes. So there really is something for everyone. Plus there's plenty of space to hike, BBQ, kayak and more. What's not to love?
Further afield, the town of Ann Arbor regularly comes out on top in surveys on the best places to live in the US. It's a pretty university town with a vibrant arts and culture scene, just 70 km west of Detroit. Amtrak trains run between the two cities making it all the more accessible.
Places to visit in Detroit
Detroit was once one of America's most booming states. With its heyday centered around the automobile industries in the 20th century. Its legacy of stunning architecture from that time means you'll find art deco in abundance.
The statue called The Spirit of Detroit is a 26-foot monument which has the seals of the City of Detroit and Wayne County on it's wall.
What's more, the Henry Ford Museum is home to incredible displays of classic cars alongside a smorgasbord of top-tier exhibits.
Another endearing homegrown icon is Detroit's Motown; a musical genre that combines rhythm and blues with pop - think Marvin Gaye, Diana Ross and Stevie Wonder. For music fans, the Motown Museum is a must.
Art and design fans have a lot to celebrate too. From world-class street art to the fresco-filled Detroit Institute of Arts and incredible sculptures such as "The Fist"; there's plenty to feast your eyes on. Plus, Detroit is the first and only American city to be named a UNESCO City of Design. Check out the Heidelberg Project for inspiring, electric outdoor art.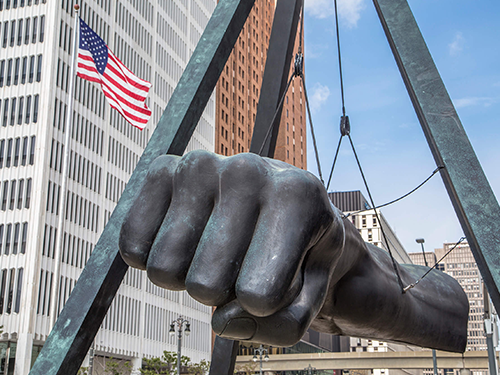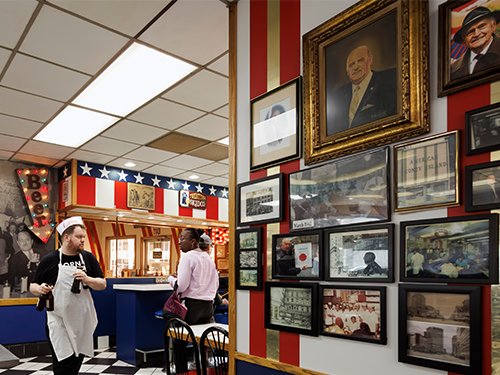 Places to eat in Detroit
Get a taste of local flavors when you head to Eastern Market.
Formed in 1891, it's the largest farmer's market in the US, and is surrounded by a thriving neighborhood filled with mouth-watering food spots and funky shops.
Detroit's famous dishes consist of the square deep-dish pizza, Coney Island hot dogs (topped with chili, onions, and mustard, of course) as well as corned beef sandwiches.
In addition to the old-school favorites, you can expect a slew of creative chefs doing their thing in upcoming restaurants and cafes, especially in the cool neighborhood of Corktown.
You'll also find that there's an abundance of multicultural eats thanks to the city's diverse population. Head to Greektown for, you guessed it, Greek food, Hamtramck for Polish food, Dearborn for Arabic food and Corktown, well everything!
Getting around Detroit
Whilst you can explore the individual districts of Detroit on foot, it's advised that you use public transport to travel between them.
Detroit is a well-connected city, with regular light-rail, streetcar systems, bus, taxi and shuttle services.
There's also a train service if you plan on traveling outside the center. Detroit's public transport is hailed for offering flexible, cheap and fast ways to get around the city.
If you want to, you can rent a car on your holiday to Detroit, though the traffic can be pretty hectic and parking can be tricky, too, so we recommend hopping on public transport instead.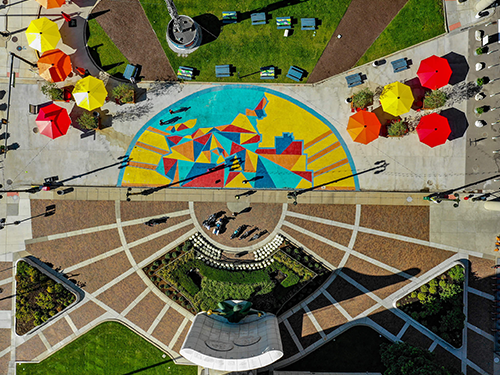 FAQs about travel to Detroit
Helpful information for travellers to Detroit, USA
Does Icelandair offer flights to Detroit from Ireland?
When can you book the cheapest flights to Detroit?
Which airport do you fly into for Detroit?
How long is the flight to Detroit from Ireland?
Make the most of your trip