Book your flight to Portland with Icelandair
Fly in the next three months: Flights to Portland
Please use the search function at the top of the page to find our best flight deals
*Fares displayed have been collected within the last 72hrs and may no longer be available at the time of booking
Plan ahead for your trip to Portland with Icelandair
Please use the search function at the top of the page to find our best flight deals
*Fares displayed have been collected within the last 72hrs and may no longer be available at the time of booking
What to do and see in Portland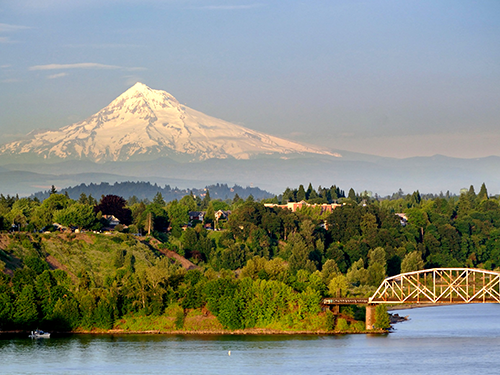 Introduction to Portland
Portland has a reputation for quirkiness and creativity - the city's unofficial slogan is 'Keep Portland weird.'
If that's not enough to win you over, how about brilliant beer, delicious local food, big green parks, and great hiking and cycling?
Icelandair offers frequent flights to Portland from the UK and Europe for bookstore browsing, bicycling, festivals, and craft brews.
Before you stop to dive into Portland's food culture and outdoor scene, fancy trying out some of Iceland's crafty dining options, from skyr to smoked lamb? When you book flights to Portland (PDX) with Icelandair you can add a stopover in Iceland at no additional airfare.
What to do in Portland
Portland has an impressive list of parks worth visiting the best being the USA's largest urban park: 5100-acre Forest Park. It's only 10 minutes from downtown and is full of hiking and cycling trails.
Its neighbor is the slightly less-wild Washington Park, and its home to the city's zoo, arboretum, children's museum, and a museum dedicated to forests.
In Washington Park, stop by two city favorites: the impressive Japanese Garden, a haven of Zen, and the International Rose Test Garden, a heady place filled with 500 types of roses.
Rest assured: on rainy days (of which there are many), there's still plenty to do in this town. Museums cover art, history, and science, while loads of cozy cafes and brewpubs beckon.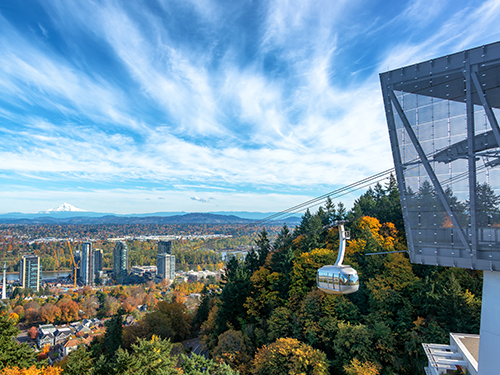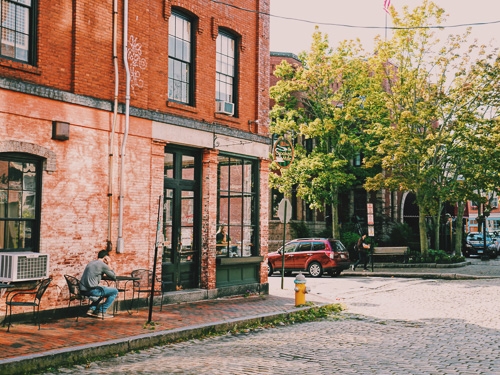 Where to eat in Portland
Portland has embraced the farm-to-table movement, and eating well (locally, seasonally, sustainably) is encouraged here.
In fact, it's a hub of cool food trucks, perfectly brewed coffees, and neighbourhood farmers markets (there's a good one held Saturdays at the Portland State University campus).
Every neighbourhood has some good options for eating - try out the Pearl District for some fun dining and drinking choices.
The Pine Street Market is a downtown spot worth checking out - it's an upmarket food court that's home to nine restaurants under one roof.
Where to shop in Portland
The Saturday Market is a local institution - it sets up along the waterfront and sells great arts and crafts, with food vendors and musicians to keep you entertained. And despite the name, it's held on Sundays, too.
One of Portland's unlikely big attractions is a bookstore - and Powell's City of Books is no ordinary bookstore. It's huge (sprawling over a city block in the Pearl District), and beloved.
Wander the Pearl District for fine shopping and eating options, and the Hawthorne District for funky finds.
For the full mall experience, seek out Pioneer Place or Lloyd Centre. Lloyd Centre is the state's largest mall - it even has an ice-skating rink.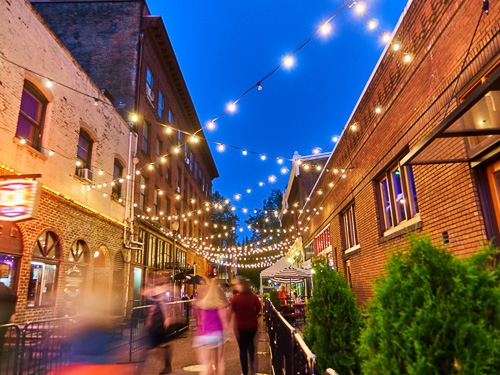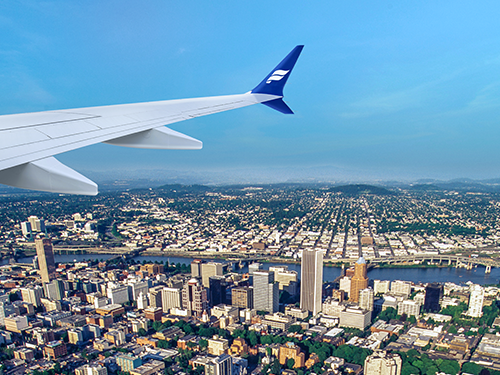 How to get to Portland
Icelandair offers regular flights to Portland via Iceland, making it easy for travellers to visit this fantastic city.
The best time to visit Portland is the summer months between June and August.
The days are consistently warm which means that there are plenty of adventures to be had outdoors.
If you book outside peak season, you'll likely be able to secure cheap flights to Portland as well as great hotel deals.
Travelling within Portland
There are several ways to get around Portland. On a warmer day, we would encourage you to embrace the weather and travel on foot, bike or electric scooter.
The city also boasts car and ride-share services which are popular among locals and visitors alike. Though some travellers prefer to rent a private car for their own use.
Otherwise, the city is well connected by an efficient public transport system made up of buses, MAX light rail and trams.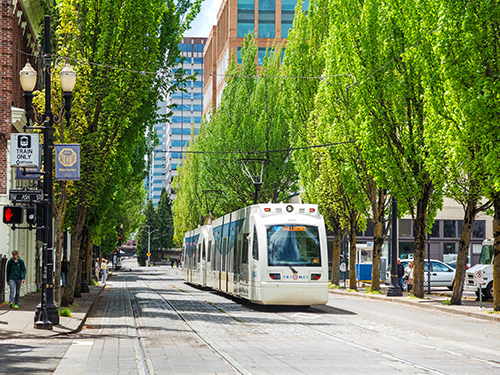 FAQs about travel to Portland
Helpful information for travellers to Portland
How long is the flight to Portland from Ireland?
The average duration of flights to Portland from Ireland ranges from 12-15 hours, depending on where you fly from.
With Icelandair, you can book flights to Portland from Dublin.
What airport do you fly to for Portland, Oregon?
Do you need a visa to visit Portland?
If you're travelling from Ireland, you'll need a visa or ESTA to get into the US.
We recommend that travellers check the US State Department website to see which type of visa they need and how to get it.
Make the most of your trip