Book your flight to Toronto with Icelandair from
Fly in the next three months: Flights to Toronto
Dublin (DUB)to
Toronto (YYZ)
14 01 2024 - 23 01 2024
Dublin (DUB)to
Toronto (YYZ)
22 01 2024 - 26 01 2024
Dublin (DUB)to
Toronto (YYZ)
24 12 2023 - 29 12 2023
*Fares displayed have been collected within the last 72hrs and may no longer be available at the time of booking
Plan ahead for your trip to Toronto with Icelandair
From

Dublin (DUB)

To

Toronto (YYZ)
Round trip

/

Economy
03 06 2024 - 13 06 2024

From

EUR 436*
*Fares displayed have been collected within the last 72hrs and may no longer be available at the time of booking
What to see and do in Toronto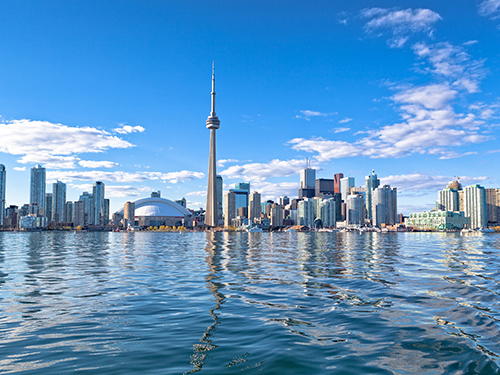 Best time to fly to Toronto
Toronto is a great destination all year round, but summer is the most popular time to visit. The months of June to August see higher temperatures, more cultural events and festivals, and an overall more vibrant feel to the city.
If you're looking to beat some of the crowds, then booking flights to Toronto in spring or autumn is recommended.
The shoulder seasons of April to May and September to October are mild enough for you to comfortably go sightseeing and explore the city while being just outside of peak tourist season. Temperatures do get a little chilly though (especially at night), so don't forget to pack some layers!
Winter is classed as the off-season in Toronto, with near-freezing temperatures paired with bitter winds and snow. However, for locals this is business as usual, so you'll still see plenty of special events going on.
Getting around Toronto
The city's public transport system - the Toronto Transit Commission (TTC) - is one of the best ways to get around Toronto.
The TTC is comprised of subways, streetcars and buses which operate extensive routes throughout Toronto and the surrounding suburbs. You need a token or pass to travel, and these can be purchased online or from kiosks.
Toronto's grid layout makes it fairly easy to navigate, and while it's too big to travel by walking, the neighbourhoods are compact enough to explore on foot or by bike.
Cycling is also a popular option thanks to the city's bike share scheme (Bike Share Toronto). There are over 300 stations dotted around so you won't be short of options.
Taxis are also available in Toronto, in addition to companies like Uber and Lyft, but note that this is one of the most expensive ways to get around the city.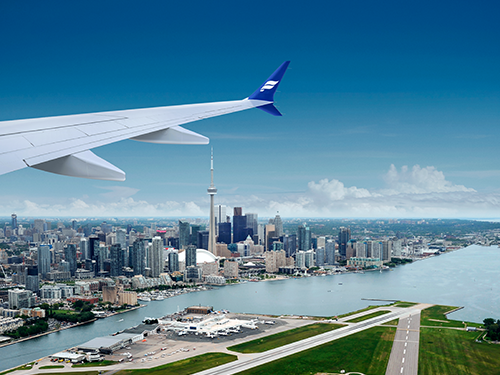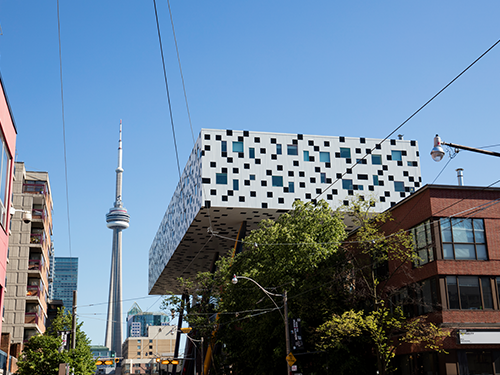 What to see in Toronto
Toronto - the lakeside metropolis of Ontario - has something for everyone.
The city is named one of the most multicultural in the world, with an estimated 230 nationalities calling it home.
What's more is that it has 140 official neighbourhoods, meaning that you get a different experience with almost every corner you turn.
The big-name sights are downtown - the 1814ft CN Tower is among one of the famous must-sees.
You can also check out the redeveloped harbour front district and head inland for attractions like the Royal Ontario Museum, the Art Gallery of Ontario, and the castle and the gardens of Casa Loma.
Places to visit in Toronto
A few blocks east, you can take in the Hockey Hall of Fame and delicious flavours at St Lawrence Market.
Further east. You'll end up at the Distillery District, where stores, studios and theatres have made a home in a huge historic distillery.
And if you want to travel to the Toronto Islands, then you're in for a treat with plenty to see and do there. From cute cafes to gorgeous scenery and lots of picnic areas and beaches, there's something for everyone.
To reach the Islands, you'll need to get the ferry from downtown Toronto. It runs between the Jack Layton Ferry Terminal to Hanlan's Point, Centre Island and Ward's Island, letting you explore all that the Toronto Islands have to offer.
Many travellers also view Toronto as an ideal place to stay and use as a jump-off point for visiting sites such as Niagra Falls, Elora Gorge and several National Parks.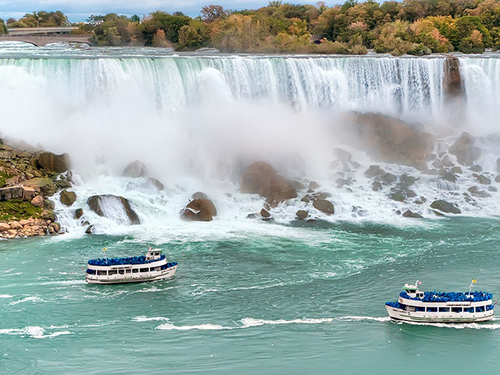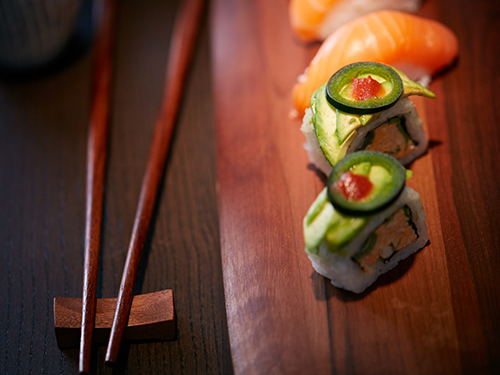 Places to eat in Toronto
All that multiculturalism finds expression in outstanding food options, and you can munch your way around the globe without even leaving Toronto.
Let the neighbourhood dictate your choices - there are six (six!) Chinatowns in the Greater Toronto area. Plus: a Koreatown, Little Italy and Corso Italia, Little India, Little Jamaica, Little Portugal and a Greektown (on the Danforth), among many others.
But if the city has a signature dish it's the peameal bacon sandwich, made from slices of cornmeal-coated bacon.
The best place to try it - and one of the best places for a taste of food culture in the city - is St Lawrence Market. It's been going strong for two centuries, and today houses gourmet food stalls and a weekly farmers market.
Shopping in Toronto
When you're done with sightseeing, you can find refuge in one of Toronto's many malls.
The Eaton Centre is in the heart of downtown and is home to 250 stores, but that's nothing compared to the mall known as Vaughan Mills, located about 25 miles north of downtown.
It is one of Canada's largest retail spaces, handily placed next to a theme park. Inside is a Lego-themed discovery centre, making this a haven for the full family retail experience.
But if shopping centres aren't your thing, Kensington Market is a neighbourhood full of diversity and browsing opportunities, complete with next-level food spots.
Meanwhile, Queen West and West Queen West are Toronto's coolest hoods for shopping and eating, while the city's cashed-up elite live the high life in the Bloor-Yorkville area (nicknamed 'the Mink Mile').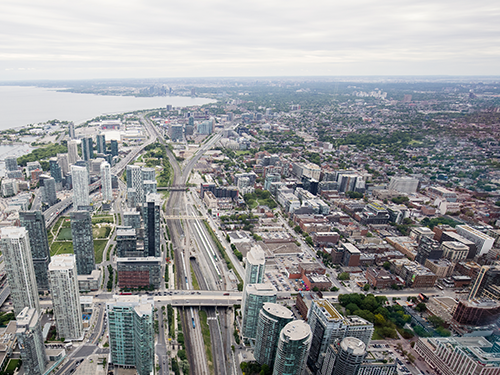 FAQs about travel to Toronto
Helpful information for travellers to Toronto
How long does it take to fly from Ireland to Toronto?
What's the cheapest time to fly to Toronto?
Flights to Toronto, Canada tend to be cheapest in January and February. This is when temperatures reach their coldest and these months follow the Christmas and New Year festivities, so prices of hotels and airline tickets are lower.
As you'd imagine, prices for plane tickets to Toronto increase during the summer tourist season, so make sure to plan your trip well in advance if you'd prefer to travel during this time.
How do I get from Toronto airport to the city centre?
You can take the airport train from Toronto Pearson International Airport (YYZ) to downtown Toronto. The train is called the UP Express (Union Pearson Express) and takes around 25 minutes.
Alternatively, there are many options for taxis, shuttles, and car hire at the airport too.
Where should I stay in Toronto?
We recommend that visitors stay in downtown Toronto to be closest to all the tourist attractions, dining, cultural sights, and nightlife.
Make the most of your trip