Book your flight to Washington, D.C. with Icelandair
Fly in the next three months: Flights to Washington, D.C.
Please use the search function at the top of the page to find our best flight deals
*Fares displayed have been collected within the last 72hrs and may no longer be available at the time of booking
Plan ahead for your trip to Washington, D.C. with Icelandair
Please use the search function at the top of the page to find our best flight deals
*Fares displayed have been collected within the last 72hrs and may no longer be available at the time of booking
Visiting Washington, D.C.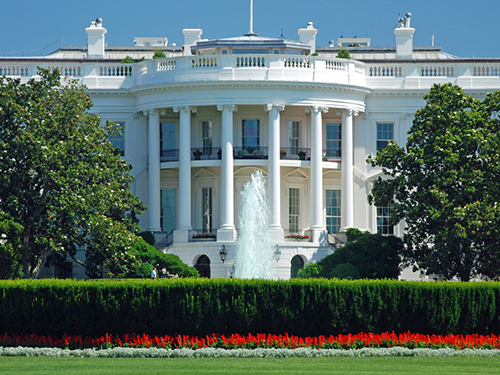 Top sights to see in Washington, D.C.
Power players, marvellous monuments and museums that promise days of exploring – oh boy – you just know this city is an important one. Washington is at the center of many things, and it can't help but electrify you.
There are certainly no shortage of day trips in Washington, D.C. Visitors can take a trip to visit the White House, the official workplace and residence of the President of the United States. Or check out the Pentagon building, home to the United States Department of Defence.
If you're still seeking that politics hit, take a tour of the United States Capitol Building and see the Crypt, Rotunda, and National Statuary Hall. After that, drop by the Library of Congress to take in the stunning architecture of the building (both inside and outside).
And that's not to mention this citys world-class museums and moving memorials. Washington D.C. was built to impress, and you'll have no trouble getting your sightseeing fix.
Historical sites to explore
Plan your time well though, because one thing is for sure, you won't want to miss the Smithsonian Institution. Taking the title of the world's largest museum; this education and research complex boasts a head-spinning 19 sites.
With world-class museums and galleries under its umbrella (not to mention its gardens and zoo), the Smithsonian Institution is not to be missed. Sightseers, start your engines!
Whilst the Smithsonian's Natural History Museum and American History Museum bring the knowledge, the Air and Space Museum provokes wonder and awe (and has a planetarium and IMAX theatre too).
And if that wasn't enough to tempt you to pay a visit, as a gesture of goodwill, all these museums are free!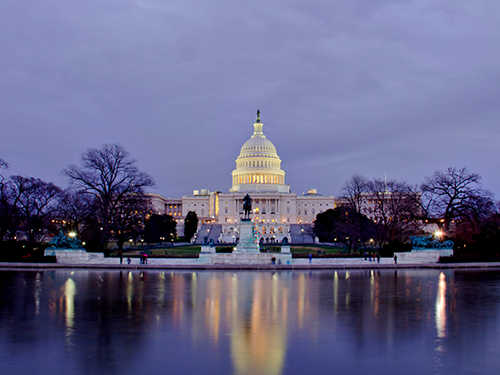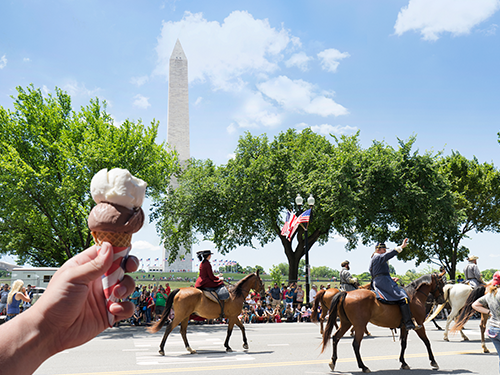 Summer in Washington, D.C.
In light of the fact it's the US capital and has close links to the Big Apple – Washington, D.C. is a tourist hotspot practically all year round.
Its high season runs from March–June, during which you can expect mild, comfortable weather conditions and large crowds hoping to catch Washington during its cherry blossom season.
Washington's shoulder season (July–September) brings the heat and humidity, meaning you can expect fewer crowds.
If you're heading to D.C. for the museums this is a good time to visit.
Winter in Washington, D.C.
During Washington's low season (October–February) you can expect to see the city lit golden as fall comes to fruition.
Though the temperature drops significantly, if you don't mind braving the cold this can be a wonderful time of year to visit America's capital.
You can expect Christmas Markets, ice rinks and colourful light displays.
No matter what time of the year you book tickets to Washington, D.C. from the UK, we recommend booking your flights in advance to secure the best deal.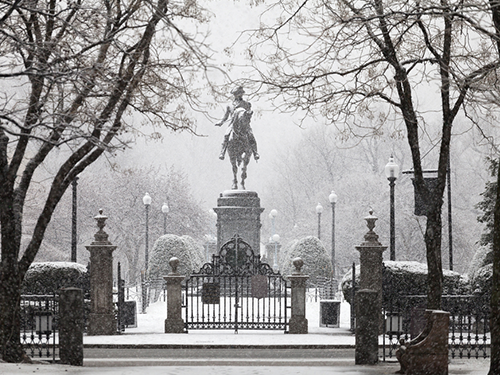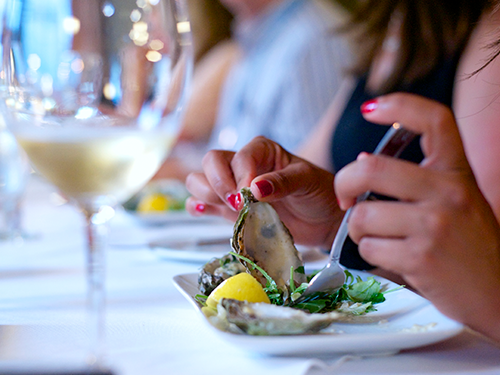 Food and drink in Washington, D.C.
It will come as no surprise to hear that the US capital brings the flavour by the bucket load. Home to a diverse and international population including ex-pats, diplomates, students, tourists and locals, it's no secret that the US dine on mouth-watering cuisines from all over the globe.
You'll be sure to find a political deal being brokered against the backdrop of elegance in Georgetown. Expect cafes and bars full of well-heeled students and residents, fun budget bites and intimate jazz clubs on this vibrant U-street corridor.
And why not put Washington's signature dish to the test: the half-smoke? Combining ground pork, beef and spice, the half-smoke resembles a hot dog on steroids!
It's larger, spicier and coarser than your average sausage but there's a reason it's so popular with locals and tourists alike – it's pretty damn delicious.
Shopping in Washington, D.C.
For political souvenirs and thoughtful-themed offerings, the museums have some amazing gift stores. Our personal pick of the bunch is the Air and Space Museum gift shop.
The more serious shoppers out there should head to Washington's Downtown. Here you'll find 10 impressive acres of mall in the form of CityCentreDC (this is America, after all). Expect globally recognised brands such as Dior, Burberry and Kate Spade, as well as cool independents.
But it doesn't stop there. There's a weekend flea market that sets up next to Eastern Market near Capitol Hill where you can spend those loose hours trawling for vintage treasures and artworks whilst sampling local produce.
Once again, the leafy and lovely Georgetown neighbourhood also ranks highly when it comes to browsing appeal - boutiques and cafes line M Street and Wisconsin Avenue. And while you're in the area be sure to drop by Cady's Alley, a cobblestoned lane littered with exclusive, trendy stores.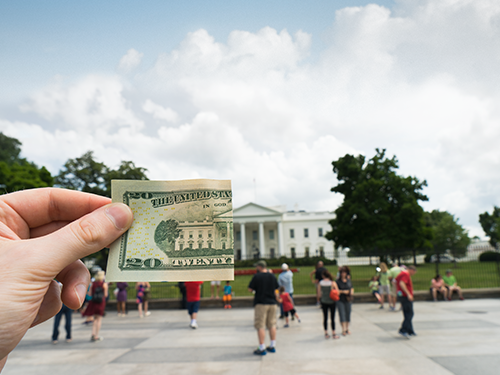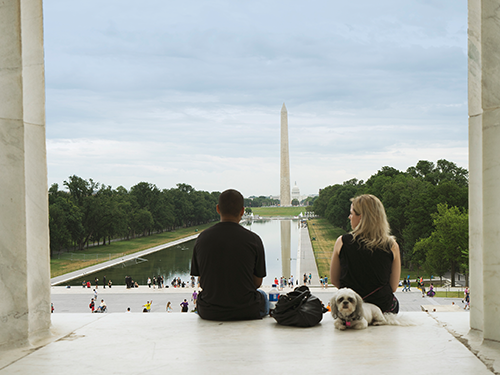 Travelling around the city
Getting around Washington on foot is certainly no mean feat. And whilst some parts of the city are to be explored this way, getting from one district to another should certainly be done on public transport.
But with the Metro, DC Circulator Bus, Hop on Trolley, and Express Bus Routes all at your disposal – you'll find getting around Washington D.C. is actually pretty easy.
That's not to mention the city's abundance of taxis (or cabs as they call them across the pond).
There are plenty of car rental options too, though keep in mind that parking can be difficult at times and there will be rush hour traffic to contend with.
Getting from the airport to the city centre
Fights to Washington from the UK with Icelandair fly into Washington Dulles International Airport (IAD).
From there, there are several options for how to get to downtown D.C.
By far the easiest and most convenient way to reach downtown from Dulles Airport is by taking a taxi, as it only takes 40 minutes.
However, the cheapest way to make the journey is by taking the metro.
You'll first need to take the Silver Line Express Bus to the metro station and then simply hop on the Silver Line Metro Train from Dulles to D.C.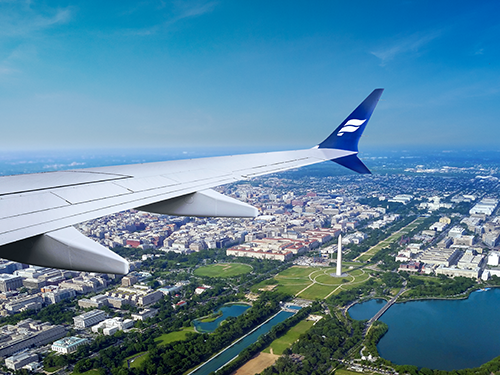 FAQs about travel to Washington
Helpful information for travellers to Washington, D.C.
Does Icelandair offer flights to Washington, D.C. from Ireland?
Icelandair offers flights to Washington, D.C. from Dublin, Ireland.
Before you tour the US Capital, how about visiting the place where Vikings established the first democratic parliament, over a thousand years ago? When you fly to Washington with Icelandair you have the opportunity to add a stopover in Iceland at no additional airfare.
Book your tickets to Washington, D.C. today for a taste of politics, power, presidents and so much more!
How long is the flight to Washington?
The duration of the flight from Dublin to Washington is roughly 9 hours.
This, of course, doesn't take into account any layover or Stopover, so the actual time spent traveling will be longer.
There are several flights per week flying to Washington D.C. from Ireland with Icelandair.
When can you book the cheapest flights to Washington, D.C.?
You're more likely to find cheap flights to Washington, D.C. during its colder months. Travelers often find the cheapest time to fly to Washington D.C. is in January and February, when it's off-peak season.
Washington, D.C. is an iconic place to visit all year, and finding cheap flights is possible year-round, so we simply advise travelers to check our flight deals regularly and book their trip in advance.
Some travellers may even choose to set up a price alert on their chosen route to make sure they secure the cheapest flights from Dublin.
You can find the cheapest plane tickets from your nearest airport by using the booking widget above.
How far is Washington, D.C. from New York?
Washington D.C. is a popular destination in part due to its close connection to the Big Apple. New York is under 5 hours away from Washington D.C. by car and only 1.5 hours by plane.
Make the most of your trip