Book your flight to Brussels with Icelandair from
Fly in the next three months: Flights to Brussels
Boston (BOS)to
Brussels (BRU)
Mar 02 2024 - Mar 08 2024
Orlando (MCO)to
Brussels (BRU)
Jan 20 2024 - Mar 16 2024
Washington, D.C. (IAD)to
Brussels (BRU)
Jan 07 2024 - Jan 14 2024
Chicago (ORD)to
Brussels (BRU)
Mar 07 2024 - Mar 13 2024
Seattle (SEA)to
Brussels (BRU)
Jan 31 2024 - Feb 29 2024
Seattle (SEA)to
Brussels (BRU)
Jan 11 2024 - Jan 21 2024
Seattle (SEA)to
Brussels (BRU)
Feb 01 2024 - Feb 22 2024
Boston (BOS)to
Brussels (BRU)
Jan 24 2024 - Apr 14 2024
New York (JFK)to
Brussels (BRU)
Mar 08 2024 - Mar 14 2024
Boston (BOS)to
Brussels (BRU)
Feb 01 2024 - Feb 11 2024
New York (JFK)to
Brussels (BRU)
Dec 17 2023 - Dec 21 2023
*Fares displayed have been collected within the last 72hrs and may no longer be available at the time of booking
Plan ahead for your trip to Brussels with Icelandair
From

Boston (BOS)

To

Brussels (BRU)
Round trip

/

Economy
Mar 21 2024 - Mar 28 2024

From

USD 502*

From

Boston (BOS)

To

Brussels (BRU)
Round trip

/

Economy
Oct 13 2024 - Oct 20 2024

From

USD 632*

From

Denver (DEN)

To

Brussels (BRU)
Round trip

/

Economy
Sep 18 2024 - Oct 12 2024

From

USD 963*

From

Orlando (MCO)

To

Brussels (BRU)
Round trip

/

Economy
Jun 20 2024 - Jun 27 2024

From

USD 1,879*

From

Denver (DEN)

To

Brussels (BRU)
Round trip

/

Economy
Jul 18 2024 - Jul 24 2024

From

USD 1,176*

From

Denver (DEN)

To

Brussels (BRU)
Round trip

/

Economy
Jun 12 2024 - Jun 24 2024

From

USD 1,338*

From

Baltimore (BWI)

To

Brussels (BRU)
Round trip

/

Economy
Apr 14 2024 - Apr 22 2024

From

USD 652*

From

Baltimore (BWI)

To

Brussels (BRU)
Round trip

/

Economy
Mar 13 2024 - Mar 27 2024

From

USD 799*

From

Washington, D.C. (IAD)

To

Brussels (BRU)
Round trip

/

Economy
Jun 05 2024 - Jun 24 2024

From

USD 1,361*
*Fares displayed have been collected within the last 72hrs and may no longer be available at the time of booking
What to see and do in Brussels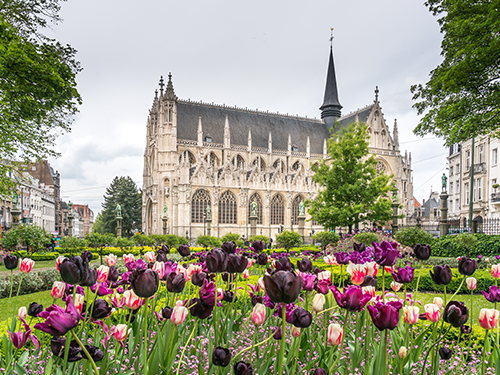 Things to do in Brussels
As the headquarters of the European Union, Brussels is set squarely in the middle of world events. Plus its architectural, cultural and gastronomic offerings make Brussels a must-see destination.
Any traveler to Brussels will want to visit the renowned Grand Place. It's hard not to be impressed by the sweep of architecture that encloses the cobbled market square with its opulent guildhalls dating from the late 17th century. Be sure to check out the exquisite 15th-century Hôtel de Ville (City Hall) and come back to the Grand Place at night for lovely illuminations.
From Grand Place, it's a short walk to the enchanting old districts of Ilôt Sacré and Sablon. If you haven't overdosed on architecture, explore the Notre Dame du Sablon, a magnificent late-gothic church dating from the 15th century.
Among the city's many great museums are the Musées Royaux des Beaux-Arts, or Royal Museums of Fine Arts of Belgium. It's various locations showcase a wide selection of art styles including Old Masters, sculpture, surrealist and contemporary art.
Getting around Brussels – and beyond
Brussels is a fairly compact capital city, with most of the sights and attractions within reasonable walking distance of each other. However, Brussels' rainy reputation doesn't always make walking possible, and some sights are a little further out.
Brussels' network of public transport is the easiest way to get around, and is made up of buses, trams, and the metro. Most of the transport is run by the STIB (MIVB in Dutch) and has an integrated ticket system which means you can change lines and modes of transport easily.
The city is infamous for terrible traffic, so getting around by car is not recommended.
If you're planning to travel further afield, then the SNCB intercity trains are the way to go. Popular day trips from Brussels include visiting Ghent and Bruges, which can be reached in 40 minutes and 1 hour respectively.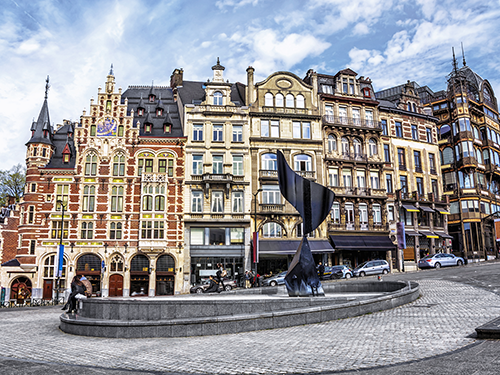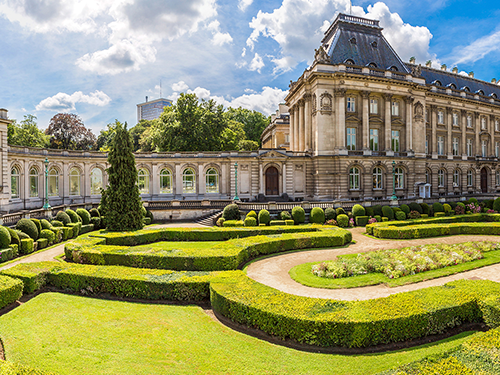 Traveling to Brussels in summer or winter
Brussels is a wonderful city to visit all year round. Due to its four distinct seasons, you'll likely get a different experience based on when you travel.
Summer is considered to be the high season in Brussels. Warmer temperatures alongside the many different festivals and events see tourists flocking to the Belgian capital.
The Renaissance-style Ommegang festival takes place in early July, while the popular Flower Carpet and Summer Festival are August's flagship events. The city's spirit comes alive during this time, but it's also the busiest and most expensive time to fly to Brussels.
Despite the fact that Belgian winters are notoriously dark, wet, and chilly, winter is another popular time to visit Brussels due to the festive excitement in the city.
There's a plethora of Christmas markets to be explored, and there's a huge Christmas tree that illuminates the square. Prices for hotels and flights tend to rise in the lead-up to the holiday season, so keep this in mind if you're planning to visit then.
Visiting Brussels in the shoulder seasons
You may want to wait for the colder weather to subside, in which case, spring is a good time to plan your trip. From March to May, temperatures begin to rise, and conditions improve for sightseeing.
Paired with a spattering of events and parks coming into bloom, spring is an all-round pleasant time to visit Brussels, making it popular with tourists.
Fall is probably the best time to book flight tickets to Brussels if you're looking for a sweet spot where there's mild weather and fewer crowds.
September to October marks the end of the high season, while you can still see the sights without getting too chilly.
No matter what time of year you visit, it's still a good idea to book your hotel and airline tickets to Brussels well in advance. Use the flight finder tool above to browse all flights to Brussels, Belgium, with Icelandair.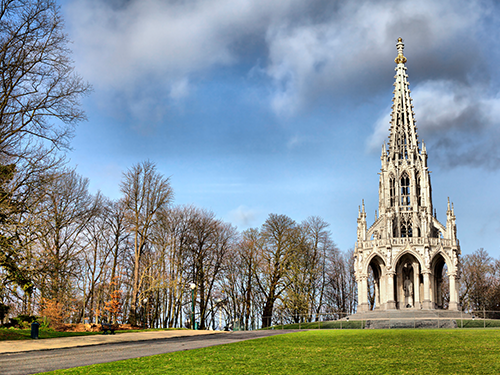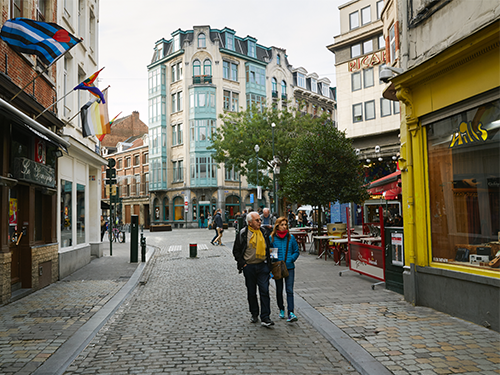 Market shopping in Brussels
Brussels' market scene is not to be missed.
From flower sellers setting up on Grand Place a few mornings a week to a sprawling Sunday market by the Gare du Midi train station; there are plenty of markets to be explored.
The Sablon neighborhood is perfect for browsing - it's loaded with antique stores and chic boutiques.
A market sets up on the Place du Grande Sablon square on weekends, selling antiques and books.
More refined, elegant shopping can be found at Galeries Royales Saint-Hubert, a glass-roofed arcade from the 19th century.
What to expect from Belgian cuisine
For a country of its size, Belgium has had a disproportionate impact on the palate of diners and drinkers around the globe.
Belgian beers are revered (especially Trappist beers, brewed in monasteries), and its reputation for fine chocolate is unmatched. Check out the Place du Grand Sablon for the holy grail of Belgian chocolate, where most grand chocolatiers have a store.
Perhaps the most iconic Belgian meal is mussels and French fries, or moules-frites. The area around Ste-Catherine's fish market is a super spot to sample this and other seafood specialties.
In Brussels, you can track down bistros that serve European classics in old-world, polished-wood charm, and find Michelin-starred temples to enjoy fine dining. There's a growing selection of cafes selling fresh foods, and world cuisines are nicely represented.
For addictive local street food, stop at a friterie or frituur for a cone of perfectly made fries, fried meat and unforgettably delicious sauces.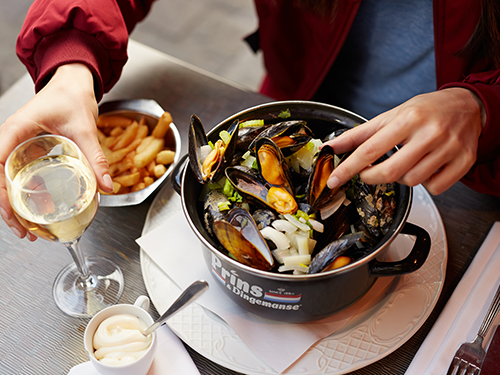 FAQs about travel to Brussels
Helpful information for travelers to Brussels
How long is the flight to Brussels from the US?
Flights to Brussels, Belgium take around 10-12 hours on average. However, this varies depending on your US departure airport and whether you have booked a stopover as part of your journey.
Which US airports offer flights to Brussels, Belgium?
When is it cheapest to fly to Brussels?
If you're looking for lower-priced plane tickets to Brussels, then we recommend you consider traveling sometime between November and March.
Airline tickets and hotels are cheaper in the winter, with the exception of December when Christmas festivities lead to a spike in demand.
Do US citizens need a visa for Brussels?
Belgium is a Schengen area country, meaning that US citizens in possession of a valid tourist passport can fly to Brussels Belgium for up to 90 days without a visa.
Which airport do Icelandair flights to Brussels land at?
There are two airports in the Brussels area which can make this slightly confusing for travelers to Belgium. These airports are: Brussels Airport (BRU) and Brussels South Charleroi Airport (CRL).
Icelandair flights to Brussels land at Brussels Airport (BRU), making the journey to downtown far quicker and easier. This means more adventure and less hassle.
Where is Brussels Airport located?
Brussels Airport (BRU) is located 7 miles (12km) from the city center. You can get into central Brussels via taxi, train, or bus. It takes 20 minutes or less by car and train, but around 30 minutes by bus.
Make the most of your trip