Book your flight to Manchester with Icelandair from
Fly in the next three months: Flights to Manchester
Minneapolis (MSP)to
Manchester (MAN)
Dec 11 2023 - Dec 18 2023
Denver (DEN)to
Manchester (MAN)
Feb 06 2024 - Feb 27 2024
Denver (DEN)to
Manchester (MAN)
Jan 31 2024 - Feb 13 2024
Boston (BOS)to
Manchester (MAN)
Dec 09 2023 - Dec 14 2023
Boston (BOS)to
Manchester (MAN)
Feb 28 2024 - Mar 04 2024
Boston (BOS)to
Manchester (MAN)
Jan 09 2024 - Jan 23 2024
Seattle (SEA)to
Manchester (MAN)
Jan 08 2024 - Jan 17 2024
Seattle (SEA)to
Manchester (MAN)
Jan 04 2024 - Jan 17 2024
Seattle (SEA)to
Manchester (MAN)
Jan 29 2024 - May 22 2024
Newark (EWR)to
Manchester (MAN)
Jan 17 2024 - Jan 27 2024
Newark (EWR)to
Manchester (MAN)
Jan 12 2024 - Jan 18 2024
Newark (EWR)to
Manchester (MAN)
Dec 06 2023 - Dec 10 2023
*Fares displayed have been collected within the last 72hrs and may no longer be available at the time of booking
Plan ahead for your trip to Manchester with Icelandair
From

Minneapolis (MSP)

To

Manchester (MAN)
Round trip

/

Economy
May 07 2024 - May 17 2024

From

USD 641*

From

Minneapolis (MSP)

To

Manchester (MAN)
Round trip

/

Economy
Aug 08 2024 - Aug 16 2024

From

USD 888*

From

Minneapolis (MSP)

To

Manchester (MAN)
Round trip

/

Economy
May 05 2024 - May 22 2024

From

USD 1,125*

From

Denver (DEN)

To

Manchester (MAN)
Round trip

/

Economy
Sep 19 2024 - Sep 26 2024

From

USD 635*

From

Denver (DEN)

To

Manchester (MAN)
Round trip

/

Economy
Jul 30 2024 - Aug 05 2024

From

USD 1,591*

From

Boston (BOS)

To

Manchester (MAN)
Round trip

/

Economy
May 06 2024 - Jun 06 2024

From

USD 608*

From

Boston (BOS)

To

Manchester (MAN)
Round trip

/

Economy
May 14 2024 - May 19 2024

From

USD 658*

From

Boston (BOS)

To

Manchester (MAN)
Round trip

/

Economy
Oct 20 2024 - Oct 28 2024

From

USD 763*

From

Seattle (SEA)

To

Manchester (MAN)
Round trip

/

Economy
Mar 13 2024 - Mar 19 2024

From

USD 597*
*Fares displayed have been collected within the last 72hrs and may no longer be available at the time of booking
What to see and do in Manchester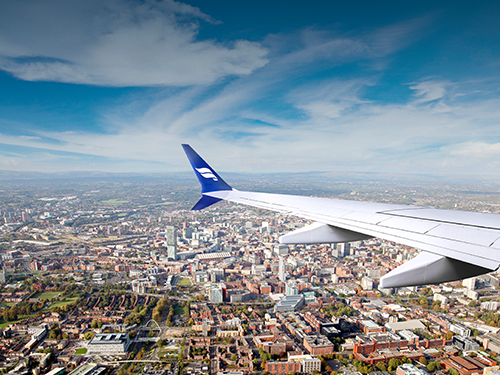 Best time to fly to Manchester
The best time to visit Manchester is in the summer months of June to August. The weather reaches its warmest, with average temperature highs of the mid to upper 60s – but you'll still want to bring an umbrella to this infamously rainy town.
If you're hoping to beat some of the summer crowds, then you could book tickets to Manchester during the spring seasons of March to May. Meanwhile, August marks the exciting start of the football season that sees plenty of fans flock to the city.
Booking flights to Manchester from September to December is another good option. The weather cools down from September onwards, but there are still the occasional bouts of sunshine and crisp, fall days to be enjoyed.
The city's festive markets come alive in the buildup to Christmas, and you'll be spoilt for choice at Manchester's many shopping centers and stores.
Getting around Manchester
There are lots of options for traveling around the city.
The most notable is the free bus service – formerly known as the Metroshuttle – which operates on three circular routes covering all main city-center areas. All buses are wheelchair accessible.
The tram is an alternative mode of transport that's synonymous with the city, and cycling is also a good option to explore Manchester first-hand.
You can also get black cabs or other private hire services like Uber.
If you want to explore Manchester's outer boroughs or go further afield, you can travel by train from one of the city's two main stations: Piccadilly and Victoria.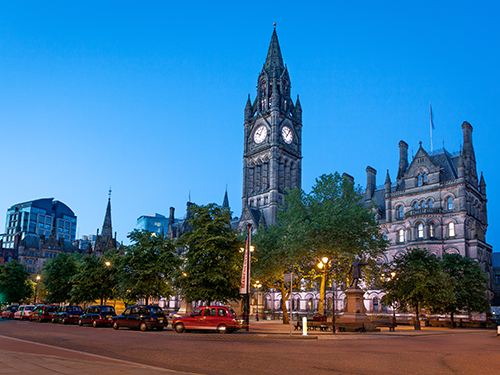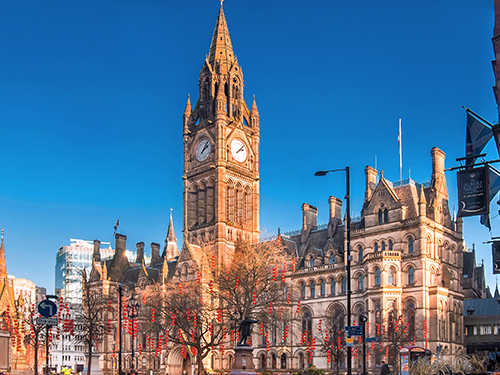 History in Manchester
Northern England is a hub of urban delights, overflowing with pubs, live music, museums and restaurants.
In the buzzing hub of Manchester - and neighboring Liverpool - history fills the streets, but many visitors come to pay homage to sporting heroes and music legends.
Manchester was shaped by the Industrial Revolution, and some museums cleverly detail the city's rich heritage. The People's History Museum does a super job telling the stories of Manchester's boom.
There are also great art galleries, a brilliant war museum, and one of the world's oldest public libraries, so you'll never be short of exciting things to see and do in Manchester.
Football in Manchester
A considerably newer addition to the city is the National Football Museum, where exhibits draw out the historical and cultural significance of football to the city of Manchester.
Pay homage to Manchester United on a tour of their home stadium, Old Trafford (also known as the Theater of Dreams).
You can tour Manchester City's home ground, too, to compare facilities and stoke fierce intercity rivalries, or even head over to the city of Liverpool to check out the football stadiums there.
And while in town, why not check out a live game? The Premier League season runs from roughly August to May, but it's worth securing your tickets in advance as games are popular among locals.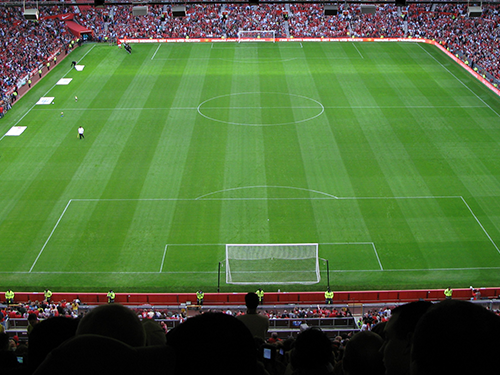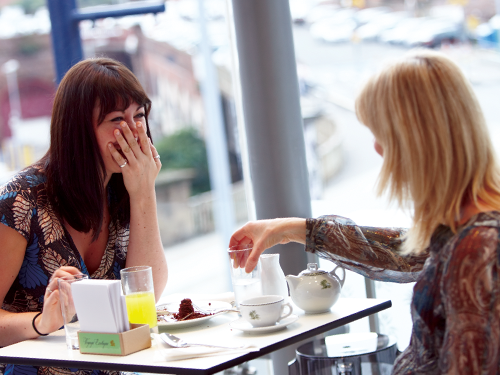 Dining in Manchester
The city's dining scene is booming, and you'll eat well, especially in the Spinningfields and Northern Quarter districts. Spinningfields is a modern development that's become a sleek dining and shopping hub, while the Northern Quarter has a more creative, bohemian feel.
In the city center, check out the remarkable Corn Exchange - a grand Edwardian building from 1903 that has been reborn as an upmarket food hall, home to a dozen or so restaurants.
For something less sleek, peruse the offerings of the so-called 'Curry Mile', part of Wilmslow Road running through the center of Rusholme in South Manchester. Here, flavors from the subcontinent and the Middle East are big, cheap and aromatic.
Shopping in Manchester
There are good shopping areas in the heart of the city center (where Harvey Nichols and Selfridges reside). Be sure to check out the Spinningfields quarter (for high-end international brands), take a walk along King Street, and explore the indie-minded Northern Quarter.
5 miles west of downtown, you'll find Trafford Centre - home to three department stores, cinemas, restaurants and 200-plus stores of retail therapy.
Check out the quirky offerings at Affleck's indoor market - we're talking vintage clothes, vinyl records and offbeat treasures.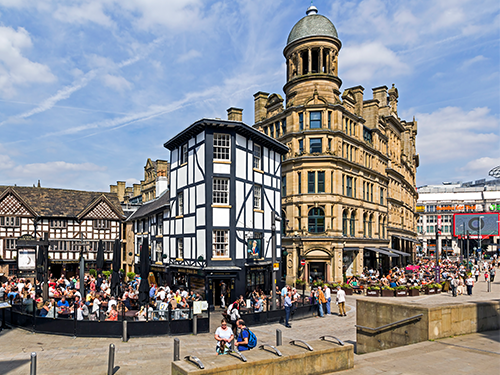 FAQs about travel to Manchester
Helpful information for travelers to Manchester
What US cities fly directly to Manchester, UK?
What airport do you fly into for Manchester, UK?
Manchester Airport (MAN) is the main airport servicing the city and is the third largest airport in the UK, after London Heathrow and London Gatwick.
The airport is located around 8 miles (13 km) from central Manchester. You can easily get from the airport to the city center via train, bus, taxi, or tram.
How many days is enough to spend in Manchester?
To get a real feel for everything the city has to offer, we'd recommend visiting Manchester for a long weekend (3-4 days).
Booking tickets to Manchester but want to travel further afield? Manchester is a great base from which to explore other parts of the UK as it's just 2 hours to London and 3 hours to Glasgow by train.
Do you need a visa to fly to Manchester, UK?
US travelers can visit the United Kingdom for up to 6 months without a visa.
What is the cheapest time of year to travel to Manchester, UK?
You'll find the cheapest flights to Manchester in the coldest months of January and February when tourism is at a low in the post-holiday slump.
While it's advised to book your airline tickets and hotel in advance anyway, you can still find last-minute flights to Manchester using our booking tool above.
Make the most of your trip